Wondering if Arc products really work? We've got all the details in our Arc Teeth Whitening Reviews.
We've all seen various remedies and hacks on the internet to try to whiten our teeth, but do they actually work? And, more importantly, are they safe?
Arc Teeth Whitening claims to provide customers with a safe and effective method to whiten teeth using only the best ingredients. Read our Arc Teeth Whitening Reviews to see if this brand actually produces real results. 
RELATED: 6 Best Teeth Whitening Strips That Actually Work
What is Arc Teeth Whitening?
Arc Teeth Whitening is a company that provides easy-to-use teeth whitening products based on scientifically proven methods.
They sell 4 main products: a blue light whitening kit, a one-week kit with whitening strips, a whitening pen, and an after-brushing whitening booster.
Arc Teeth Whitening Overview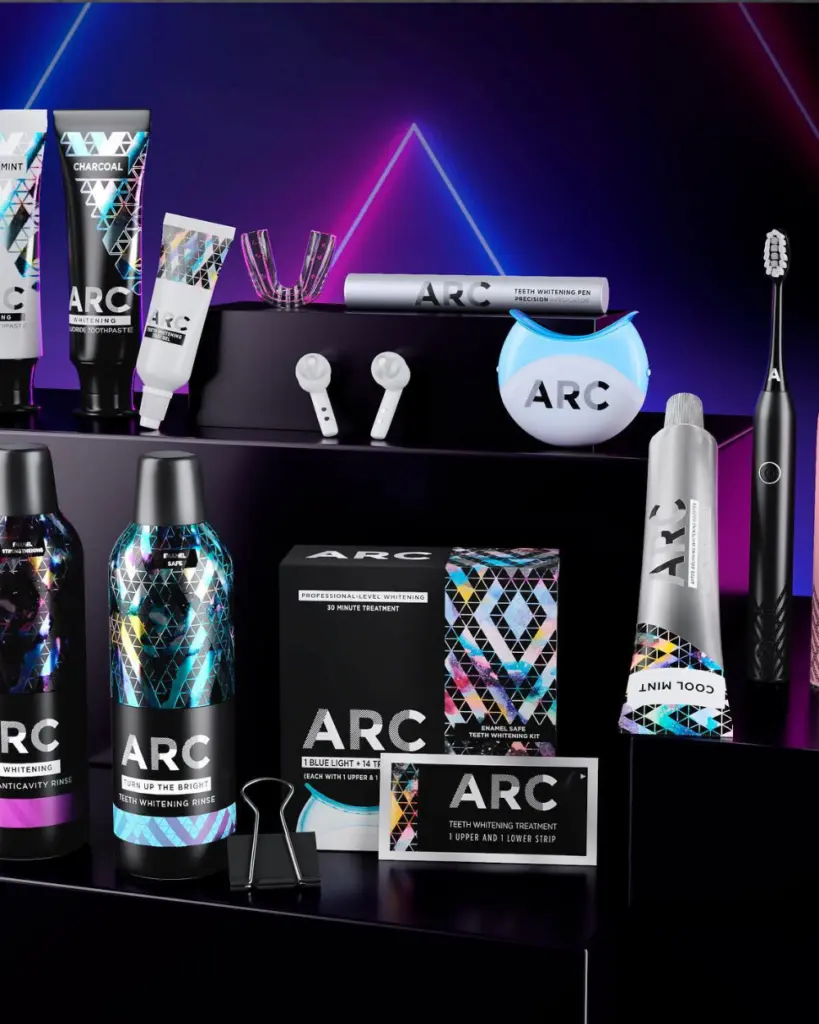 Arc was founded in response to the growing craze for homemade remedies created for teeth-whitening. Companies were releasing products with unproven whitening ingredients and methods, and Arc decided to change this. 
The founders of Arc felt that consumers were being misled to use harmful products and mixtures, so they created a simple, affordable, and proven catalog of teeth whitening items that work and are safe for your teeth.
Arc only uses tested methods and professional ingredients that dentists themselves use and recommend. Unlike some other whitening strips and toothpastes, Arc products work below the enamel, not just at the surface, which provides longer results.
Arc Teeth Whitening Reviews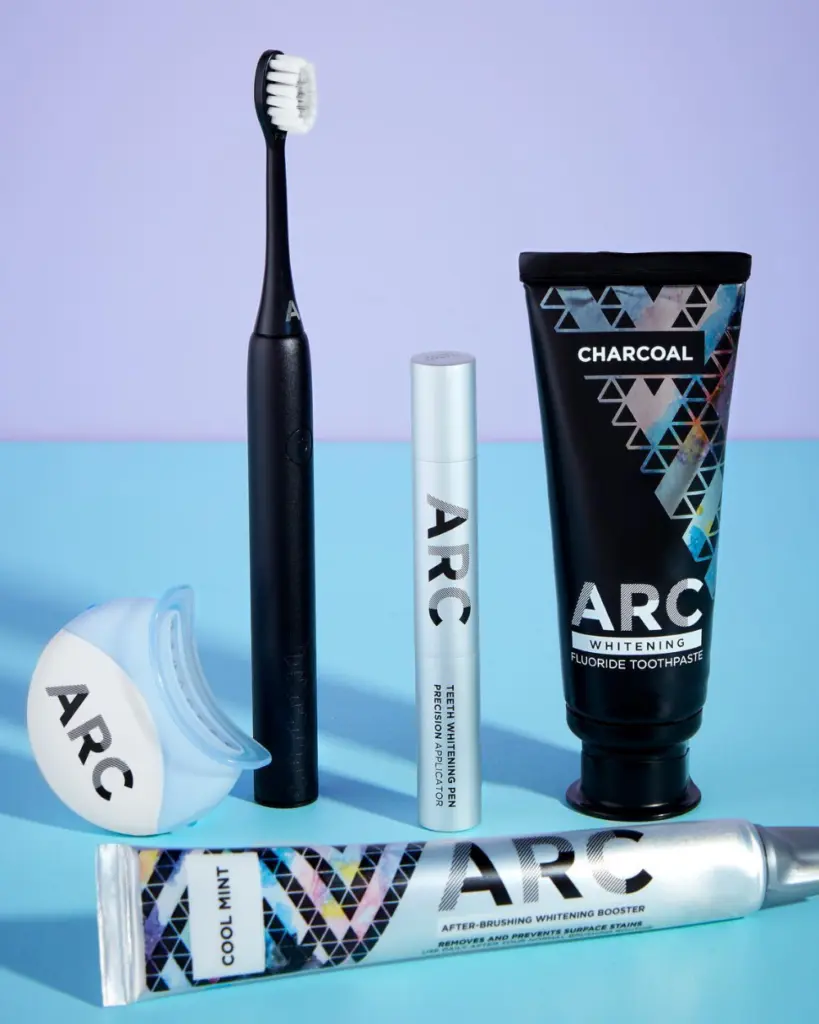 Overall: ★★★★ 4 stars
At a reasonable price, Arc offers effective whitening products that are easy and safe to use. Arc serves as an alternative to remedies or products that include unproven ingredients for whitening which can potentially be harmful to your teeth.
Price: ★★★★★ 5 stars
Arc's 4 products range from $9-45 which is very affordable for the quality treatment that they offer. The whitening booster is priced at $9 and the blue light whitening kit includes whitening strips for $45.
Shipping: ★★★★ 4 stars
Arc can be purchased directly through their website or retailers like Amazon and Target. Standard shipping takes up to 5-8 business days which costs around $5, but Arc offers free shipping for purchases over $25. However, Arc does not ship internationally.
Quality: ★★★★ 4 stars
For all their products, Arc has received very positive reviews with customers claiming that they saw results almost immediately. The products were easy and comfortable to use. Arc also uses tested ingredients that are used by dental professionals.
However, there are some customers who claim that it took awhile to get results or that the effect was minimal, specifically with the whitening pen.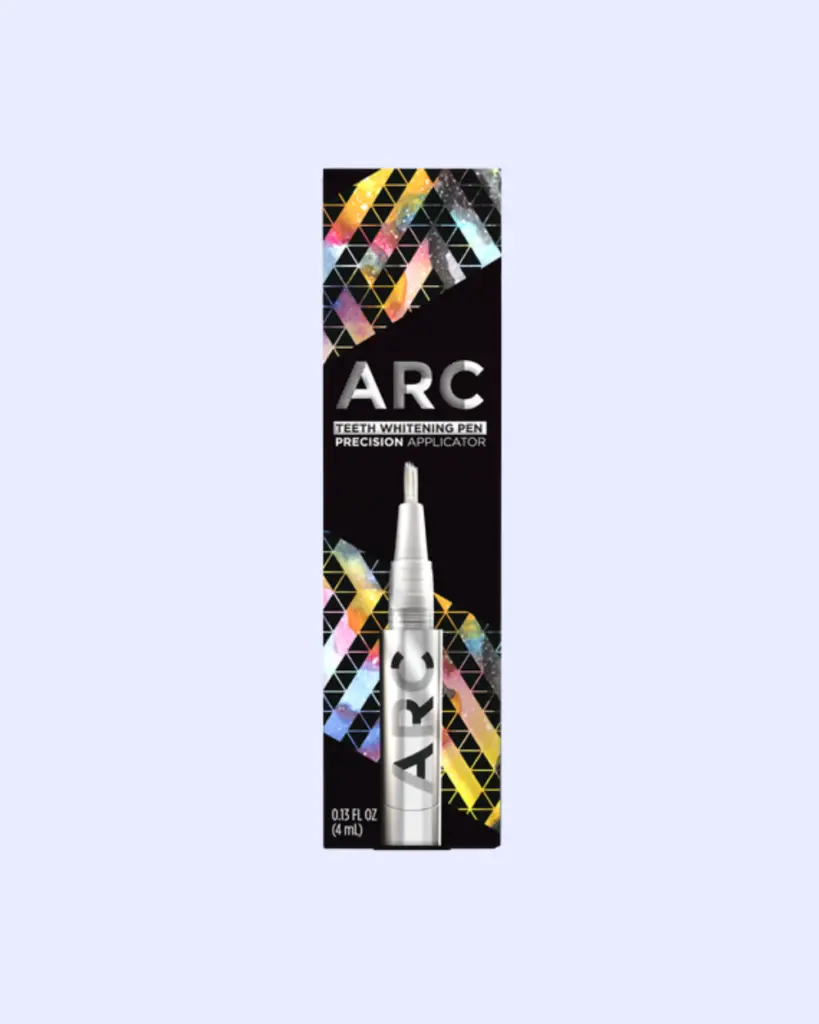 The Arc Teeth Whitening Pen works by dispensing an enamel-safe whitening gel onto a brush for easy application to the teeth. It is compact, easy to use, and great on the go.
Customers have mixed reviews about the results of this pen. There are many who claim that it is really effective and produces results fast, but others say that they saw minimal to no change in their teeth. 
---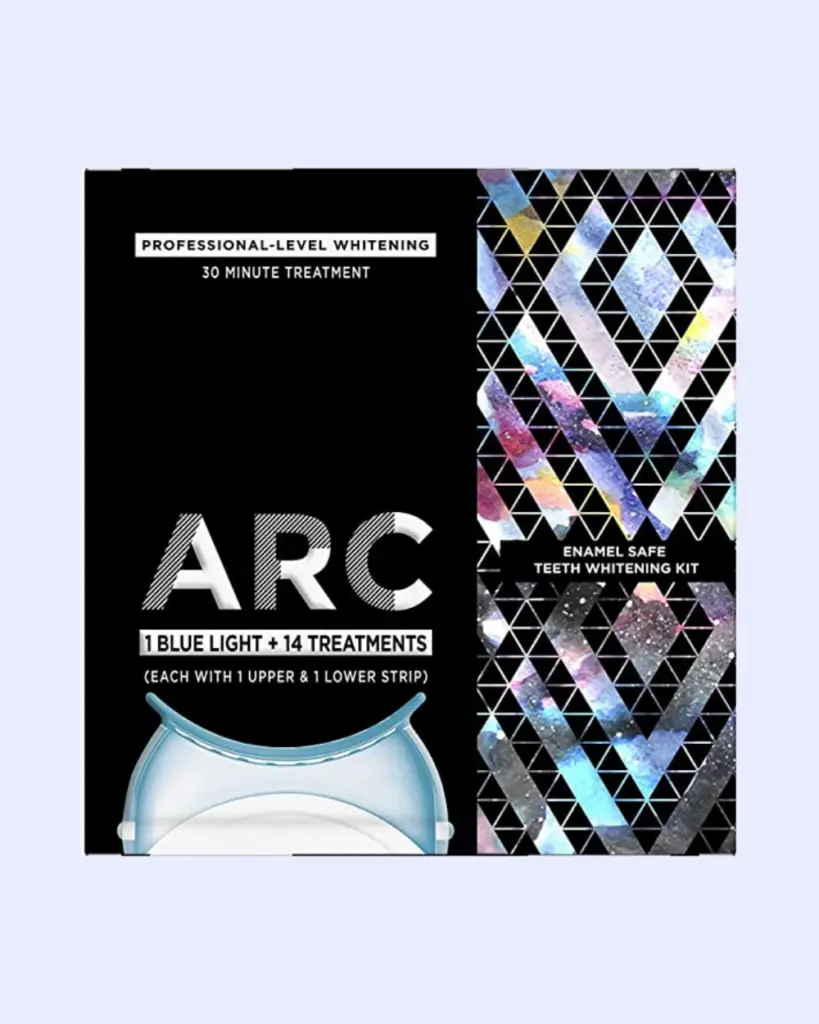 This whitening kit includes a blue light that provides 28 treatments and 14 pairs of whitening strips. The light uses blue-wavelength LE lights to evenly weaken stains on your teeth for 30 minutes. To attain better results, this treatment is paired with whitening strips that use the same enamel-safe whitening ingredients as dental professionals.
Arc has received many positive reviews about this kit with customers claiming that they saw results within the first couple of treatments. Both the light and the strips were very easy to use and effective.
---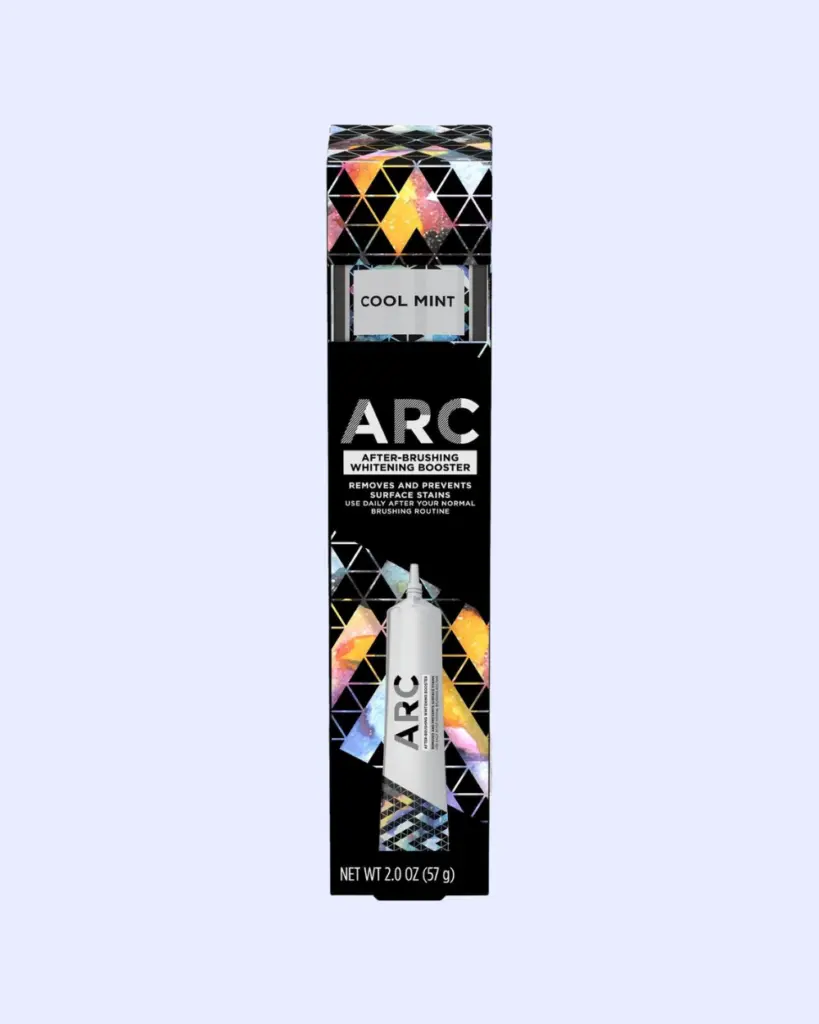 This paste is a whitening booster used just like toothpaste on your toothbrush after normal brushing, which removes and prevents surface stains. With only 60 seconds of brushing, this booster is quick and easy to use.
Customers state that this product works well in getting rid of stains and whitening teeth in a very short time.
What Other Customers Are Saying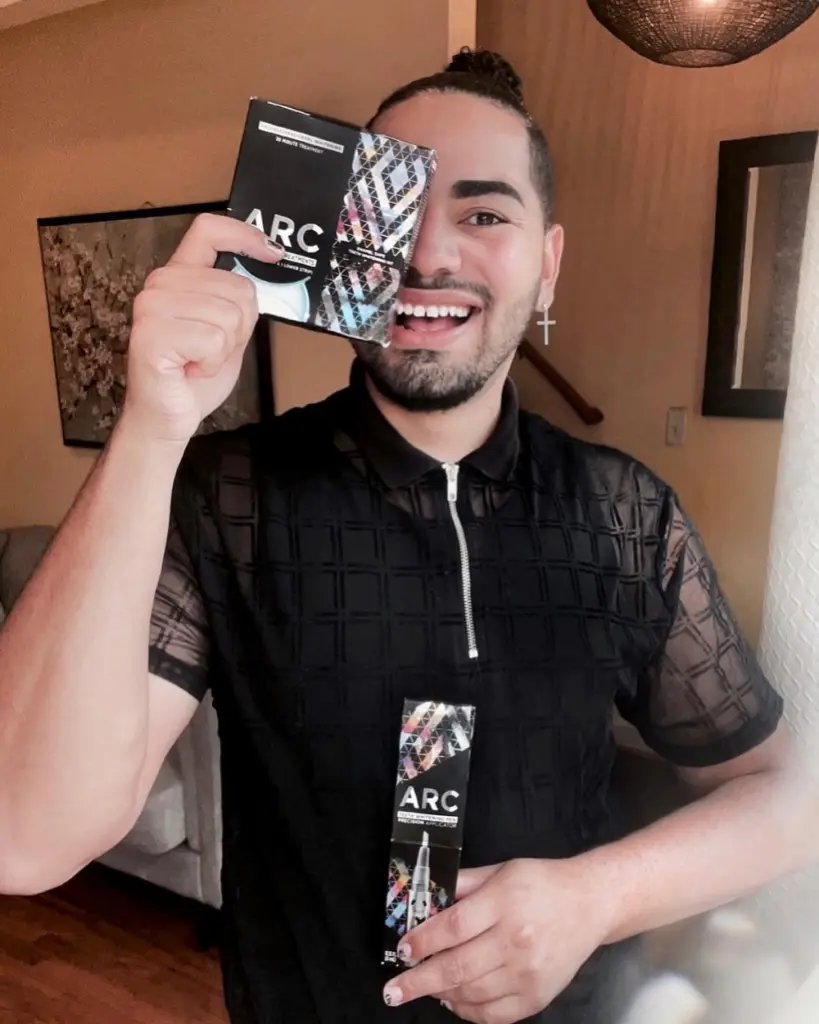 After searching the web for other customer feedback, this is what most buyers had to say about their Arc Teeth Whitening experience:
Easy and convenient to use
Affordable price for the quality
Can see results within just a few uses of the products
Overuse can possibly lead to teeth sensitivity
Whitening strips stay in place unlike other brands that slip around in your mouth
Return Policy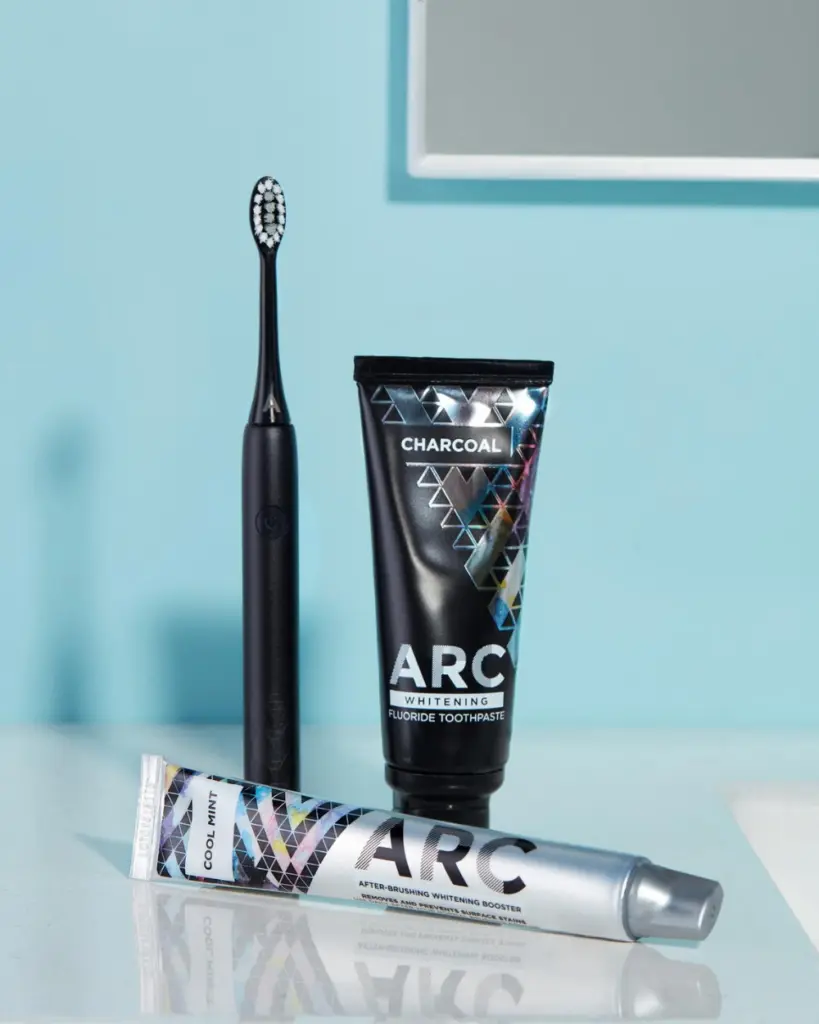 Arc offers returns for all items bought within 60 days. You will receive a shipping label from customer service, and a refund will be issued once the product is shipped back and inspected.
The blue light whitening kit and the one-week whitening kit come with a 60-day money-back guarantee. 
FAQs
Does Arc Teeth Whitening really work?
Yes, Arc really works. Based on numerous customer reviews, all of the Arc products have shown considerable results in just the first couple of treatments. 
How long does Arc Teeth Whitening last?
The effects of Arc Teeth Whitening differ based on the product and how often it is used. The blue light whitening kit can be used up to 28 times with customers using it 1-3 times a week. The whitening booster is typically used 1-2 times a day.
Where can you buy Arc Teeth Whitening?
All products are available for purchase on the Arc Teeth Whitening website. Some may be available on Amazon or Target, but prices may vary.
In Conclusion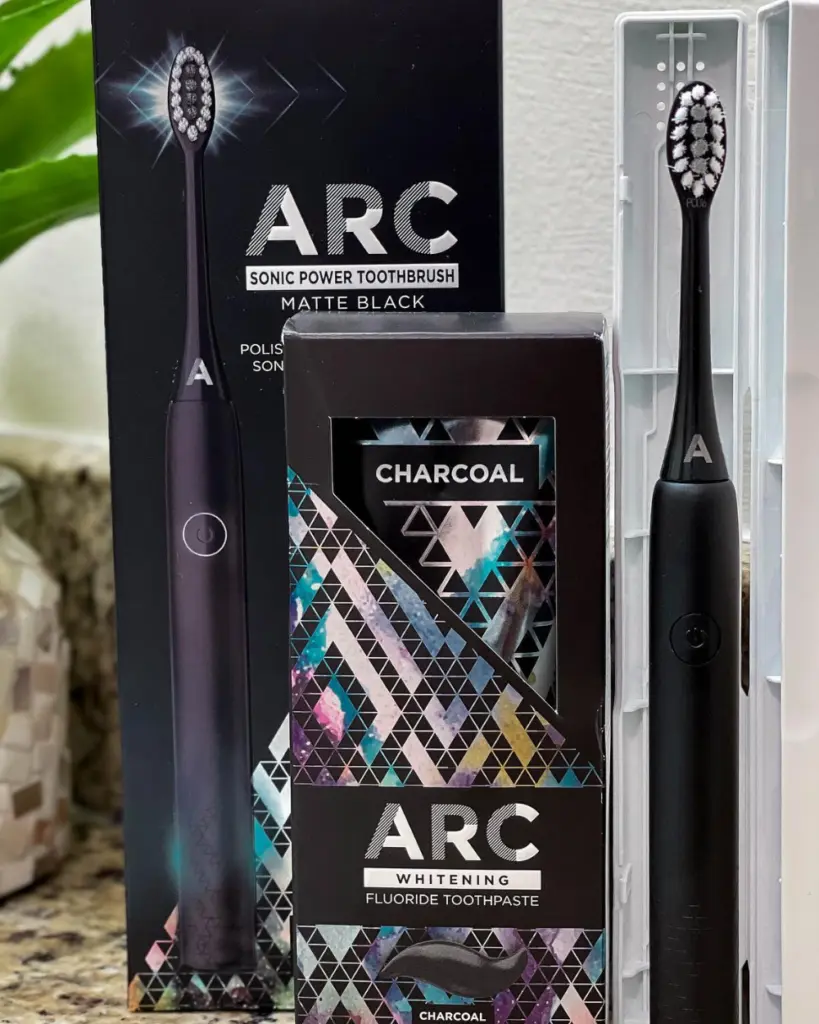 Next time you need to whiten your teeth, instead of scouring the internet for a homemade solution that could possibly damage your teeth, try an Arc Teeth Whitening product!
With Arc, only ingredients that are proven and known whitening agents are used in the products, ensuring the safety of the users. And at a very decent price, you can see a difference in your teeth in a short amount of time.
Arc Teeth Whitening Alternatives
UP NEXT: Moon Oral Care Reviews: Do Their Teeth Whitening Products Work?