Makeup is a form of self-expression that anyone and everyone can enjoy. Whether you love glitters, bright colors, or no-makeup makeup, the art of makeup is versatile and inclusive.
That said, the makeup industry is vibrant and ever-evolving, and over the years a lot of celebrities have tried their hands at releasing makeup brands.
One celebrity, whose makeup brand will be the main character of this review, is Ashley Frangipane—better known as Halsey. 
Halsey released About Face and marketed it as a makeup line for anyone and everyone, and to encourage self-empowerment and artistic creativity. But how does this makeup line really fare?
Keep reading our About Face reviews to find out if Halsey's makeup line is worth checking out.
What Is About Face?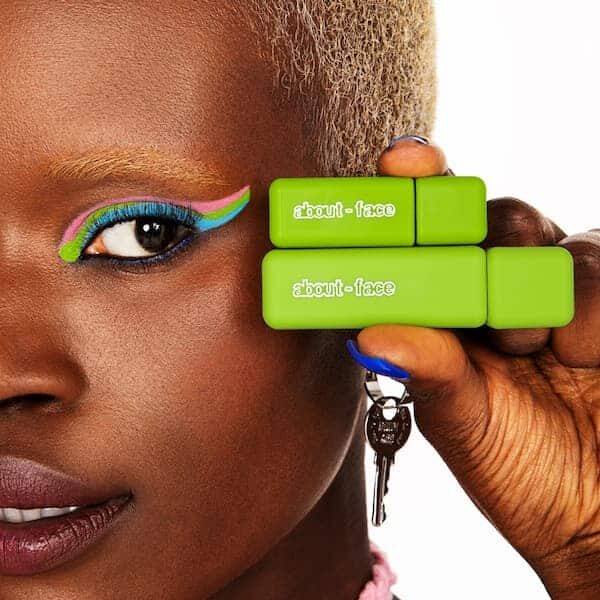 Created by Halsey in 2021, About Face is a fairly new makeup brand inspired by diversity and artistry. 
This makeup line mirrors the idea that humans can be complex, chaotic, messy, and all types of wonderful, and that that's what makes us beautiful.
About Face encourages shoppers to play around, be creative, and put on makeup the way they want.
About Face Reviews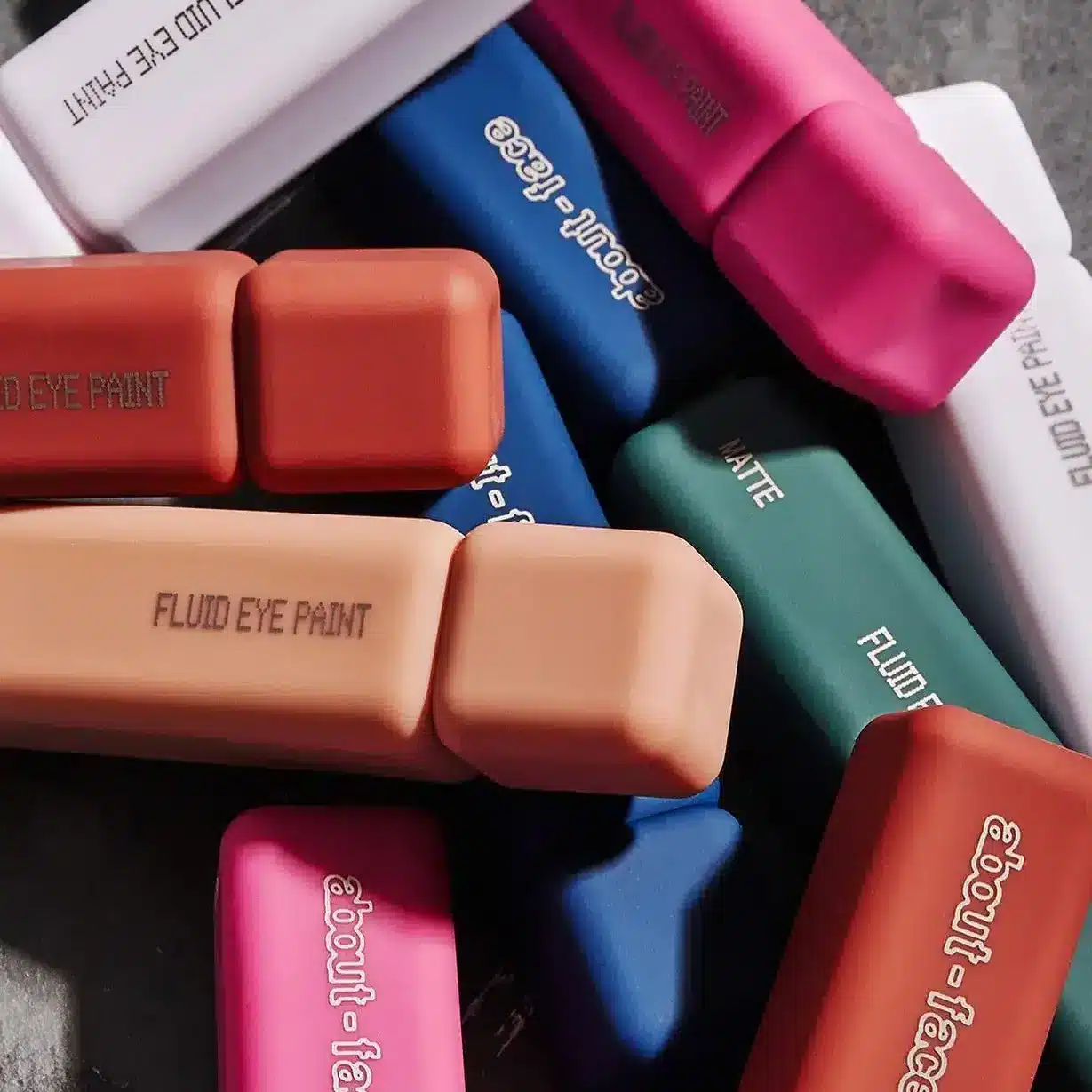 Overall: ★★★★★ 4.5 stars
Overall, the About Face reviews so far are pretty great, and in fact, it is already an award-winning makeup brand.
The highlights of this brand are its punchy and highly-pigmented colors, unique formulas, and affordability. Like any makeup brand, About Face has its winning products and some products that aren't so great.
A few products we loved included the Matte Fix lip pencils ($12), Fluid Eye Paint ($16), and the Cheek Freak Blush Balm ($18).
Prices: ★★★★★ 5 stars
One of the things we love most about About Face is how accessible and affordable it is.
The overall price range on About Face products is $5 to $40 (including sets), so if you're balling on a budget and don't want to break the bank, About Face is an awesome brand to keep in mind. For single products, nearly everything is under $20.
Collection: ★★★★ 4 stars
About Face is still a new and evolving company so the brand doesn't have the biggest collection. Without including beauty tools, the makeup line carries under 20 products and doesn't currently offer base makeup like foundation, concealer, or primer. 
However, the products About Face does offer certainly pack a punch in how unique and multi-dimensional they are. Not just that, but all About Face products are vegan and cruelty-free. 
RELATED: 20 Best Vegan Makeup Brands At Sephora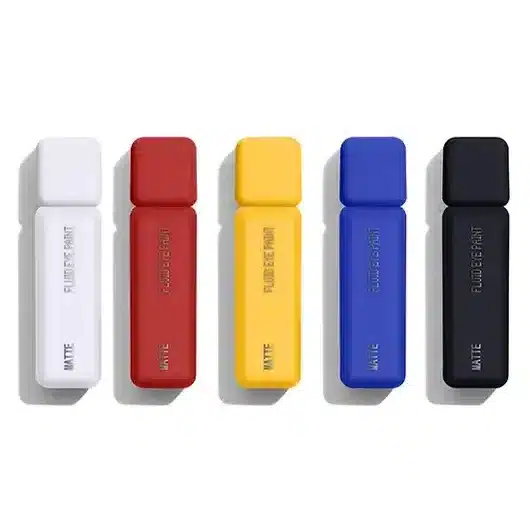 What really launched About Face into popularity and prominence are the eyeshadows—and for good reasons.
About Face's eyeshadow line can be summed up in three products: Shadowstick, Matte Fluid Eye Paint, and Fractal Glitter Eye Paint.
What makes this eyeshadow line so unique is that the products are made up of all cream formulas, which is uncommon since most eyeshadows are powder.
Though with different names, About Face's Shadowstick and Eye Paint are very similar. Available in matte and glittery shades, these award-winning formulas pack a punch of color that's bold and buildable. Not just that, but they're both no-budge and no-smudge!
About Face's Shadowstick is exactly what it sounds like, so if you're looking for an easy way to apply eyeshadow that's mess-free and straight to the point, the Shadowstick might be for you.
But if you're looking for a product that'll give you the ultimate creative freedom in creating your eye look, definitely try out the Matte or Fractal Glitter Eye Paint!
As per the inspiration for the name, About Face's Eye Paint can be mixed together and blended just like paint colors. This concept doesn't surprise us since Halsey is a painter herself, so if you're looking for an eyeshadow that'll quench all your creative needs, pick up some Eye Paint.
---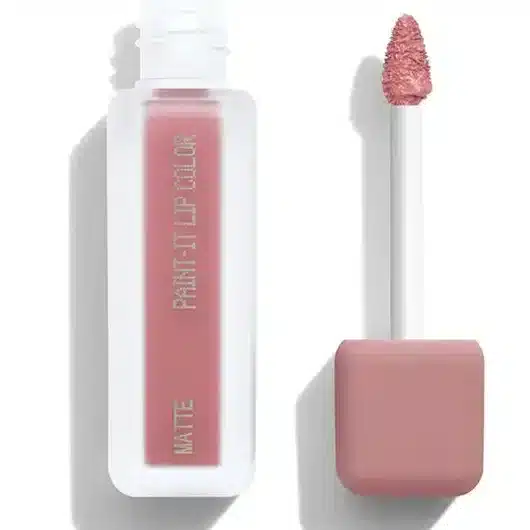 If you love a good lippie, then listen up.
About Face's Paint-It Matte Lip Color is a highly-pigmented liquid lip formula made to endure the whole day.
Though this lip product can become intense in color, the best part is that it doesn't actually have to be! The Paint-It Lip Color is super flexible, so whether you're going for a lip-stain look or an extremely bold you're-going-to-notice-these-lips-type look, About Face's Paint-It can do it all.
Available in 22 beautiful matte shades, this lippie can be yours for $16.
---
Another cream product, About Face's Cheek Freak Blush Balm features an ultra-light formula that's buildable and has insane staying power.
Sometimes you don't want your highlight to be super blinding, and that's okay. With this Blush Balm, you can control just how glowy you want your face to be.
This creamy formula glides onto the skin with a natural finish and is packed with antioxidants and other skincare superstars like hyaluronic acid and meadowfoam seed oil!
With 10 mesmerizing colors to choose from, the About Face Cheek Freak Blush Balm is available for $18.
---
What Customers Are Saying
If you need to see what About Face shoppers are saying about their experiences but don't want to spend all your time surfing the web, we got you.
Here are the most important things you need to know about this makeup brand from real About Face reviews.
Playing around with their Eye Paint is so fun
About Face is one of the few celeb beauty brands that are actually worth it
Love how affordable they are
Wish they have more face products
The lip pencils are to die for (we agree)!
Returns are easier at Ulta
Most products are super pigmented
Return Policy
If you're not satisfied with your About Face product, the company offers a 30-day return policy. Plus, they are available at Ulta, which makes returns as easy as can be (you can even return used items).
All you have to do to get started is head to the returns page to start the process.
In order to minimize waste, About Face doesn't require customers to send their product back, which is a win for the company, the customer, and the environment!
FAQs
Who founded About Face?
About Face is Halsey's beauty brand which was founded in 2021.
Is About Face cruelty-free?
Yes. About Face's products and formulas are cruelty-free, vegan, and environmentally conscious. 
Where can I buy About Face?
The Final Impression
To sum up our About Face reviews, it should be no surprise that we think the brand is a total slay.
In such a saturated industry, About Face's ability to stand out through its formulas, packaging, and branding is a win within itself. Plus, we love that Halsey didn't take advantage of her celeb status to create another high-end makeup line. Their prices are super affordable, with many impressive quality products.
We do wish About Face had more products to choose from, but they are still fairly new – hopefully, they will be expanding.
We're totally in love not just with the awesome pigments and dreamy shades, but also with the brand's values and beliefs. Some products aren't as impressive as others, but luckily the brand has a good return policy and is also available at Ulta for easy returns.
About Face Alternatives
If you're not sold on About Face, here are some other similar brands that you might also like.
Colourpop – Colourpop is pretty similar to Halsey's makeup line, with affordable prices and a focus on bright colors. They also have a much wider selection, so you might want to check them out if there's something you can't find at About Face. Plus, Colourpop has even cheaper prices than About Face, so it's great if you're on a strict budget. You can also shop the brand at Ulta. And while you're at it, discover more brands like Colourpop if you love the affordability and focus on bright colors.
Rare Beauty – All the celebrities are getting into makeup. Rare Beauty is another new makeup line created by Selena Gomez, with elegant and minimalistic branding that we adore. This brand focuses less on bright colors than About Face does, but they still have some great products to check out if you're looking for another celebrity makeup line to try.
Fenty – We can't forget about Rihanna's makeup line! Fenty's prices are a bit higher, but their products are lovely. They also have more of a focus on face products, whereas About Face is lacking in this department. Fenty has some excellent foundations and concealers.