As the climate crisis continues to grow, we're all looking for new ways to do our part to protect the environment. One thing you may not put much thought into that you do every day is brushing your teeth. But, you may be wondering, what does brushing my teeth have to do with the environment?
Quite a bit, actually! Toothpaste often comes in hard-to-recycle packaging and contains harsh ingredients that further damage the environment. Despite this being the trend for many years, there are now many zero-waste toothpaste options on the market that are good for you and the world around us! We've created this list to help you get started!
Zero Waste Toothpaste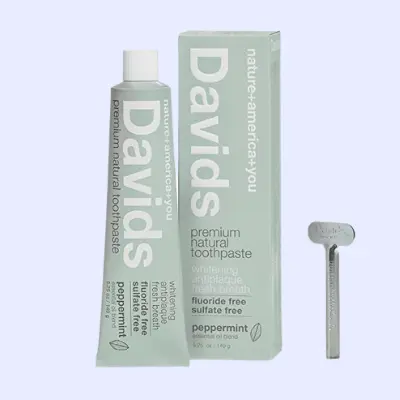 Topping our list is Davids Natural Toothpaste. This toothpaste is free of harsh chemicals, is vegan, 100% recyclable, and comes with a metal roller to ensure you use up every last bit of the toothpaste!
In addition to being great for you and the environment, this toothpaste helps whiten your teeth as well! So if you're looking to brighten your smile while bettering the world around you, this is the perfect choice!
---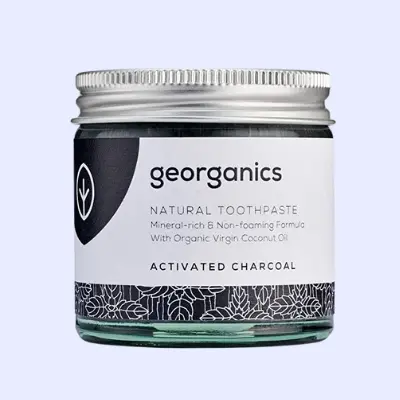 Georganics Mineral-Rich Toothpaste is a gentle, oil-based formula to help clean your teeth without any abrasive chemicals. This is a good option if you have sensitive teeth or gums!
The toothpaste comes in a reusable glass jar for easy keeping. Both the jar and aluminum lid are fully recyclable! So if you're looking for an incredibly gentle and eco-friendly formula, this is a great option for you!
---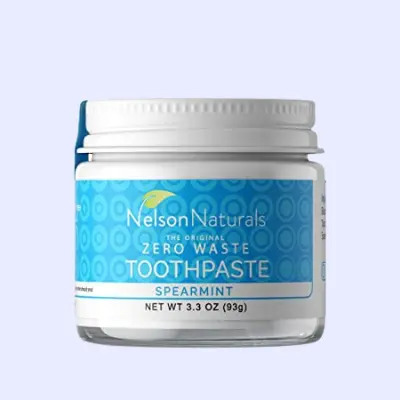 As the name suggests, Nelson Naturals Toothpaste is a fully natural toothpaste. It's fluoride-free and has a very gentle formula, so it's great for sensitive mouths!
While the flavor of this toothpaste can take some time to get used to since baking soda is a primary ingredient, your teeth will be left sparkly and clean! This is the perfect choice for someone who wants an all-natural and eco-friendly brushing experience!
---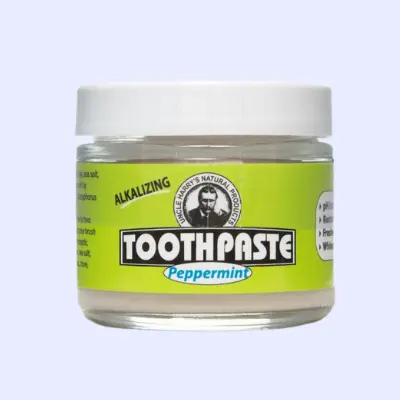 Uncle Harry's Toothpaste comes in a glass jar with an aluminum lid and can be recycled or reused. Not only is this an eco-friendly option, but it helps to restore tooth health as well!
The powerful, all-natural ingredients of this paste formula help protect and rejuvenate the enamel of the teeth, ensuring your teeth are sparkling and healthy!
---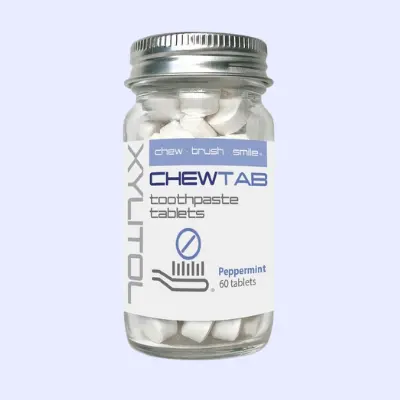 These Chewtab Toothpaste Tablets come in a refillable glass jar with refill packets available on their website! Plus, the packaging is fully compostable!
These tabs are super easy to use as they ensure you get the perfect amount of paste each time you brush your teeth. They also come in a variety of fun flavors including peppermint, cinnamon, and bubble gum!
---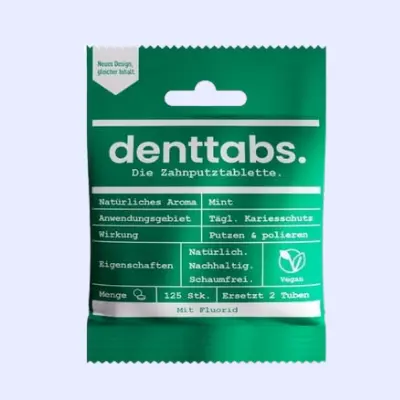 The packaging for Denttabs Toothbrush Tablets is made entirely of cornstarch and is compostable! The tablets are a bit stronger than some of the other options on our list; they do contain fluoride and bacteria-fighting ingredients (making them a great option for someone looking to improve overall dental health)!
Another great feature of these tablets is that they help prevent staining of the enamel. So if you're a coffee or tea lover, they're a perfect choice for you!
---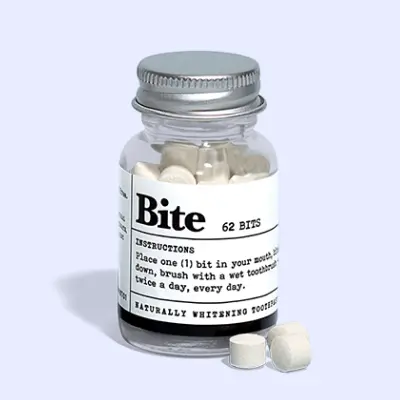 Bite Toothpaste Bits is another product that utilizes recyclable glass and aluminum packaging. Containing natural and gentle ingredients, this product is suitable for sensitive gums and teeth.
They have a variety of flavors and formulations with different properties. For example, Fresh Mint gently whitens and freshens the teeth while Fresh Mint with Charcoal* helps fight stains and detoxes. Berry Twist is perfect for children, and CocoMango offers a refreshing, tropical taste to your brushing experience!
---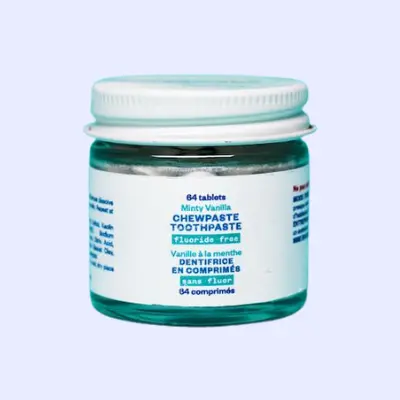 The Etee Chew Paste is another tablet option on our list. These tablets are similar to traditional toothpaste as they're able to foam and lather!
The formulation of these tablets will help to brighten and whiten your smile, and it's gentle enough for even the most sensitive teeth. This product is fluoride-free as well!
---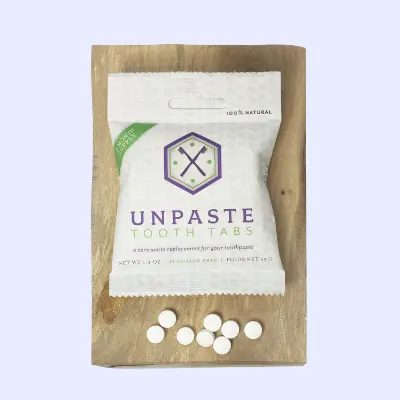 The Unpaste Tooth Tabs come in an entirely compostable package. In addition, there are both fluoride and fluoride-free options available, so there's something for either preference!
Unpaste Tooth Tabs are vegan and cruelty-free. So if you're looking for a sustainable, kind-to-the-planet option, this is the perfect choice for you!
---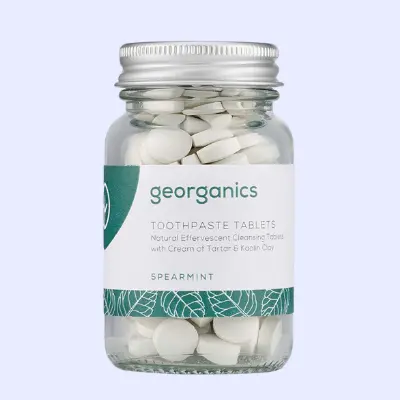 Georganics Natural Toothpaste Tablets come in fully reusable and recyclable packaging. In addition, the formula helps to reduce stains and fight odor-causing bacteria! So if you're looking to brighten and freshen up your teeth, this is an excellent option for you!
While the taste of these tablets can take some getting used to, your teeth will feel healthy and clean after adjusting! So if you're looking for an all-in-one basic brushing product, this is perfect for you!
Bottom Line
Choosing to be more eco-friendly in all areas of life is an important step in sustainability. Rethinking packaging is one way to become a more conscious consumer, and you can start by making small changes such as using zero-waste products!
The zero-waste toothpaste products on our list fit a variety of needs and preferences. So as you make the switch to becoming more conscious in your shopping habits, we know our list will help you find exactly what you're looking for!
*These products contain activated charcoal, which has been shown to interact with medications such as birth control. Therefore, please consult your physician before beginning use of any products containing this ingredient.
UP NEXT: 8 Best Zero Waste Floss You Should Be Using