Leather: it is often a staple piece in many individuals' wardrobes. However, since leather is a fabric often wanted in high quality, it is essential to look at the brands that sell leather products with a hard eye.
Wilsons Leather is a company that supplies leather products with an edgy and stylish flair. They have an aesthetically pleasing look, but these Wilsons Leather reviews will let you know if the product is worth a purchase for you.
What is Wilsons Leather?
Founded in 1899, Wilsons Leather was created originally by the name of Berman's Leather by three brothers. The brothers loved leather products and wanted to create pieces that would be high-quality and stand the test of time.
With the motive of quality, style, authenticity, coolness, and approachability, Wilsons Leather's goal is to create leather pieces that not only look good but will still make you feel like yourself.
Currently, the brand has a mid-sized following on many social media platforms and has been able to grow the success of its company by showing its products online.
One of the main differences between Wilsons Leather and other companies is that their goal of affordable pricing has never changed. Instead, they have always aspired to create quality leather products at a lower price, which is still what they strive for today.
Overview of Wilsons Leather
When looking at the products that Wilsons Leather creates, their leading sellers are jackets, pants, and bags.
Not only do they carry a wide variety of leather products, but within those options, they also have different styles to pick and choose from. These additional options make the brand more diverse and open to many when it comes to shopping.
Wilsons' products can range from around $160 to $400, with the highest prices usually for genuine leather jackets.
Wilsons Leather also offers non-leather options if you are somebody who does not feel comfortable purchasing real leather.
Wilsons Leather Reviews
Overall: ★★★ 3 Stars – Overall, customers are generally happy with their items, but customer service does not have a good reputation.
Shipping: ★★★★ 4 Stars – Most customers have not had a problem with shipping; Wilsons Leather ships within the United States and internationally.
Price: ★★★ 3 Stars – Wilsons Leather has prices that are sometimes quite high compared to competitor brands, even though they claim to have more affordable pricing.
Product Quality: ★★★ 3 Stars – The quality of Wilsons Leather has mixed reviews; some state their products are great quality, while others say there are better leather products out there.
Customer Service: ★ 1 Star – Unfortunately, there have been several complaints made about the company's refund and replacement policies and customer service.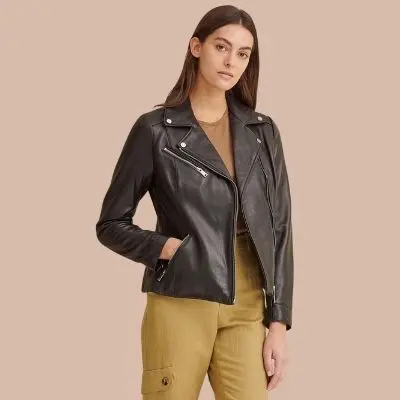 Most individuals found that the women's jackets were quite good quality. They include pockets and a full front zip to give the full effect of an older leather jacket. It has also been stated that the jackets are easy to style with other pieces and tend to be quite a simplistic and easy accessory to add to an outfit.
The many styles that the women's jacket comes in include the trench coat, distressed jackets, and mini jackets.
---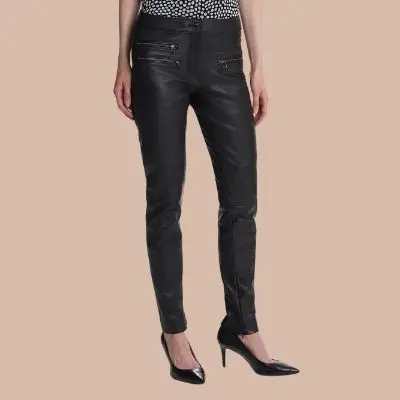 One of the most popular items from Wilson Leather, the Front Zip Pocket Leather Pant, has many intricate details and a simple silhouette.
Many individuals stated the pants look good, but they also have worn for long periods and lasted longer than expected. However, just like with many other leather products, they need to be cleaned regularly to have the best use.
---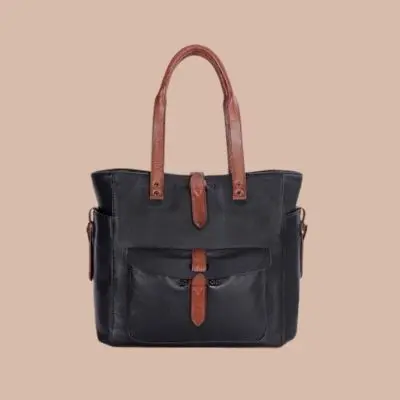 Wilsons Leather offers many bags in different styles and sizes for any occasion. The styles include crossbody, briefcase, duffle, and many others as well.
The bags also have long-lasting wear as well and are also quite durable under different circumstances. Many of the bags also have plenty of pockets and space to hold everything you would need to carry with you in a day.
What Other Customers Are Saying
When looking at buyers' experiences with Wilsons Leather products, most individuals were pleased with the products they received. However, there have been a few issues found with the available options and the customer service.
While WIlsons Leather has grown to have a great reputation within the leather industry, the company itself and its customer service doesn't have the same grace.
Based on thousands of reviews from the web, here are customers' top points of feedback about the brand:
Some say they are impressed with the quality, while others say there are much better leather products on the market
Some complaints have been made about long wait times for refunds
Many have stated customer service is hard to get in touch with
Some customers said that they have not been able to find something that fits, or the sizing was not what they expected when they ordered the product.
Here are some quotes from customers across the web, featuring the good and the bad:
"I purchased a black leather jacket in store, maybe 25 years ago. I have worn that jacket to death. I loved it. Time for a new one. My purchase is not exactly like my old jacket but close enough that I love it too. Hope it holds up as well as the first one did." – Sally on bizratesurveys
"Ordered a purse from them but they shipped a completely different item. I was promised a full refund but only got a partial refund. Now they won't honor their refund promise. Fraud! Save your money. Shop elsewhere."- Sue Hansen on Trustpilot
"I ordered a leather jacket for $186 in January and received it on Jan 20. I returned it using the label they provided on Jan 21 because it was too small. I was promised a refund first for Feb 21, then Mar 12. I have sent several emails that weren't answered and have still not received my refund. After wearing Wilsons's jackets for over 25 years I will never do business with them again."- Stephen Foley on Trustpilot
"I bought a (vintage) Wilson's purse recently and the zipper fell off. Otherwise the leather itself was in good condition still and it was likely 15 years old." – counttess on Reddit
Return Policy
As per Wilsons Leather's return policy, you have 30 days after the delivery date to make a return. All items must be unused and unworn with original tags and accessories.
Wilsons Leather does send a prepaid shipping label to stick on your package to make a return, but $6 is deducted from your refund.
Location
You can purchase Wilsons Leather products from their online store here, or in retail stores and outlets throughout the US.
Final Verdict
Wilsons Leather is a leather brand that has been around for years and is still one of the top sellers of leather products. While they use being affordable as a selling point, they have become pretty averagely priced for most leather goods as the years have gone by.
While most customers have had seemingly good experiences with the products, there have been issues with the company itself that have turned some off from buying from the company.
Ultimately, choosing Wilsons Leather comes down to whether the product you are purchasing or the service you will receive is more important to you.