Picking what to wear to a fall wedding can be hard. There are a few variables that go into creating the perfect ensemble. The location, time of day, dress code, and your personal style all play a part in putting together the perfect fall wedding outfit!
If you'll be attending a wedding in a state that has changing seasons, temperatures can change drastically from day to evening. We've got you covered with 16 casual and formal options, and the best layers to stay warm through any type of fall wedding.
How to Pick a Fall Wedding Outfit 
Before we dive into some more specific ideas, there are quite a few factors to consider when picking an outfit for a fall wedding. 
Dress or No Dress?
Most people choose to wear a dress as a wedding guest, but you don't have to go with a dress. Some alternatives can include a jumpsuit, romper, matching set, or simply a dressed-up shirt and pants outfit.
We'd definitely say one-piece outfits like dresses and jumpsuits are easiest since you don't need to worry about matching the top and bottoms. It's also easier to find wedding guest dresses because most stores have a ton of options available.
Colors
Once you've decided what type of garment you want to wear, the next key factor of picking your fall wedding outfit is figuring out what color you want your dress (or outfit) to be.
The best fall colors are going to be maroons, golds, oranges, reds, and perhaps some darker navy and green. 
If the wedding falls in the September/October range, you can pick up on the lighter fall colors, like yellow, sage green, and red.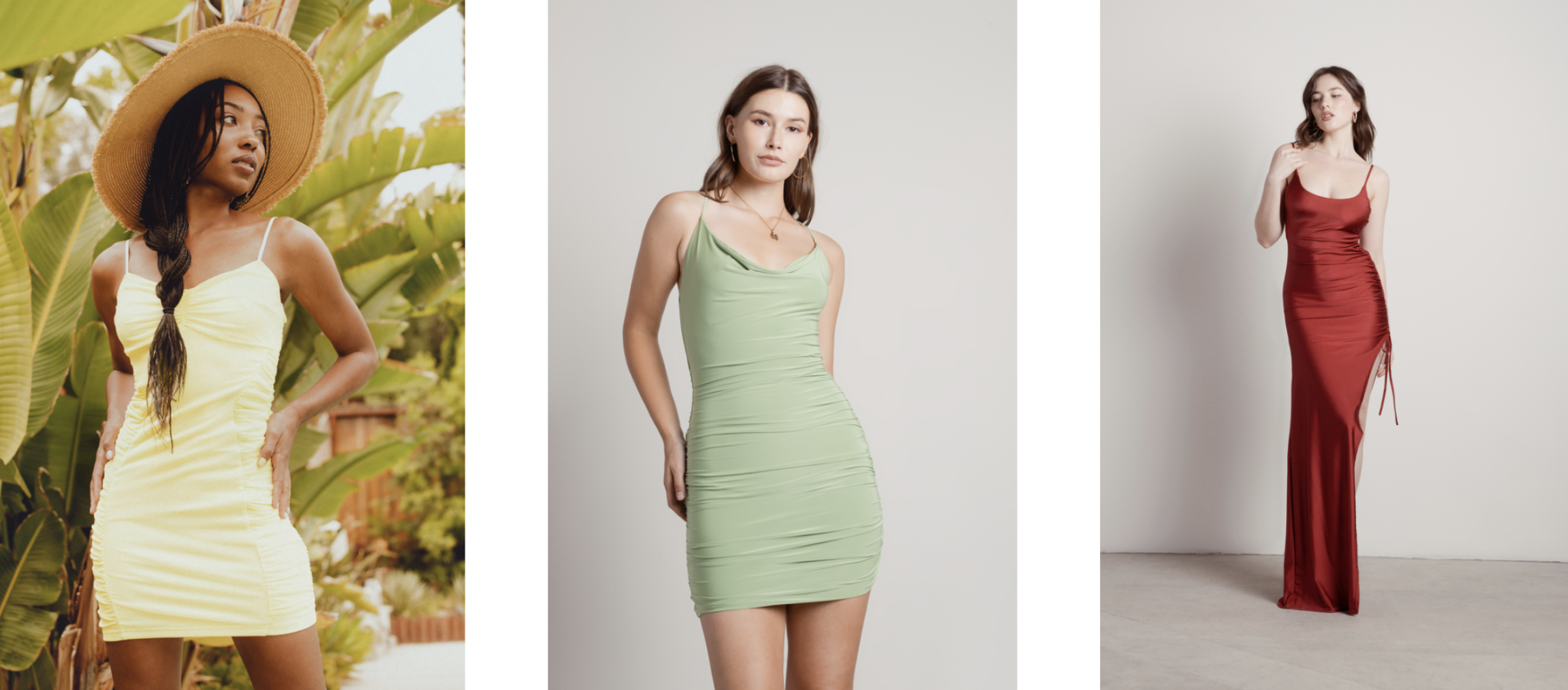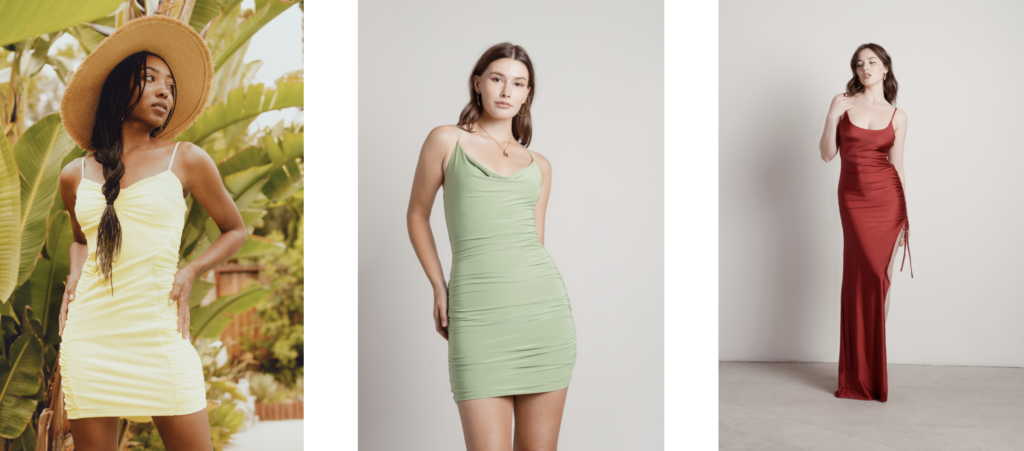 If the event is mid-October and beyond, you can go with deeper fall colors like maroons and darker greens or navy.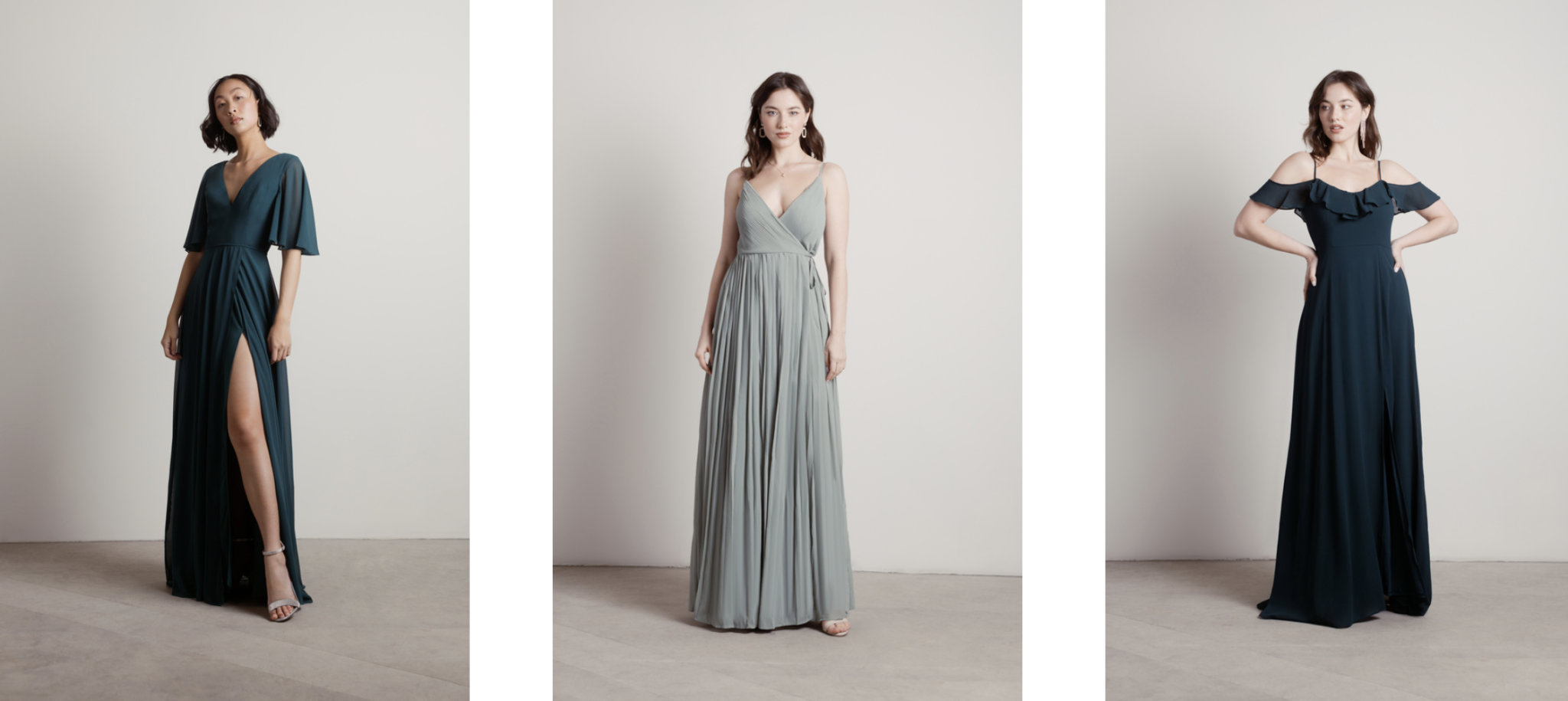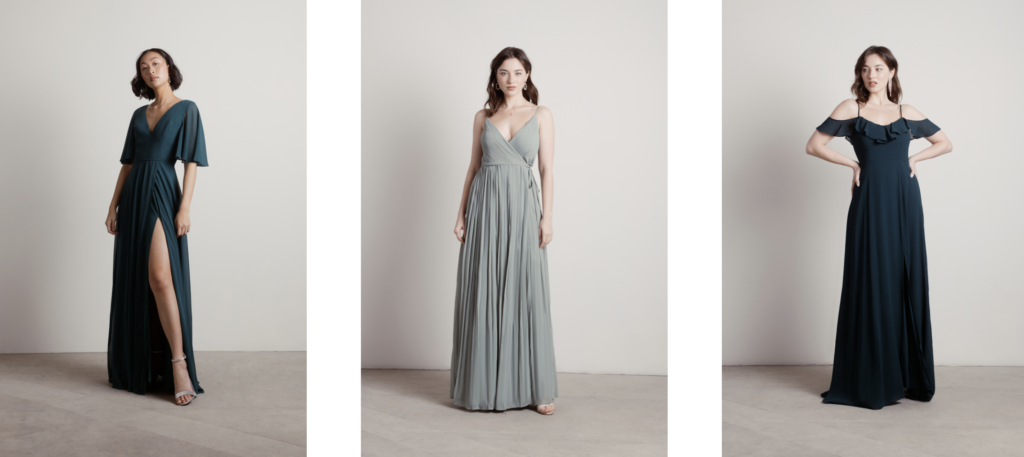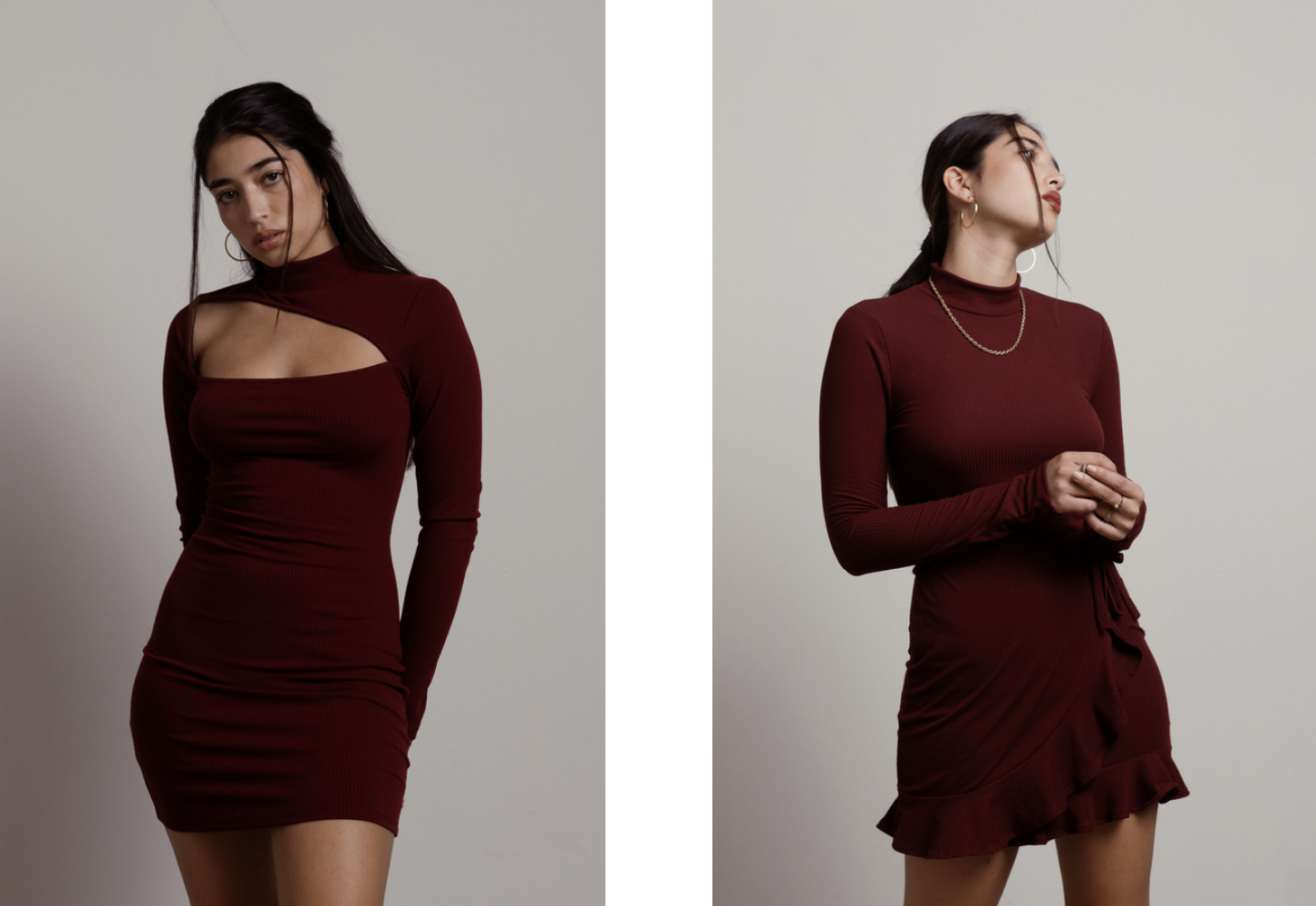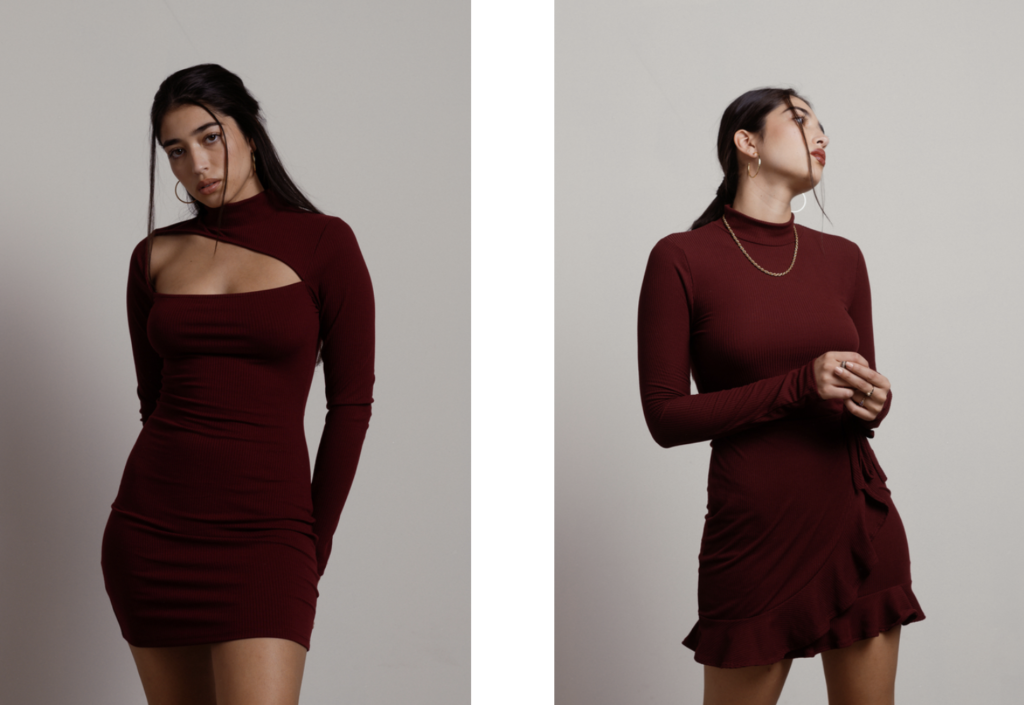 Of course, you don't need to stick to this color scheme. Nobody is going to judge you if you wear a little black dress. But, if you want to match the season, these colors are your go-to's. That said, do not wear white. Some people might not care these days, but wearing white as a wedding guest is seen as rude and is safest if avoided.
You might also want to get an idea of the couple's fall wedding color scheme – one easy way to get an idea of the dress code is through the invitations. Most couples will use invites that match their color palette and many also communicate the dress code there as well.
Dress Codes
If the couple has included a dress code on their invitation, make sure to follow it. Black Tie means that men should wear tuxedos, while women should wear evening gowns (ideally floor-length). Dress like you're attending a red carpet event. In some cultures, an event taking place after 6pm will always be Black Tie.
Semiformal means that men should wear suits and women should wear formal cocktail-length dresses (but not floor-length). And finally, casual is typically expected to be similar to business casual. You won't want to go as casual as a pair of sweatpants – even if the invitation states the attire is casual, most people will dress semiformally.
What's the Venue?
If the couple hasn't included a dress code and you're unsure if you should pick something more casual or more formal, looking up the venue can help.
This will give you a better understanding of the couples' vibe for their fall wedding. For example, an outdoor daytime wedding in an updated barn points to a casual rustic theme, whereas an evening wedding at a resort or hotel indicates a more formal event.
Indoors or Outdoors?
If you have an outdoor fall ceremony to attend, layers are going to be key. 
A cardigan or wrap that you can easily stash in your bag will keep you cozy while you sit through the ceremony and easily stows away when you're ready for the dance floor.
Comfort
Wedding guest attire has come so far, from bland tea length dresses and stiff gowns to flowy fabrics and versatile rompers and jumpsuits.
We no longer have to choose between looking elegant and busting a move on the dance floor, so make sure you pay equal attention to comfort when choosing your fall wedding ensemble.
A flowy maxi dress or tailored jumpsuit is a great option for a formal event that requires a floor length piece or a venue with cooler temperatures.
For more casual fall weddings with warmer weather, you can go for a cute midi dress or romper to stay cool.
Footwear
For any event, it's important to choose your footwear carefully so you don't end up limping throughout the night.
If you'll be walking around outside, opt for a dressy flat or block heel to avoid sinking into the ground and to keep comfortable. 
TIP: If you're wearing a brand-new pair of shoes, break them in a couple of weeks before your event.
Do you love heels but your feet get tired quickly? Do you love to dance? Pack an extra pair of flats in your bag, stashed right next to your wrap. The packable flats from Rothy's are a great portable pick.
Masks
Face masks may or may not be a necessary accessory this year, but if your event does require them, take a little time to find one that matches with the rest of your outfit. This makes everything look and feel cohesive while staying safe. 
Blend In
Finally, another of the most important factors when picking a wedding guest outfit is to blend in with other wedding guests. The last thing you want to do is take the spotlight away from the bride, so you might want to save that head-turning dress for another event.
What to Wear to Fall Weddings (Different Types)
Now, let's get into some more specific fall wedding outfit ideas for the specific type of wedding you may be attending.
Casual Daytime Fall Wedding
For casual daytime fall weddings, you can't go wrong with a maxi dress or even a jumpsuit.
This floor length option is relaxed, keeps you cool, and can be easily layered for extra warmth. Stick to lighter colors to keep it casual.
Casual Evening Fall Wedding
Evening weddings will always be more formal than daytime weddings, but that doesn't mean you need to go with a gown.
If you don't want to pull out a fancy gown, opt for a shorter length of dress and add a pair of heels to balance the look.
Formal Daytime Fall Wedding
For a formal daytime fall wedding, opt for a short length with a more tailored fit. You can use deeper colors (like emerald green, navy or maroon) to keep it dressy.
Formal Evening Fall Wedding
A black-tie fall wedding is a lot of fun to shop for because you don't have to worry about being overdressed. That being said, you'll still want to balance comfort and avoid overshadowing the happy couple.
If you know what color/style the wedding party is wearing, try not to match it exactly. You can also play around with dressy materials (like velvet or silk) and add in some sparkle with shoes and accessories.
Black tie typically means you should pick a floor-length evening gown, but a cocktail-length can work too if floor-length isn't required.
---
Where to Buy Fall Wedding Guest Dresses
Before we sign off, where are the best spots to purchase wedding guest dresses and other attire? The answer will depend on your budget, but here are a few of our favorite places to buy beautiful dresses and other formal wear.
Bottom Line
Fall weddings are a great opportunity to wear rich colors and enjoy the turn of the season with friends and family.
By prepping your outfit with a few layers, you can enjoy your event to the fullest while staying chic and comfortable.