Though TULA Skincare has been around since 2014, they have recently been gaining a lot of traction and popularity. I kept seeing them pop up on social media platforms, in ads, and on the shelf, so I finally got curious and gave them a try. I'll be sharing my Tula skincare reviews about how my experience went!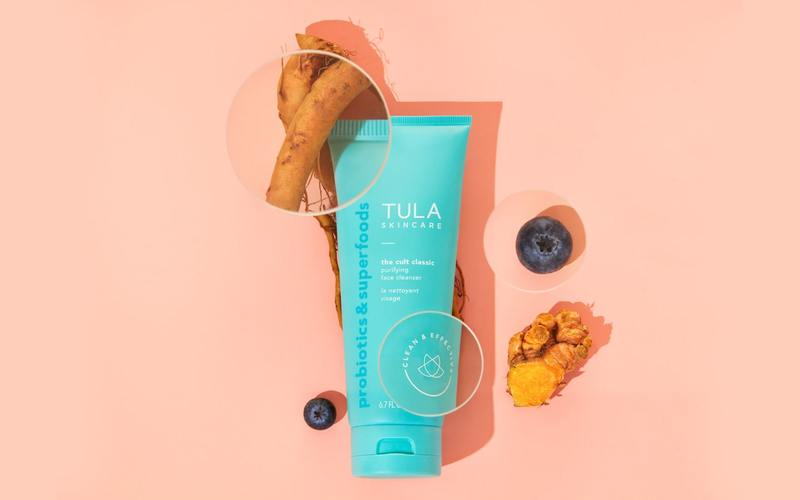 What is TULA Skincare?
TULA Skincare was founded by Dr. Roshini Raj, a gastroenterologist and probiotic expert with extensive medical background. She launched TULA in 2014, using her medical expertise and experiences to create the product she dreamed of.
The skincare line is built on the foundation of using superfoods, probiotic extracts, and other powerful ingredients to restore the skin's natural balance. The company's ultimate vision is to restore and inspire confidence in their customers, by focusing on being healthy rather than "perfect."
Let's Talk Pricing
You could call TULA a high end skincare line, but the average price will depend on what products you're purchasing.
For example, their Purifying Face Cleanser is $28, whereas the Large Sized Hydrating Day & Night Cream is $98. They do have various kits that will save you anywhere from $20 – $50 and currently have a promotion to receive 15% off when you sign up with your email.
Items returned within 60 days of purchase are eligible for a refund or exchange and do not even need to have the original packaging.
When they authorize your return, you will receive instructions and a prepaid shipping label for your convenience, completely free of charge. They will also give you a temporary instant refund voucher, which allows you to place a new order for the same amount while your return is still in the shipping process.
However, if you choose not to use the voucher, they will transfer the balance of the voucher back to the original payment method.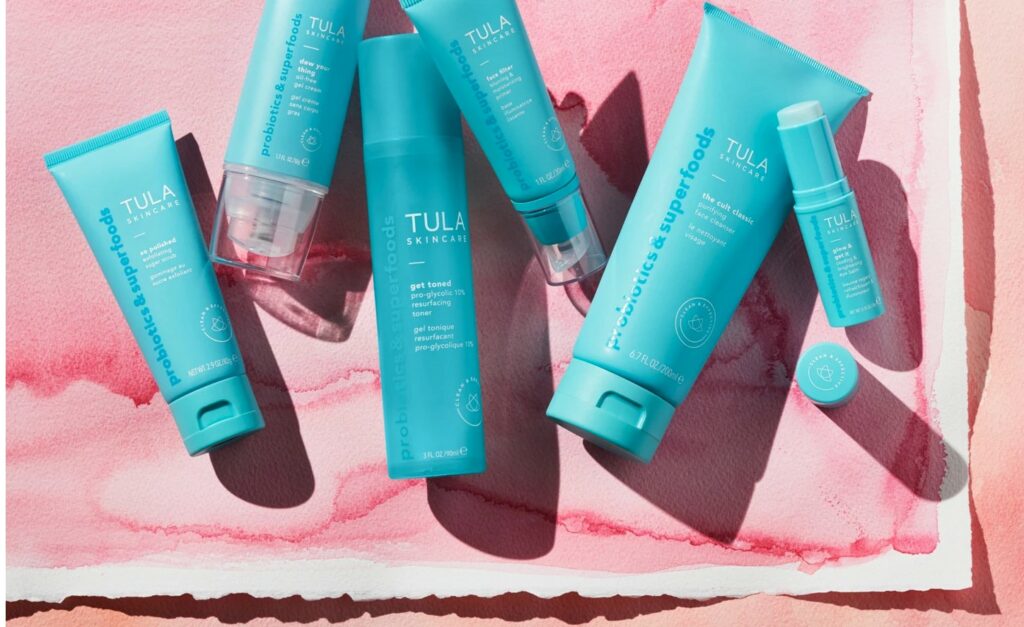 My TULA Skincare Reviews
This is a gel-based facial cleanser designed to remove dirt and makeup without leaving your skin feeling dry.
It contains pre and probiotic extracts along with lactic acid that gently exfoliate your skin, helping with clarity and balance. This cleanser is also suitable for almost any skin type.
Overall
Rating: 8/10
This is hands down one of the most amazing cleansers and I love the way it lathers. It makes my skin feel so soft and light, without leaving me too dry.
Though, there are days I feel I need to use a little extra moisturizer. I also noticed it seemed to help control and tame my acne as well.
Some people say that the smell is a little bit strong, but I happen to like it. It reminds me of the ocean, so I've got no complaints.
This is a cooling and hydrating eye balm that helps create a natural glow and works to reduce the look of fine lines and wrinkles.
It contains hyaluronic acid, caffeine, along with other great ingredients to help firm, tighten, hydrate, and protect the delicate skin around your eyes.
Overall
Rating: 8/10
⭐️⭐️⭐️⭐️⭐️⭐️⭐️⭐️
I had many people tell me that this stuff is like pure gold. I definitely love the way that it looks when I apply it, but I'm actually not a huge fan of the cooling sensation.
The first time I used it, the tingling sensation almost kind of stung and it freaked me out a little bit. It is possible that my skin is just a bit too sensitive for it though, because after using it twice a day my under-eyes became rather dry and textured.
I don't typically have sensitive skin and am not allergic to any of the ingredients that I know of, but something in it just doesn't jive well with my skin. I'm reducing my use to only once a day or once every couple of days to see if my skin will cooperate, because I really do love the way it looks when applied!
This is a lightweight, but nourishing moisturizing cream for use both at night and during the day. It is clinically proven to keep your skin hydrated throughout the day and helps revive the appearance of dull and tired skin.
Ingredients like squalene, peptides, prebiotics, probiotics, and more help calm irritation, maintain skin balance, hydrate, firm, and nourish. This moisturizer is also non-comedogenic, so it won't clog your pores!
Overall
Rating: 9/10
⭐️⭐️⭐️⭐️⭐️⭐️⭐️⭐️⭐️
This cream makes my skin feel so soft to the touch and it really feels like it absorbs well, not leaving my skin feeling greasy or oily.
I find it really awesome that it is a product I can use for both my am and pm routine, making it a little easier on me with less steps to follow.
Personally, I am quite fond of the high quality ingredients to be a plus, because I am sensitive to many products, but am relieved and happy to say that I have not had a single reaction to this moisturizer.
One of the top products among TULA skincare reviews, this blurring and moisturizing primer helps smooth the look of your skin, evens out skin tones, and calms redness.
Ingredients such as probiotics, prebiotics, and licorice help nourish, calm, and smooth the skin. It is also non-comedogenic, so it won't clog your pores and is formulated for most skin types.
Overall
Rating: 8/10
⭐️⭐️⭐️⭐️⭐️⭐️⭐️⭐️
This is a great product and I can see why so many people like it. I'm personally not someone who likes to wear a tono of makeup and go for a natural look most of the time. That's what makes this product so great.
It adds the perfect tint and glow and I feel effortlessly beautiful.
The only reason I didn't give it ten stars is because I find that it sometimes doesn't absorb as well as I'd like and sits on top of my skin like a foundation might. This could be due to my oily-prone skin, but I still love it and would recommend it to anyone looking for a primer.
This is a broad spectrum sunscreen with a SPF of 30. This sunscreen protects from both UVA and UVB lighting, plus helps protect you from the damaging effects of blue light. This makes it great for both indoor and outdoor use.
On top of the great protection it provides, it will also leave you with a gorgeous glow and can be worn under makeup. It is a non-comedogenic formula as well and won't clog your pores. The best thing about this sunscreen though, it is reef safe!
Overall
Rating: 8/10
⭐️⭐️⭐️⭐️⭐️⭐️⭐️⭐️
This sunscreen gives your face such a beautiful glow that you're bound to receive a compliment or two. Plus, it feels a lot less oily than most sunscreens!
At first, the texture seemed strange to me, because it felt occlusive and clumpy and I was kind of worried it wouldn't spread well. However, once I applied it, the clumps break up and it melts into your skin.
I struggled with minimal breakouts at first so I started using a little less and that seemed to do the trick. A little goes a long way. Definitely one of the best sunscreens I've ever used.
Conclusion: Worth It or Not?
To finish up my TULA Skincare reviews, they have become one of my favorite skincare brands. Everything that I was able to try shocked me, because I had my suspicions about such greatly reviewed products. However, they all made the cut.
The only products I really tried were their best sellers, but I look forward to trying more and spreading the word about TULA Skincare. I'd ten out of ten recommend them and their products to anyone.