Everyone loves quality outerwear that's not only stylish, but also of good quality. Custom jacket makers are widely respected and The Jacket Maker is one top brand that has built a stellar reputation for itself within this space.
Our The Jacket Maker review will give you insight into what makes them stand out and if they're worth the investment.
What is The Jacket Maker?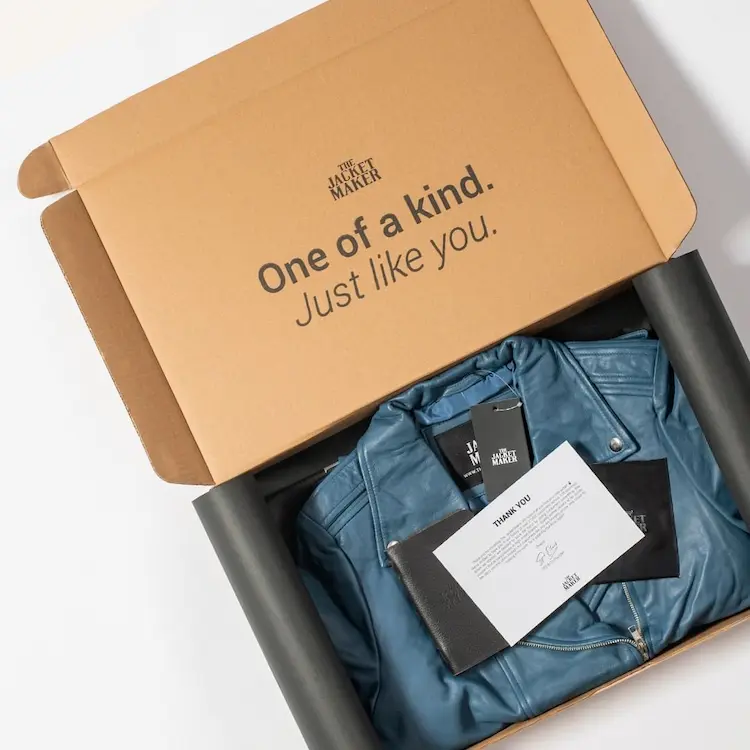 The Jacket Maker focuses on creating quality leather jackets for men and women, offering a wide range of styles and designs. Focusing on only the finest raw materials, their jackets provide a difference you can feel.
Aside from quality and attention to detail, they also focus on fair pricing. If you've always wanted a custom jacket made from scratch, The Jacket Maker might just be your new best friend.
Prices range between $200 to $350 for ready-to-buy jackets, then custom jacket prices can vary drastically depending on the material and customization you want.
Although The Jacket Maker primarily focuses on leather goods, they're also able to work with many other materials. You can choose from denim, bomber, trench coats, and even motorcycle jackets.
The Jacket Maker Reviews
To dive deeper into what customers think about this brand, keep reading for our overall ratings.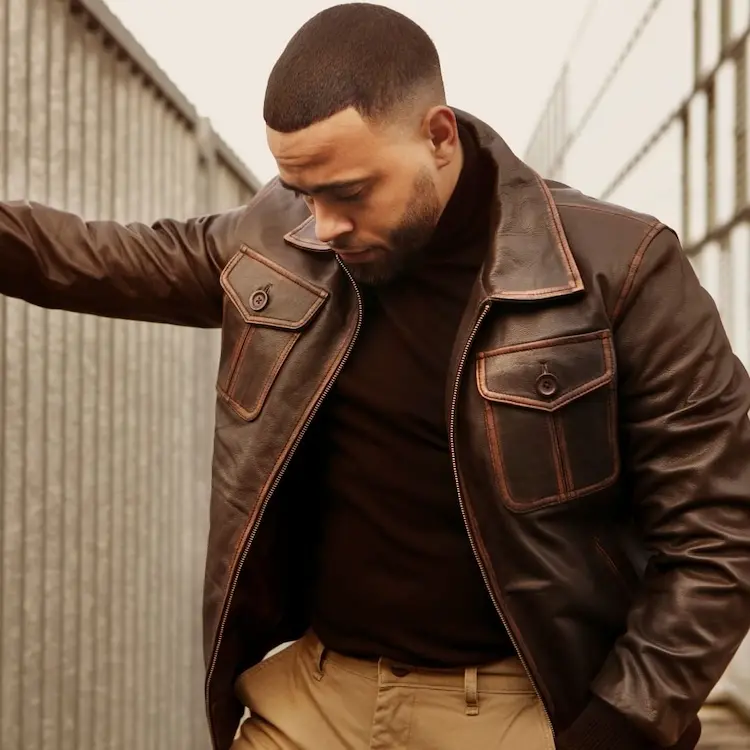 Overall Rating: ★★★★ 4 Stars
When you peek at The Jacket Maker reviews online, you don't have to dig very far to see that many of their customers are pretty happy with their products.
That being said, there are a few complaints. The quality doesn't seem to be out-of-this-world. You could shop from a more reputable brand and typically receive better quality, but the ability to customize your jacket is what shoppers pay for.
Many customers are willing to sacrifice slightly on the quality for a jacket that is perfectly tailored to their measurements.
Aside from this, shipping can sometimes take a while, especially when it comes to custom jackets.
Pricing: ★★★★ 4 Stars
There's no denying that The Jacket Maker is more of a luxury brand, so this isn't going to be your go-to store if you're looking for affordable jackets.
That being said, their pricing is very fair compared with the upstanding quality they're known for. Many of their jackets cost between $200 to $350, but they could easily last you a lifetime.
It's also worth noting that their custom jackets generally come with a higher price tag.
Quality: ★★★★ 4.5 Stars
Although the company seems to rave about the quality of their products, customers don't think they are all that amazing of quality.
Regardless, shoppers say the quality is satisfactory, but the biggest perk is that their jackets were perfectly tailored for their measurements.
Shipping & Returns: ★★★★ 4 Stars
The Jacket Maker offers free shipping to all of its customers (except for countries such as Russia, Brazil, Israel, OFAC, and Sanctioned Countries).
Then again, some customers have mentioned that orders can take a while to arrive, especially when it comes to custom pieces.
They also offer 30-day returns, but they do not allow returns on custom made jackets since these are tailored especially for you.
Customer Service: ★★★★ 4.75 Stars
Many reviews online shed light on the company's excellent customer service. This is enough to keep a loyal customer, and if you run into any issues, you can feel confident that The Jacket Maker has your back.
This is definitely a rarity with many companies nowadays, so their customers consider this a breath of fresh air, to say the least.
What Customers Think
Aside from our ratings above, we dove deep into reviews to curate a list of the most mentioned feedback surrounding The Jacket Maker. Here's what we found:
You get what you pay for; quality isn't always up to par compared to other leather goods brands
Having your jacket tailored for your measurements is a fantastic perk, so they are willing to sacrifice a little on quality
The quality isn't terrible, but you could purchase a similarly priced leather jacket from a reputable brand that is better well-made and lasts longer
Shipping can take a while, especially for custom jackets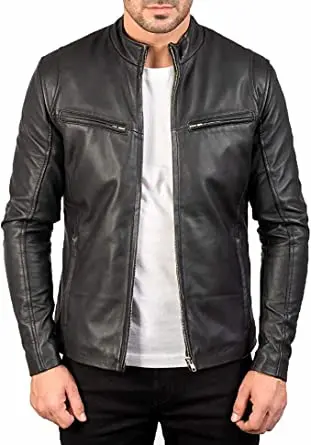 Most people can appreciate a standard black leather jacket as it's suitable for many different occasions and outfits.
This jacket retails at $270 and is available in a wide range of sizes, plus you can pay $50 extra to have it made to your measurements.
The outer shell is made from real leather that comes from sheepskin and has an inner quilted viscose lining. It also includes two pockets on the inside and four on the outside.
---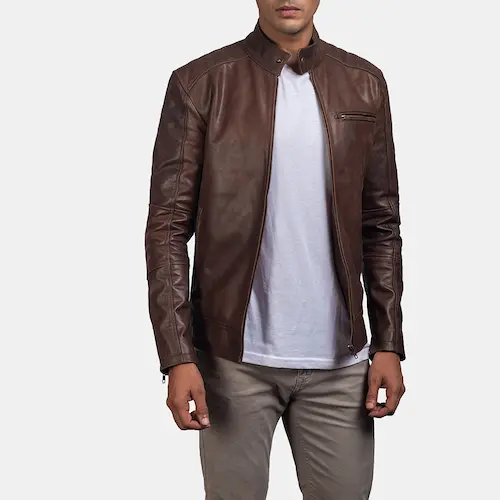 This is an excellent biker jacket made from cowhide leather, featuring a pull-up leather finish and plenty of pocket space for your essentials. It comes in a classic brown or black color, and you can have it for only $290.
The jacket has the durability bikers need and is beyond stylish, so it'll definitely make an impression on even the most casual outfits.
---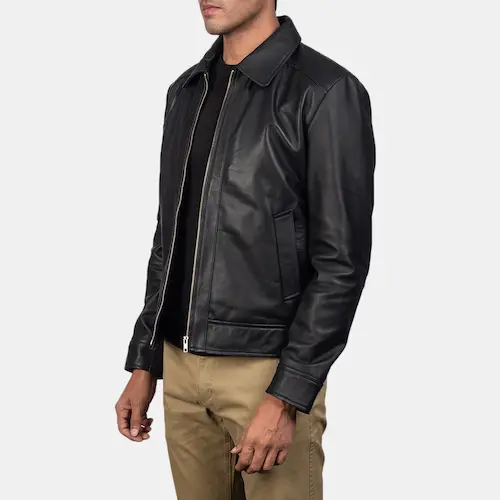 Featuring a collared design, this jacket is crafted from sheepskin leather that has a semi-aniline finish.
It has open hem cuffs, a total of four pockets, and comes in a jet black or warm brown colorway.
This jacket retails at $270.
---
Return Policy
Customers have up to 30 days to request a return if they aren't a fan of what they purchased. This pertains to product defects, damage in shipping, tampering, or if the customer receives the wrong product.
That being said, it's important to note that The Jacket Maker doesn't accept returns for custom jackets since they made it especially for you.
FAQs
Where Are The Jacket Maker Jackets Made?
Although the company is headquartered in Hayward, California, their production seems to come out of Pakistan.
Is The Jacket Maker Real Leather?
Yes, they use real leather and also utilize numerous types of leather. A large part of their catalog is crafted from either cow leather or sheepskin leather.
Is The Jacket Maker Good Quality?
Most of their customers seem to think their jackets are decent quality, and with the transparency in their craftsmanship, you can see how all of their products are made. Overall, it seems that you're paying for the perk of being able to order custom sizing.
The Bottomline
To sum up our The Jacket Maker review, finding a quality leather jacket can be difficult, but they do a good job of standing out from the crowd. Not only can you buy good quality leather pieces from them, but you'll have plenty of customer support along the way.
The best part of this brand is that you can order custom sizing; there's nothing like having a jacket that fits you perfectly because it's made especially for your measurements. But if you're just looking at their regular sizing, you might be better off going with a more trustworthy leather brand.
The Jacket Maker Alternatives
1. All Saints
2. Balmain
3. Schott