Getting a stellar-looking suit with a quality fit is only getting easier, thanks to companies like Suitsupply. They've created an efficient system that lets interested customers obtain a custom-made suit and many other pieces of professional wear.
The era of seeing a tailor in person is far from over, but many people in our modern time will choose efficiency and cost above all else. For this Suitsupply review, we're going to look at what they offer from every angle.
RELATED: How to Dress Well (12 Tips) – The Man's Guide for Any Occasion
What is Suitsupply?
Suitsupply is a suit brand that offers more than just stylish dress wear as their website also allows customers to build a custom look. Plus, you can get fresh ideas with the help of their Look Builder feature. The brand aims for a blend of style and an effortless purchasing experience that lets you find a new suit from the comfort of your home.
You can purchase individual pieces or find something fresh from top to bottom, and there are numerous unique styles that take influence from cultures worldwide.
Suitsupply Overview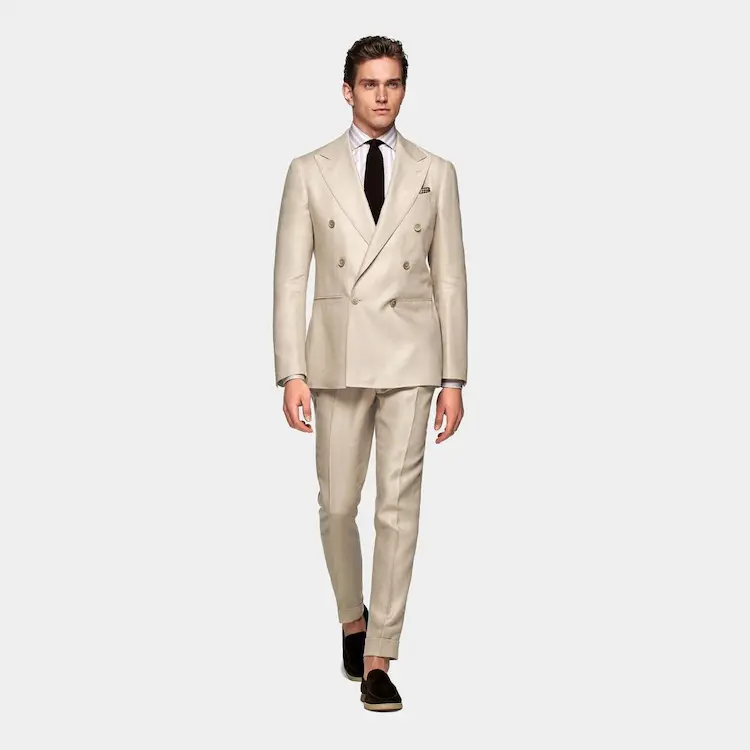 When you visit their website, it becomes pretty apparent what they have to offer. You're greeted with high-quality photos of their clothing, but you'll want to start with their sidebar for different clothing categories and tools to help you find what you're looking for.
They take a relatively simple approach, yet each item has everything you need to know about materials, sizing, and more.
Suitsupply Review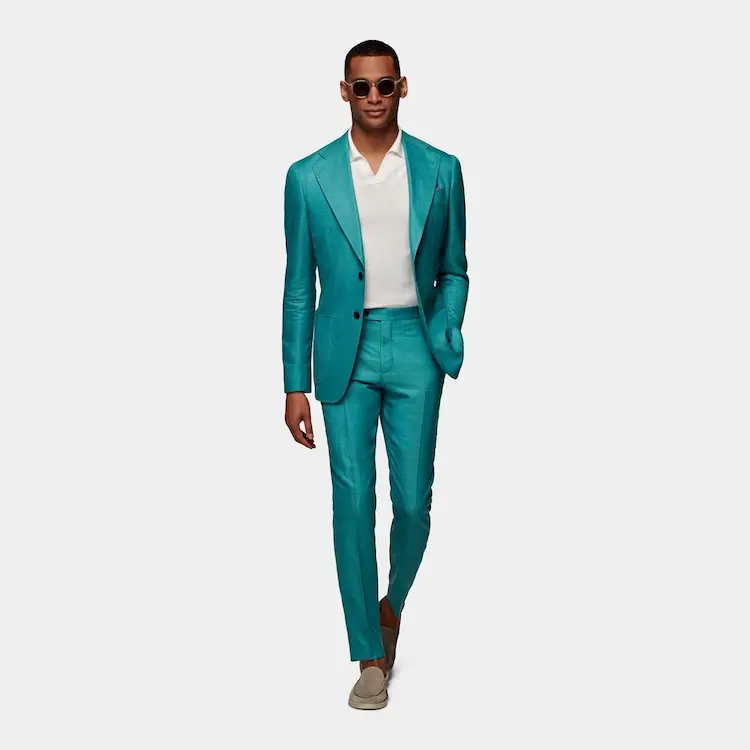 With the help of high-quality photos and plenty of details about their products, the company does a pretty good job of selling itself. Considering how expensive some of their items can be, we feel it's important to vet all aspects of the brand to ensure they're worth the buy.
Overall Rating: ★★★★ 4 Stars
It isn't hard to find glowing reviews about the company, as most of their customer base seems happy with what they have available. You may encounter a few isolated incidents with some people, but we don't feel it's enough to raise a red flag.
The company seems to provide a satisfactory experience across the board, even if it can be a little pricey.
Most customers say the items are nice quality for off-the-rack suits. The fabrics are well-constructed and the fit seems satisfactory. One downside, however, is that actually customizing an off-the-rack suit isn't that practical and may actually cost more than having a custom suit made.
Pricing: ★★★★ 4 Stars
Most customers are happy with the price range, with suits starting at around $400. This is a pretty good deal considering most dress wear can easily reach into the thousands, especially if you're looking for a full suit. A decent number of online reviews mention the quality is quite impressive considering the cost.
Every buyer may not share these same feelings, but it seems what the company has to offer is pretty hard to beat.
Shipping: ★★★★ 4 Stars
This aspect of the company seems to have a fair amount of issues, but we feel this pertains to many international customers. Some people have mentioned waiting weeks or up to a month for any update on their order, and a lot of these comments have come from people in various countries.
It's possible this could be a mixed issue between customer service and shipping logistics with different countries, but it's still an issue that could use some work. Their website claims a relatively fast shipping time worldwide, but some international customers say otherwise.
Customer Service: ★★★★ 3.5 Stars
If you need to reach out to the company, they're likely to respond, but the service you receive could go one way or the other. We feel this area of their business could be improved, although it's not an overall deal breaker.
It also seems that customers have a better experience in-store than online.
Thankfully, there's more than one way to reach out to them: email, phone, or even via WhatsApp.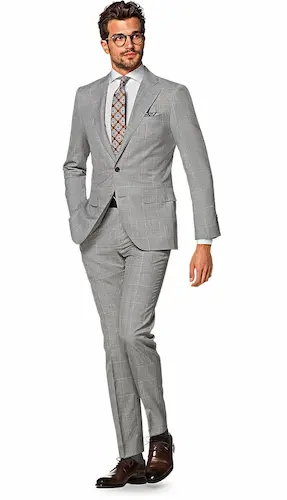 Quality: Crafted with S120 wool that's soft to the touch, this suit is tailored to a slim fit and boasts a half-lined interior. It doesn't have any shoulder padding to aid the slim-fit design, and you'll also find smaller features that stand out, such as patch pockets, half-canvas construction, and more.
Style: This suit delivers a modern design that works well for a wide range of occasions. You can wear it to a nice brunch, or it could be your go-to choice for the office. The cuffed Soho trousers look their best with a pair of dress shoes or loafers, minus the socks.
Its grey color is a great neutral choice that gives the suit plenty of versatility, so you can wear it on a more regular basis if you choose.
---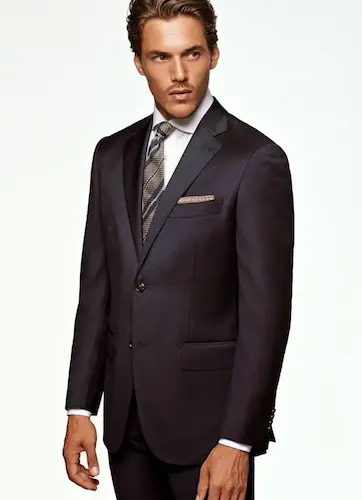 Quality: Delivering a Napoli jacket fit that shines through in the shoulders and notched lapel, this suit comes with a classic look and feel. The dark navy color creates a sense of professionalism; its contrasting look will pop every time you wear it.
It also has a Brescia fit for the trousers, and the suit brings a formal silhouette that's perfect for professional environments.
Style: This wouldn't be a suit you'd want to mix and match, as it brings out its best qualities with a uniform look. The dark navy colorway is bold and offers a regular fit that'll look great on most people. For footwear, you'd do well to choose a pair of either black or dark brown dress shoes.
---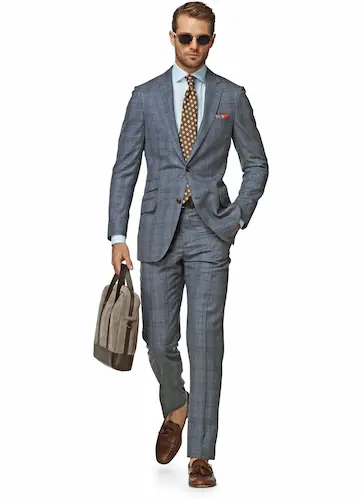 Quality: This suit is also tailored to a slim fit and comes with an outstanding balance of formal structure and soft materials. You'll find a more rounded and natural look for the shoulders, horn buttons, and various hand-finished accents.
Style: It's definitely a professional-looking suit, but the light blue colorway gives it plenty of adaptability. The trousers have a flat front, and their design really excels with a nice pair of loafers, but traditional dress shoes will do just fine as well.
What Are Customers Saying?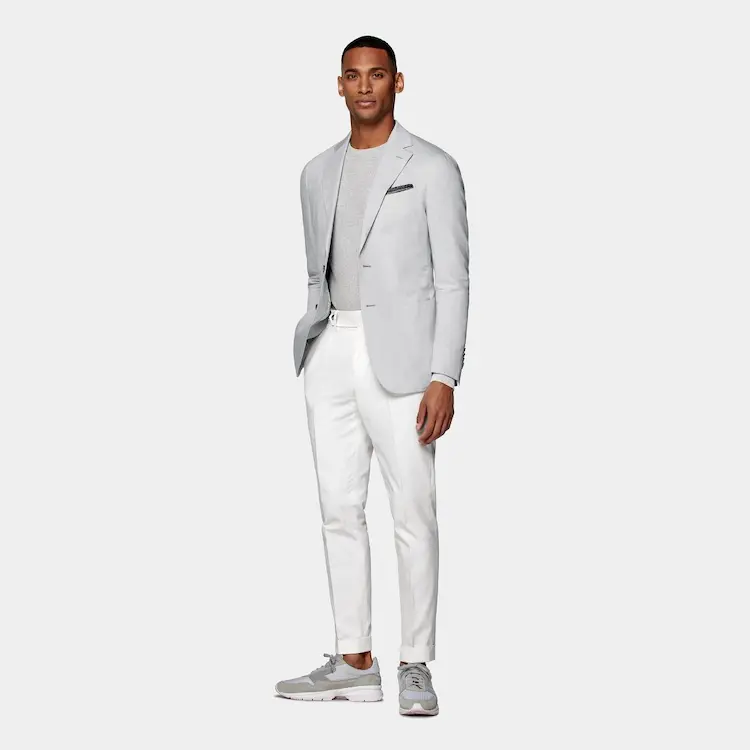 Like any company, Suitsupply comes with its own pros and cons, most of which can be found through many online reviews. Below, you'll find what many customers have to say about the company.
Great quality clothing and accessories
Customer service could use a little work
Shipping can take longer than expected for certain countries
Many feel the clothing is fairly priced
People enjoy Custom Made and Look Builder website features
Some encounter a few issues with custom sizing
In Conclusion: Worth It?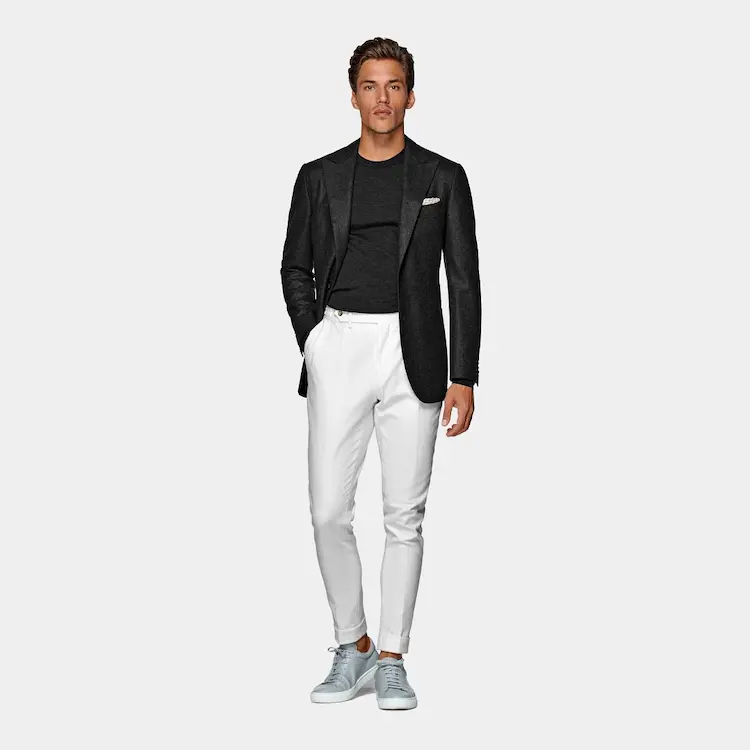 Overall, if you're looking for a good quality off-the-rack suit, Suitsupply is a great place to look. It definitely has something unique to offer the dress wear market, and their blend of quality and efficiency is a huge selling point for most people.
They may not be perfect for everyone, but you won't have any trouble finding something stylish for yourself. Plus, their pricing can be hard to beat.
This Suitsupply review focused on every aspect of the company: what makes them special, and how they differ from the norm.
Suitsupply Alternatives
2. Oliver Wicks
3. Black Lapel
Return Policy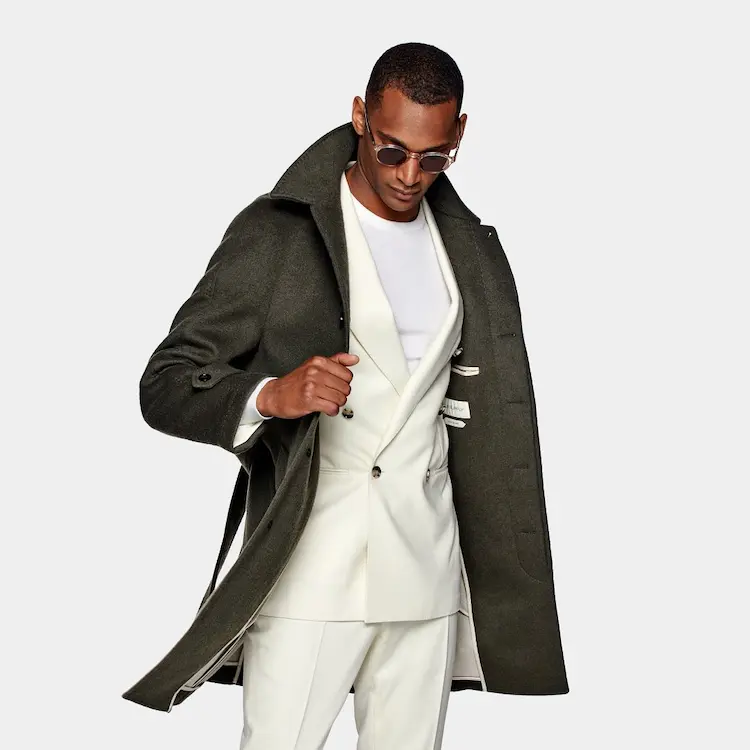 They allow customers to initiate a return within 30 days of the delivery date. Items have to be unworn, and even custom-made items are included in the policy.
You can easily request a return through their website, and when they receive the items, your original purchase amount should be refunded within 5-7 business days.
FAQs
Where Are Suitsupply Suits Made?
From what we can find, their suits are made in Amsterdam, where the company was founded. The company likes to keep its manufacturing close to home, but they're happy to serve many countries all over the world.
Who Owns Suitsupply?
Founded by Fokke de Jong over twenty years ago, the brand has been growing a loyal customer base ever since. The brand is also a member of the Fair Wear Foundation, and they're known for unconventional retail locations and an innovative approach to its website's custom features.
How Long Does Suitsupply Tailoring Take?
The company claims it takes about four to five weeks from manufacturing to delivery. Considering the quality, many customers are happy to wait, and you can reach out to the company for updates anytime.
UP NEXT: How To Wear a Grey Suit Brown Shoes: Ultimate Guide