Suit shopping can be quite a hassle. You may not find what you're looking for the first time around, which means you have to drive to multiple shops and repeat the process over and over again.
On top of that, you'll be spending a pretty penny unless you go with a rental (even then, the prices can be crazy).
But what if it doesn't have to be like this? We came across Suit Shop, a brand that is dedicated to creating more affordable suits that are still good quality.
In our Suit Shop reviews, we're going to dive into what makes their suits so affordable and if the quality measures up.
What is SuitShop?
SuitShop was started by Jeanne Foley and Diana Ganz with the intention of providing quality formal wear at an affordable price. They have a small team, but each member seems passionate about making SuitShop as great as it can be.
Although the website is primarily geared toward men, many different stylish suits are also available for women too (and they even have the cutest section of suits for kids).
SuitShop prices typically range between $199 – $300 for suits and tuxedos. This is pretty impressive since some rentals can cost this much!
You can shop for something simple or niche depending on your needs, including suits, tuxedos, and more specific categories such as prom night and weddings.
They even offer "try before you buy" suits that give you a 7-day trial to decide if it's a good fit for you (you still need to return it brand new, you just aren't charged the cost until you decide to keep it).
SuitShop Overview
When you land on the home page of their website, you're greeted with high-quality photos that easily sell themselves. It's also simple to navigate to what you're looking for, as there's plenty of formal wear that's separated by category.
You can also get plenty of help with sizing using their Fit Finder tool, and the company even offers plenty of inspiration to help you decide what looks and feels best.
Suit Shop Reviews
A first glance at the website (and the prices) are compelling, but does the brand really offer quality suits? We'll be diving into this in our ratings below.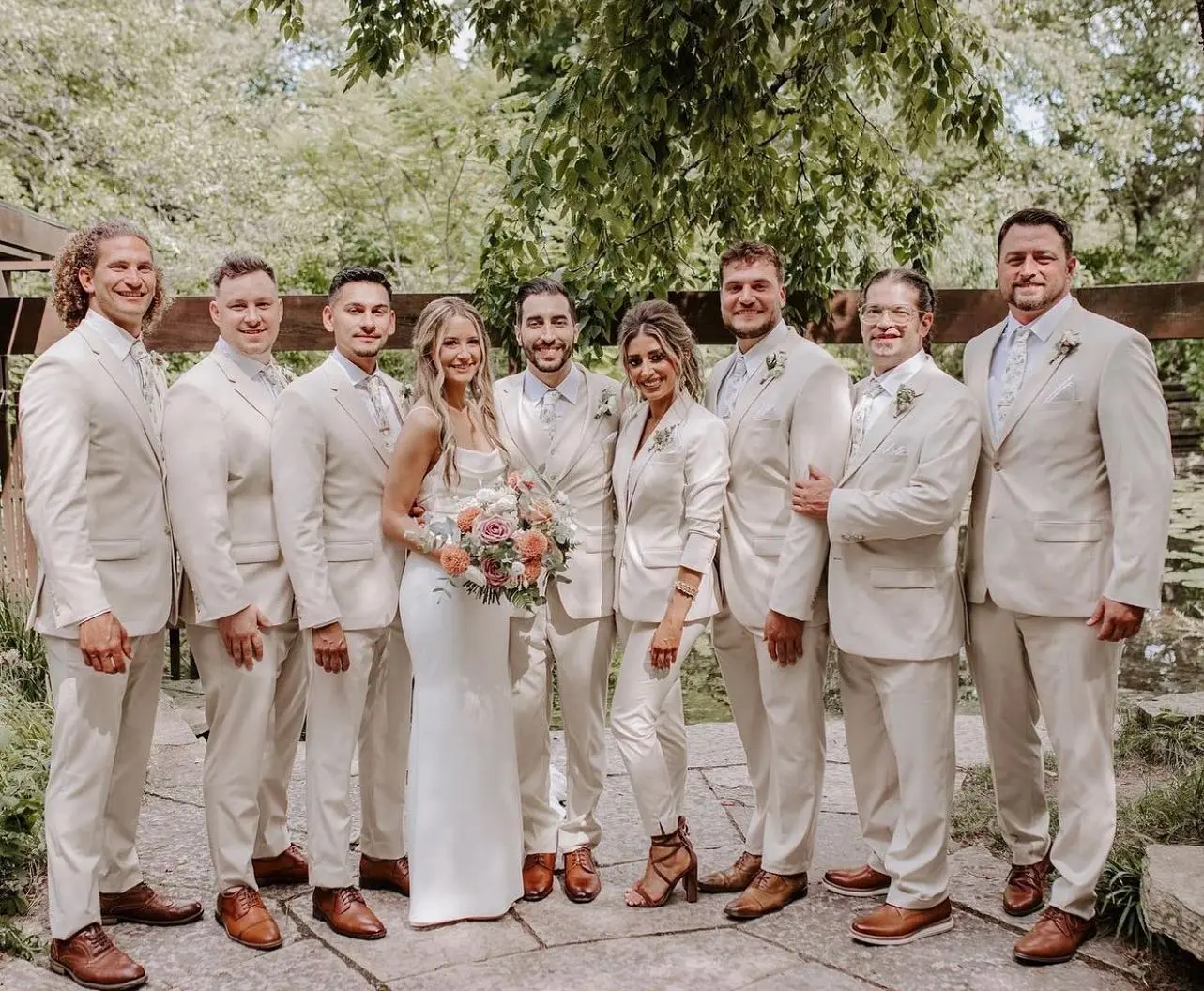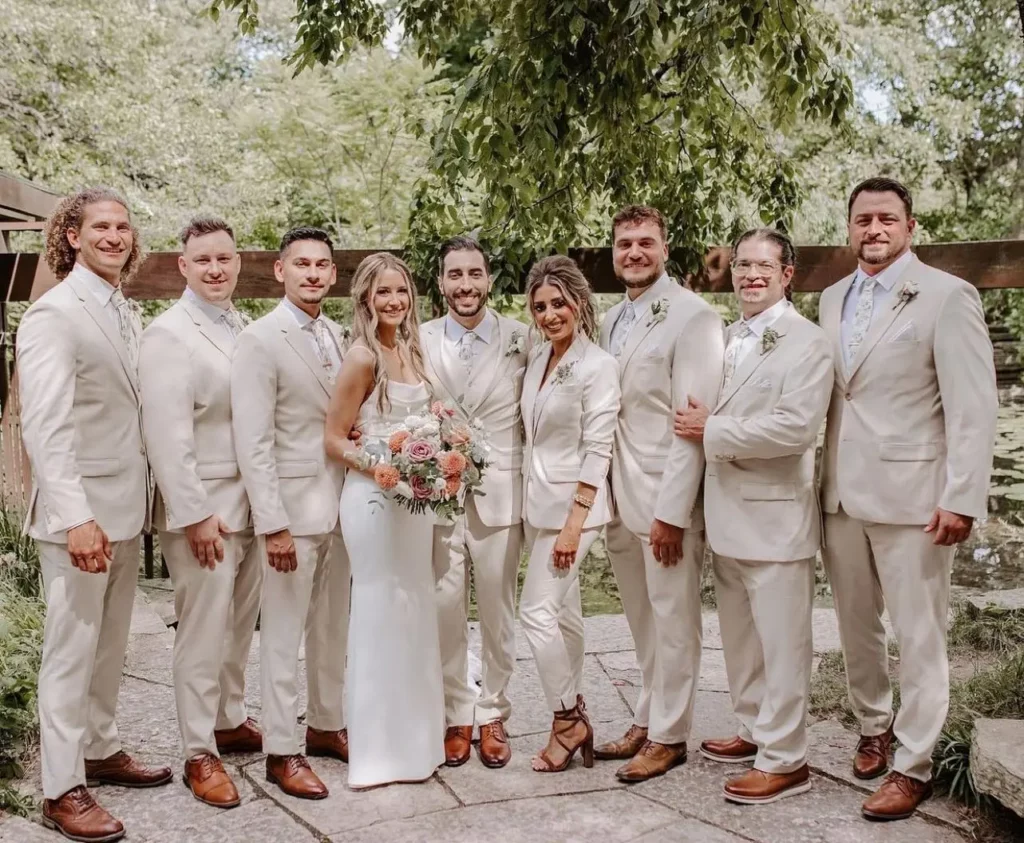 Overall Rating: ★★★★ 4.5 Stars
There aren't a ton of reviews about the company online, but the ones that are put the company in a pretty good light.
The biggest pro about SuitShop is the prices! They offer affordable prices (a typical suit will cost around $200) and the quality is impressive considering how affordable their suits are.
You won't spend a fortune dressing your groomsmen, or just investing in a suit you can wear to special events.
They also offer free returns within 30 days, so you can return anything as long as it is unworn and unwashed with tags attached. We recommend shopping far ahead of your event date in case the sizing or something else is off.
Pricing: ★★★★ 4.5 Stars
Considering how expensive formal wear can get, everyone agrees that SuitShop has great pricing, plus they even offer a sale section for even better discounts.
With the fact that you can grab a suit for around $200, that's unarguably hard to beat in comparison to many in-store experiences.
You shouldn't expect the best quality suits out there, but they are pretty good quality considering how affordable they are.
The only note is that the pants don't come hemmed, so you will need to get them hemmed yourself. This is great so you can get the perfect length, but some people aren't aware of this before buying. Hemming typically costs an extra $10 – $20 depending on your area.
Quality: ★★★★ 4 Stars
As mentioned earlier, a lot of their customers are pretty surprised at the substantial quality of their suits and clothing overall. Whether you only plan on wearing it once or want something you can rely on for years, SuitShop has you covered.
Some people have run into sizing issues, but this can happen from time to time when shopping online, and their free returns policy ensures you can exchange it for a better size.
It's worth mentioning that the suit quality won't blow your mind (I mean come on, it's a $200 suit). But in comparison to the price, the suits are of pretty impressive quality.
Nobody will be able to tell how much you paid and you will look fresh the entire event, plus you'll be able to wear it to future events.
Shipping & Returns: ★★★★ 4.5 Stars
Shipping seems to be pretty consistent as well. If they have the items in stock, orders are generally shipped out within 72 hours of being placed, and it can take up to seven business days to arrive at your door.
Although the company does ship internationally, its entire catalog isn't available worldwide due to the location of some fulfillment centers.
They also offer free returns within 30 days on unworn items, so you don't have to feel like ordering from them is taking a risk (just make sure to allow plenty of time before your event date).
Customer Service: ★★★★ 5 Stars
One thing we noticed is that Suit Shop reviews almost always heavily praise their customer service. We rarely see a brand that has so much amazing feedback when it comes to customer service, so the SuitShop seems to be something special.
Their customer service is quick to respond and can help you find the exact fit and style you're looking for while providing you with the guidance you need to buy with confidence.
And again, their free returns policy proves that the company takes pride in its suits and wants every customer to have a positive experience.
What Customers Think
Regardless of how beautiful their website might be, you want to look at what customers have to say before making a decision.
Fantastic prices
Most Suit Shop reviews are pretty satisfied with the quality of their clothing
Shipping is consistent and relatively fast
Customer service is excellent
Free returns policy is great and it's super easy to make returns or exchanges
Sizing is accurate and form-fitting
Fit Finder tool was helpful to find an accurate size
Not the most amazing quality, but pretty good for the price point
Suit came unhemmed so they could easily tailor it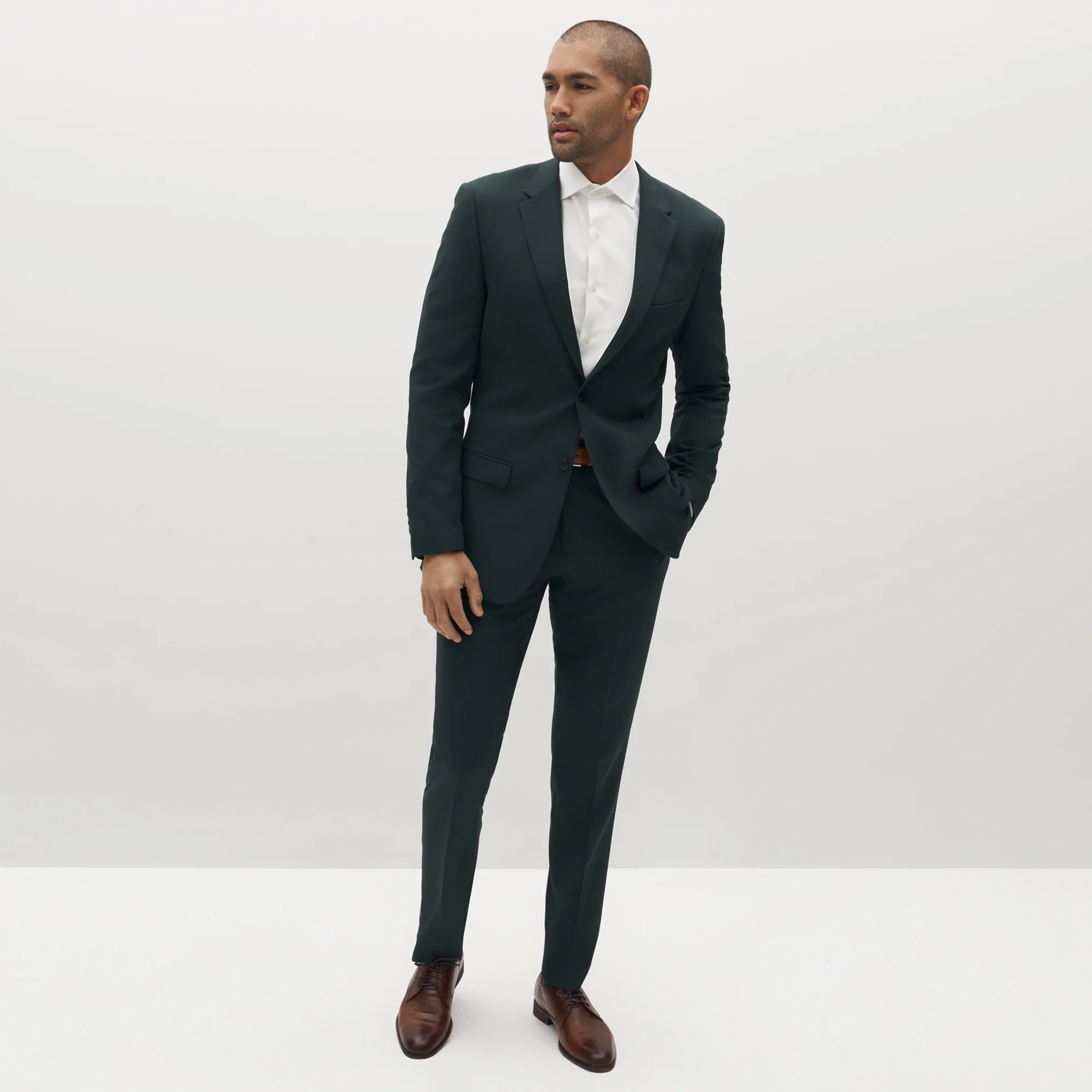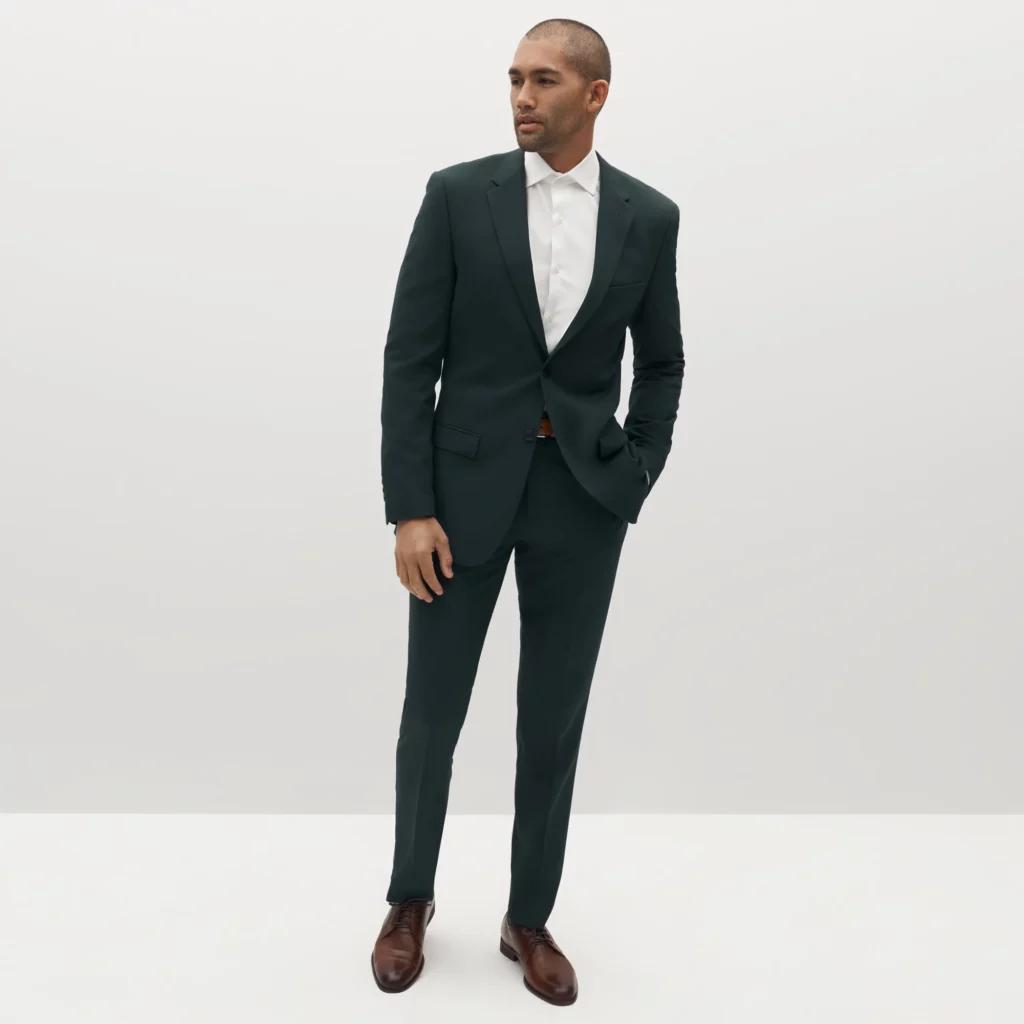 Crafted with a bold image in mind, this suit looks excellent while offering a blend of neutrality and appealing color. It's made with a two-button front, double side back vent, and standard formal wear pockets.
It's made from 38% recycled polyester, 38% polyester, 19% rayon, and 5% spandex. With the right size, it'll look snug yet not too tight while accentuating your form and features.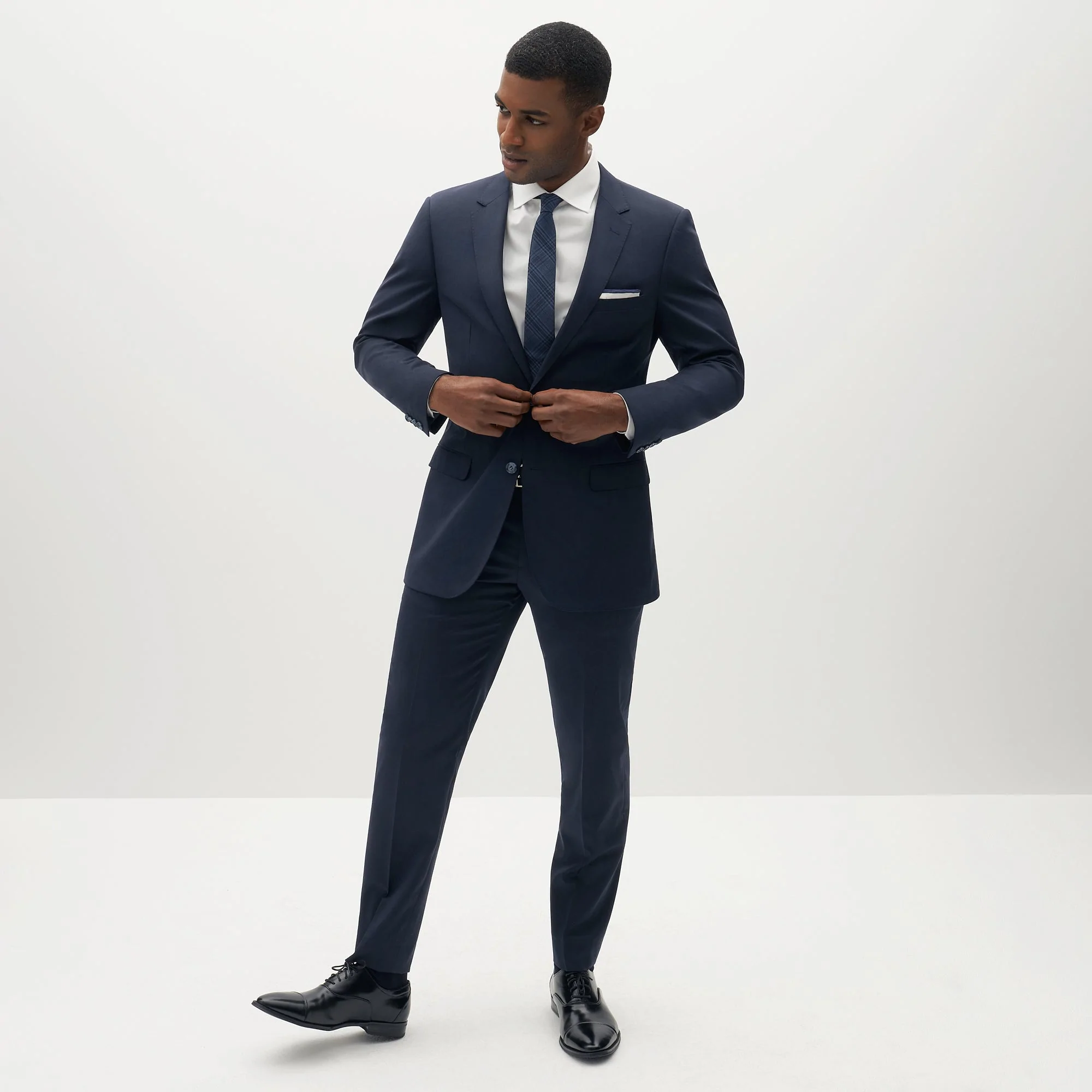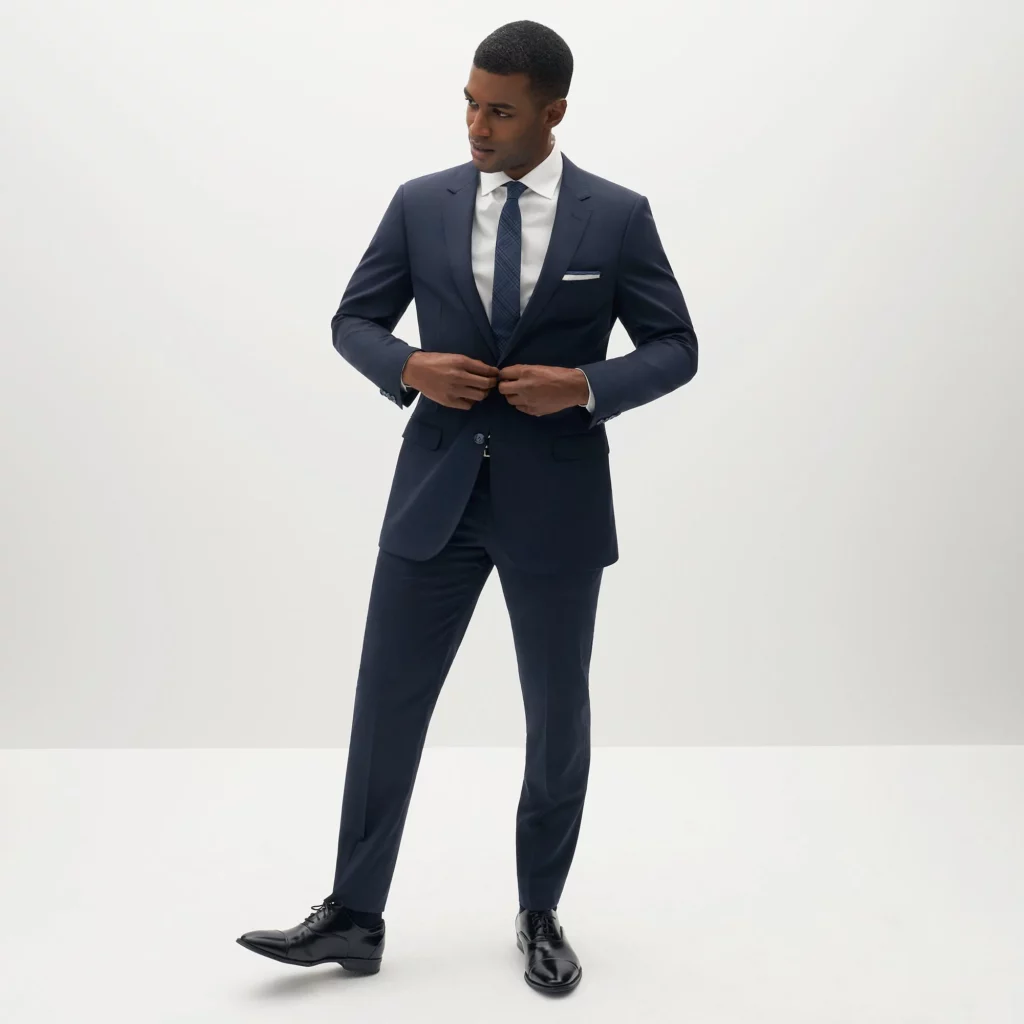 You can't go wrong with navy blue, as it's a colorway that works on most people regardless of your features. It offers a professional look, and its bold and classic features are great for nearly any formal occasion.
The suit comes with a standard construction that should offer years of reliability, and you can choose between a modern or slim fit for the jacket and suit pants.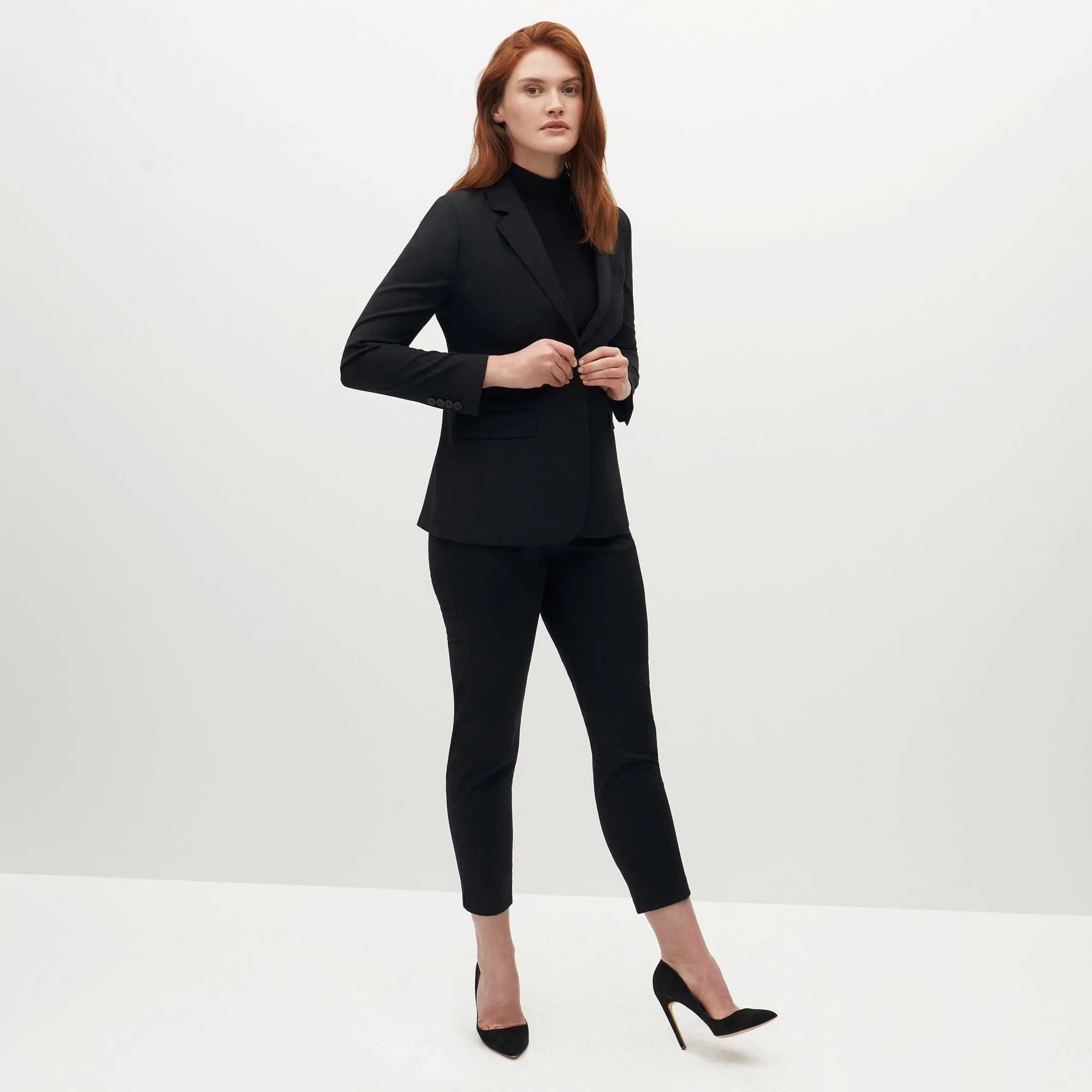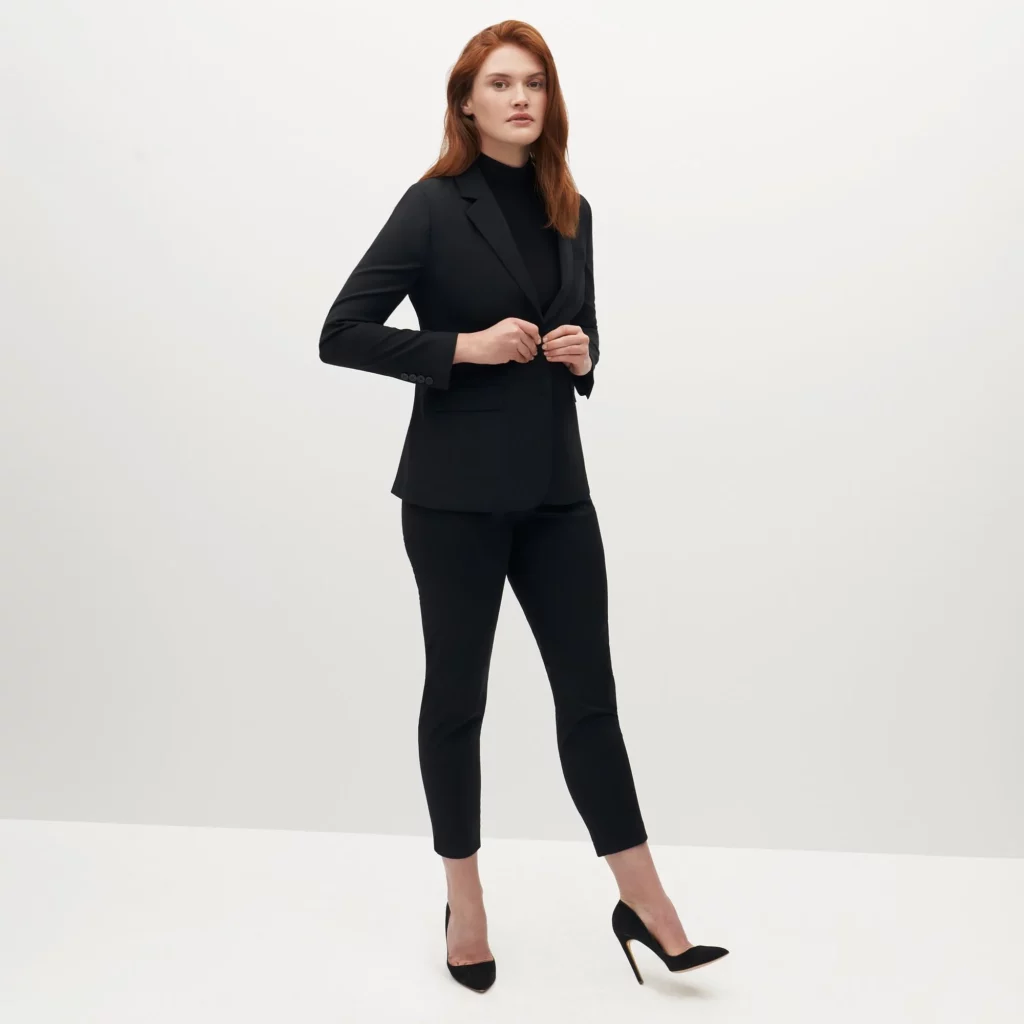 This suit's neutral and strictly formal design looks great due to its uniformity and classic style. An excellent range of sizes is available, and women can choose between a short, regular, or long construction.
Regardless of the occasion, this suit is more than appropriate, and it'll accentuate your features without tarnishing its professional look. 
Return Policy
Any item that's unworn and unwashed can be returned for free within 30 days of the date of purchase. Original shipping costs won't be refunded.
You can submit a request for a return on their website with just a few clicks, and unfortunately, international orders are not eligible for free returns or exchanges. Additionally, personalized items aren't eligible for returns unless they end up damaged.
FAQs
Is Suit Shop Worth It?
Most, if not all of their customers seem to think the brand is worth it. Between the stellar customer service, affordable pricing, free returns or exchanges, and impressive product quality for the price point, there's plenty to love about the company.
Where To Buy Suit Shop?
The only place you can get what Suit Shop has to offer is on their official website. They also have a few local stores in some cities around the USA.
Who Owns Suit Shop?
The original idea came from Jeanne Foley, but the Suit Shop is owned and operated by co-founders Jeanne Foley and Diana Ganz.