For many women, new hair symbolizes new beginnings. Dying your hair a new color can be just the thing you need to start that new chapter in your life. Just broke up with your boyfriend? Chop it off and dye it red! New job in a completely different city? Blonde highlights are the way to go!
If you are ready to make that drastic change, allow us to help you out. Splat Hair Color is popular for its wide variety of vibrant shades, but what's the real tea? Should you purchase it? Here is the only Splat hair dye review that you'll ever need!
What is Splat Hair Dye?
Splat is a hair dye brand that offers numerous bright, temporary, 10-wash, and semi-permanent hair dyes.
Their products can be purchased on their website and at several different retail locations such as Walmart, Target, and Amazon. Be aware that many of their hair colors require prior hair bleaching in order to achieve the advertised color payoff.

Splat offers numerous different collections of dyes, each formulated for different hair needs. The 'Splat Original Complete Kits' collection provides a kit with both the bleach and the hair color for your use.
The 'Original Singles' are the same colors that can be found in the 'Original Complete Kits,' just in small, singular packets with no bleach.
The 'Midnight ' collection claims to deposit bright colors into medium brown to pale blonde hair shades without the bleach.
Their 'Splat Naturals' collection is a line of hair dyes that are 95% natural and provide extra conditioning for damaged hair.
Lastly, Splat's newest 'Double Lift' collection offers permanent dyes that lighten your starting shade while depositing the color at the same time. This line is geared toward those with dark brown, virgin hair who want vibrant color without the bleach.
The '10 Wash' collection provides vibrant hair colors that come out in just 10 washes. Their '1 Wash No Bleach' collection allows you to experiment with hair color for the day as it comes out after 1 wash.
Finally, their 'Ombre' collection is perfect for those who only want a vivid ombre as it comes with bleach and 2 hair colors. Splat also sells temporary sprays and hair chalks. 
Average Pricing
On their website, pricing is as follows (unless there is a sale):
The Original Complete Kits with bleach – $12.99
The Naturals Collection – $14.99
The Double Lift Permanent Collection – $12.99
The Midnight Collection – $12.99
The Original Singles – $5.00
The Ombre Collection – $12.99
The 10 Wash Collection – $9.49
Temporary Hair Color Collection – $8.99
These items can be found at retail locations, as well as Amazon, for similar prices as well.
Splat Hair Dye Reviews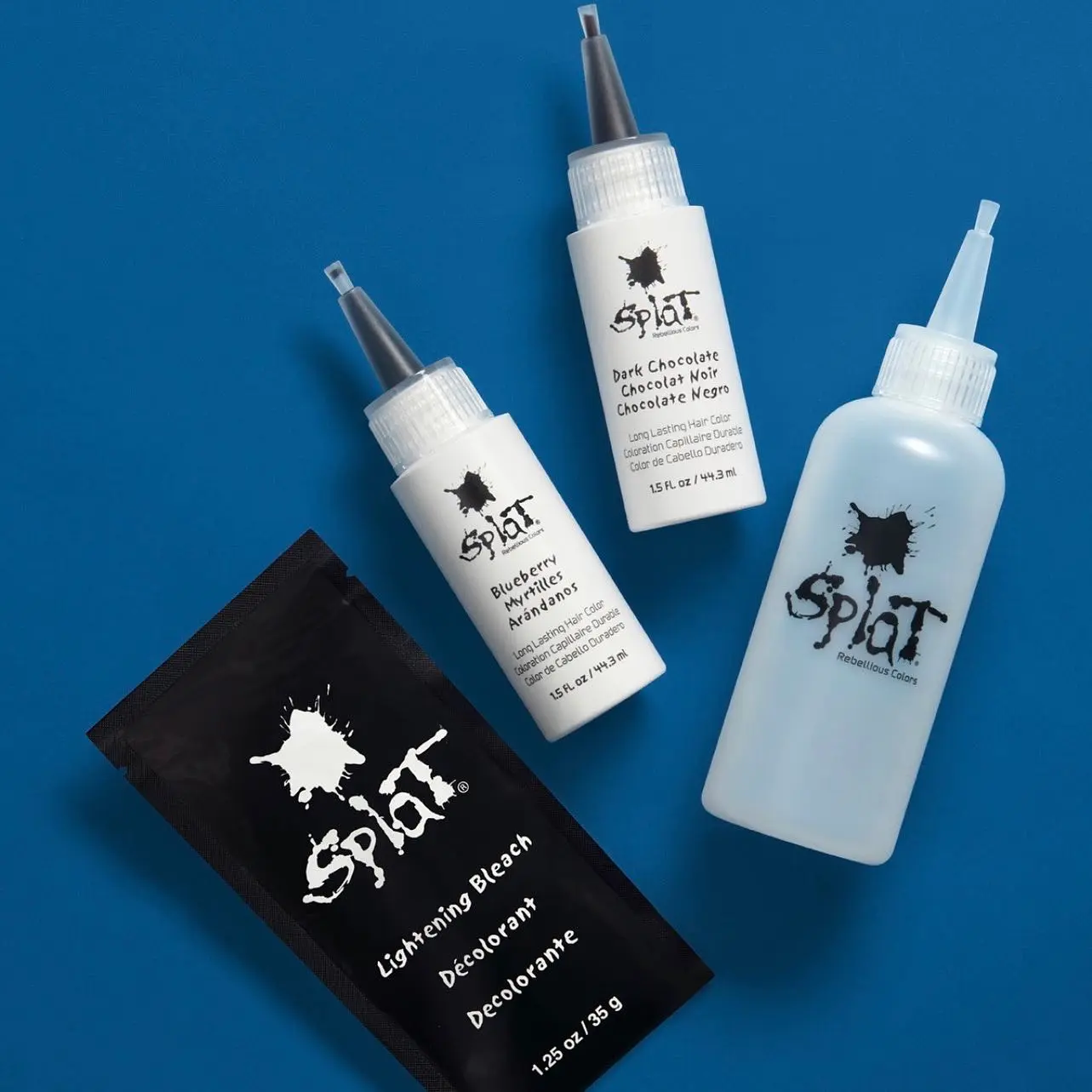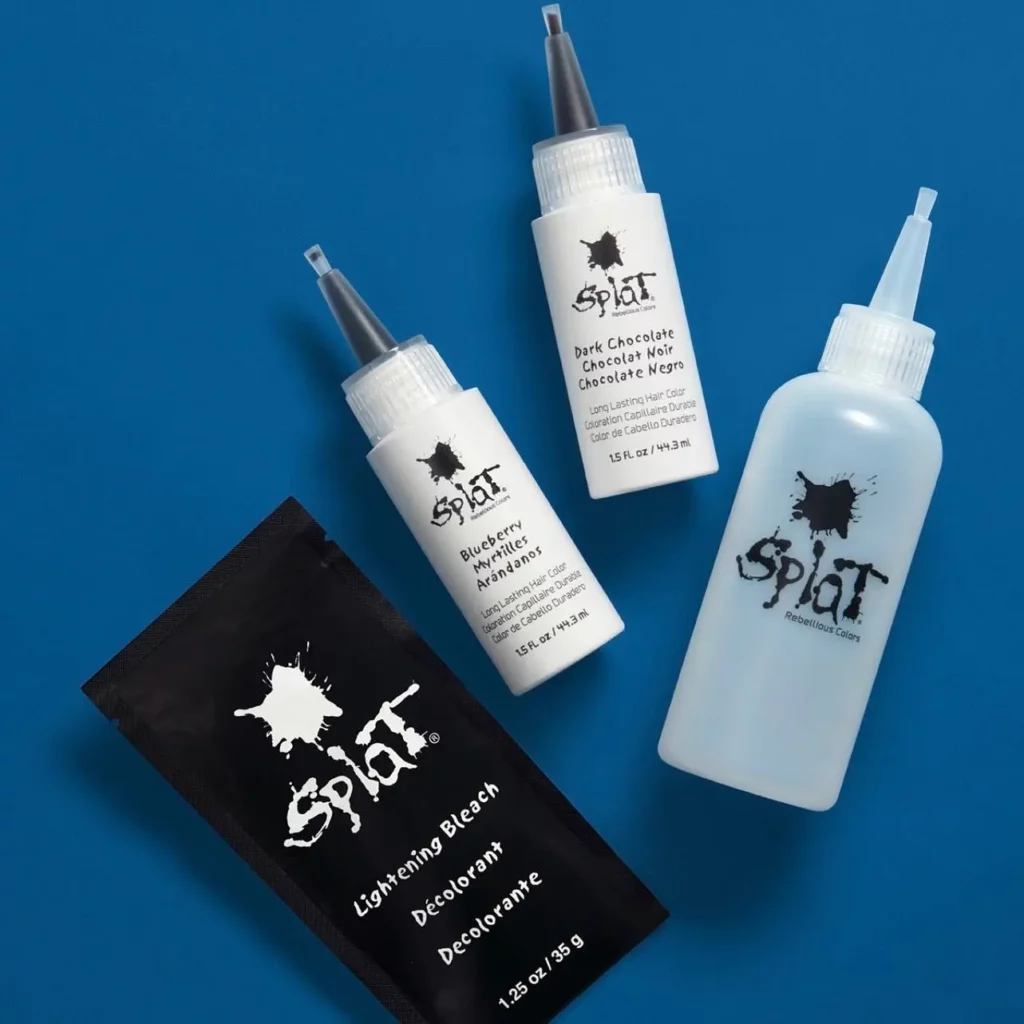 Overall: ★★★ 3 stars
All in all, it's not the best hair dye around. It's definitely not meant to last a long time and can damage hair. (Although it is important to note that dying your hair, in general, is often damaging.)
Price: ★★★★ 4 stars
Splat hair dye is definitely affordable, at around $9-13 a box. For temporary hair dye, that's not a bad deal.
Quality: ★★★ 3 stars
According to customer reviews, Splat hair dye can be a hit or miss. Some common complaints include how quickly the hair color fades and that it can be damaging to hair.
Top Alternative: Punky Colour
Splat's Original Kits (with bleach) are pretty popular amongst consumers because they provide the needed bleach, therefore supporting a more vibrant color payoff.
This collection of hair dye is infused with baobab seed oil and quinoa extract to help moisturize the hair and prevent breakage.
Crimson Obsession is one of Splat's top-rated hair dyes with 4 out of 5 stars. This warm red shade is perfect for giving your hair a vibrant and unmistakable hue, and it comes with bleach and hair dye to make the process quick and easy.
Not only does this dye give your locks a stunning new look, but it also comes with bleach so you can achieve the perfect color.
This top-rated dye is a bold and beautiful blue, perfect for adding a pop of color to your look. Whether you want to go all-over blue or just streak it in, this dye is sure to turn heads.
It'll give you the perfect mermaid look if you dare to be different.
This all-in-one kit has everything you need to achieve that perfect dual-tone look. Whether you're going for a subtle ombre or something more dramatic, this easy-to-use kit makes it quick and easy to get the results you want.
Plus, it comes in several different colors such as pink, blue, purple, and red.
Other Customer Reviews
Overall, some customers love Splat hair dye, but the majority of customers say the color fades quickly and is harsh on their hair. Here are some of the comments that stood out the most (compliments of Splat's website and Reddit):
Positive Reviews
"Love how the color came out. It doesn't always last as long as I'd like it to but then I just recolor it again to keep the color vibrant. Would highly recommend it to anyone who isn't afraid to try daring colors in their hair." – Sam C.
"Absolutely loved everything about this color. It came with everything I needed as in gloves, color, lifting products and conditioner. Color came out so vibrant. Definitely would use it again!!!" – Shawna B.
Negative Reviews
"Splat hair dye is awful even if you don't bleach (your hair). it stains your skin, and it fades really weird. When I used splat, the color was ugly (I got purple), and it faded into a gross color! I bleached mine, but I have friends that hated it on their natural hair color." – A.J.
"My biggest issue with splat dye is that it never came out of my hair. I used their purple color when I first started dying my hair. It looked alright, but I had an easier time bleaching out black box dye than I did removing the purple. It also left nasty residue on my scalp that ended off flaking like purple dandruff. It was disgusting." – C.S.
"I've used Splat before and it was very harsh on my hair. If you're going to try it out I would approach with caution." – K.T.
Top Alternative: Arctic Fox
Return Policy
Splat does not accept returns for items that were not purchased through their website.
To return items purchased through their site:
You must provide an email receipt, order number, and Return Authorization number (provided upon return request).
Returns and exchanges must be made within 30 days of purchase, within an inquiry emailed to their customer care team.
You will be responsible for shipping fees unless the error was on the company's end.
You may not receive a refund on original shipping fees.
For damaged or defective products, the company will provide free return shipping and inspect the product. If the return is accepted, a full refund (excluding shipping fees) will be issued back to the customer through their original payment method, or a replacement product will be sent free of charge.
If the return is approved, the credit should be received within 7 days.
FAQs
Is Splat Hair Dye good?
Splat Hair Dye is good for the price, but many customers complain that it stains the skin and can be damaging to the hair.
Is Splat Hair Dye harsh?
Many customers say that Splat hair dye was harsh on their hair, saying it was drying and caused damage. Splat does, however, have a line of "Naturals" that doesn't contain bleach, parabens, or sulfates.
How to remove Splat Hair Dye from skin?
Splat's website recommends using an equal mixture of baking soda and dishwashing liquid to run out the stains from skin.
Is Splat Worth It?
In all honesty, it was a lot easier to find comments bashing the hair dye than it was to find comments praising it. The majority of Splat hair dye reviews say that the dye is damaging, the color payoff is inaccurate, it fades quickly, and permanently stains the hair.
The consensus? Don't risk it! Try looking for another brand with better reviews so your locks can remain healthy and luscious. One great alternative is Punky Colour!
If you still really want to try their bright colors, we would recommend avoiding their bleach (check out some of the top hair bleaches instead). You might want to start out with a temporary color first and do some extensive research on the particular color you're looking at to make sure it won't stain your hair forever.
Splat Hair Dye Alternatives: