When it comes to bleaching your hair, we all tend to get a little nervous. It can be an empowering experience, or it can be a horrible mess if you don't use the correct products and techniques. To help you out, we've put together the best hair bleach for every hair type and budget to help you achieve the best results.
Is it safe to bleach your hair at home?
We'll be honest, bleaching your hair at home is not recommended by most hair professionals – that said, as long as you do proper research and take precautions, bleaching your hair at home should be safe. But, if you're super nervous or want to minimize damage as much as possible, it's best to visit your local salon.
---
Best Overall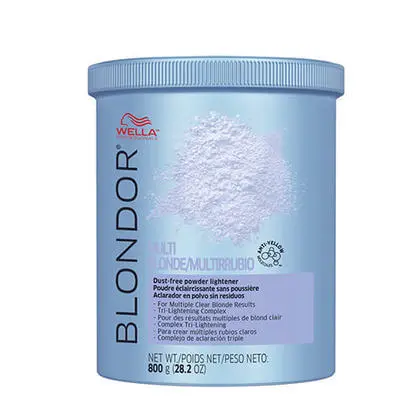 Wella Blondor Multi-Blond Powder
Being one of the top-rated lighteners on the market, Wella Blondor gets the job done beautifully. Many stylists consider it to be the best bleach for hair!
This lightning powder delivers incredible results, with less damage (and in half the time). It works great for those with sensitive scalps and doesn't cause pain, itchiness or burning.
---
Best Hair Bleach Under $25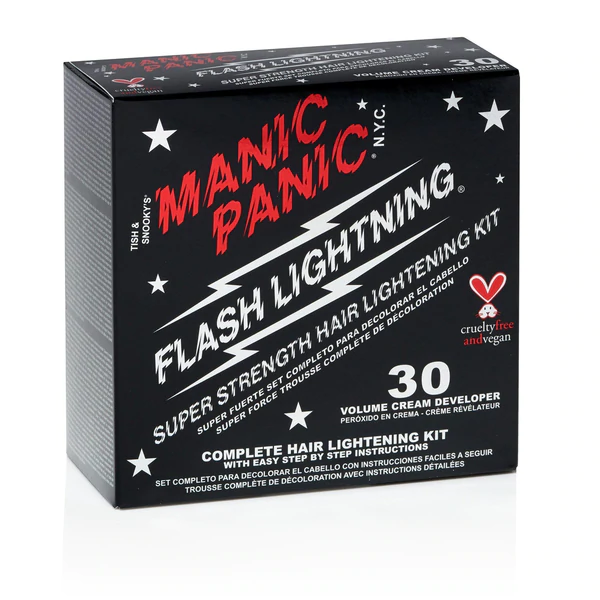 Manic Panic Flash Lightning Hair Bleach Kit
Next on the list for a more affordable bleach kit is the Manic Panic Flash Lightning Bleach Kit. Priced under $15, this bleach kit has been known to lift your hair up to seven levels effortlessly.
Many claim this to be the most effective bleach kit on the market with minimal damage. Easy, affordable, & effective, what more could you want in a bleaching kit?
---
---
Best Hair Bleach Kit
Radical Bleach Kit – Beyond the Zone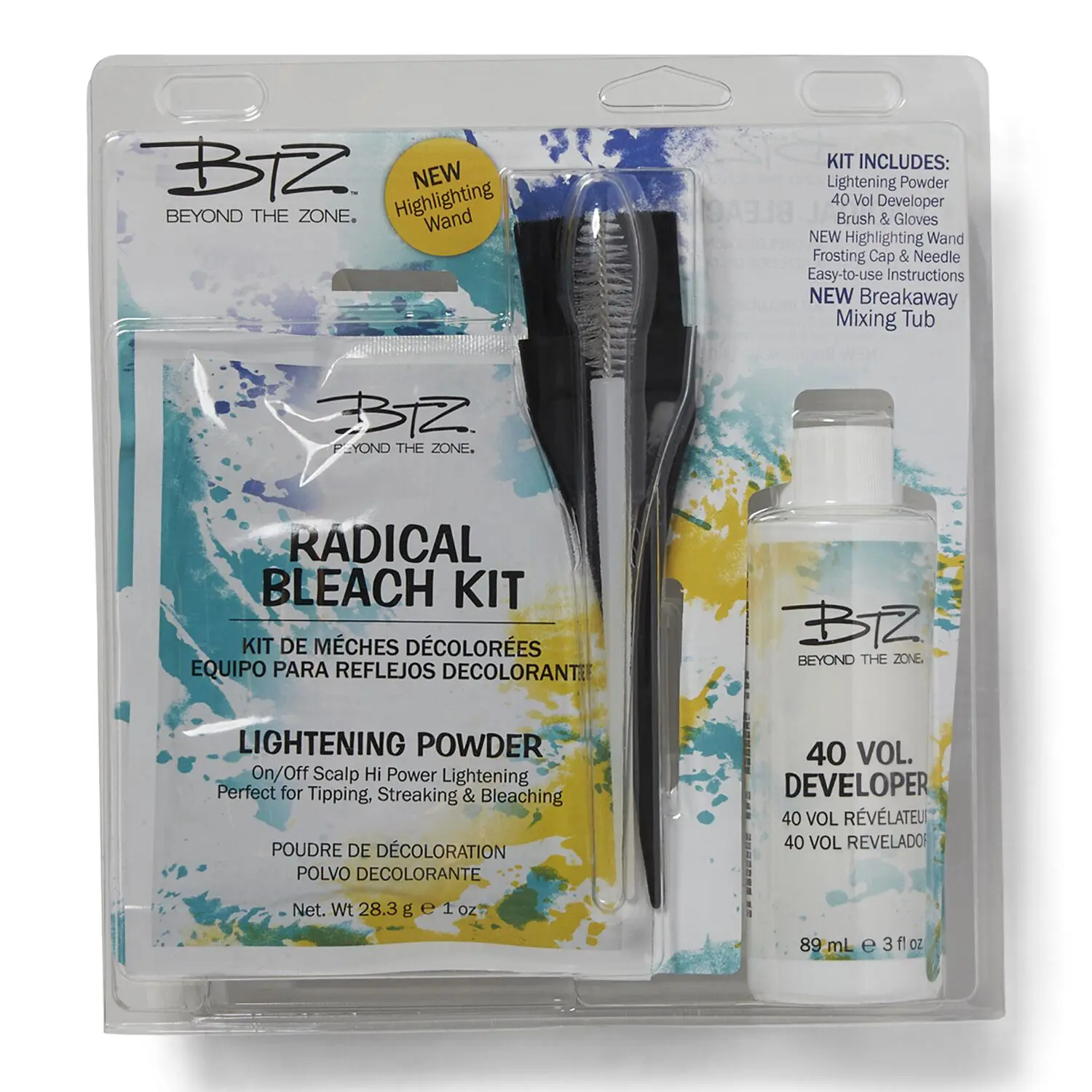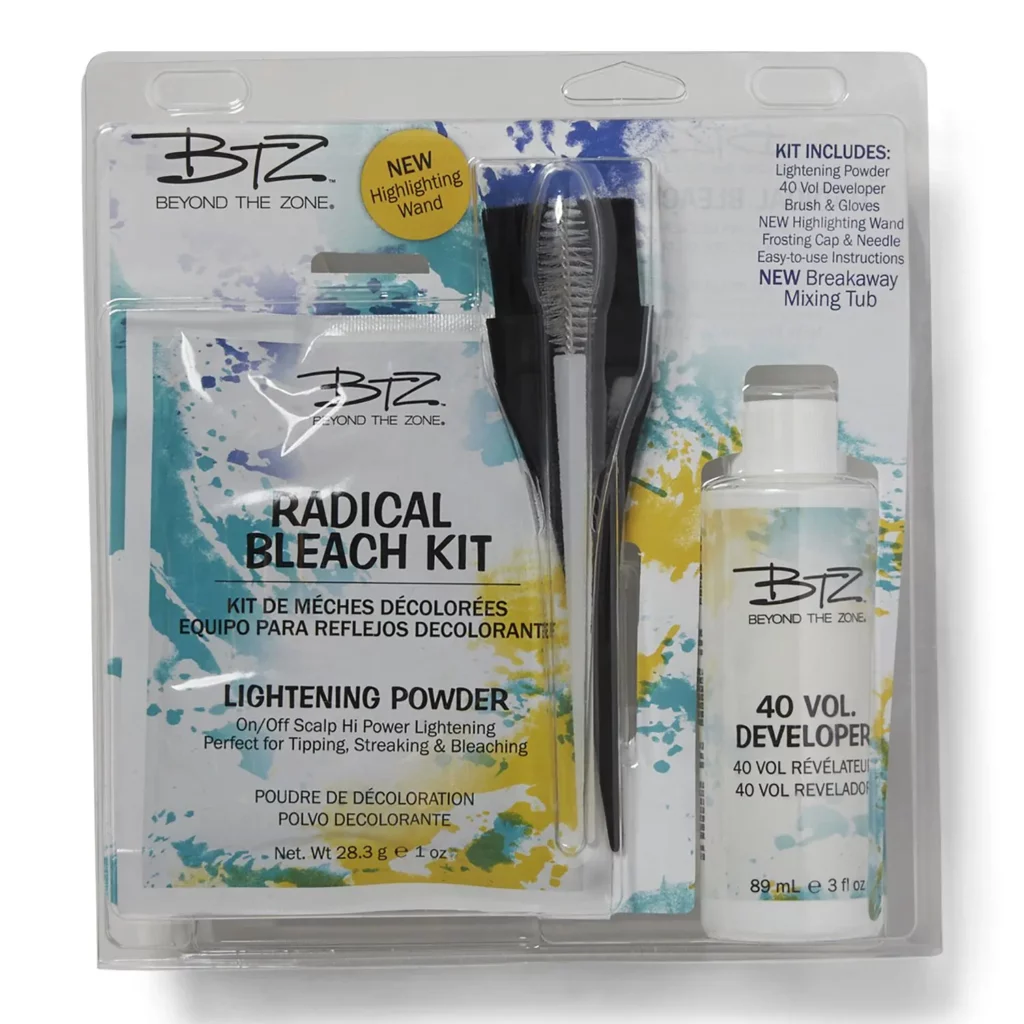 This incredible kit is inexpensive and has everything you could need. Intended for all hair colors (including dark brown and black), this bleach works carefully to help you achieve a beautiful blonde look without the damage.
This hair lightener is also excellent at stripping out old colors to help you start fresh for a completely new look! Don't believe us?
---
Best to Minimize Damage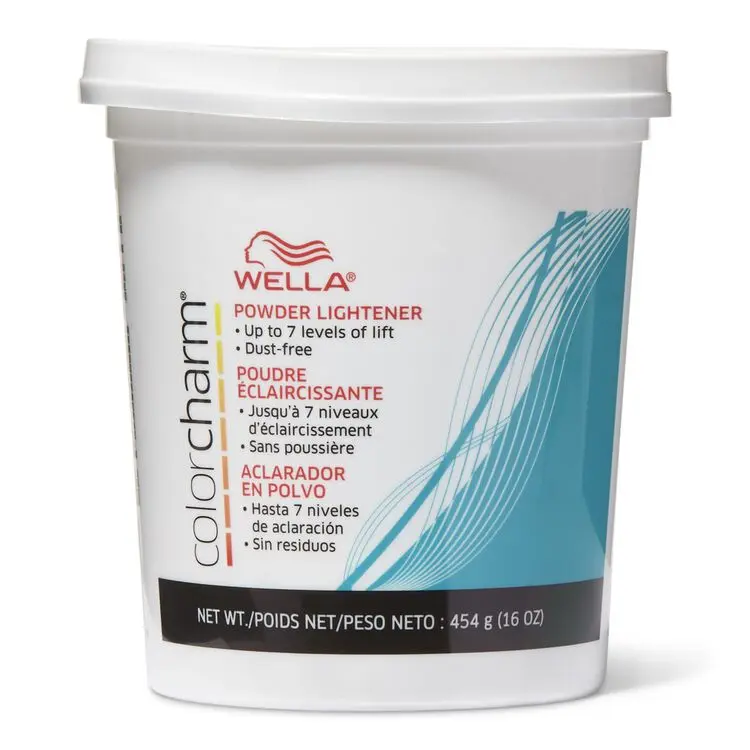 If you're looking for an excellent high-quality bleach with minimal damage, this bleach from Wella has you covered.
Infused with natural oils and fatty acids, this bleach provides a natural & nourishing protective barrier on your scalp to prevent damage. This gentle hair bleach is ideal if you're looking to keep your hair healthy.
---
Best Drugstore Hair Bleach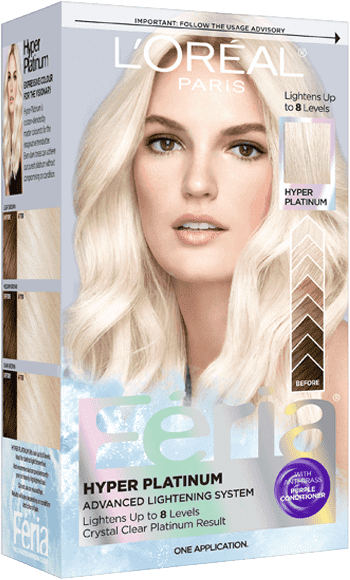 Many believe the best drugstore hair bleaches are by L'Oreal, but more specifically, their Paris Feria box. Ultimately, box dyes are a great intro to bleaching, especially with how affordable this one is.
This bleach is very delicate and deep conditioning, allowing your hair to feel healthy after the treatment.
---
Best Hair Bleach for Sensitive Scalp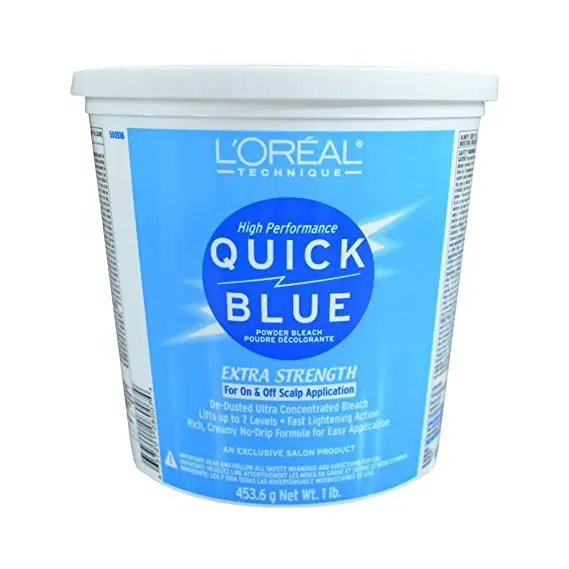 If you're looking for a bleach that won't destroy the scalp, this product from L'Oreal is perfect! It's another great choice for if you're new to bleaching and want to do absolute minimum damage. Afterward, your hair won't feel rough or dry.
RELATED: How To Tone Your Hair at Home
---
Best Hair Bleach for Dark Hair
Clairol Professional BW2, Hair Lightener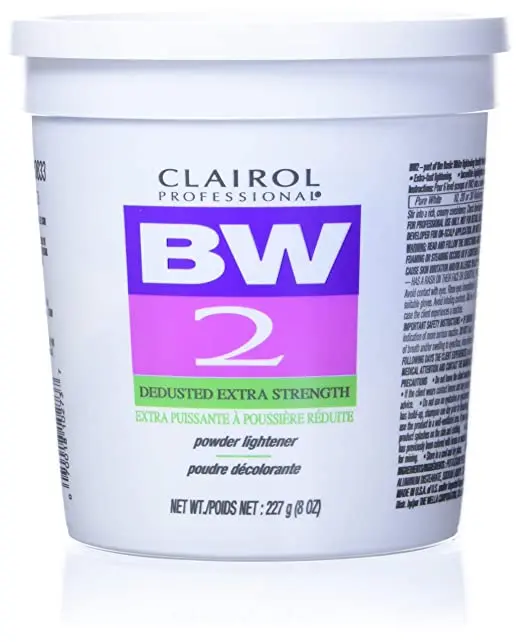 Considered to be the strongest bleach on the market for dark or resistant hair, Clairol is everything you've been searching for. This hair lightener for dark is crafted for extra lightening strength, guaranteed to lift even the darkest of hair.
It is also believed to give you better control over your bleaching process, although it may take a few times to achieve the shade you're looking for when starting out with dark hair. On top of that, it's affordable!
---
Best Hair Bleach for Platinum Blondes
Schwarzkopf BlondMe Bond Enforcing Premium Lightener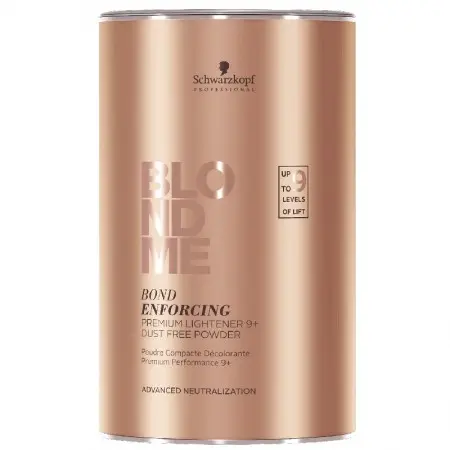 BlondMe is another well-known brand known for its ability to transform a regular blond to jaw-dropping platinum. This carefully crafted formula can lift up to 9 levels, all while keeping your hair protected to minimize breakage.
It is also carefully crafted to neutralize warmer undertones and prevent yellow hues or unwanted brassy undertones from taking over.
---
Best Bleach for Natural Hair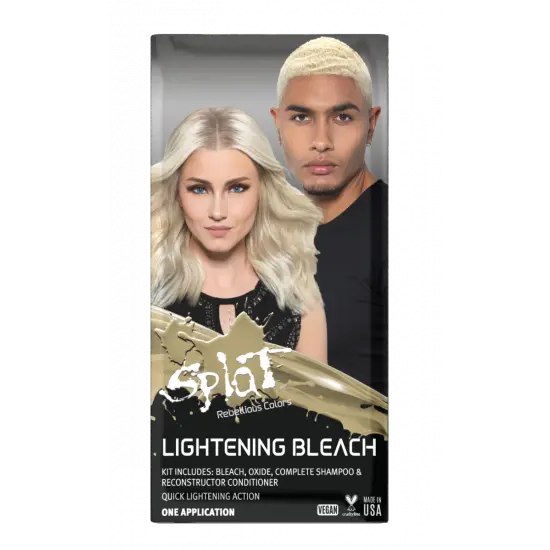 This is a great bleach to use on natural hair that hasn't been dyed before. It's a little more gentle, making it perfect for virgin hair.
This kit makes bleaching fast and easy, with incredible results. While it works best on natural hair, you can also use it on dyed hair for an additional lift! Paired with a good conditioner, this gentle hair bleach will have your locks looking red-carpet ready.
---
Best Natural Hair Lightener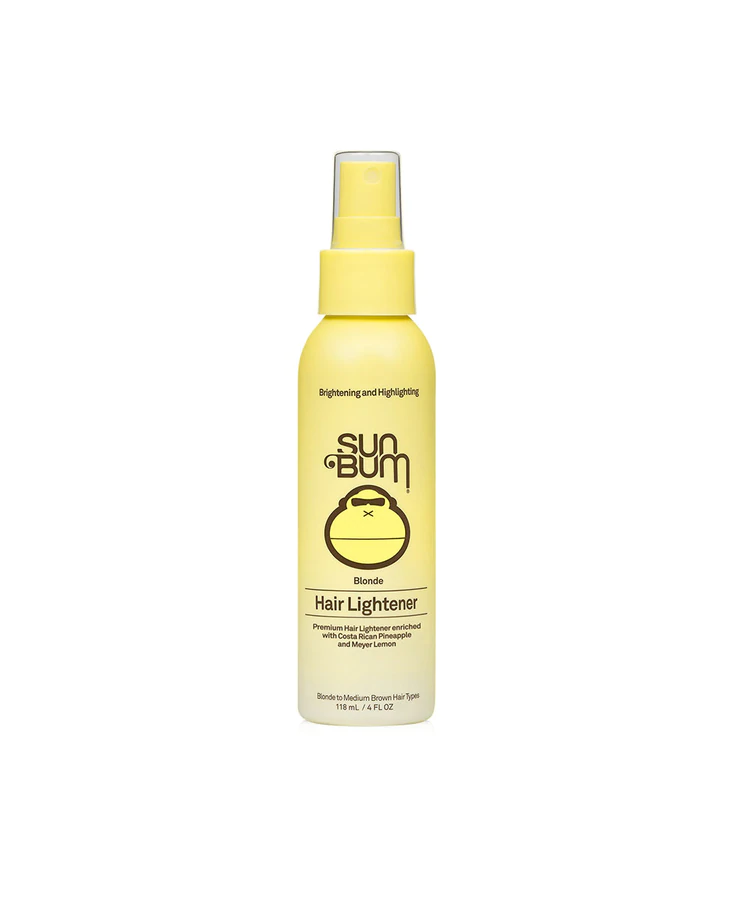 If the products above scared you, this lightening spray might be your pick. It's perfect for those who want to skip the bleach. This spray is carefully crafted with a UV-activated blend of ingredients to amplify & brighten your hair. Although it can work with brunettes, it's best for blondes.
All you do is spray it in your hair a few times a week before spending time in the sun and continue with your life as usual! You'll quickly notice subtle, yet beautiful, lightening tones throughout your hair. Pretty cool, right?
---
Tips for Bleaching Your Hair
---
Even if you get the best hair bleach in the world, it still has the potential to cause massive damage if you don't use it properly. That's why it's important to research the safest practices for bleaching your hair – we will share a few below! 
How do you bleach dark hair without turning it orange?
To prevent orange hair, you're going to want to tone your color. One way to do this is to use a blue or purple clarifying shampoo to help neutralize and cancel out the orange tones. If you need even more help, try using a toner. 
How long should you leave bleach on black hair?

The amount of time you leave the bleach on your hair will depend on the level of lightness you're hoping to achieve and the level of developer you're using. The higher the developer, the quicker it will process, but the more damage it will do (and vice versa).
What is the best hair developer to use with bleach?
As mentioned above, the level of developer you want to use depends on the level of lift you're going for and what color your hair is already. 
10 volume developer: Little to no lift will be seen with this 10 volume. You may see a difference in lift of 1-2 levels. 
20 volume developer: Although the most gentle of the developers, it is also the slowest acting. It will provide 2-3 lift when used with bleach. 
30 volume developer: This is generally the middle ground for somebody looking to lift their color to a noticeable amount (about 3-4 shades), but not cause as much damage. This developer is best used on light to medium brown hair. 
40 volume developer: For max lift from dark hair, 40 is going to be the one for you (it is believed to be able to provide up to 8 levels of lift). Keep in mind that this developer is very harsh on your hair and very damaging, so you'll want to be careful. Make sure not to leave it on too long.  
---
Bottom Line
Overall, if you're looking for real, gentle, jaw-dropping results, keep your eyes out for these amazing products! Also, don't push for your dream hair results in the first bleaching session. The key to bleaching your hair is taking it slow and steady (this way you won't overly damage your hair).
Depending on how light you're going for and what shade you started with, you will likely need multiple bleaching and toning sessions. Make sure to do extensive research on bleaching your hair to avoid any tragic mistakes!