Let's be honest for a second: jeans can be some of the most annoying garments in the fashion world.
Some jeans are comfy, but if I personally had to choose between wearing jeans (restricting, not stretchy, buttons are annoying) and leggings (so stretchy, so comfy, no buttons or zippers) — I think you can tell which one would win.
So imagine my amazement when I found out Spanx has a denim line featuring three styles of jeans!
This might feel like deja vu because the colored jeggings of the 2010s walked so Spanx Jeans could run, and it's totally valid to wonder, Is it really the best of both worlds?
Read this Spanx Jeans reviews to find out!
What Are Spanx?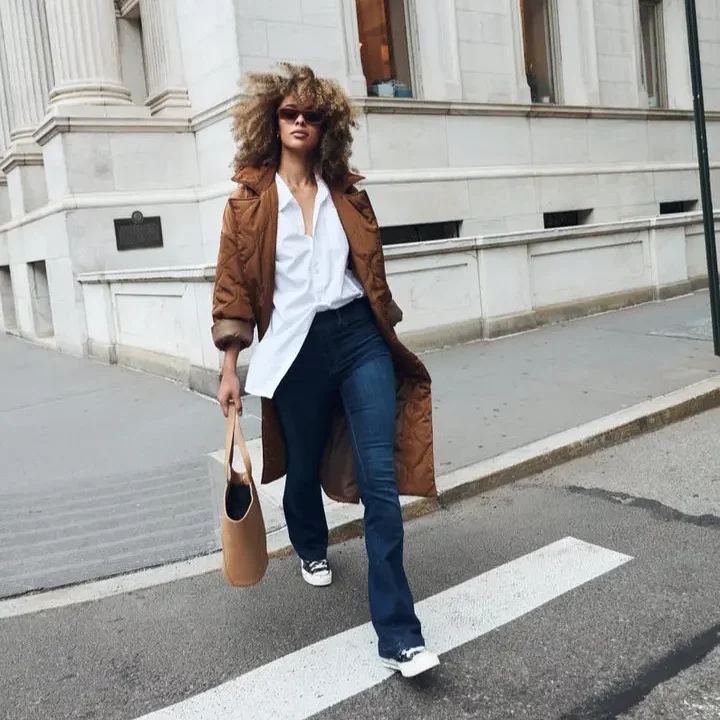 Spanx is an apparel company founded in 2000 by CEO Sara Blakely.
Spanx first started off selling undergarments, specifically footless pantyhose, and has grown over the years to offer a much wider selection of apparel, including maternity wear, tops, and more!
Created by a woman for women, Spanx Jeans offers comfortable, stretchy jeans that are sculpting, smoothing, stylish, and easy to wear!
Spanx offers three styles of jeans in different colors — and customers swear you can't tell it's not authentic denim.
Spanx Jeans Reviews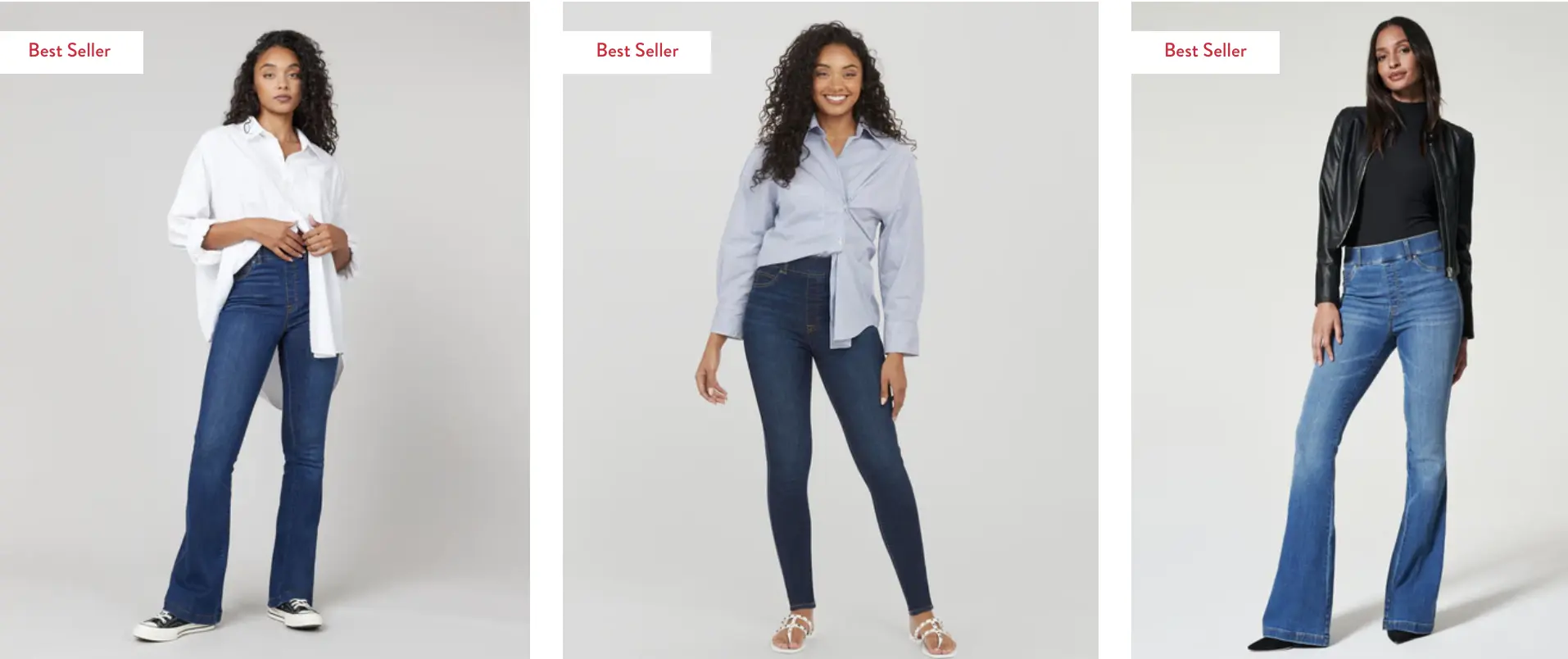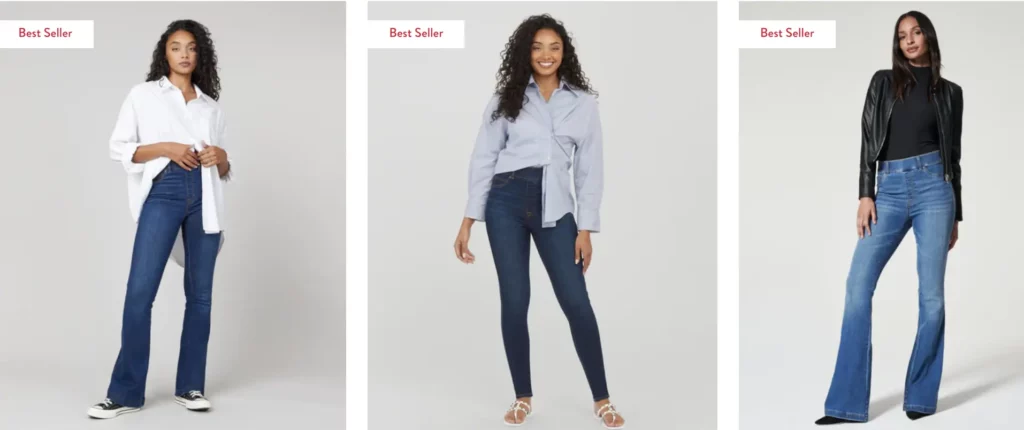 Overall: ★★★★ 4.5 stars
Generally speaking, Spanx Jeans are well-praised and well-loved by shoppers. The material is super comfortable, the jeans are stylish, and the pants support the waist and tummy very well.
The only downfalls are that sometimes the jeans aren't true-to-size, the jeans are on the pricier side, and customers wish there was more variety.
Quality: ★★★★★ 5 stars
Spanx jeans have a beautiful stretch that makes them a lot comfier than your usual pair of denim jeans.
Spanx Jeans are made of 91% cotton, 7% polyester, and 2% lycra, allowing them to be super soft. One of the main highlights, though, is the special hidden shaping panel, which is found in most Spanx products.
This shaping technology allows the jeans to sit comfortably on the waist and compliment the tummy.
Price: ★★★★ 3.8 stars
Not going to lie, Spanx Jeans are priced pretty high for what is essentially a good ole jegging.
Though the technology is great and customers rarely have anything negative to say about these jeans, it's definitely not the most affordable item out there.
Spanx Jeans prices range from $128 to $148, and you can always check out the clearance section for some awesome deals. They also have sitewide sales every so often.
Fit and Sizing: ★★★★★ 5 stars
Alongside Spanx Jeans' hidden tummy technology, all jeans come with no buttons or zippers! This allows a completely flat front and less bulk, plus all you have to do is shimmy them on.
As for sizing, Spanx jeans are offered in sizes XS to 3X, and the jeans are available in petite sizes and tall sizes as well!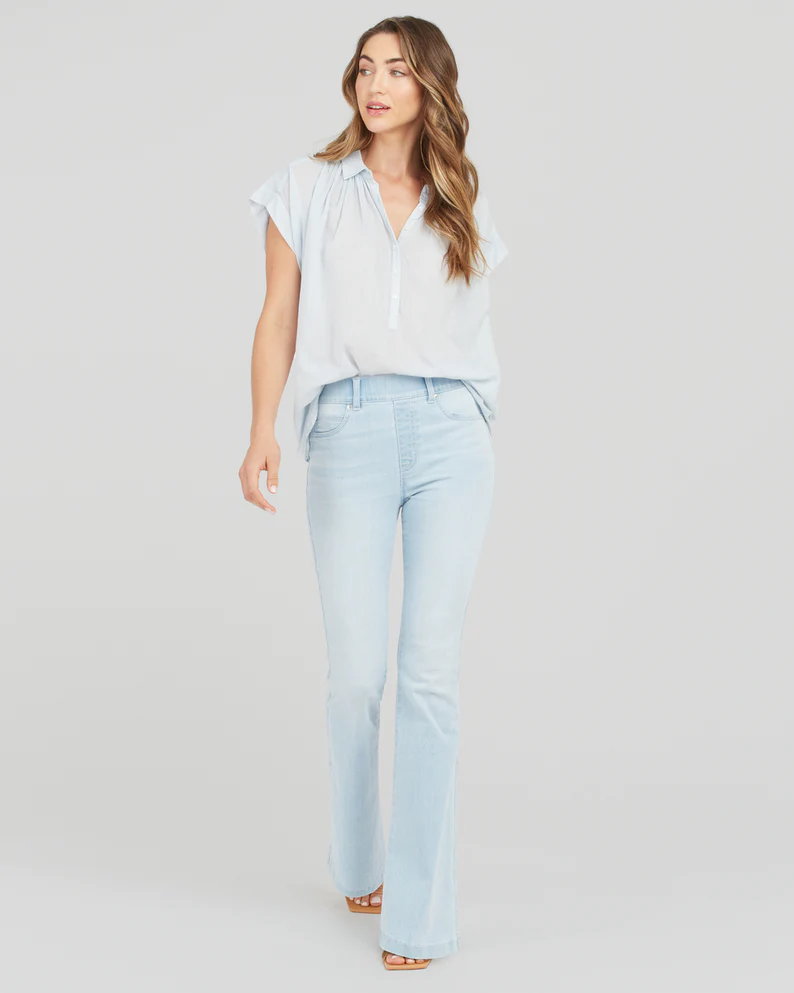 Spanx Flare Jeans come in four different colors: white, clean black, light wash, and midnight shade.
These jeans are priced at $148 and, like other Spanx Jeans, go up to size 3X and come in regular sizes, petite sizes, and tall sizes to accommodate everyone's body type!
With functional back pockets and hidden core-shaping technology, these 70s-inspired Spanx Flare Jeans lifts the booty to highlight your curves.
Customers love these flare jeans and can't stop praising how comfortable and flattering they are! However, these jeans do run a bit long in length, so shoppers do recommend being mindful of the sizing before making any purchases.
---
RELATED: Honeylove vs Spanx: Which Shapewear is Better?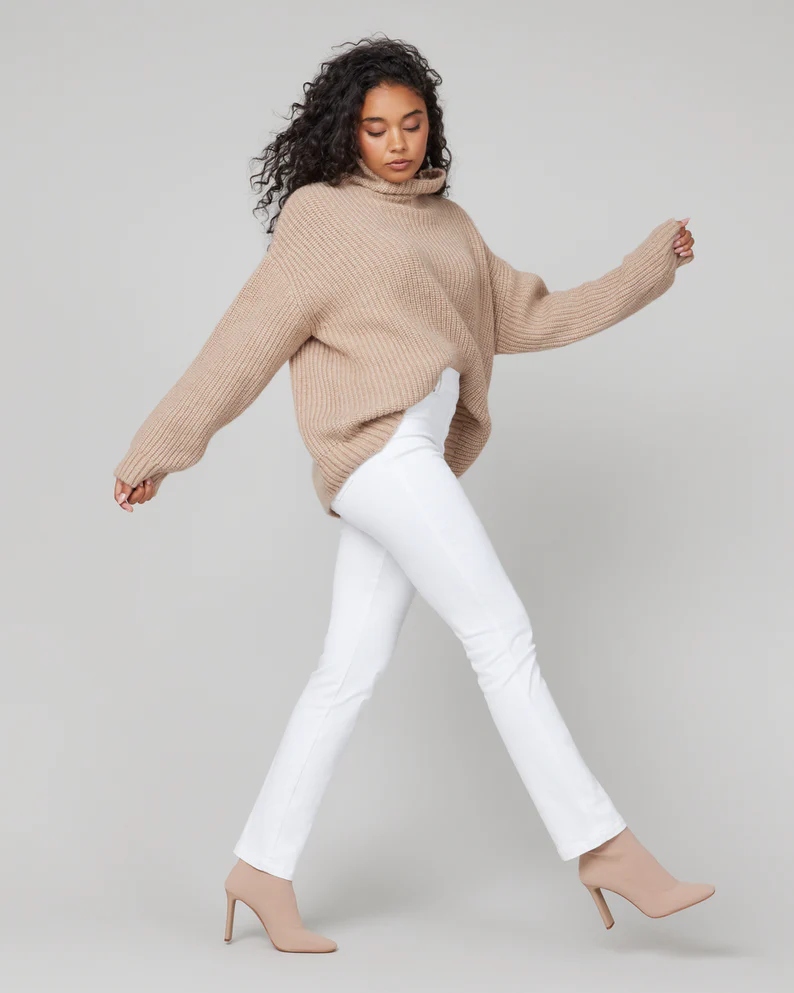 Spanx Jeans offers three styles of jeans in the company's best-selling whitewash:
White jeans are always a look and can make any outfit look instantly classy and chic, especially when worn with a cute heel!
Customers love Spanx Jeans's white jeans due to their versatility and how they're not too sheer or heavy, making it the perfect closet staple.
---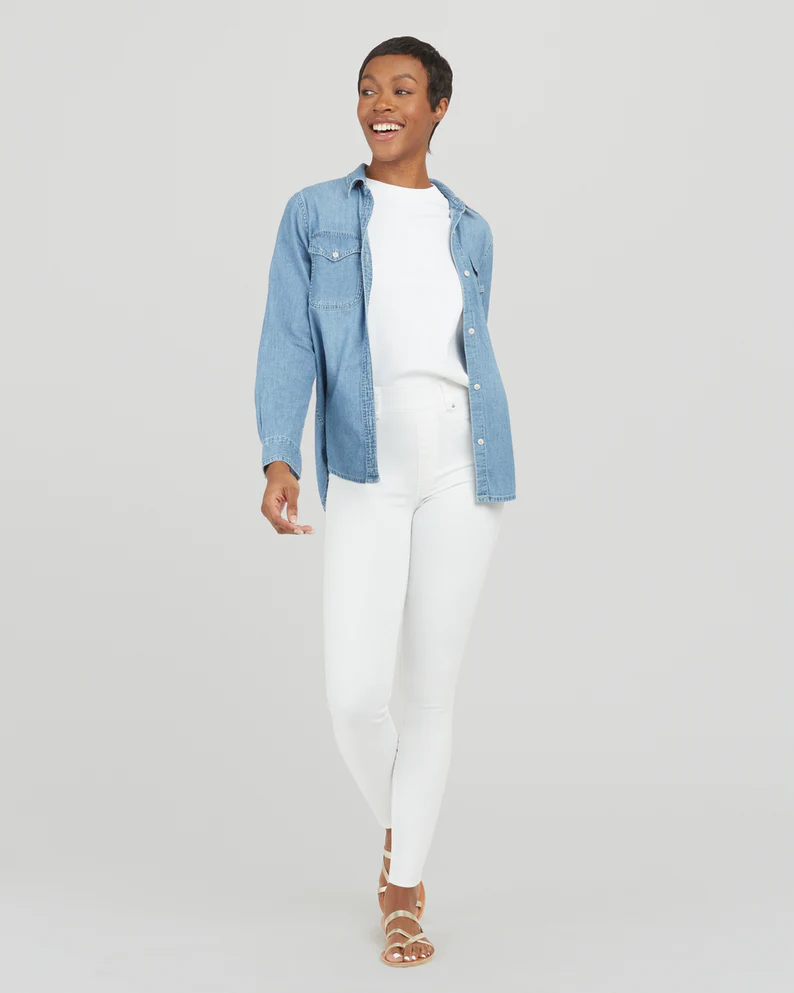 When it comes to skinny jeans, Spanx offers three colors: Midnight Shade, Clean Black, and White.
For $128, these skinny jeans hit right at the ankle so there is no rolling of the cuffs needed (just remember to check the size guide)!
Along with the sculpting technology and lack of zippers and buttons, customers love thow snug these jeans fit and how the waist feels supported.
Some shoppers do say that it can be difficult putting the jeans on, but once they're on, they don't budge!
---
What Customers Are Saying
Reassurance is always great, and what better way to be assured of buying these Spanx Jeans than reading Spanx jeans reviews?
Luckily, we scoured the web and pulled some of the most common points real customers made about their Spanx Jeans so you don't have to.
Here's what customers are saying:
these jeans are so comfy
looks like real denim
really supportive of the waist and hides the tummy
love the inclusive sizes, but wish there were more colors and jean styles
too pricey
Return Policy
Luckily, Spanx has a 90-day return policy for all Spanx products.
Returns will be honored so long as the products being returned are not final sale. In fact, Spanx will even allow free returns on items that have been worn and have had their tags removed!
To start the return process, all you have to do is visit the Spanx Return Portal.
FAQs
Where can I buy Spanx Jeans?
Is Spanx Denim worth it?
Spanx Denim is a great product, but it's not the most affordable. If you have the means or if you want to treat yourself, Spanx Jeans is an awesome buy. But again, the clearance section is your best friend!
Do Spanx Jeans run large or small?
Though Spanx Jeans are made of stretchy material, these jeans are meant to be snug. Spanx recommends if you're between sizes to size up, but be sure to check out the size guide and shop petite or tall as needed. 
Do Spanx Jeans shrink?
According to customers, Spanx Jeans do not shrink.
In Conclusion
Spanx is a super reputable company that's been around for two decades, so it's not a surprise that their ultra-comfy jeans significantly pass the vibe check.
These jeans are stylish, comfortable, and flattering — but a little pricey. If you're up for treating yourself to a more relaxed alternative to denim, definitely check out Spanx Jeans!
If the price scares you, we recommend waiting for one of their sitewide sales. We have seen 20% off sitewide, which takes a good chunk off the price.
Spanx Jeans Alternatives