If we're willing to spend the big bucks on organic vegetables and Açaí bowls, we should have a similar mindset when it comes to skincare. Skin is one of the largest, and most absorbent, organs in the human body after all!
Skinfood is a popular K-beauty brand that knows the importance of the ingredients you put on your skin. We've shared our Skinfood review if you're interested in learning more about the brand and seeing if they're worth trying out!
What is Skinfood?
Skinfood is a Korean beauty brand that is perfect for beginners just beginning to dip their toes into the massive pool of K-beauty. They have such a wide variety of products, at reasonable prices, that you could curate your entire skincare routine from one brand without breaking the bank.
They were founded in 1957 with the idea that quality ingredients derived from foods would create effective skincare products. They pride themselves on sourcing ingredients sustainably, including organic ingredients as much as possible, and developing each product with the end result in mind.
You can find their products at Ulta, Amazon, and their website.
Their products all look good enough to eat. Each item is, of course, food-themed, and the packaging is super-cute and food-esque. If, for some odd reason, you don't care about packaging, the products are still worth it, because the ingredients are an A+. The ingredient lists are short, featuring fantastic ingredients like peach extract, rice sake, and aloe vera.
Prices + Deals
How much does Skinfood cost? On average, you can expect to pay $10 – $15 for a full-size product from the brand, although you may find one or two products that exceed this price range.
As for deals, they often offer free gifts as well as extra money off your purchase. For example, if you're a new customer, they offer an email sign up deal (usually contains 20% off your first purchase).
Return Policy
If you choose to purchase directly from the company website, the return policy states you can return unused and unopened products within 60 days of purchase (in origianl packaging).
Opened products will receive online credit within 30 days of purchasing. Defective or damaged items will either be refunded or replaced.
The Most Popular (and Cutest) Products
Skinfood has a variety of best-sellers, here are a few of the top picks that we love.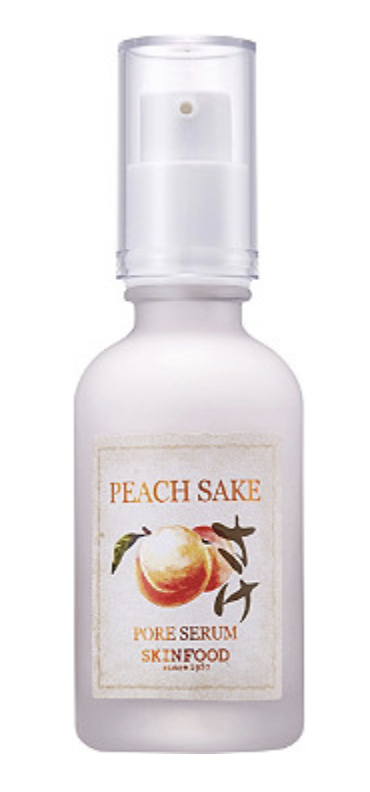 The Peach Sake Pore Serum is not only super cute (the label is so aesthetic), but also a great serum for sensitive, acne prone skin. It's main ingredients are rice sake, peach extract, and silica powder.
The rice sake increases blood circulation, thus clearing skin, tightening pores, and reducing sebum production.
The peach extract smells amazing and both prevents acne, and helps to heal acne scars. The antioxidants in peaches are anti-aging, and the pectin is a toning agent.
The silica powder is my personal favorite aspect of the whole ingredient list, because it mattifies your skin and reduces the appearance of your pores. This is especially helpful for anyone with oily skin, because it helps to keep your skin de-oiled for the majority of the day.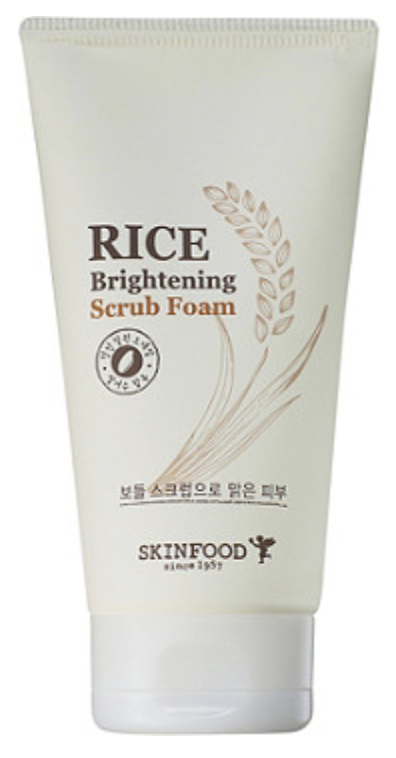 Keeping on with the rice theme, we have the Rice Brightening Scrub. The active ingredient is Odae rice water, which is supposed to be the highest quality rice water due to the purity of the air and water from where it is sourced.
This product claims to brighten and nourish skin, fight the appearance of aging, fight acne, and regenerate skin cells. That's a whole long list of tasks that, if achieved, would pretty much make this the best cleaner around.
This product is in the form of a scrub foam, which both cleanses and exfoliates, but is gentle enough to be used on sensitive skin without causing irritation.
The unique part about this product is that the exfoliation is provided with rice bran. Many exfoliants are either formulated with microbeads, which wreak havoc on the environment, or a more natural ingredient like ground walnut or sugar (which are good for the environment, but not so good for your skin). The fragments can be irregularly shaped, digging into skin unevenly as you scrub.
While physical exfoliators may not damage particularly healthy skin, they can be detrimental to anyone who has acne, sensitive skin, rosacea, or similar skin concerns. Luckily, rice bran is a much more gentle ingredient, and safe for the environment!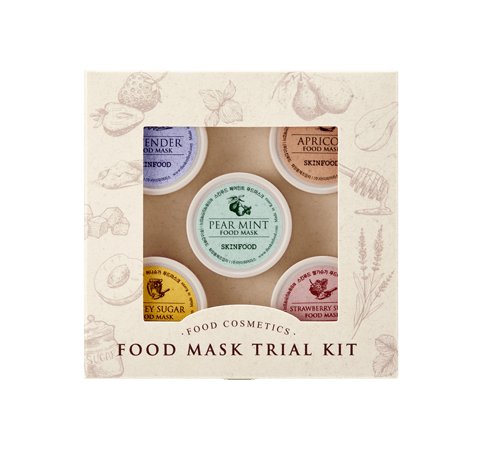 Currently, Skinfood is running a promotion where if you spend $50 on their website, you can get the Food Mask Trial Kit for free! It includes 5 pieces, each 10g in size.
The Lavender Food Mask hydrates and soothes. The Apricot Food Mask calms and purifies. The Pear Mint Food Mask deeply cleanses the skin. The Honey Sugar Food Mask moisturizes and exfoliates. The Strawberry to Pore Food Mask cleanses and exfoliates.
This is a great little kit to try out some of their best selling masks without committing to buying a whole tub, even if you don't receive it as a freebie!
Skinfood Reviews
Customers on the website are leaving overwhelmingly positive reviews. Most products have a 4-5 star rating. For instance, of the 88 reviews of the Peach Sake Pore Serum, all are 5-star, except for four 4-star reviews.
One of these 4-star reviews said "As with any product, I did have some reaction that caused increased acne initially so introduce slowly. Also the sake seemed to activate some heat so I noticed warmth the first couple of times but since acclimated, it has been great for my oily skin."
A 5-star Skinfood review that pretty much encapsulated what everyone was saying is "I love this product! It's very cute and it smells so nice! It does help with my sebum (when I properly do my skincare everyday!)"
Nearly every Skinfood review mentioned that it smelled amazing.
In fact, most products had an abundance of reviews mentioning positively the smell of the products. 
One Skinfood review of the Peach Jelly Soothing Gel 90 said "Both have light, inoffensive scents that are pleasant during application that do not linger strongly afterwards. You can still smell it very slightly shortly after if you snuggle or bring your nose to your skin, but you won't smell it otherwise, which is perfect. Nice and unintrusive."
Another reviewer of the Royal Honey Propolis Enrich Essence said "Definitely saw an immediate difference. Best moisturizer I've ever used. Clean simple and nutrient rich ingredients. Lightweight. My oily acne prone skin loves it!"
Overall, the opinions are highly positive, and the products are widely loved.
My Skinfood Review
I tried out a few of these products myself, so here are my raw and unfiltered opinions! Spoiler alert: they don't really differ from what everyone else on the internet has been saying. These products truly are fantastic.
I tried out the wash off Black Sugar Strawberry Mask, and for all my gripes about sugar scrubs, this one really worked for me! It smelled nice, it made my skin feel cleansed and more even, and it was gentle enough that it didn't strip my skin.
I also tried the Snail Beauty In A Food Mask Sheet – I know putting snail mucin on your face sounds gross, but if you can get past that, it really works wonders! It's such a repairing ingredient that it works even for sensitive skin. My skin felt AMAZING after using this mask – hydrated, elastic, and smooth.
Although the snail mask was fabulous, my favorite product that I tried out was the Egg White Perfect Pore Cleansing Foam. It's one of the most gentle facial washes I've tried, but I definitely felt like it really got into my pores and cleaned everything out. It even makes my pores look smaller!
Final Verdict
To sum up our Skinfood review, we definitely recommend this brand. Not only have I bought things from Skinfood, but I will do so again (actually after reading about the Peach Sake Pore Serum, I added it to my Ulta cart so it's only a matter of time). The products are cute, effective, and reasonably priced. I don't see any downsides!
RELATED: The *Actual* Routine to Apply Your Skincare Products