Tights — the ultimate undergarment with the duality to turn an outfit modest or sexy.
No matter how they're dressed, though, everyone has one thing in common when it comes to tights: after a night out you always come home to find a fresh tear in them.
That one tear is all you need for the whole thing to start wasting away until you finally accept defeat and throw them away.
But what if there were tights that weren't paper thin and always on the brink of total destruction?
Well, say hello to the brand Sheertex, a hosier company dedicated to creating sustainable, fashionable, comfortable, and super strong tights.
They sound amazing, but does Sheertex live up to the hype? Read our Sheertex Tights review to see if they're worth it!
What is Sheertex?
Sheertex is a company based in Canada founded in 2017 by founder and CEO, Katherine Homuth.
Tired of cheaply made and disposable hosiery that always ripped, Homuth set out to find a way to make tights that could withstand busy and bustling life.
A company proud of being ethically sourced, inclusive, and technology-based, Sheertex is an innovative hosiery brand changing the tights game.
Is Sheertex Legit?
Yes, Sheertex is a legit company. Sheertex products have been praised by multiple news outlets and featured in fashion magazines and websites. Plus, Sheertex has an impressive social media presence and ships across the United States, Canada, and Europe.
Sheertex Reviews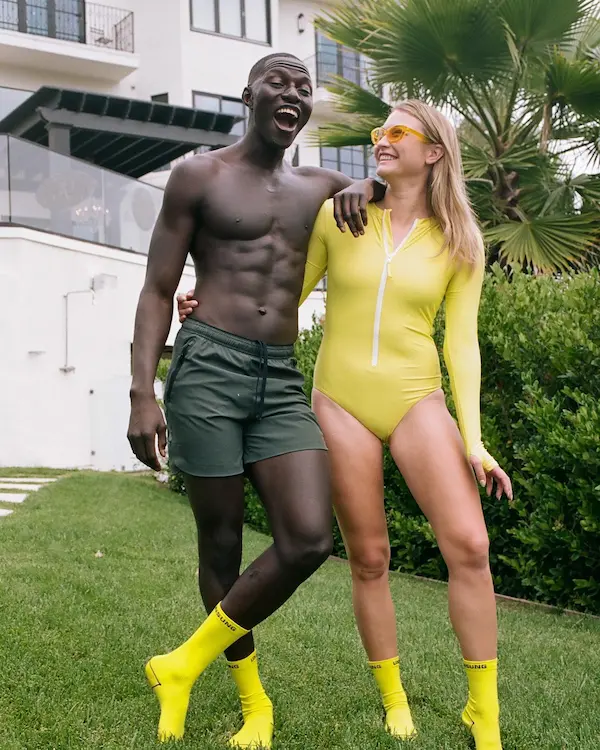 Overall: ★★★★ 4 stars
Generally speaking, customers were super satisfied with the products from Sheertex.
Shoppers love the quality, durability, fit, prompt shipping, and excellent customer service that was provided if an issue arose.
The only downside is that Sheertex cannot accept returns since tights are considered an intimate product, so we highly recommend following their size guide closely. They do have a 30-day warranty though, so if your tights rip or have other quality issues, you can reach out to their team and they will help you out.
Price: ★★★★ 4 stars
Sheertex offers tights as well as other undergarments like bras, panties, and even socks. Prices start as low as $10 (for smaller or sale items) and can reach up to $100. For tights, you can expect to pay $50 – $70 depending on sales.
This might seem spendy for tights, but for the quality and tear-resistant material, it's worth it. They also have a "last chance" sale section with extra discounts on some of their tights, with options as low as $30.
Quality: ★★★★★ 5 stars
The quality of Sheertex tights is unparalleled. The brand put serious work into their design, testing all different fibers and polymers until the perfect fabric was found.
In order to achieve the sheerness of tights, the team worked with miniature versions of fibers traditionally found in climbing and sailing equipment, stretched it out, and perfected the Sheertex Technology.
Sheertex tights are made with ultra-strong fibers, are lightweight, and are anti-microbial and water-resistant.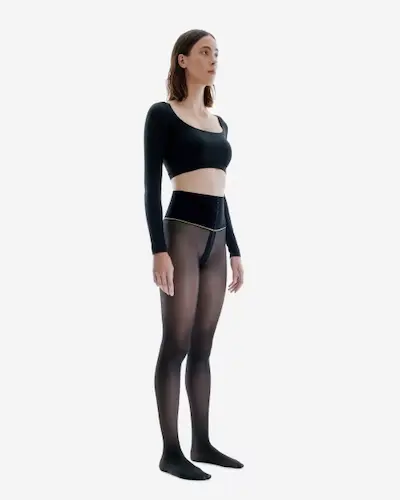 Sheertex's best-selling product, the Classic Sheer Rip-Resistant Tights is a must-have for newbies to the brand.
Priced at $59 (or sometimes cheaper depending on sales), these tights are claimed to have 7x more wears than traditional tights. They are super durable, comfortable, and rip-free.
These tights are sheer from the waistband to the toes, are closed-toe, and have a mid-rise waist.
Sizes for these tights range from XS to 3XL!
---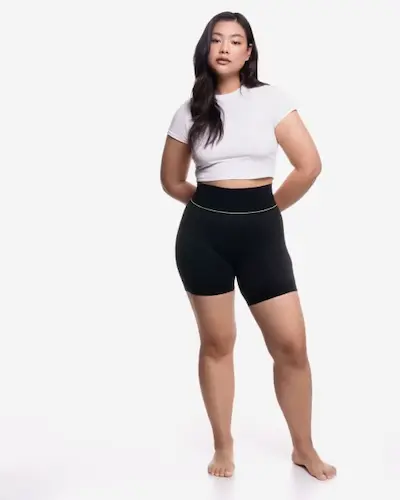 Perfect for wearing under a dress or skirt, these no-sweat shorts are anti-chafe, sheer, and high-waisted!
They come in the color black and retail for $33.
Customers love these shorties because they are comfy, lightweight, stretchy, and stay in place!
These shorties are a bit more opaque than the Classic Sheer Tights, but still sheer enough to be considered an undergarment, so shoppers advise to not use them in place of regular shorts.
Sizes for these shorts range from XS to 3XL.
---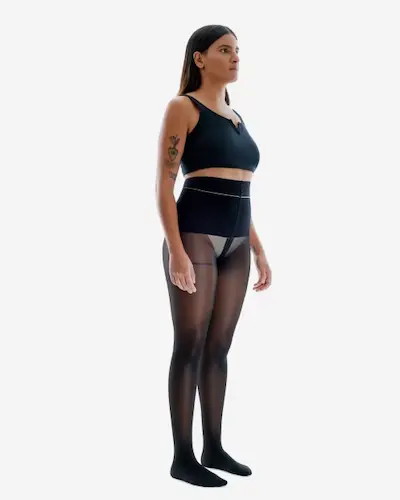 Priced at $79, Sheertex pairs the classic rip-resisting tights formula with a high-rise waistband to create a tummy-smoothing effect perfect for wearing under bodycon dresses or skirts.
Sheer from thigh to toe, these tights have a light compression waistband, reinforced toe, and come in black.
Sizes go up to 3XL, and customers absolutely adore these tights because they stay in place, hug their figures, and are super comfortable!
---
What Customers Are Saying
We don't blame you if you need more outsider opinions about Sheertex and its product, which is why we did the research for you and picked out some common things real customers are saying from their Sheertex reviews!
Here's what shoppers think about Sheertex:
High-quality tights that won't rip as easily as other brands do
Not indestructible, but very durable and long-lasting
Super cute and true to size
Absolutely worth the price
Inclusive sizing options
Most customers would purchase again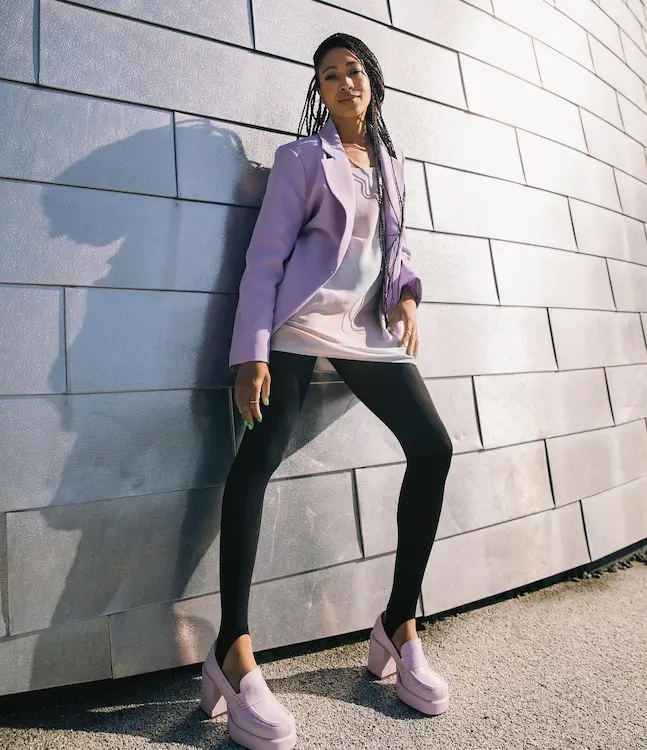 In Conclusion
To sum up our Sheertex tights review, we stan Sheertex and definitely recommend this brand for your undergarment needs!
Though the prices are a bit steep compared to other tights on the market, we think the cost is worth it knowing these tights will last much longer than traditional tights. You won't have to worry so much about them ripping and many reviews rave about them being more comfortable as well.
With the advanced Sheertex formula, classic looks, and inclusive sizing, what's not to love?
Sheertex Alternatives
If you're not really digging Sheertex, or if you just want to look at other options, don't worry! Here are some Sheertex alternatives for you to check out:
Return Policy
Unfortunately, Sheertex is unable to accept returns or exchanges for items that have already been opened because they are considered intimate products.
Sheertex advises shoppers to carefully look at the size guide before purchasing; however, Sheertex does have a 90-day guarantee, meaning if the tights you purchased become damaged or tear within 90 days, Sheertex will send a replacement after providing proof of the damage.
FAQs
How do I wash Sheertex tights?
Sheertex recommends washing tights by hand, however, the tights will do just fine in the wash so long as it's going through a gentle cycle and the dryer is on a low heat setting.
Who owns Sheertex?
Katherine Homuth is the founder and CEO of Sheertex.
Where can I buy Sheertex tights?
You can purchase Sheertex products directly from the Sheertex website or you can also find Sheertex products in some major general merchandise retailers.