Having reliable footwear for the day ahead is essential, regardless of your job or lifestyle. However, when it comes to tradesmen and those who work in harsh conditions, sturdy footwear is essentially a requirement – a good pair of boots can even save your foot from an accident.
Red Wing is a top brand when it comes to work boots, so our Red wing boots review will be sharing a comprehensive look at their boots and if they are worth the money.
What is Red Wing?
With a core focus on making a positive difference in the lives of everyday people, Red Wing is a company that takes pride in the craftsmanship that goes into every pair of boots they make.
They were founded in 1905 in Red Wing, Minnesota. Having been in business for over 100 years, you'd imagine they know what they are doing by now.
Offering a blend of style, comfort, and function, each pair of boots serves a purpose for a wide range of needs.
Every pair of Red Wing boots goes through rigorous tests to meet the quality needs of their customers and the jobs they face on a daily basis. Plus, the brand is transparent about how their boots are made so you can see every step of the process (their boot-making process takes over 230 steps for a single pair).
The company has many different work boot collections to sort through, each with unique details that are suitable for a long list of working conditions. Men and women alike can experience the quality of their boots (some of which include waterproofing, safety toe, and more).
Red Wing Boots Reviews
Even if the company has a long-standing reputation with a large customer base, you still want to look at what they offer from every angle.


Overall Rating: ★★★ 3.75 Stars
We found a significant mix of opinions from reviews online, and it's clear there are a few pointers you should know about before making a purchase. Customer service can be a hassle, and you want to make sure the Red Wings you buy are American-made; otherwise, the quality could be lacking.
Most customers seem relatively satisfied with their products, but those working in more niche and difficult conditions may have trouble with how long their boots last.
Pricing: ★★★ 3 Stars
It's pretty common for a good pair of work boots to cost a few hundred dollars, but customers have mixed feelings about whether the Red Wings are worth the higher cost or not. Some of their designs can cost over $300, and some reviews mention their quality doesn't hold up for more than a year or two.
Again, this pertains to how you care for them and your working conditions and could potentially differ based on where they were manufactured, but others have mentioned their Red Wings have lasted over a decade with proper care.
Quality: ★★★★ 3.75 Stars
Their base quality may work for some, but a decent number of customers aren't satisfied with their overall quality. Then again, those who spend time taking care of their boots on a consistent basis don't feel the same way.
It's understandable that some working conditions can add on a lot of wear and tear, but if you take care of your Red Wings, they could last for years. It's very important to read their care guides to educate yourself on how to best care for the material of boot you select.
Red Wing also offers repairs (for a cost) so you don't have to buy a completely new pair if you experience some wear.
Shipping & Returns: ★★★★ 4 Stars
Customers get free shipping on orders over $75, and their shipping times are pretty standard as it takes around 2–7 days for orders to arrive. You can pay a little extra to expedite your order, but even overnight shipping could take up to 2 days.
According to their return policy, Red Wing offers free returns within 30 days of receiving the item.
They also have a work warranty against defects in workmanship and materials. If a defect occurs within 12 months of your purchase, they will repair or exchange the boots.
Customer Service: ★★★ 3 Stars
Whether it's online or in-store, Red Wing's customer service can be somewhat of a hassle. Based on Red Wing reviews, they don't seem to be the most cooperative, but this is mainly when it comes to their warranties. Shoppers seem to utilize their returns policy without many issues.
Some people may feel otherwise, but their customer service could use some work as they're known to dodge inquiries or avoid honoring certain claims on their website.
What Customers Think
With a little digging, we found their customer base comes with a wide range of opinions about their boots and products overall.
Red Wing boots are well-made and long-lasting with proper care (make sure to read their care guides) 
Some people aren't a fan of dealing with customer service 
Some feel their boots are good quality, but overpriced
People tend to appreciate the numerous options in their catalog 
Their boots are a decent choice for many different types of jobs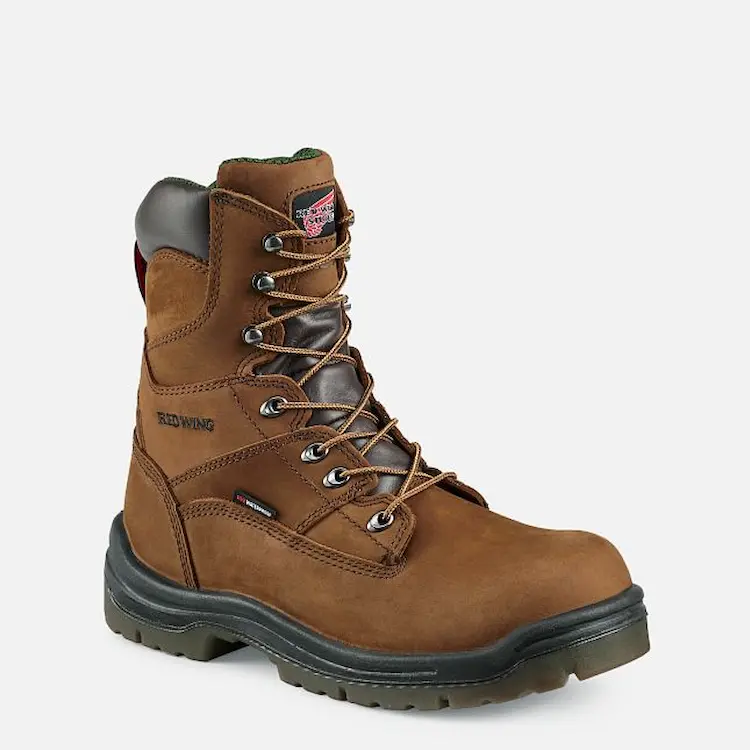 If you're looking for outstanding protection for your feet, these boots may be what you're looking for. You'll find something comfortable with high and low-cut designs that don't skimp on safety. 
They come in many different designs and colorways, and you can even find steel-toe cowboy boots. Not only are they sturdy, but they're stylish as well.
Perfect for a tough day on the job or trekking and hunting out in the woods, the Irish Setters have a unique identity all on their own. You can find fittings for men and women, and they come in an array of designs and features for different use cases.
Most colorways are relatively neutral, but these boots are more than ready for the day ahead as they're built for reliable, long-term use.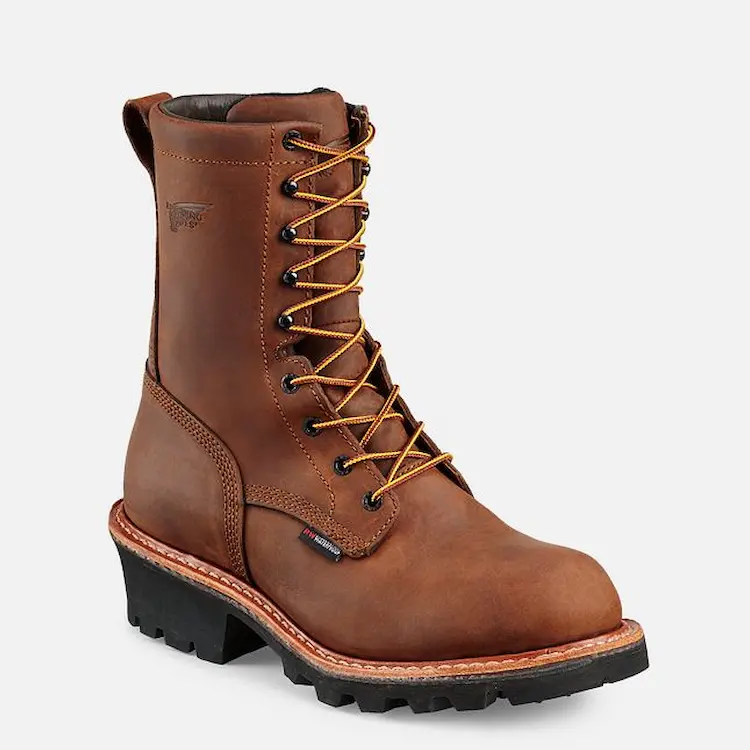 For those who spend time working with heavy wood, the Logger boots are built for uneven and sometimes unforgiving terrains. You can grab yourself a low-cut design or something with a little more ankle support.
They also come with a range of features, such as waterproofing, protection from electrical hazards, and much more.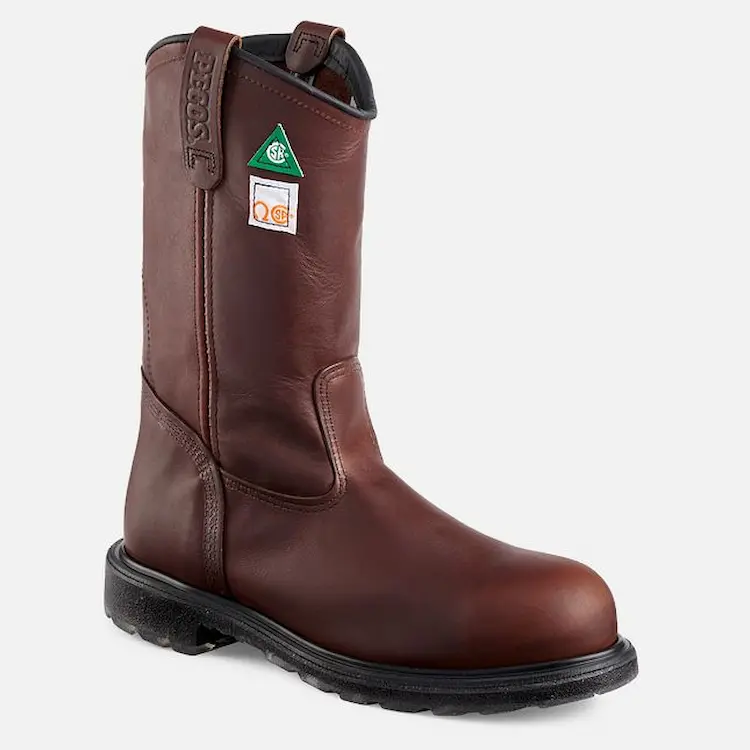 Maybe you spend your days out on a ranch, which means you're no stranger to a day's hard work. You'll need a pair of boots that can match your needs, and the Cowboy boots are an excellent solution.
Providing ample support and durability that any cowboy needs, they offer a blend of function and style, in addition to added features for extra protection.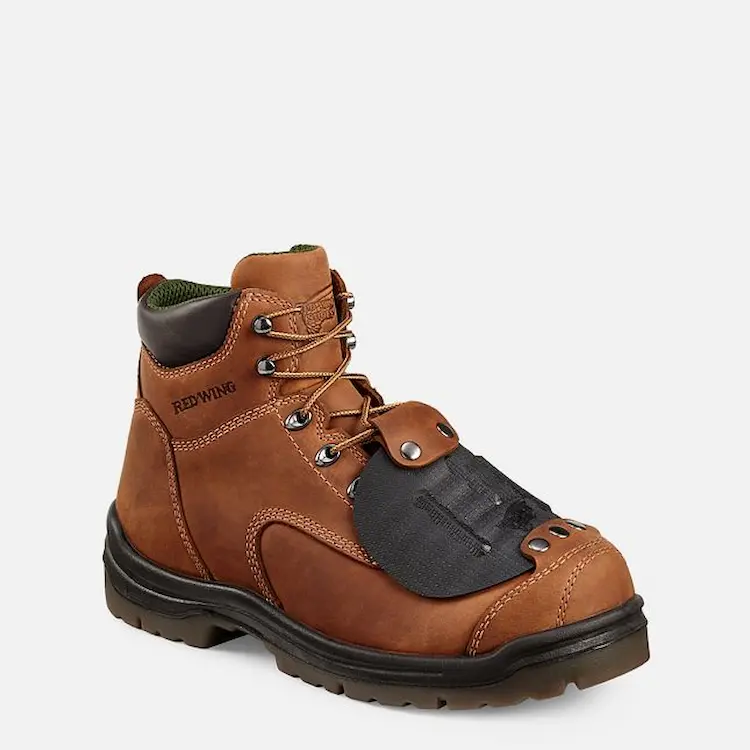 Crafted to serve multiple use cases, their hiking boots are great for the outdoors and offer a durability that's equally sufficient for tradesmen in rough working conditions. Protective features such as waterproofing, puncture resistance, steel toes, and more cover your feet from front to back, top to bottom.
Although they come in most neutral colorways, they provide a utility that'll have your back day in and day out in outdoor environments.
Return Policy
Once customers receive their order, they have 30 days to issue a return if they aren't satisfied. The company covers return shipping, and the requests are usually processed within 7 days once the item is received.
FAQs
Where Are Red Boots Made? 
Most of their products are made in Red Wing, Minnesota, but some findings have shown that they may also outsource some of their manufacturing to China. 
Where To Buy Red Wing Boots? 
Customers can purchase them online or search for a physical retailer in their local area. 
How To Clean Red Wing Boots? 
The best option you have to keep your boots in shape is by using the cleaning products they provide on their website as well as following their care guide for the specific material you purchase, which comes with all the instructions you need. 
Why Are Red Wing Boots So Popular? 
Not only do they have their fair share of die-hard customers, but the company has been known for its quality craftsmanship and stellar marketing. They have also been around for over 100 years! 
Are Red Wings Comfortable? 
Most people seem to think their boots are comfortable and well-made, but you'll find a handful of previous customers who feel otherwise. Many shoppers found they needed to wear the boots a few times to break them in.
Let's Wrap Up
If you weren't sure about purchasing a pair of Red Wings for yourself, this article should help cover any concerns you might have. Suitable for a wide range of job types and lifestyles, there's something for men and women alike.
Overall, Red Wing boots are made with quality craftsmanship, but it's important to care for the materials properly to ensure they last for years to come. 
Red Wing Boots Alternatives
If Red Wing doesn't seem like a good fit for you, here are some popular alternatives you might consider instead.