Finding the best products for your hair can be tedious because everyone's hair is different and products work differently on everybody. But the first step is always, Where do I start?
With so many haircare brands on the market, it can be a bit daunting trying to navigate the haircare world.
So, to save you a bit of research, we're here reviewing R+Co Hair — a popular brand known for its high-quality vegan and cruelty-free formula. But is it worth the hype?
Read our R+Co Hair reviews to find out!
What is R+Co Hair?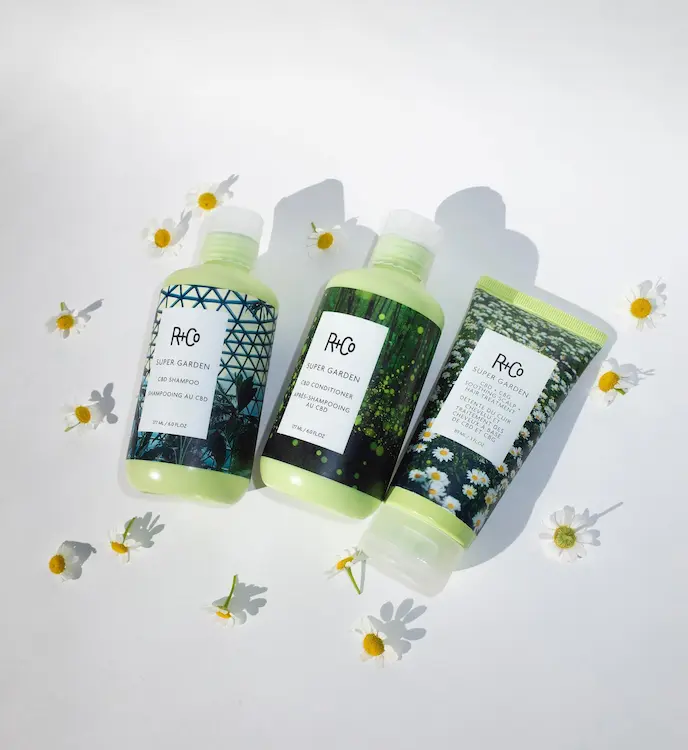 Founded in 2014, R+Co Hair was created by Howard McLaren meant to make haircare and hair education accessible to all.
McLaren wanted to celebrate the different styles, talents, and expertise of those in the haircare industry, and thus R+Co Hair was born.
With formulas that are vegan, cruelty-free, gluten-free, and color-safe, R+Co has an impressive collection of products where everybody can find something their hair will love.
The brand is also often found in beauty subscription boxes, such as FabFitFun and Ipsy.
Is R+Co Legit?
Yes, R+Co is a legit company. R+Co is a well-known haircare brand that has been around since 2014 and has been featured in many beauty magazines and various websites.
With award-winning formulas and inclusivity toward different hair stylists, hairdressers, educators, and haircare enthusiasts that make up the company, R+Co is a reputable brand and is one of the forerunners of the clean haircare industry.
R+Co Hair Products Reviews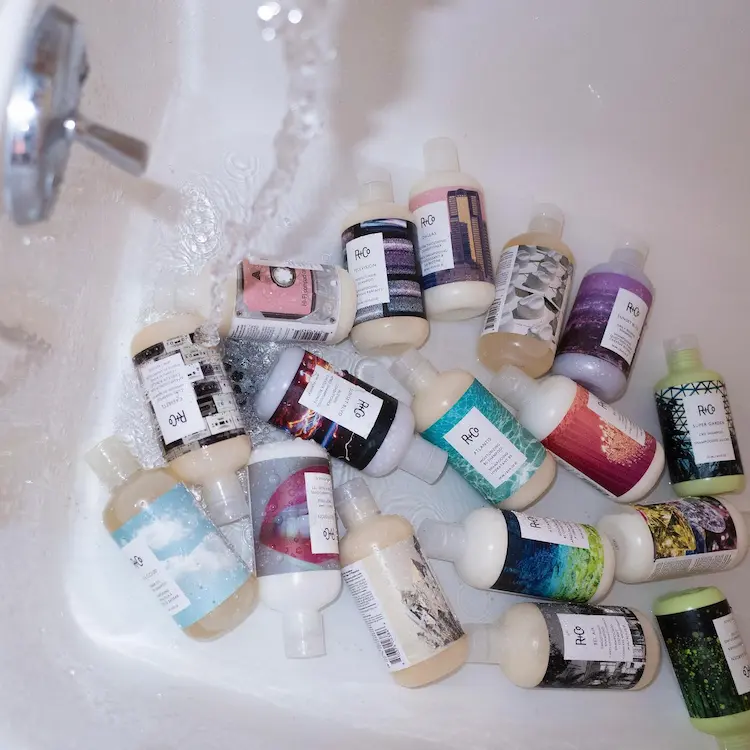 Overall: ★★★★ 4 stars
Overall, many customers are impressed with R+Co hair products!
A well-rounded brand, R+Co has everything you could possibly want: great formulas, cute packaging, amazing scents, affordable prices, and top-notch customer service.
Of course, not everybody's hair reacts the same to certain formulas, but R+Co products have been incredibly well-received by shoppers and hair gurus alike!
Price: ★★★★★ 4 stars
Sometimes the determining factor when deciding to purchase beauty products is the price, but luckily R+Co products start at an affordable enough price so that anyone can enjoy luscious haircare.
Taking into account the miniature and the liter sizes, prices for R+Co shampoos and conditioners start at $11 and can reach up to $99 for the biggest sizes.
Although not the cheapest hair products around, we think R+Co is absolutely worth the price considering the quality they put out – and many customers agree. 
Formula: ★★★★★ 5 stars
R+Co's biggest flex is their formula. Designed to keep hair and the scalp healthy, R+Co's formulas are made with a blend of unique ingredients and are created to be high-performing with quick results.
All of R+Co's formulas are 100% vegan, cruelty-free, paraben-free, sulfate-free, petrolatum-free, mineral oil-free, gluten-free, color-safe, and UV-safe.
Collection: ★★★★★ 4 stars
R+Co offers a lot of different products to accommodate everyone's hair type. In fact, you can even take the hair quiz on the R+Co website to understand what kind of products your hair type might need.
Customers can shop by hair type or hair needs such as styling or treatments. R+Co offers shampoo, conditioners, hair masks, dry shampoo, hair spray, and more!
What Customers Are Saying
To get more insight from a shopper's perspective, we surfed the web and pulled out some common points made by customers from real R+Co reviews!
Here's what customers have to say about R+Co:
Fantastic formulas, especially for thin hair
R+Co products smell amazing
Their Television Shampoo is a holy grail
The company has awesome customer service and a great return policy
Affordable compared to salon products, but a bit spendy compared to drugstore products
Some users didn't notice a difference between R+Co and cheaper drugstore hair products
Great return policy (free returns and exchanges within 30 days)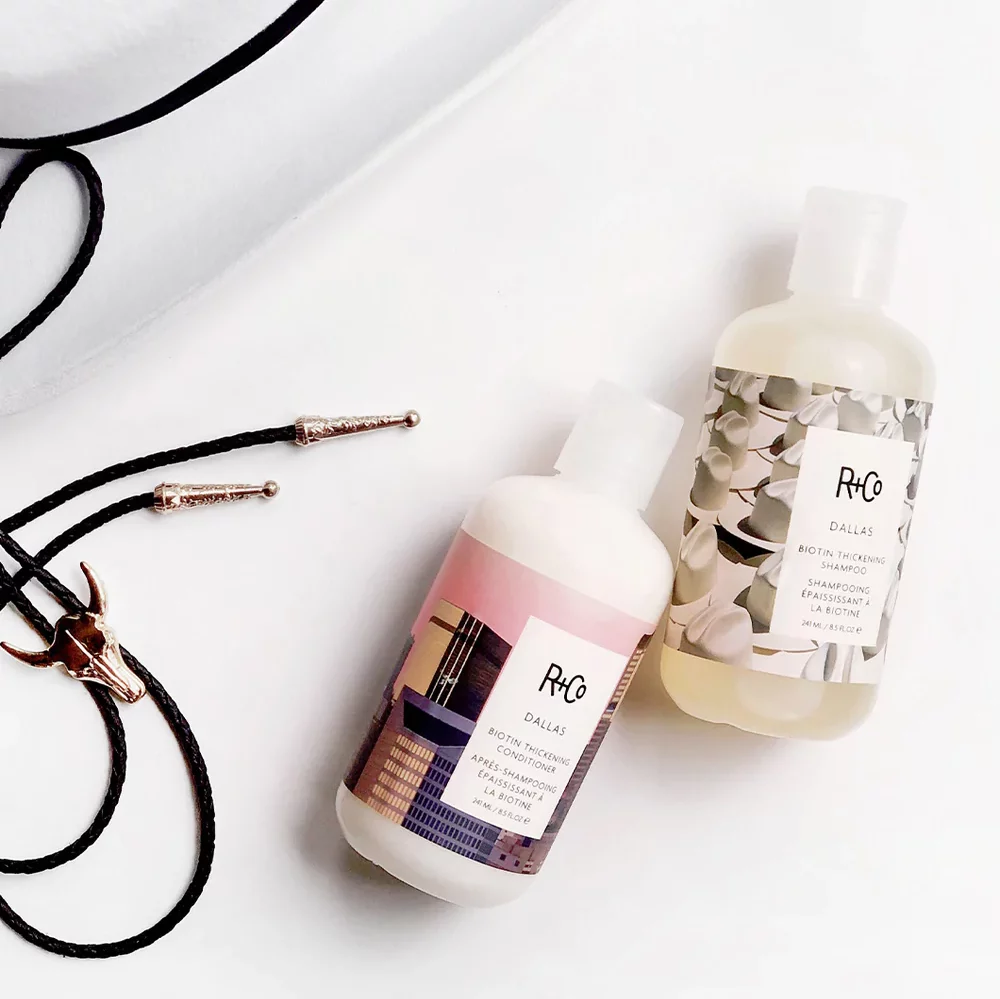 Priced at $32 for 8.5 ounces, this biotin shampoo has a flawless five star rating on the R+Co website.
Perfect for those with thin, fine hair, the Dallas thickening shampoo aims to make hair beautiful, bouncy, and voluminous from root to tip.
The star of this shampoo is biotin, which works with keratin to make your hair stronger and more vibrant. Additional superstart ingredients include pro vitamin B5, coconut oil, berry extract, and loquat fruit extract.
These ingredients work together to give hair the hydration, nutrients, vitamins, and longevity needed make dull, flat hair come back alive.
---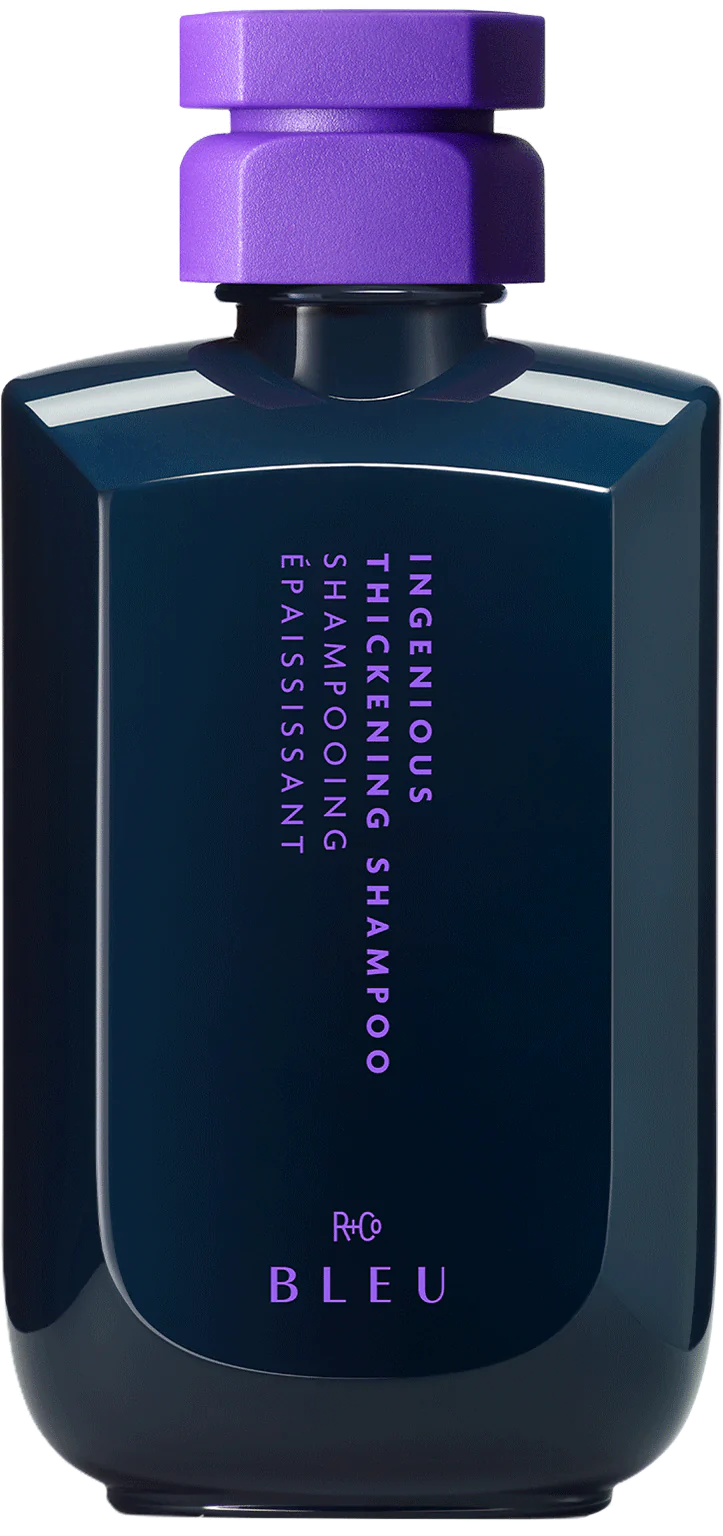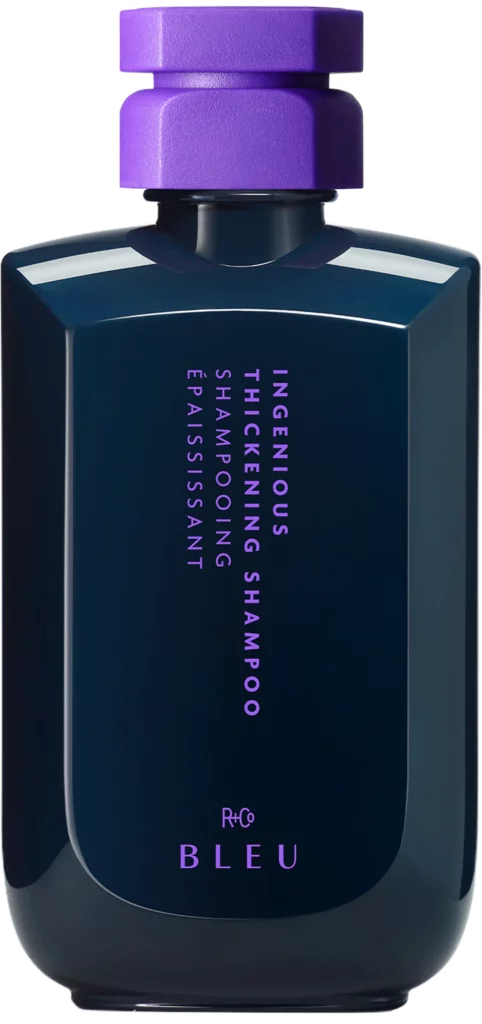 This Ingenious shampoo is part of R+Co's Bleu line, which features the same formulas but with more sustainable and environmentally-friendly packaging.
Made with 100% recyclable materials, R+Co Bleu's mission is so create high-performating products with low impact consequences.
One of the most popular products from the Bleu line is the Ingenious Thickening Shampoo, meant for people with fine and thin hair.
An 8.5 ounce bottle costs $59, and though this is definitely on the pricier side of R+Co's product spectrum, shoppers do love this shampoo for good reasons.
Not only does the production of the packaging use less energy to lower the company's carbon footprint, this shampoo utilizes kelp extract, vegetable protein, and R+Co's Bleu Molecule Complex to give hair instant shine and notably more strength.
---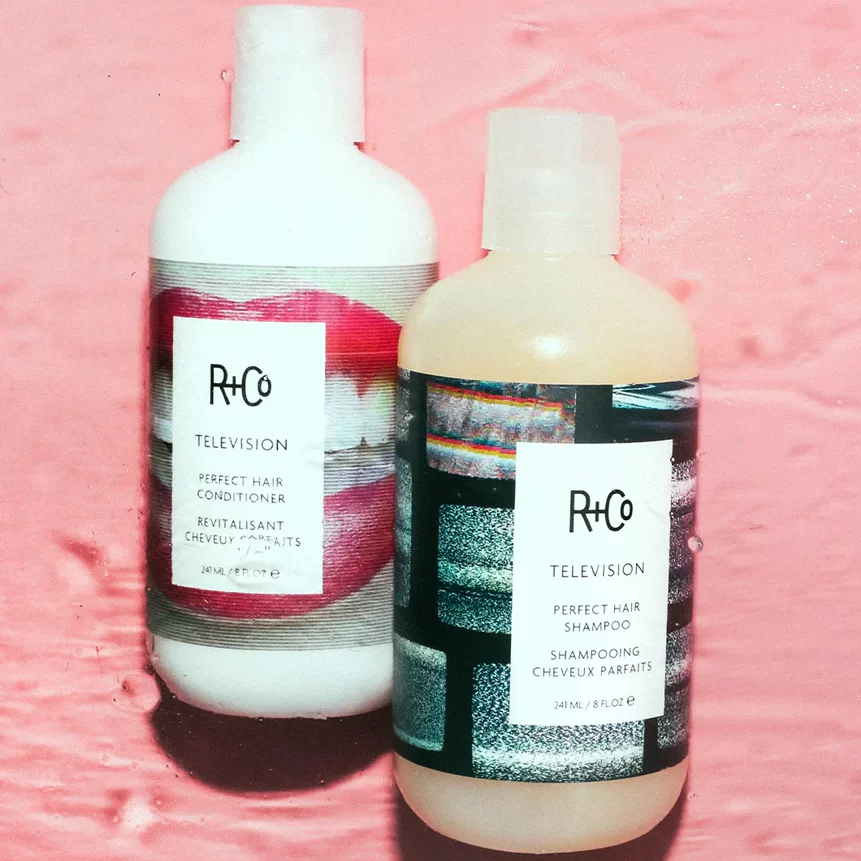 A formula created to make your hair look camera-ready in an instant, this Television Perfect Hair Shampoo is perfect for any hair type.
Formulated to give your hair body and shine, this shampoo has smoothing, softening, and strengthening powers from juniper berry extract, glycerin, and babassu seed oil.
Priced at $32 for 8.5 ounces, this shampoo is the perfect everyday product for healthy-looking hair on the daily.
---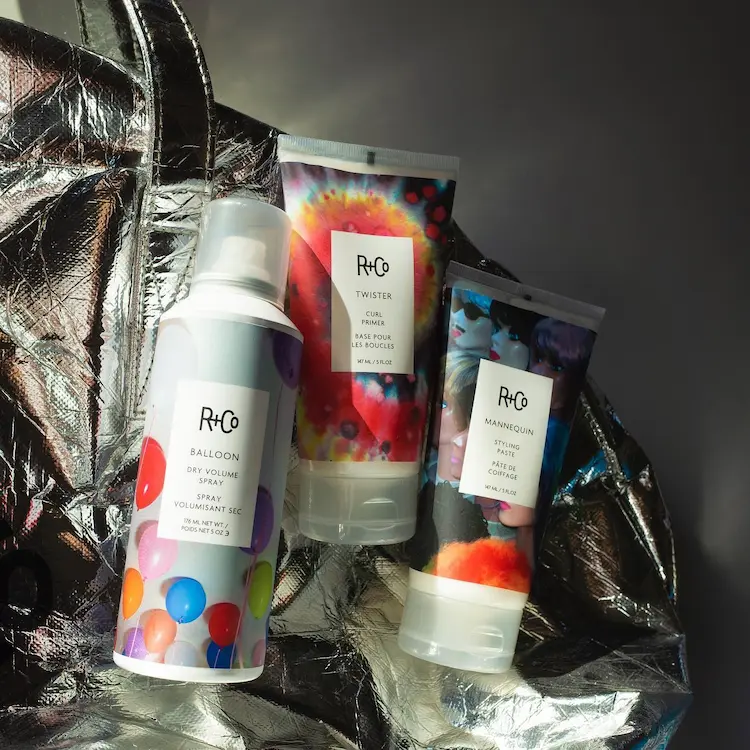 The Bottomline
Is R+Co worth the hype? We think the brand is worth giving a shot, especially if you have fine hair. They're well-loved by their customers and many hair gurus, plus they seem to offer products for everyone's hair types and hair concerns.
Although they offer products for all hair types, people with fine hair seem to rave about R+Co the most.
That being said, everyone's hair reacts differently to hair products. Some people love this brand, whereas some others don't notice much of a difference when they tried out R+Co. If your new to the brand, we'd definitely recommend starting out with a smaller size first (or one of their sets so you can try different products).
We love the diverse selection of items, affordable prices, quality products, and super cute packaging – we recommend R+Co to those who are looking to change up their haircare game.
Note: R+Co samples are often provided in beauty subscription boxes like FabFitFun or Ipsy!
R+Co Alternatives
If you're looking for brands similar to R+Co, here are some brands to get started:
Return Policy
R+Co has a 30-day free returns policy, and shoppers who want to make a return most do so through R+Co's return center.
All returns are free of charge, and once the return has been approved by R+Co, customers will receive store credit to try a different products. However, f you don't use the store credit within 1 week, your original payment method will be refunded.
This policy is only applicable through purchases from the R+Co website and not on purchase from third-party stores or websites.
FAQs
Does R+Co have parabens? 
No, R+Co does not include parabens in its formulas.
Who owns R+Co?
Howard McLaren owns R+Co.
Where can I buy R+Co products?
You can purchase R+Co products from the R+Co website or you can purchase products from hair salons and stores that carry the R+Co brand.