If you have wavy or curly hair, you know the struggle. Like, the struggle is so real I'm sure I don't even have to explain what it is.
Everyone's hair routine is different to accommodate their different hair type, but those with curly hair know that just one misstep in a hair routine will allow frizz and unruliness to take over.
That's why finding hair products that suit your hair type is important, but it certainly takes a lot of trial and error. Luckily, one brand you won't need to wonder about is Ouidad. 
Ouidad is a haircare line exclusive to those with curly hair, but what's there to know about it? Read our Ouidad reviews to learn all about this curl-focused haircare brand.
What Is Ouidad?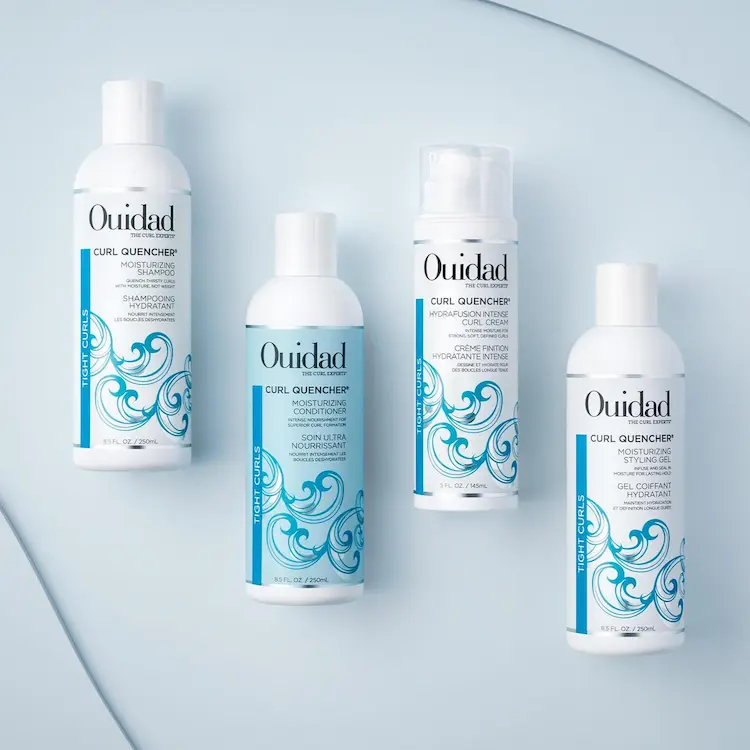 Ouidad is a haircare brand created by a Lebanese immigrant, Ouidad Wise, back in 1984. 
After opening the first Ouidad salon in New York City, the brand grew from Ouidad's passion for embracing curls' unique and beautiful texture. 
Over the past 30 years, Ouidad as a brand has dedicated itself to creating and perfecting salon-quality haircare products unique to every curl type — from waves to coils.
Ouidad: Overview
Ouidad is for the curly-haired girlies and lads, so all products are geared towards those with some type of curl pattern.
Ouidad makes it easy to shop for what you're looking for, offering products by category like benefits, curly type, and product type.
Ouidad Reviews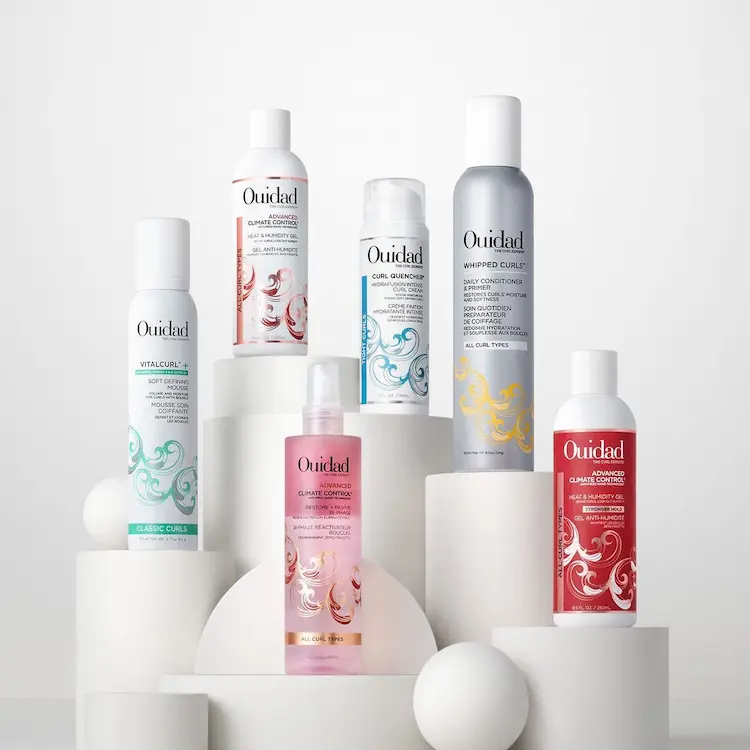 Overall: ★★★★★ 4.5 stars
We can't speak for all the curly heads out there since hair reacts differently to different products, but Ouidad has received stellar reviews across the board.
Although it doesn't work for everyone, they have a lenient return policy (plus they are available at Ulta and other retail stores that have good return policies).
Those who use Ouidad swear by their products (which we'll get into later) and love how refreshed and bouncy their curls are after using them.
Price: ★★★★ 4 stars
Haircare can get expensive, but sometimes that's the cost of salon quality. Compared to other salon-grade brands, Ouidad's products are averagely-priced, with all individual products being $75 and under. 
Ouidad is definitely a haircare brand to invest in, but we — and a lot of other users — think it's totally worth it.
Quality: ★★★★★ 5 stars
Ouidad infuses innovative technology to create its award-winning formulas. 
Most notably, Ouidad uses Anti-Frizz Nano Technology, flexible styling polymers, and rich proteins in its formulas to create products customized to different curl patterns. 
Whether you have loose waves or tight coils, there's a Ouidad product for you.
---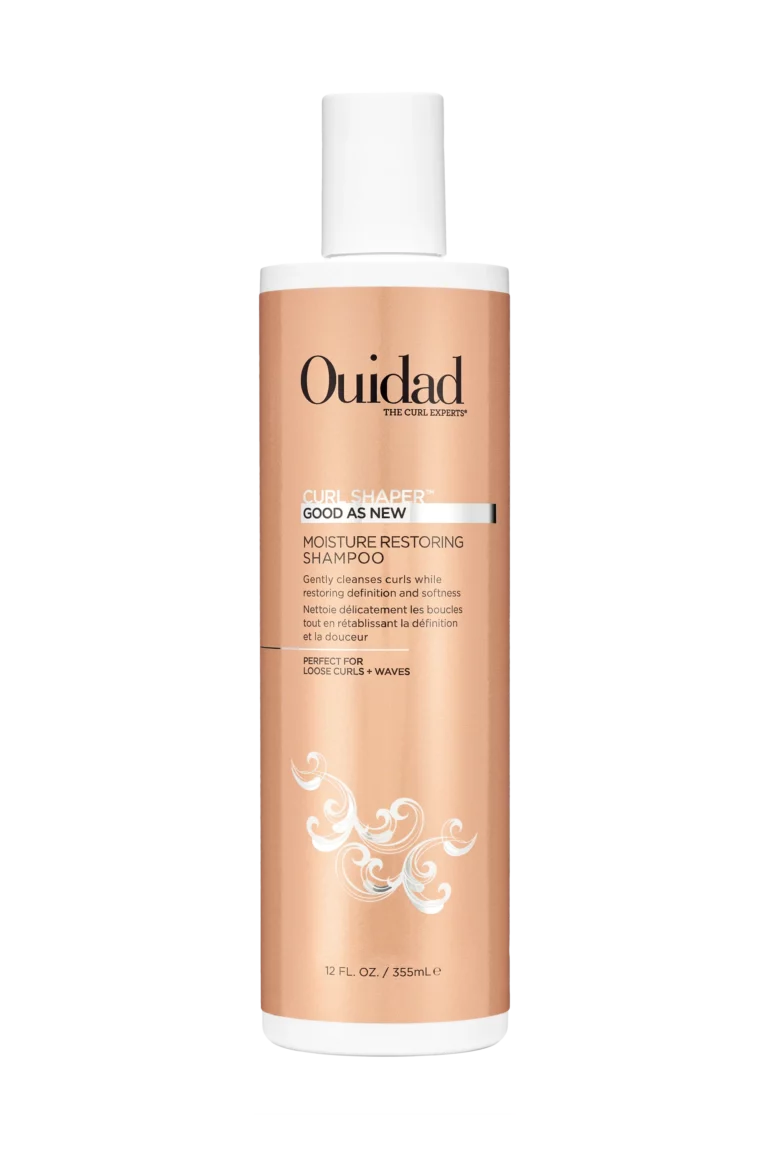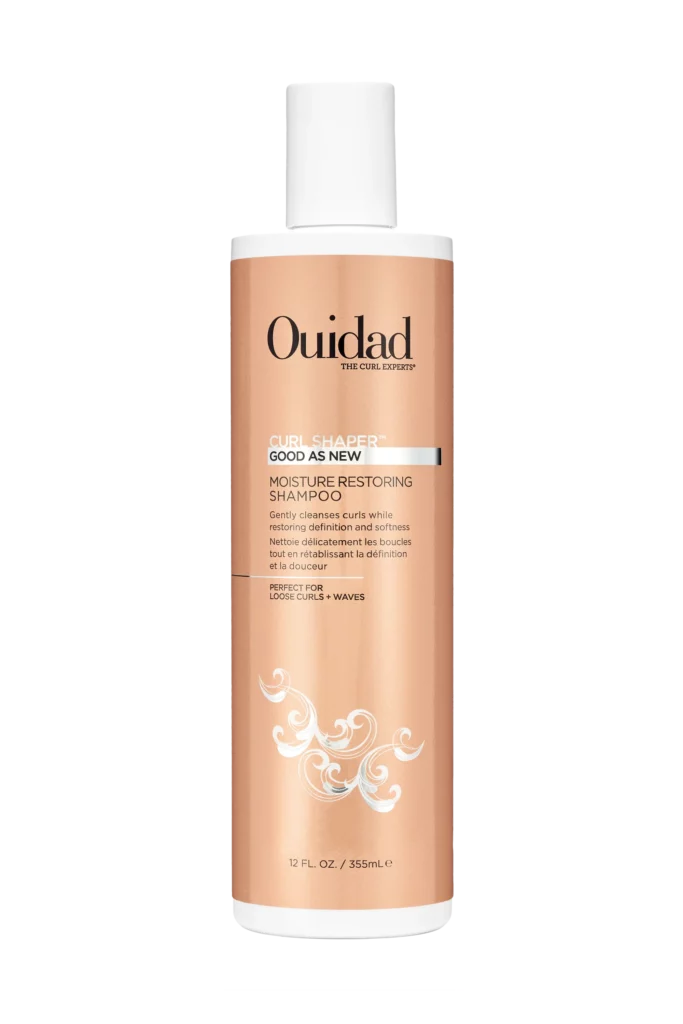 Where to even begin with this superstar shampoo?
This Good As New Moisture Restoring Shampoo is a holy grail product for those looking to clean and hydrate their hair without stripping away from the natural hair barrier.
If you love a clean, subtle scent, this shampoo is described to smell like "crisp floral and golden musk — pink grapefruit and water lotus."
Those who've used this shampoo say the fragrance isn't super overpowering and is extremely pleasant, which is good news to those who are a bit more sensitive to smells.
Safe for color-treated hair and cruelty-free, this Moisure Restoring Shampoo is free from:
parabens
sulfates
mineral oil
phthalates
petroleum
gluten
To add to all the wonderful things about this shampoo, some of the superstar ingredients used include pro-vitamin B5, safflower seed oil, and rice bran oil!
Gentle enough to use daily, this shampoo is available in three sizes: 
3.4 oz ($12)
12 oz ($30)
33.8 oz ($70)
---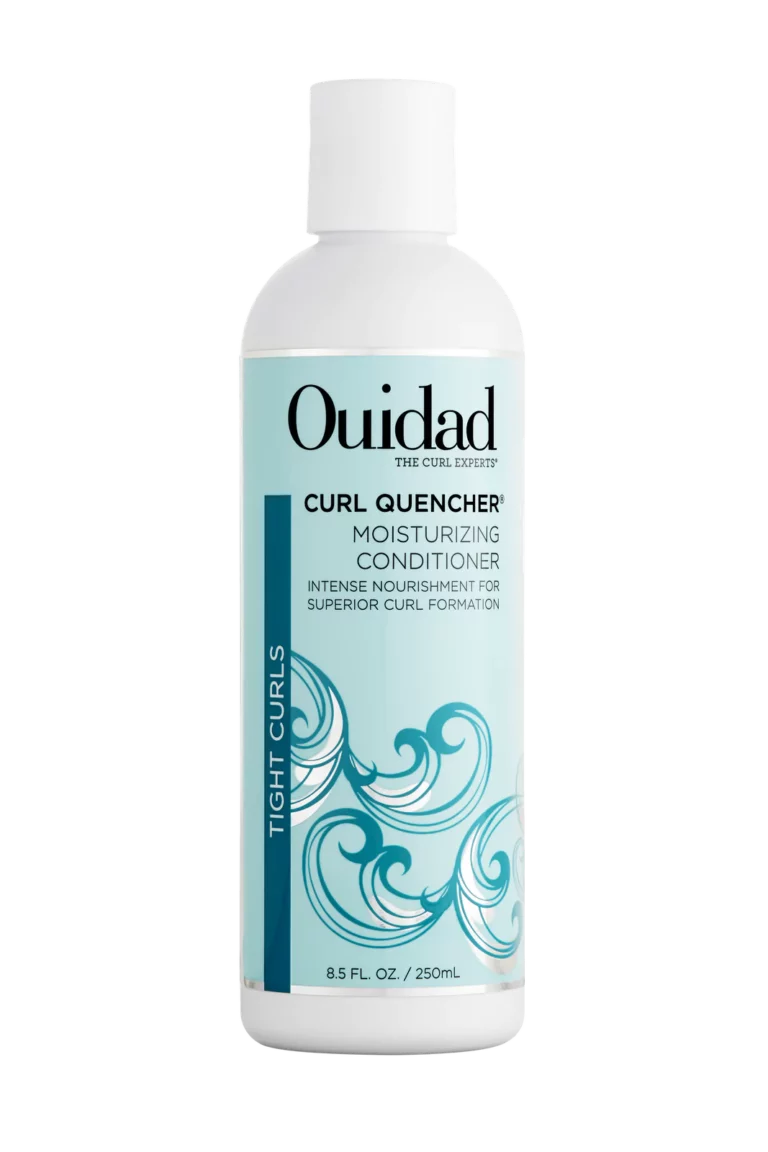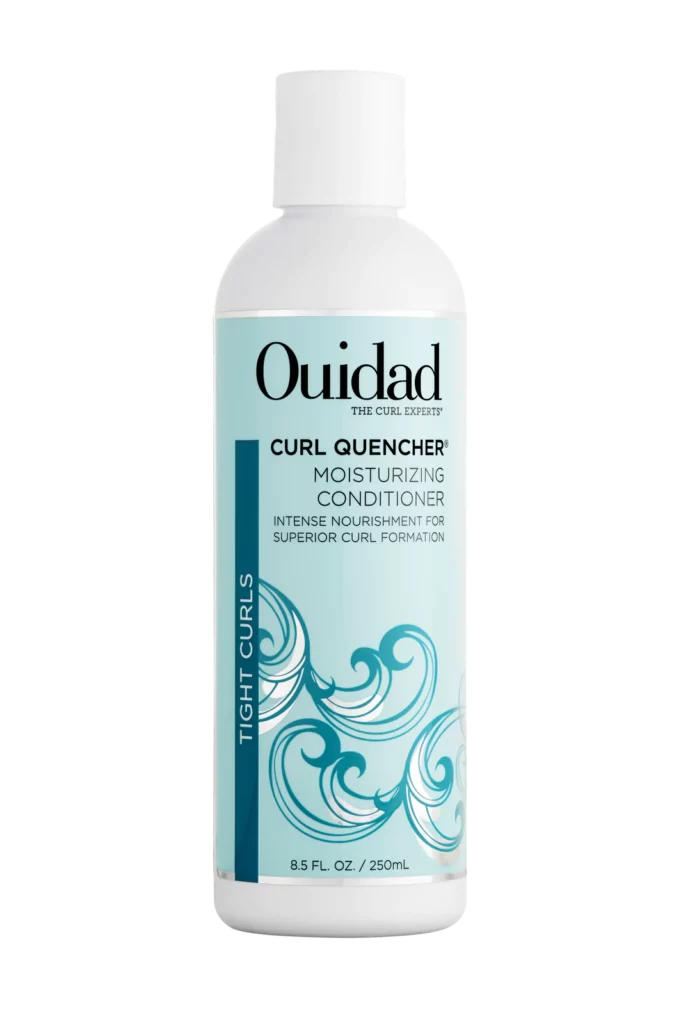 One of Ouidad's best-selling products, this cruelty-free Curl Quencher Moisturizing Conditioner is meant to coat every hair strand with moisturizing extracts to hydrate, detangle, soften, and strengthen the hair.
Meant for those with tight curls, this conditioner's formula includes nurturing ingredients like chamomile, arnica flower, wheat protein, and vitamins A and E to promote a healthy, defined, and uniform curl formation.
This conditioner's formula is free from:
non-water soluble silicones
parabens
sulfates
mineral oil
petroleum
phthalates
Fragranced with a light fruity smell with melon and cucumber, this popular Ouidad conditioner is a life-saving product that doesn't weigh down curls and keeps hair hydrated and defined.
You can buy the Curl Quencher Moisturizing Conditioner in two sizes:
8.5 oz ($24)
33.8 oz ($60)
---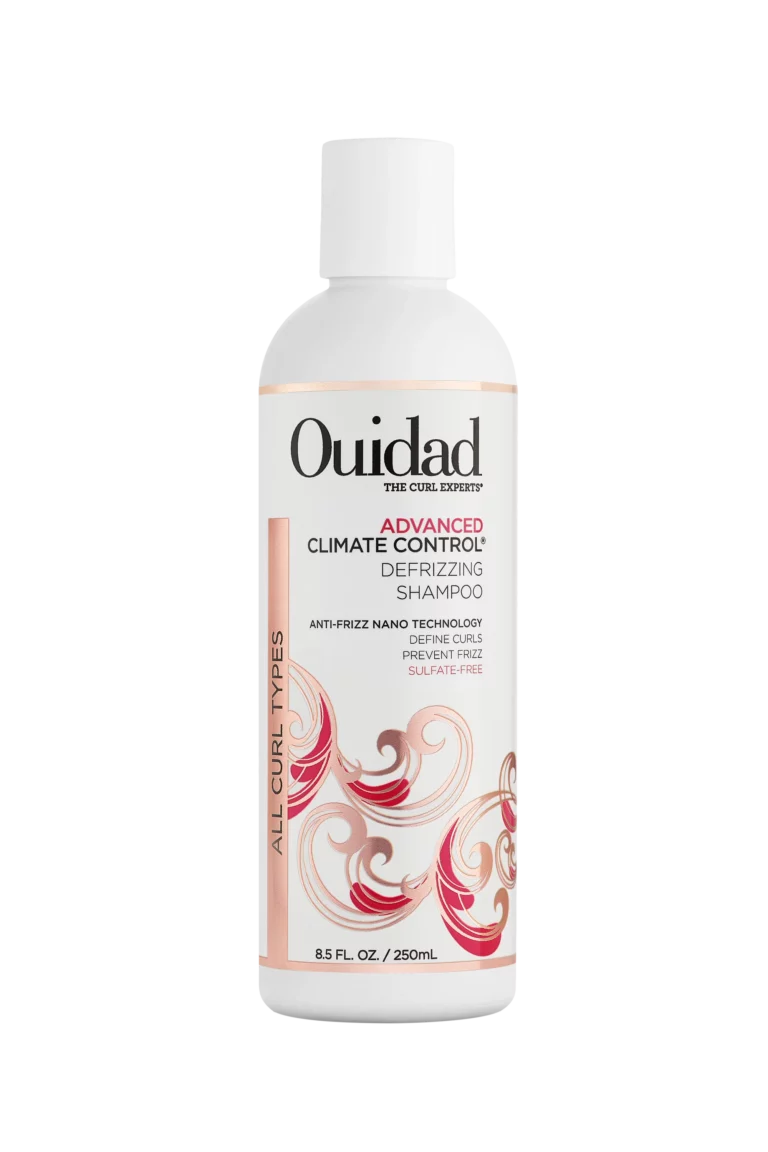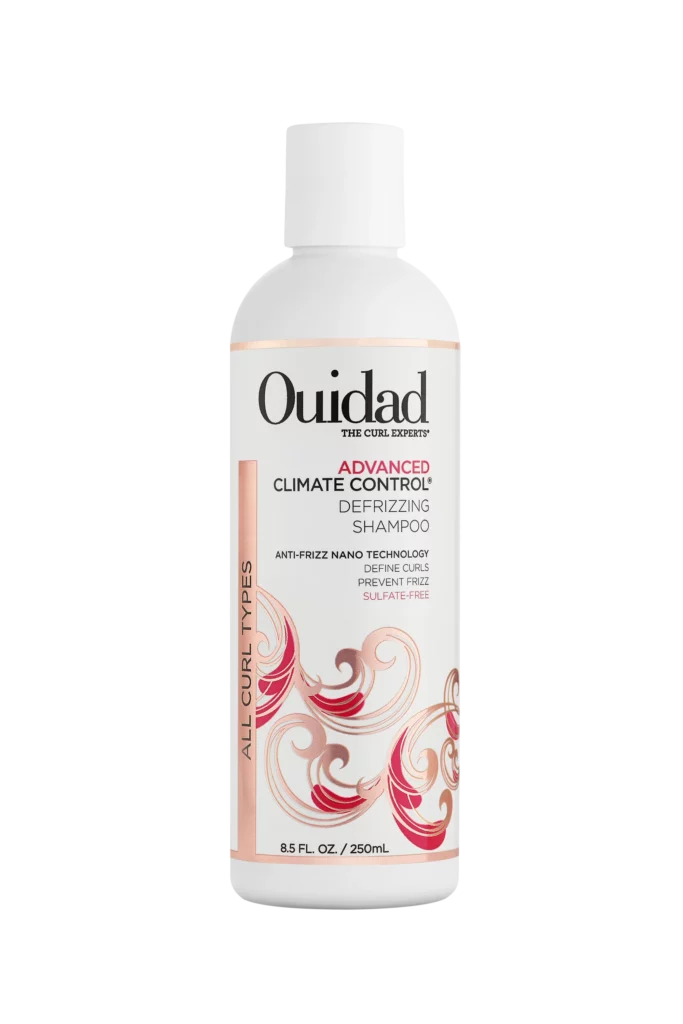 We simply can't talk about Ouidad without reviewing its most well-known and most talked about product.
The Advanced Climate Control Defrizzing Shampoo is a gentle, ceramide-infused formula aimed to remove dirt and excess oils from the hair without stripping the curls.
This formula is made with Ouidad's famous Anti-Frizz Nano Technology, which forms a an invisible barrier to shield the hair from the humidity that causes frizz.
The molecules in the Anti-Frizz Nano Technology are small enough to penetrate the cuticle, and it's also mixed with sericin, a protein derived from silk.
Even better, this shampoo's formula also comes with a UV filter to help block out environmental aggressors like pollution!
With a sweet floral scent, this shampoo is fragranced with notes of rose, lily of the valley, peach, plum, and other pleasant fruity smells to make your hair amazing.
This shampoo comes in three sizes:
2.5 oz ($10)
8.5 oz ($24)
33.8 oz ($70)
---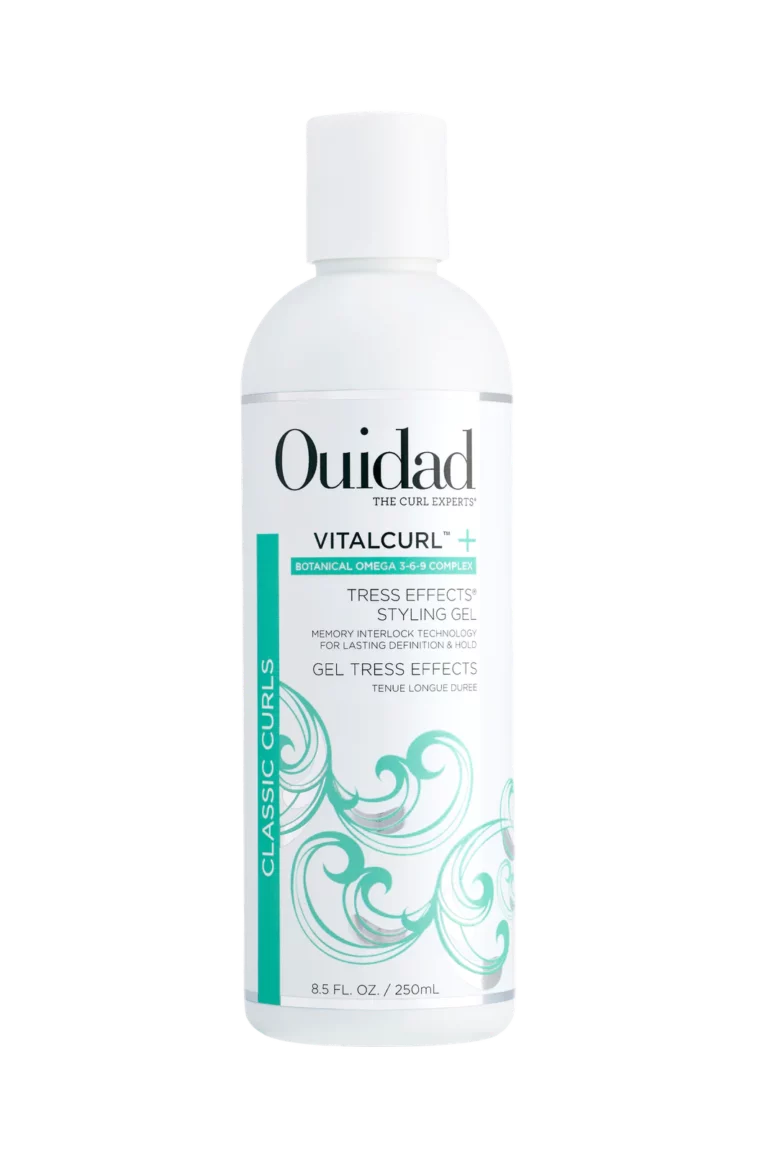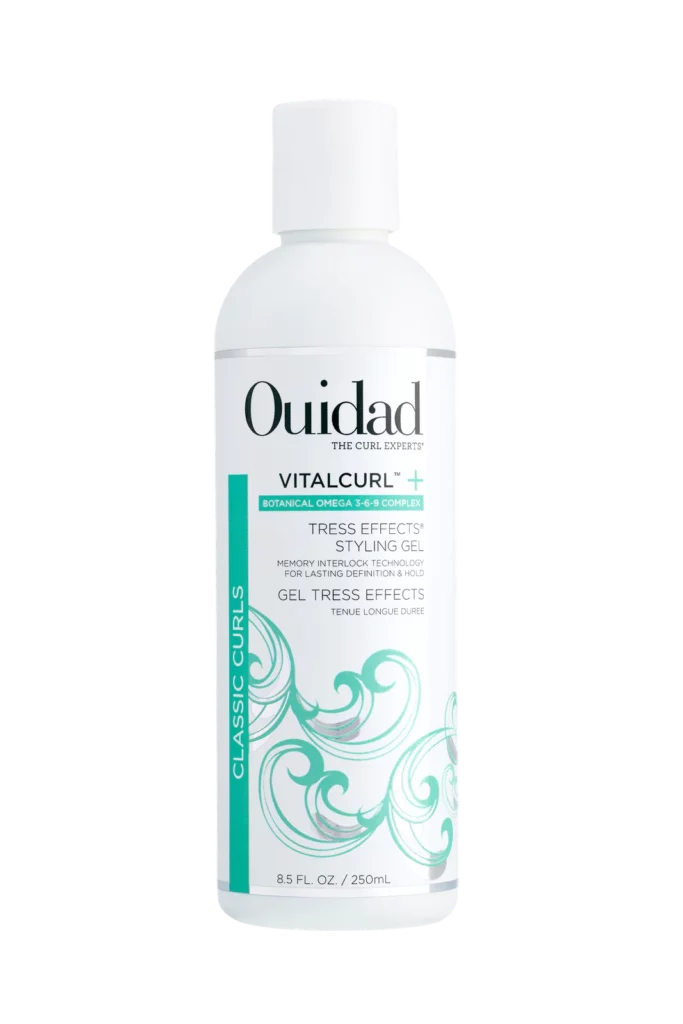 Catered to those with classic curls, the Ouidad VitaCurl + Tress Effects Styling Gel is perfect for when you want your style to last all through the night.
Made with Memory Interlock Technology, this gel forms a lattice to shape and hold your curl pattern for long-lasting, defined results.
Chia seed, Japanese camellia, and sunflower oils forms Ouidad's signature Botanical Omega 3-6-9 Complex that targets dry areas of the hair so that your do has moisture, elasticity, and bounce.
A cruelty-free formula, this styling gels comes in two sizes:
8.5 oz ($26)
33.8 oz ($75)
What Customers Are Saying
With Ouidad's popularity, you're bound to come across a ton of reviews, but why waste your time reading them when we can summarize them for you?
Here's what you need to know about Ouidad based off reviews from real customers:
Many people say their products are the best out there for curly hair
It's a little pricey, but definitely worth it
Some products work for people's hair, while others don't
The Moisturizing Conditioner works wonders
Return Policy
Ouidad offers a 30-day, money-back guarantee return policy on all products. So long as your product was purchased through the Ouidad website, the company will honor that guarantee. 
However, a return handling fee of $5.99 will be deducted from your refund.
That being said, Ouidad is available at many popular retailers, each of which has their own return policy. For example, you can shop Ouidad at Ulta. If you need to make a return, you can do so at an Ulta store near you to avoid the return shipping costs.
FAQs
Who owns Ouidad?
Ouidad is currently owned by J&D Brush Company Inc. 
Is Ouidad a good brand for curly hair?
Yes! Ouidad is one of the top brands for curly hair, from waves to coils.
Are Ouidad products safe?
Yes, Ouidad products are safe for use. The formulas are cruelty-free and are free from silicones, sulfates, parabens, mineral oil, and the likes. 
The Final Verdict
Everything Ouidad, we stan. 
If you've been looking for new products to try, or your current curly-hair products aren't doing it for you, we recommend trying out Ouidad.
Of course, their products don't work for everyone – don't lose hope if some products may not work for you. There are so many curly hair brands out there, and we hope you find products that suit you so you can have the ultimate haircare routine.
Ouidad Alternatives