Cotton is a trusty and long-time friend of the fashion and beauty world. Like, we stan cotton. Not only is cotton versatile, light, and fluffy, but it's also durable, hypoallergenic, insulating, and comfy. 
There are a lot of brands out there that use synthetic fabrics for clothing, but nothing compares to the soft and warm feeling of wearing 100% (or at least, almost 100%) cotton.
That said, non-organic cotton still has pesticides and is not nearly as sustainable as organic cotton.
If you want to start making a switch and are wondering where to buy organic cotton clothes, here's a list of the best organic cotton clothing brands out there!
Note: Most brands below don't use 100% organic cotton for all their garments, some use other fabrics in some garments as needed or have other sustainable fabric collections. If you're looking for pure organic cotton, check out the fabric specs for each item.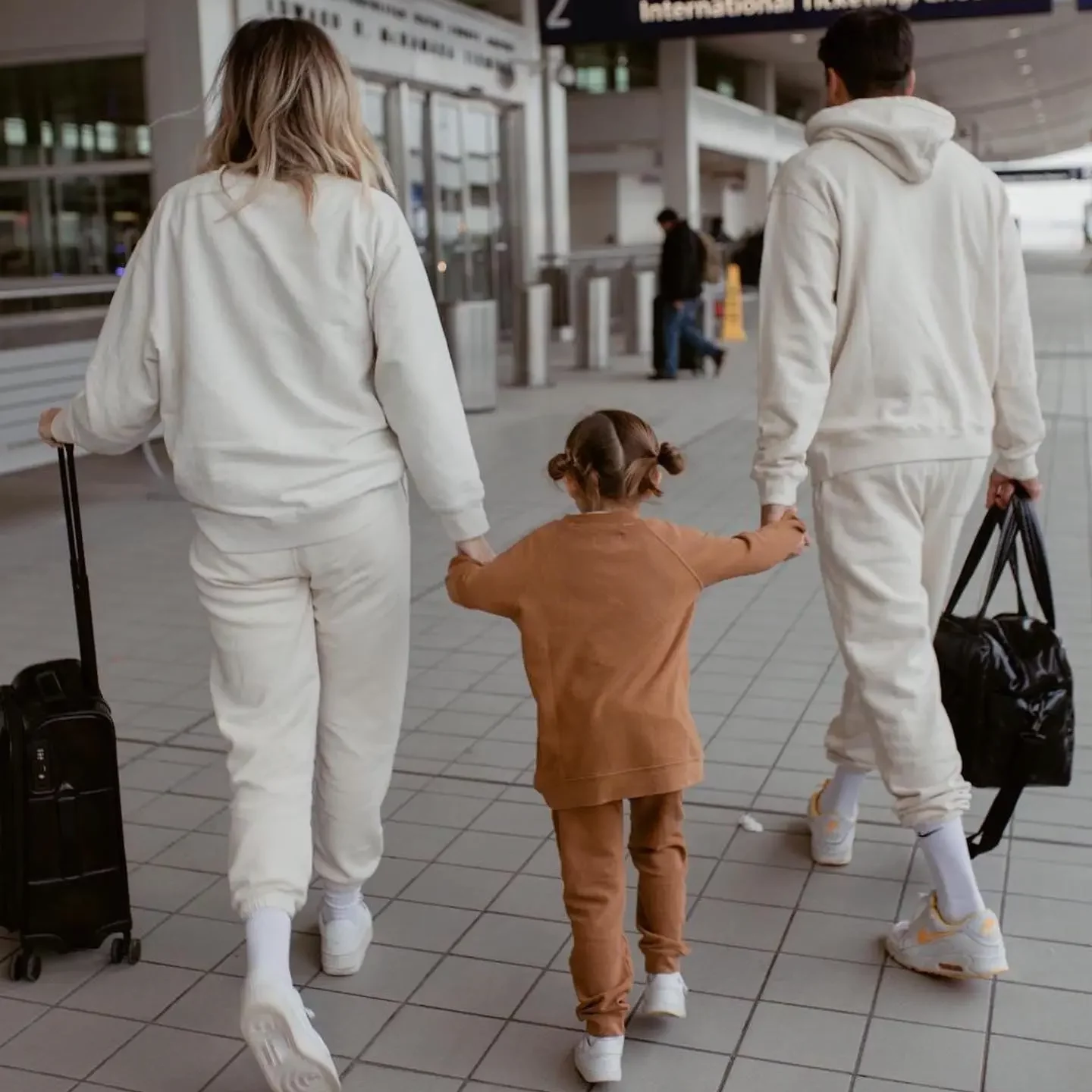 MATE The Lable is an awesome brand for those who love shopping for the essentials and for those who love minimalism and neutral colors.
MATE The Label makes clothing free of pesticides, microplastics, formaldehyde, carcinogens, and endocrine disruptors. 
They use a few different fabrics depending on the clothing. Most of their items are derived from natural fabrics (aside from some activewear that includes a small percentage of spandex to ensure the garments are stretchy). Other fabrics used include organic cotton, linen, and Tencel.
Founded by women and run by women, this clothing brand is based out of Los Angeles and uses all organic materials and non-toxic dyes to create the cutest clothing for women, men, and kids. 
We love browsing through their Warehouse Sale to see the latest deals.
---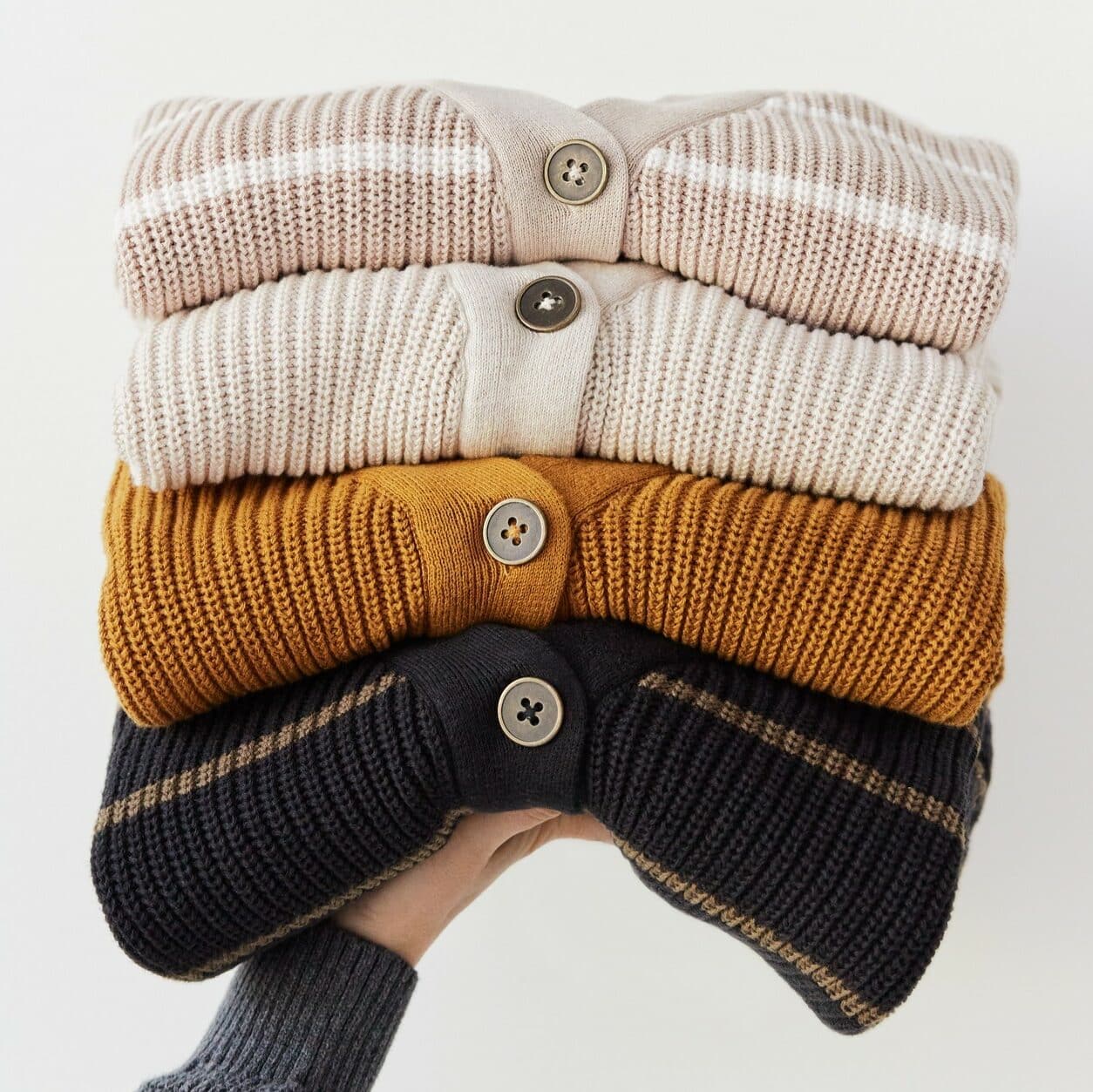 Founded in 2009, Pact is a sustainable clothing brand that is Fair Trade Certified, SimpliZero Certified, and GOTS Certified (Global Organic Textiles Standard).
These certifications mean that Pact makes clothing that saves more water and energy and produces cleaner air, better soil, and fewer toxins thanks to organic farming.
Additionally, Pact is a zero net carbon company, meaning the company can measure the environmental impact of each Pact product and offset it through methods like reforestation and community projects. 
On each Pact product page, you will see how many gallons of water each garment saved by using organic cotton and other facts. For example, their best-selling cozy turtleneck sweater saved 42 gallons of water.
With clothing for women, men, and kids, bedding, and other home items, you'll find plenty of organic cotton items to add to your sustainable collection.
Their maternity collection is great too!
---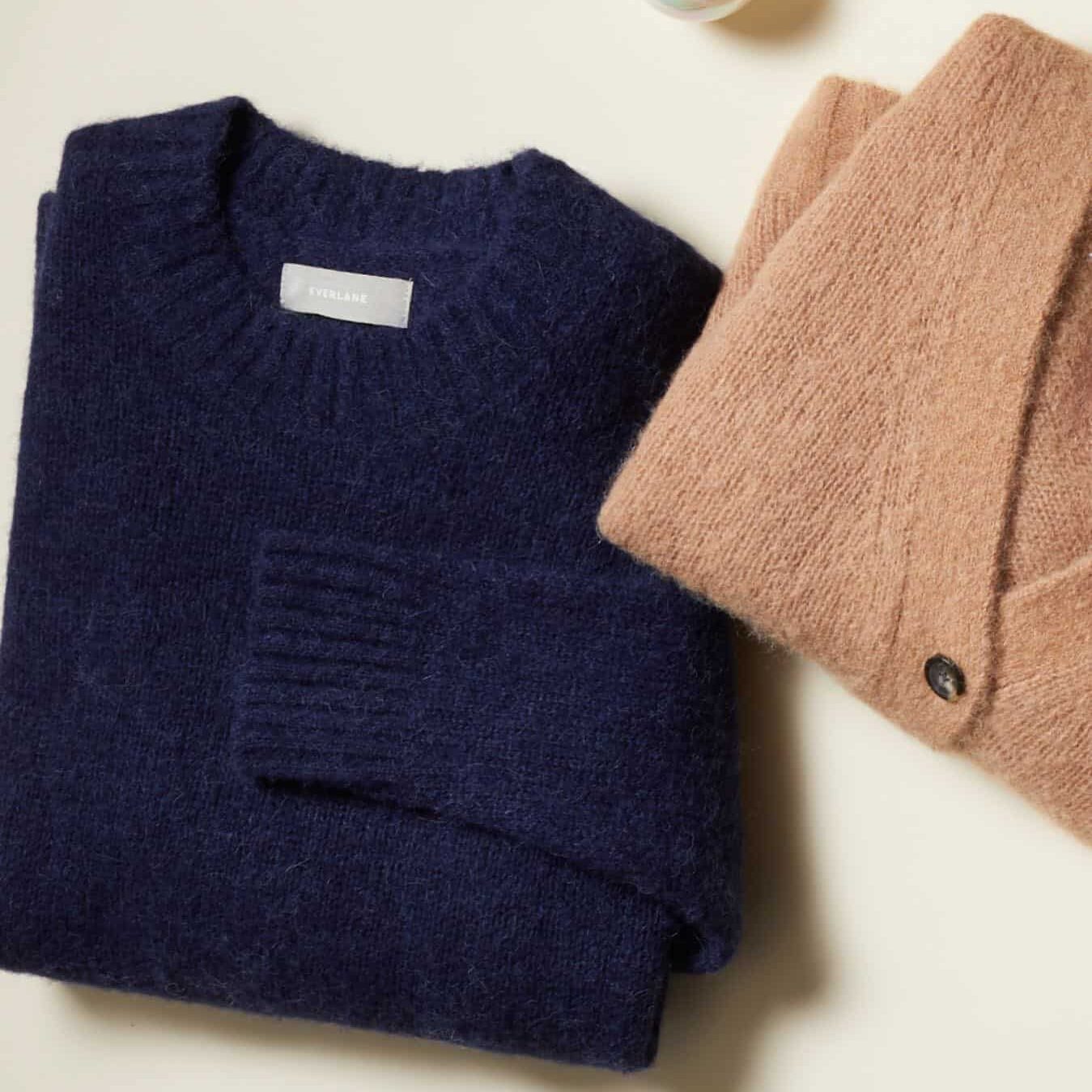 Everlane is one of the most popular clothing brands, thanks to its large social media presence.
Despite being one of the most popular stores of the moment, Everlane is a good company to get ethical and sustainable clothing from. 
Everlane is transparent — shoppers can look at Everlane's factories, environmental initiatives, carbon commitment, and its yearly impact report. 
If you're looking for stylish and chic clothing for women and men that use organic and sustainable materials, Everlane is for you.
---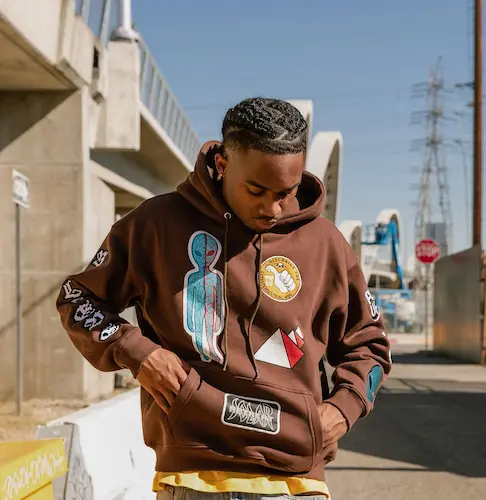 Coney Island Picnic (CIP) is a clothing brand that provides graphic clothing from a creative collective of artists who contribute their art and designs. 
CIP is a reflection of east and west coast youth culture that picks up inspiration from skating, surfing, and vintage athletics.
CIP offers clothing for women and men with lots of 100% cotton pieces. Plus, the brand's sustainable collection highlights many pieces made with 100% organic cotton!
---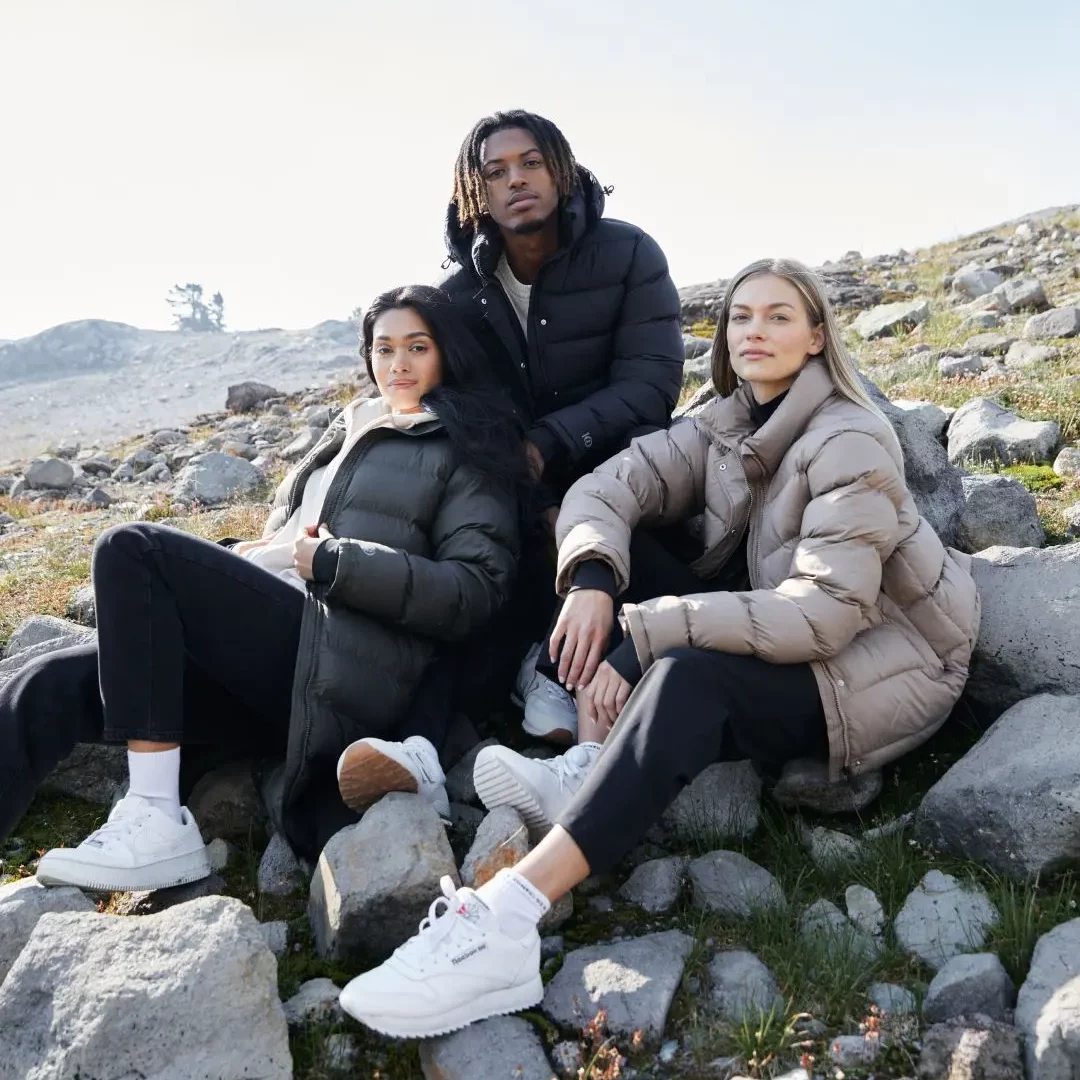 Offering sustainable clothing for women, men, and kids, Tentree plants ten trees for every item purchased!
Not only does Tentree use organic cotton, but the company also uses other organic and recycled materials and fabrics such as recycled polyester and lyocell to help cut back on water and emissions. 
---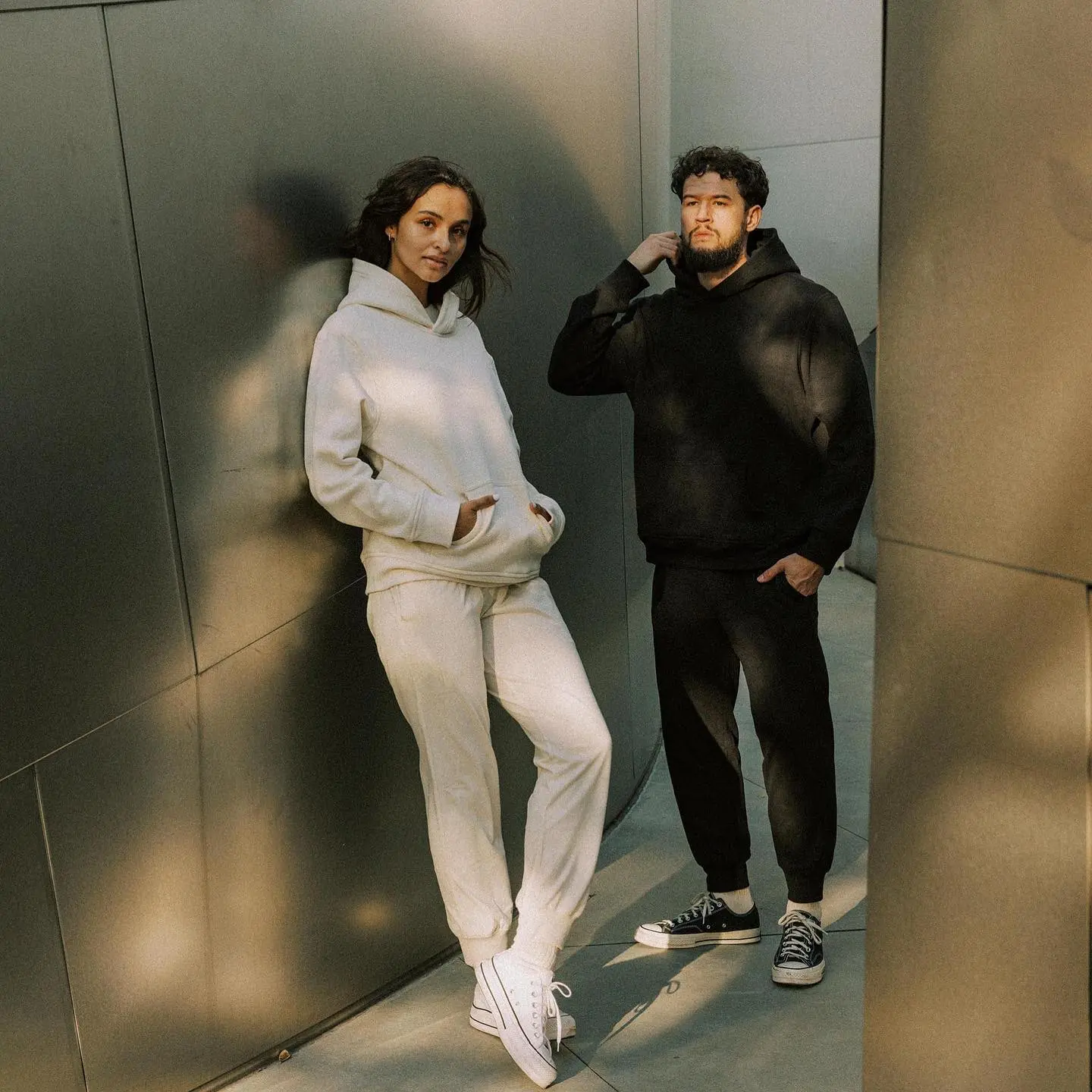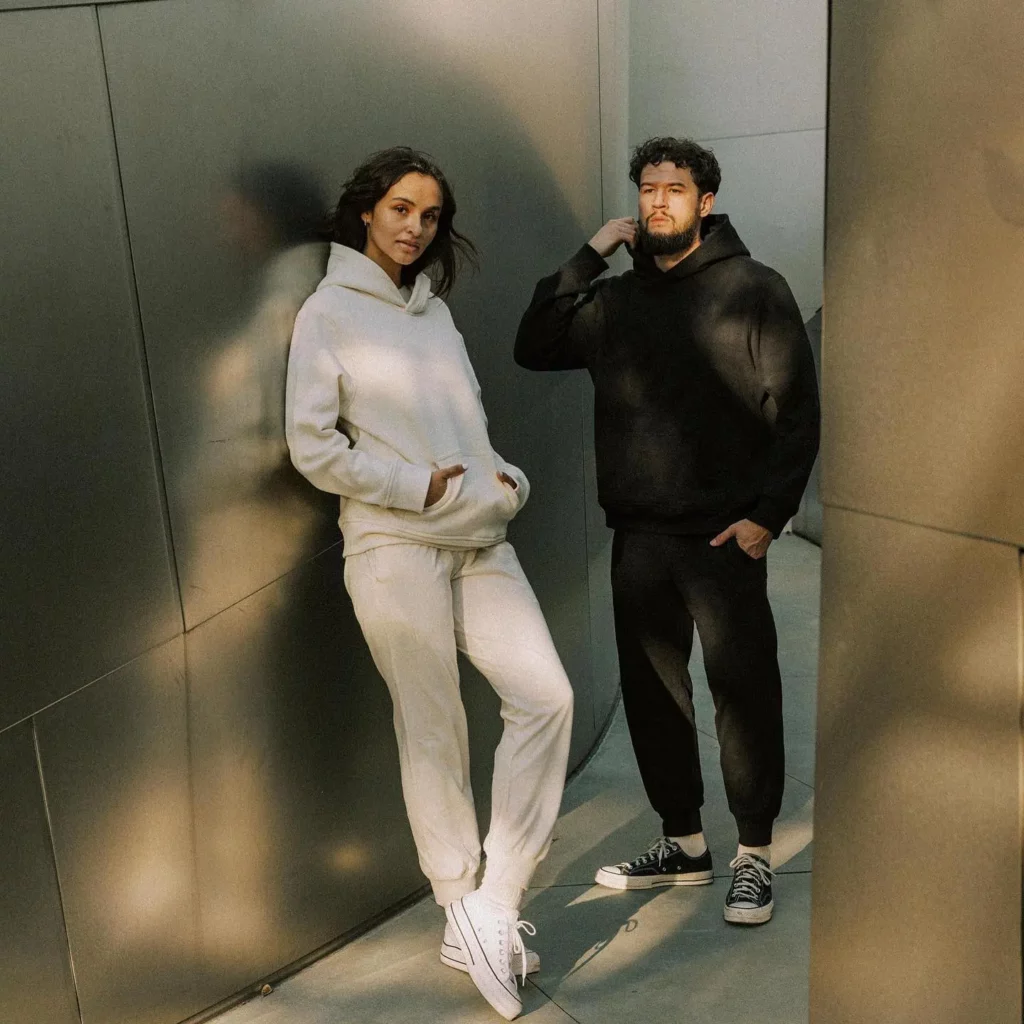 Harvest & Mill was born in 2012 with humble beginnings as a custom-sewn clothing shop. 
What's unique about them? They use organic cotton grown and sewn in the United States (including naturally colored organic heirloom cotton).
The company grew and now offers everyday essentials and basics for women and men.
Harvest & Mill is non-toxic, vegan, carbon neutral, dye-free, and all of their items are 100% organic cotton (only the the socks have some nylon and elastic for stretch).
---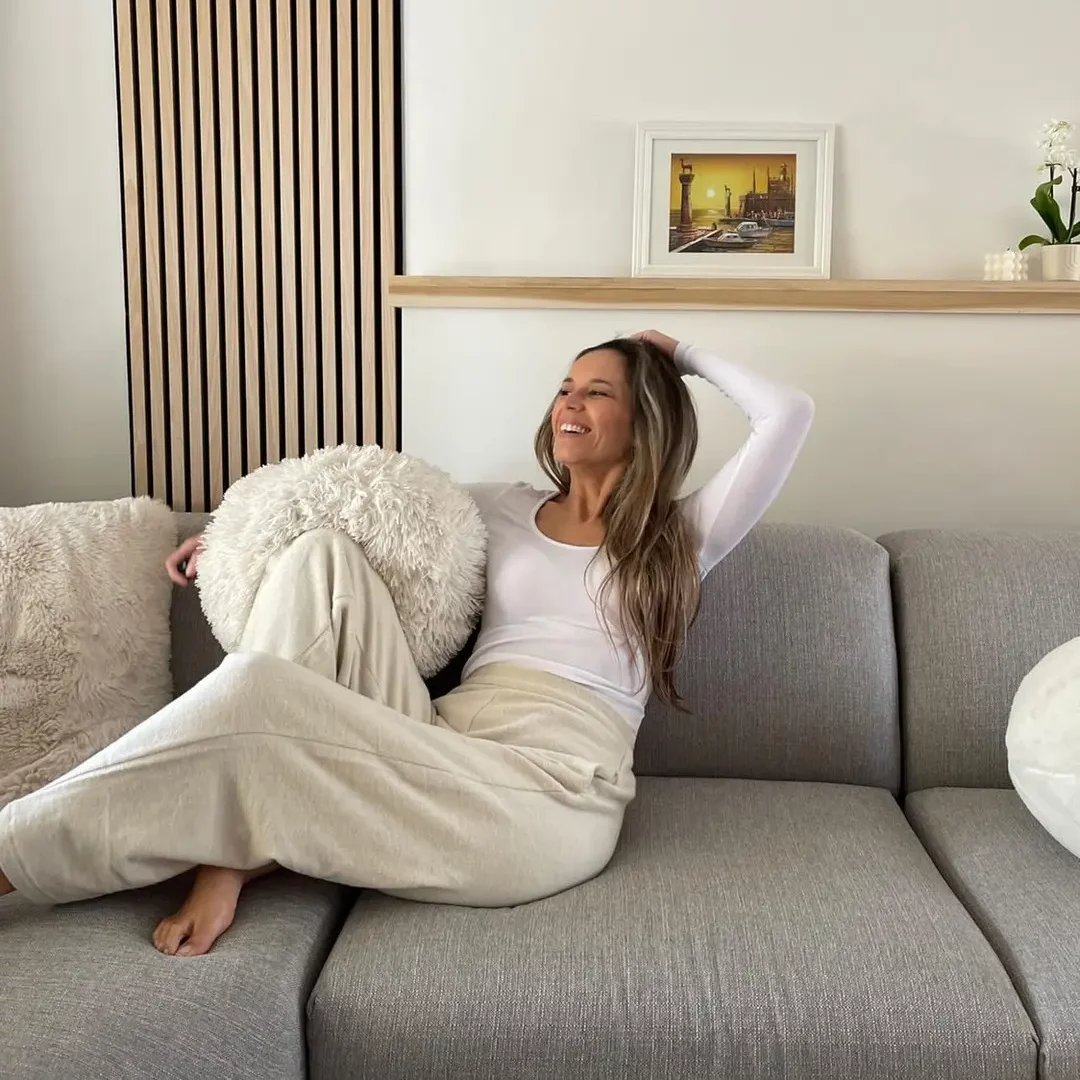 From cute florals to wardrobe essentials, Amour Vert will have you looking super stylish and chic.
Amour Vert is all about being sustainable, ethical, transparent, and traceable. This is why all samples are hand-drawn, cut, and sewn at Amour Vert's Atelier based in San Francisco, California. 
Founded by women for women, Amour Vert is a great option for those wanting to shop organic cotton (and other luxurious natural fabrics).
The brand sells a wide variety of natural and sustainable fabrics, so you can browse their organic cotton section for garments made with this fabric.
---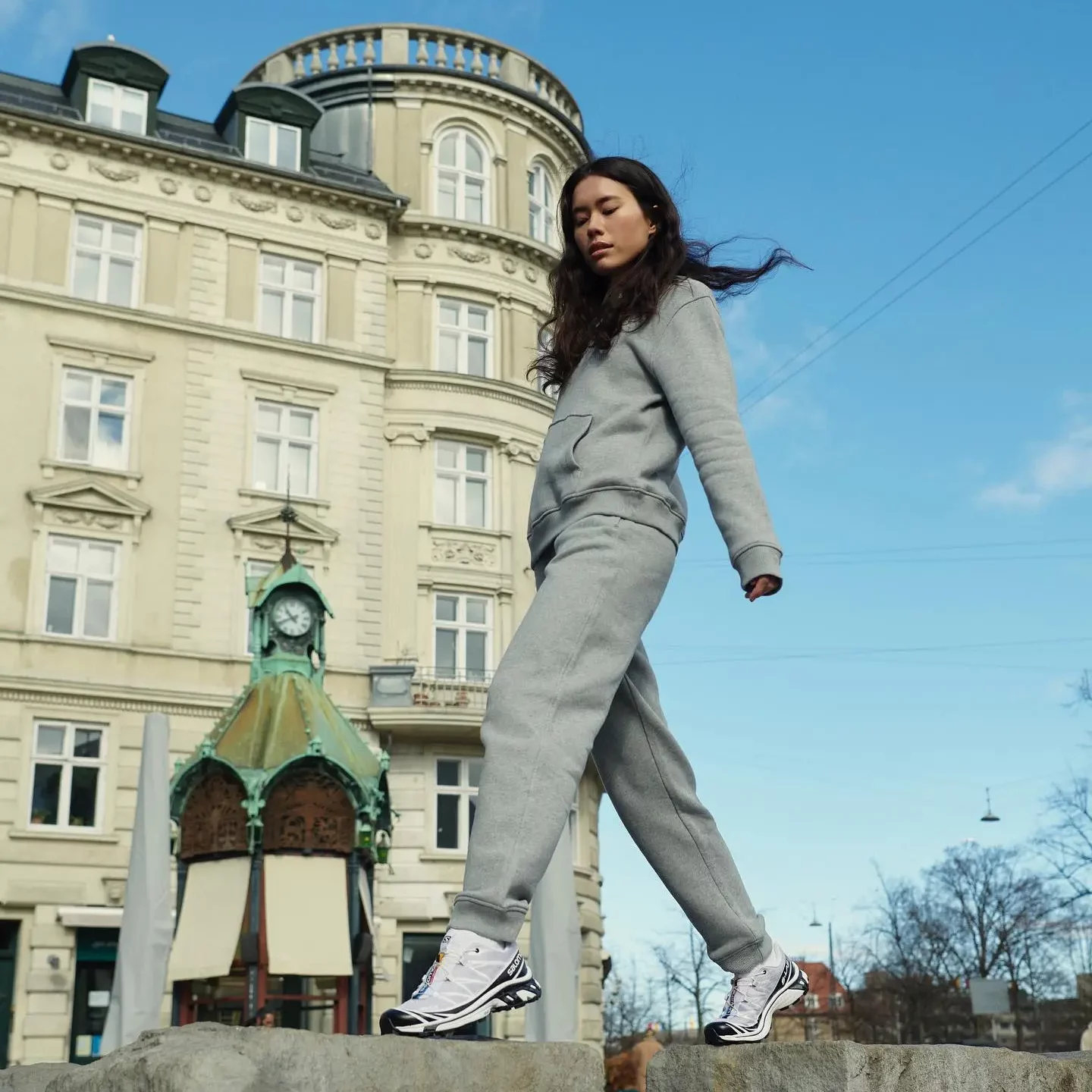 Organic Basics is exactly what the name entails: basic styles made with organic fabrics.
Many items are made with 100% eco-certified organic cotton alongside eco-certified nylon and Tencel, Organic Basics provides the best essentials at little to no cost to the environment. 
Aside from organic cotton, they also use other sustainable and nontoxic fabrics such as recycled cashmere, Tencel, recycled wool, and others.
---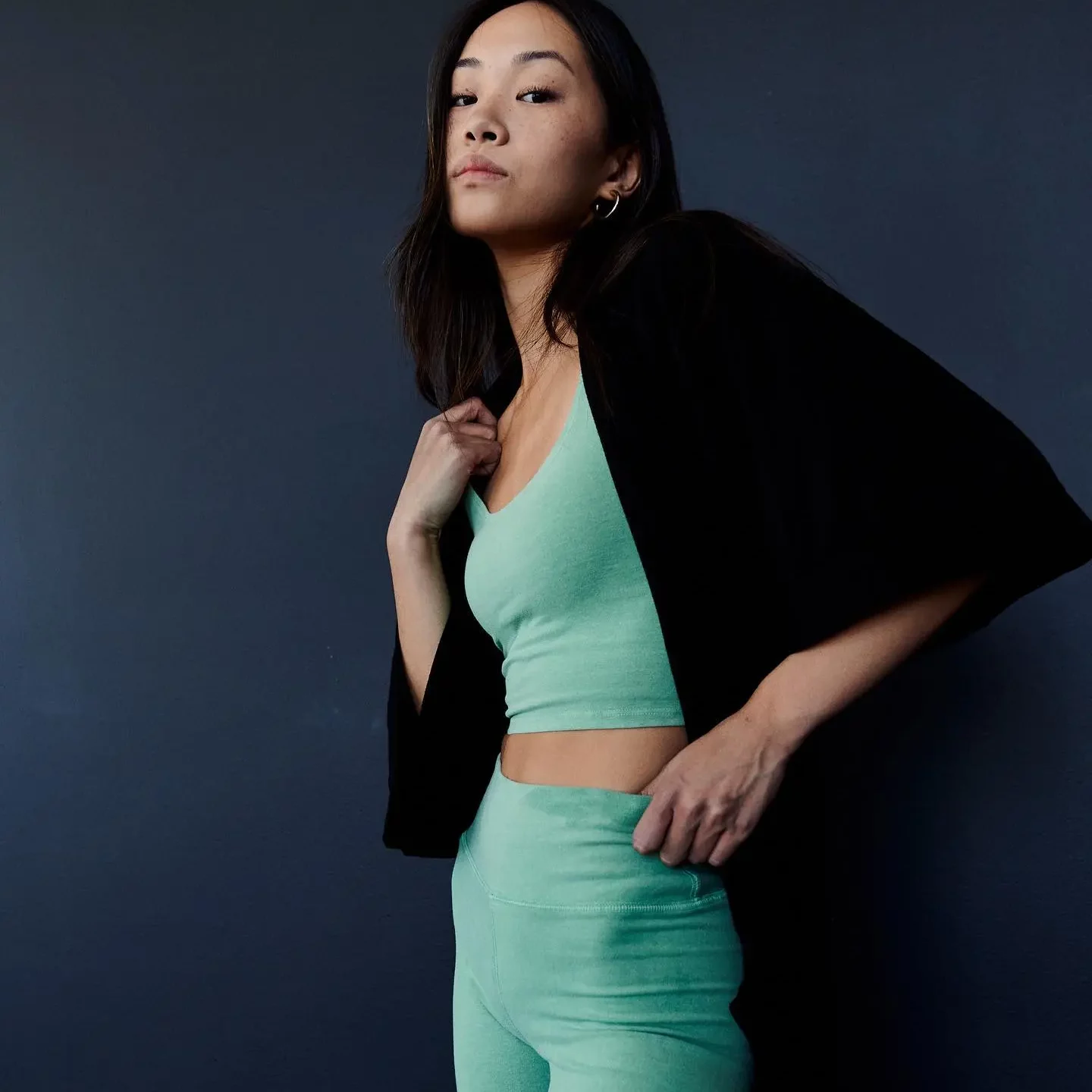 Groceries is a unique brand that uses sustainable and ethical practices from start to finish.
Based out of the Fashion District in Los Angeles, Groceries designs, cuts, sews, and dyes all clothing under one roof.
Groceries also uses natural dye made from upcycled fruits and vegetables such as reused coffee grounds and upcycled avocado skins, which is pretty cool in our book.
Their garments are made with GMO-free organic cotton or other sustainable fabrics like 100% eucalyptus fiber.
Some items (like their activewear) require elastane to be stretchy and a few use some recycled polyester, but synthetic fabrics are kept to a minimum and only used when needed.
---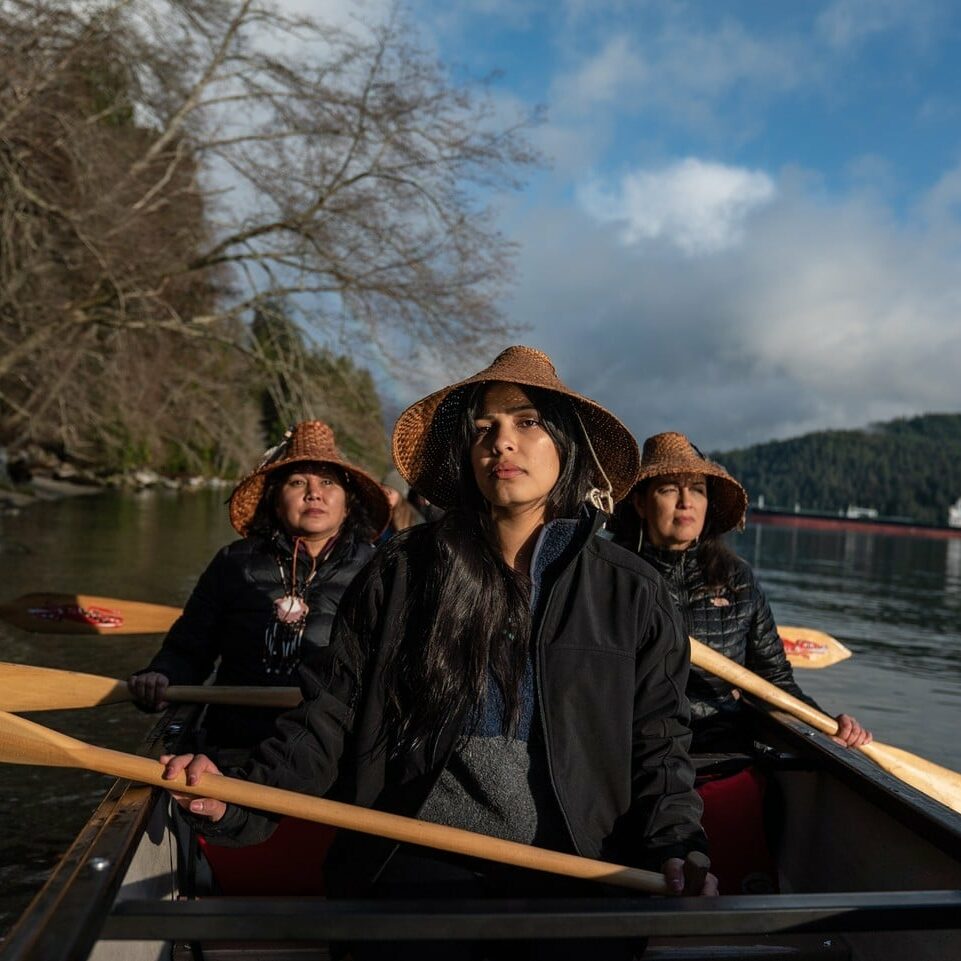 A popular brand hailed for the quality of its apparel in addition to the valiance of its values and activism, Patagonia was founded in 1973 in Ventura, California.
Patagonia specializes in outdoor clothing and gear. They use recycled materials such as recycled fleece, recycled cashmere, and of course, organic cotton.
With 100+ items made with organic cotton, you'll have plenty to choose from.
---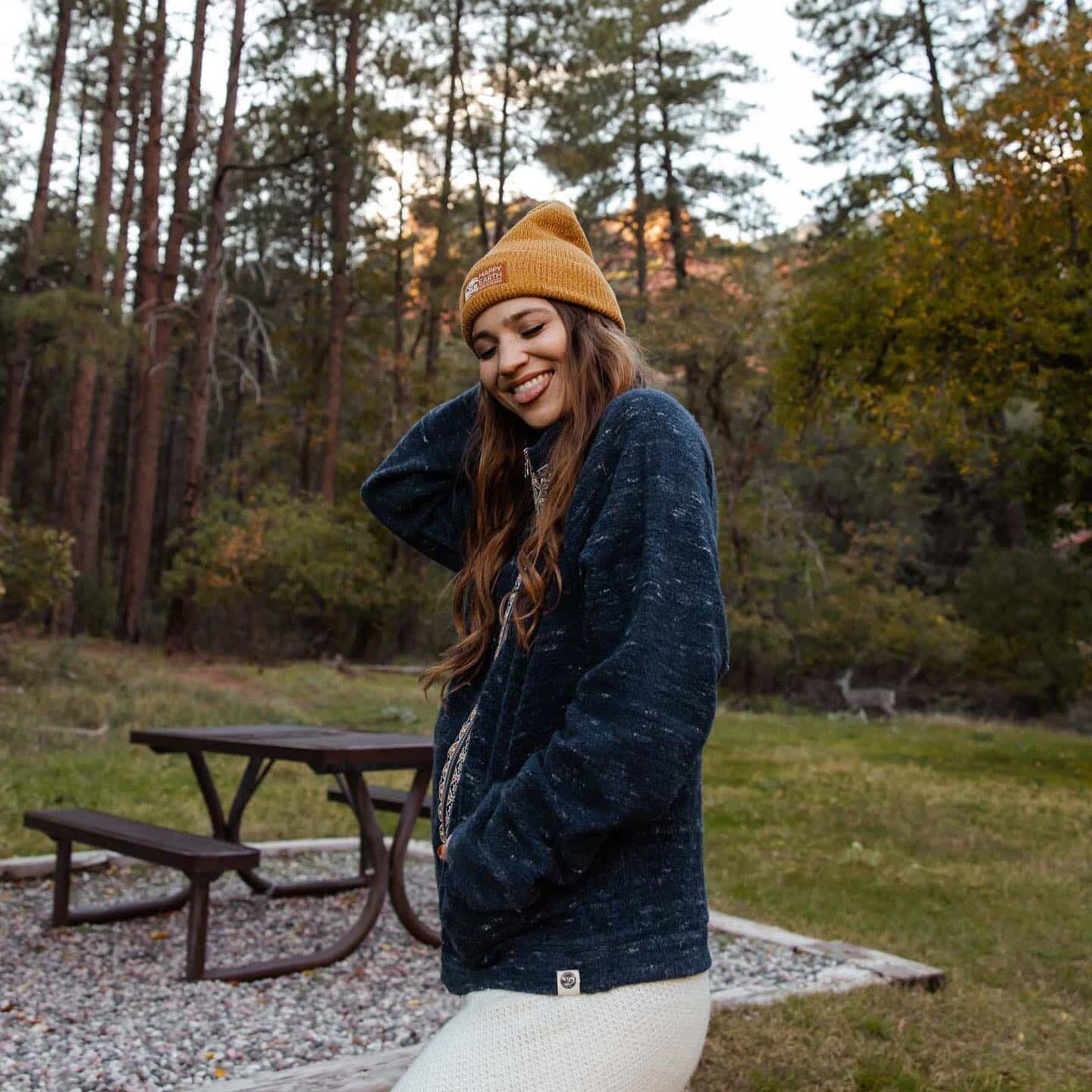 If you're looking for woodsy Twilight vibes, Happy Earth is your store. 
Featuring clothing designs inspired by Mother Nature herself, Happy Earth offers cozy tops, flannels, and bottoms that picture trees, animals, and the like — all made of 100% organic cotton that is GOTS certified.
They use 100% recycled materials and are net-negative on emissions, plus they use fair-trade factories to make their garments.
You can choose to plant 15 trees, clean up 1lb of trash, or offset 150 lbs of greenhouse gases with every item purchased.
---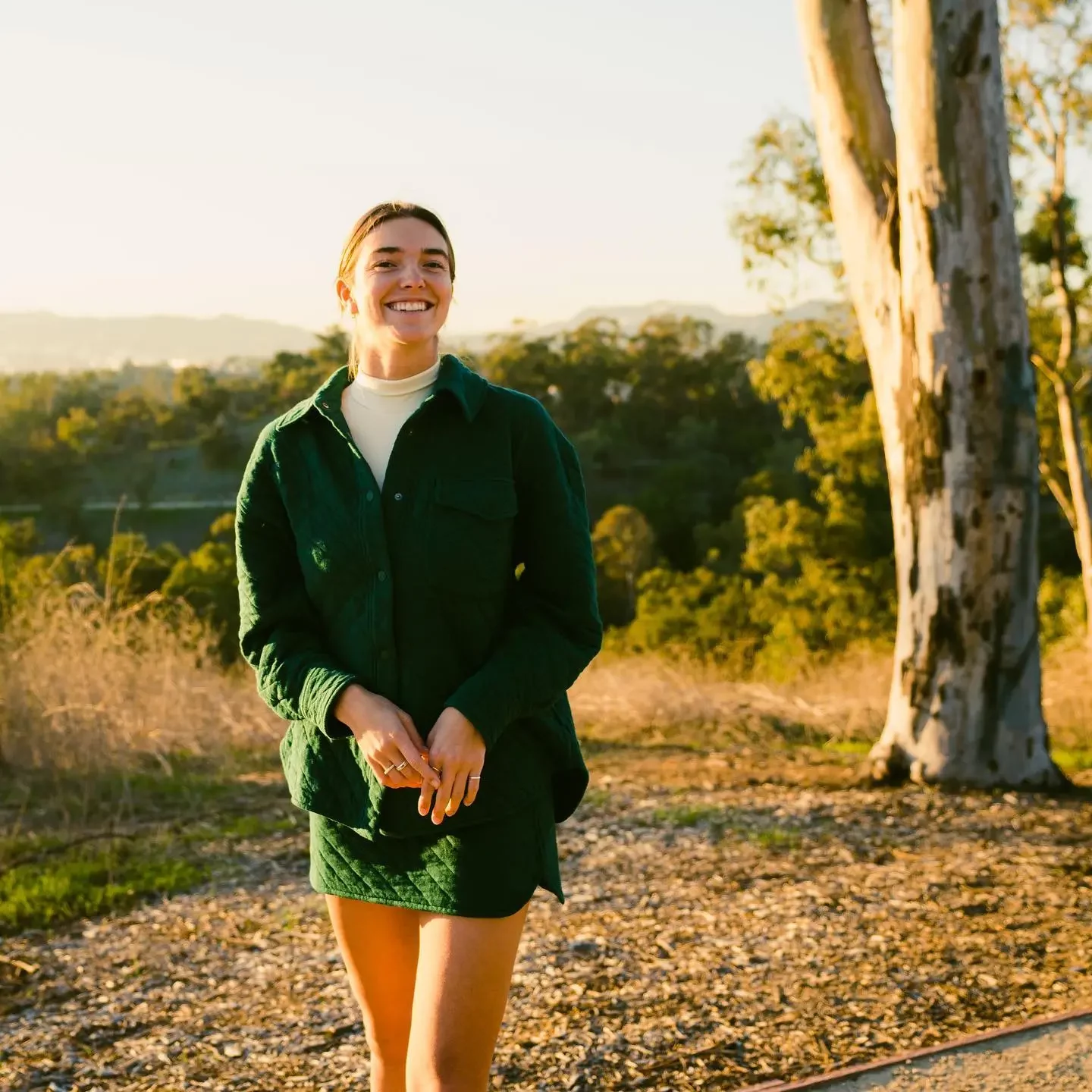 Featured in big fashion publications, For Days is a brand that operates under a 100% recyclable, zero-waste fashion system. 
Founded by women, For Days is big on making environmental and social change.
For Days uses 100% organic cotton in many of their garments, with some garments featuring part post-consumer recycled cotton as well.
With each purchase, not only are you participating in buying sustainably, but 1% of every purchase goes to a non-profit of your choice! 
Their Take Back Bag allows you to clean your closet and earn $20 closet cash to spend at For Days.
---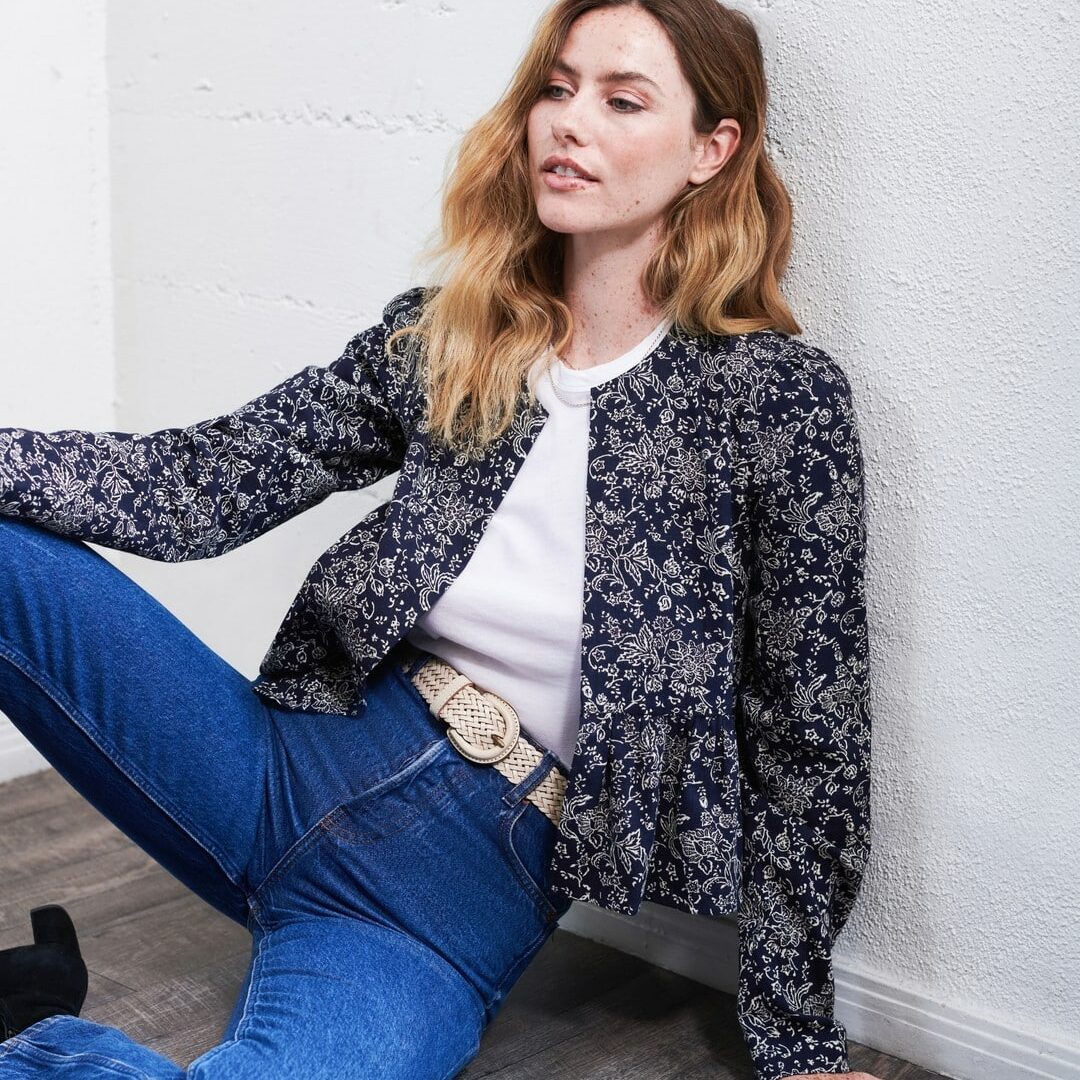 GOTS and Fair Trade Certified, WVN offers vibrant clothing that is chic, trendy, and 100% organic cotton.
WVN offers beautiful dresses, loungewear, closet essentials, and tons more.
Many organic cotton clothing brands feature basics and essentials, which are great, but we love that WVN also offers 100% organic cotton dresses and other items that make a statement.
---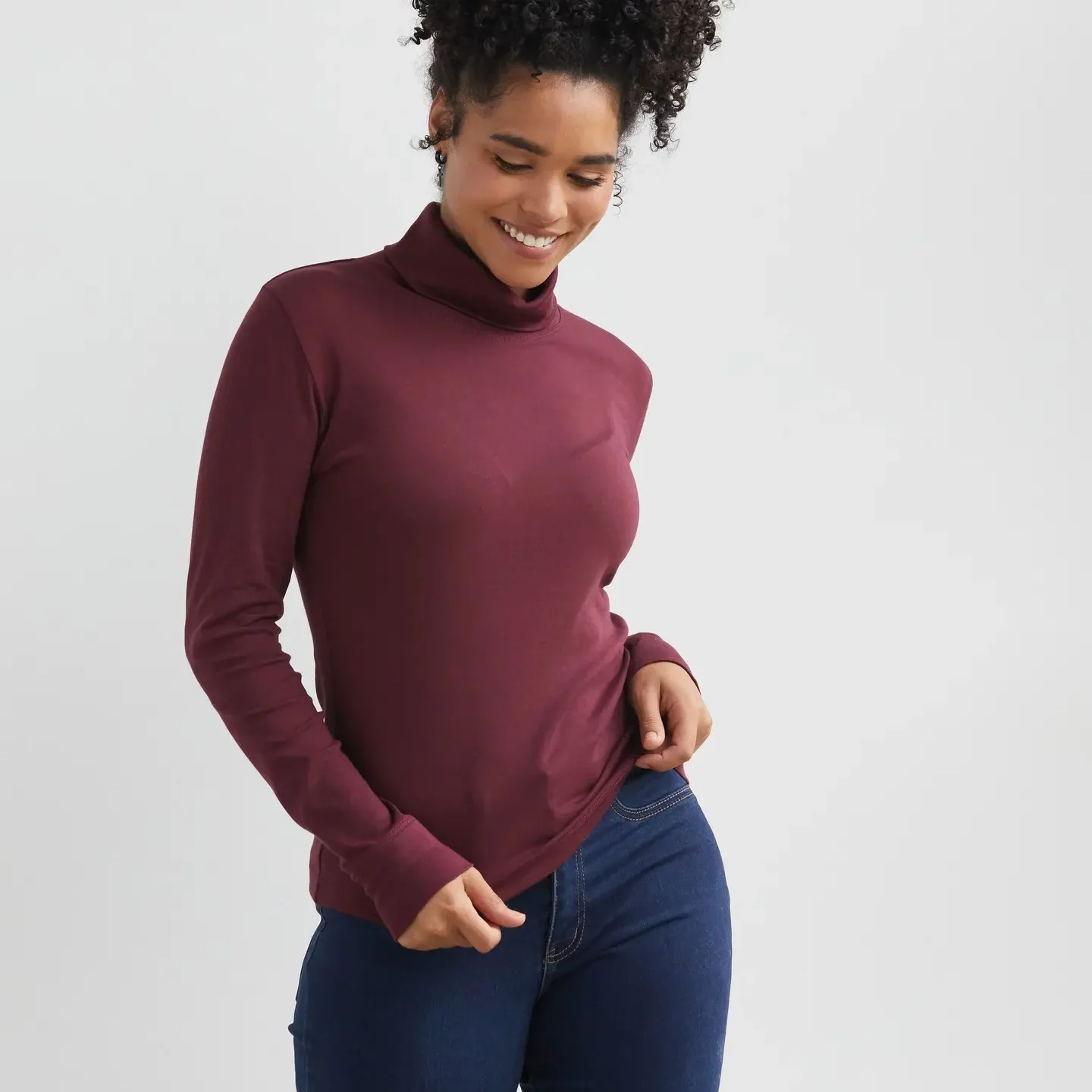 Fair Indigo uses 100% organic Peruvian Pima cotton, one of the most durable and strongest types of cotton available. 
They offer free shipping and free returns on your first order so that you can shop risk-free.
Offering closet basics for women, men, and kids, Fair Indigo is a great brand if you're looking to support a sustainable and ethically made clothing brand!
---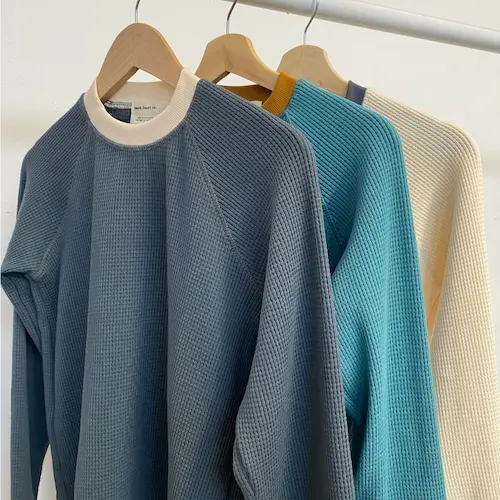 Back Beat Co. is a California-based company founded by women of color and offers apparel using recycled, organic, and low-impact fabrics. 
Back Beat Co. isn't afraid to be bold and unique, designing fun and trendy clothing that allows those wearing it to feel confident and free. 
They use organic cotton fabrics, Tencel, FSC Certified Viscose, hemp, recycled cotton, and linen.
---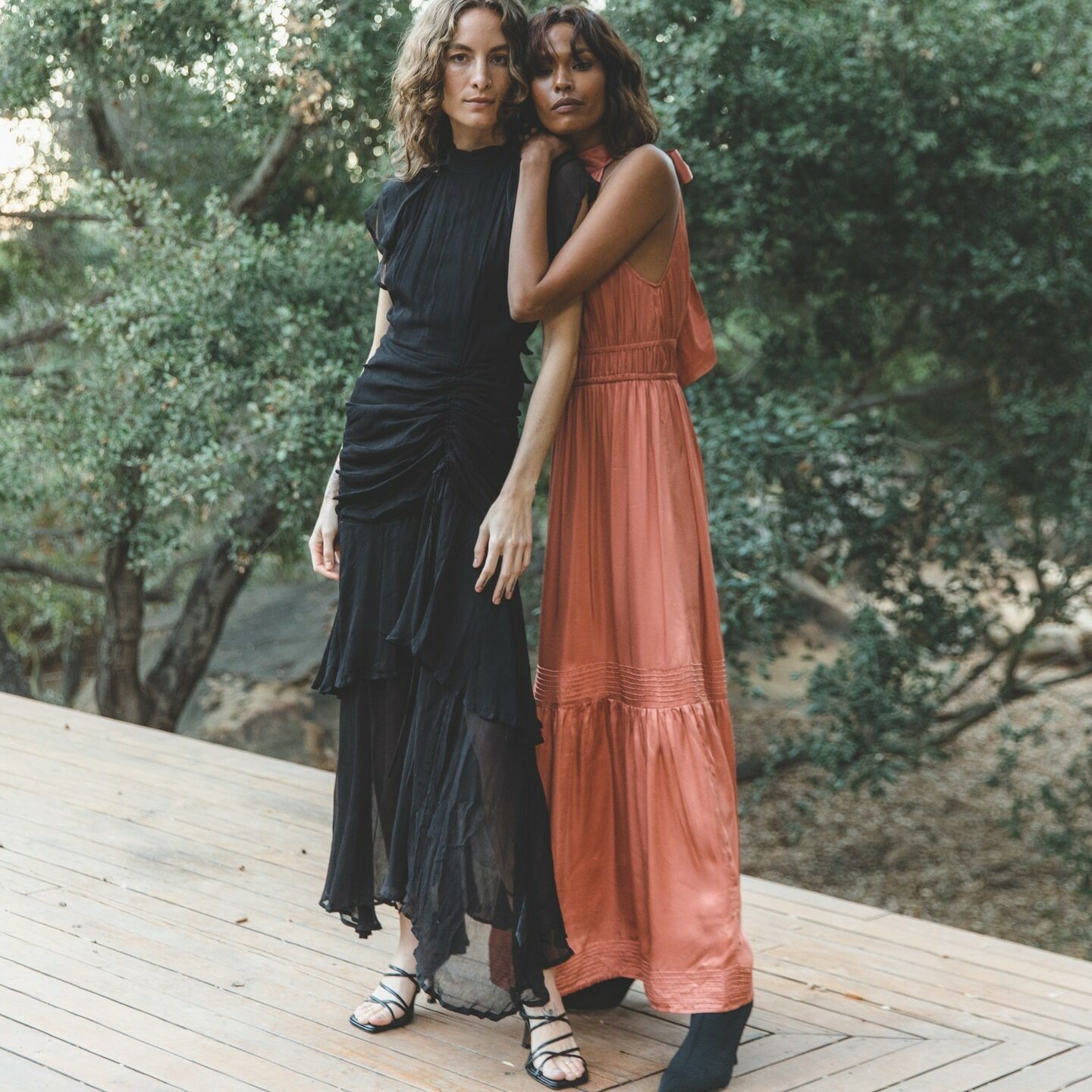 Cleobella is a fashion brand with sustainability and ethical creation at its core.
Founded in 2006, Cleobella celebrates the diversity of fashion, taking inspiration from different cultures worldwide while still staying true to the traditions by partnering with global independent artisans.
Using fabrics like GOTS-certified cotton and hemp, Cleobella offers beautiful bohemian-inspired clothing that is sure to last a lifetime.
---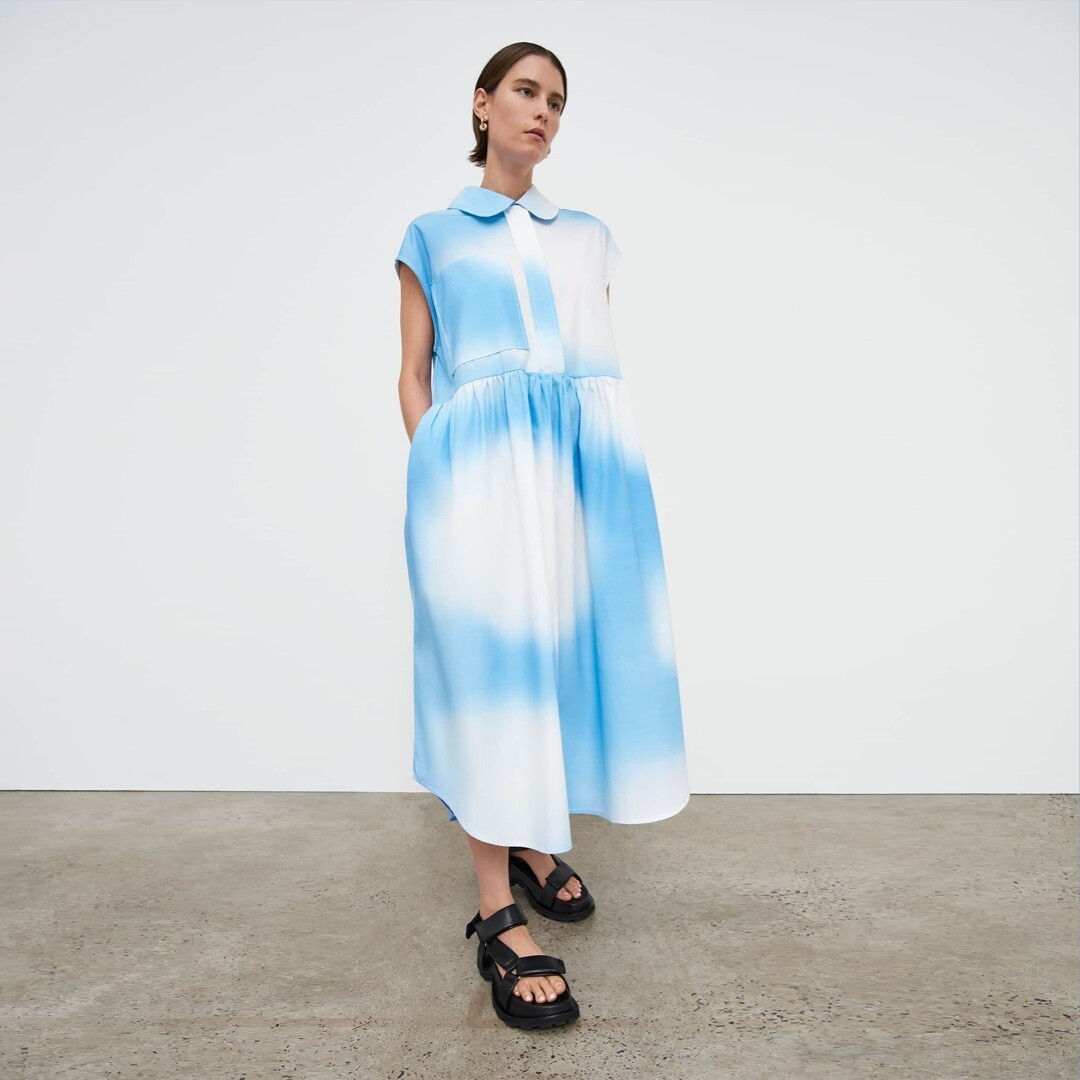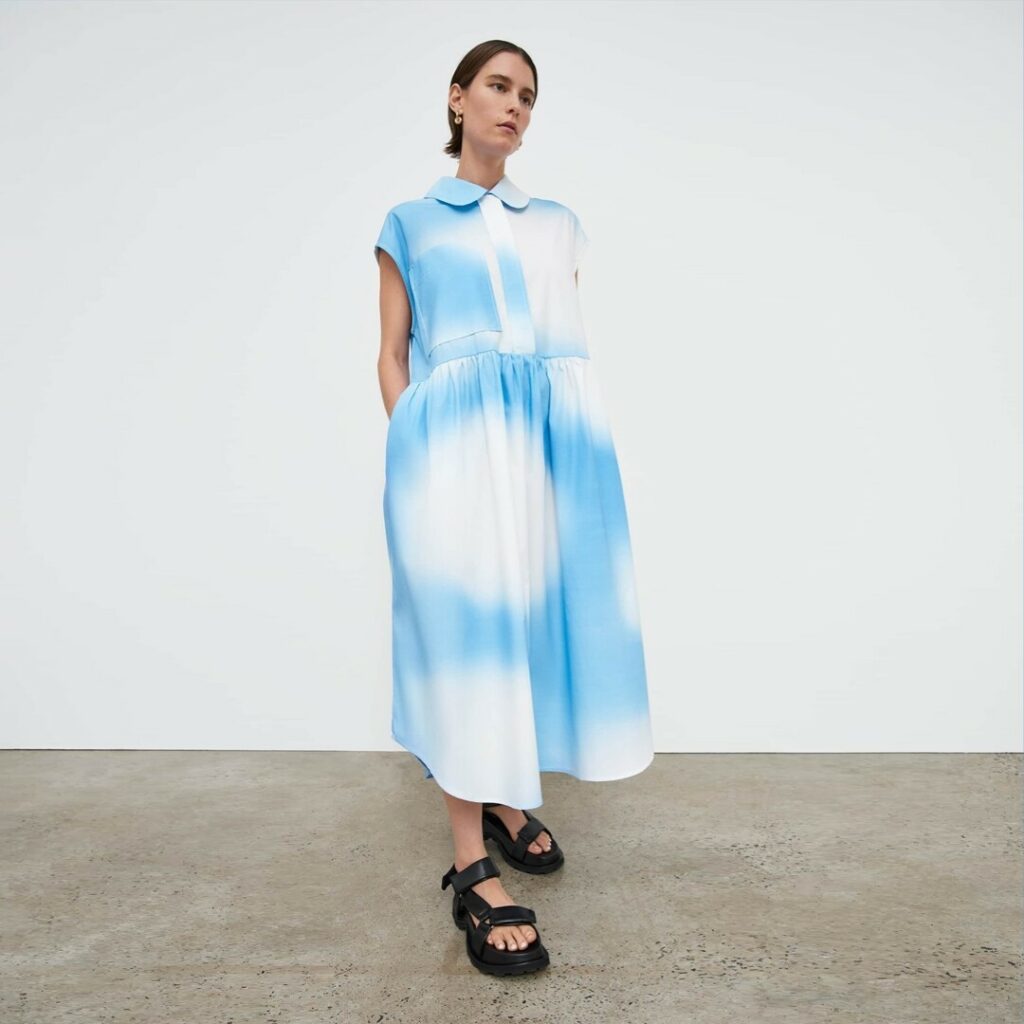 Kowtow is a Fair Trade-certified apparel brand that protects people in the supply chain by ensuring fair treatment, fair wages, and traceability. 
Kowtow uses fun and quirky colors in its clothing that are sure to draw an eye, and offers clothing that is an excellent balance of trendy and chic.
---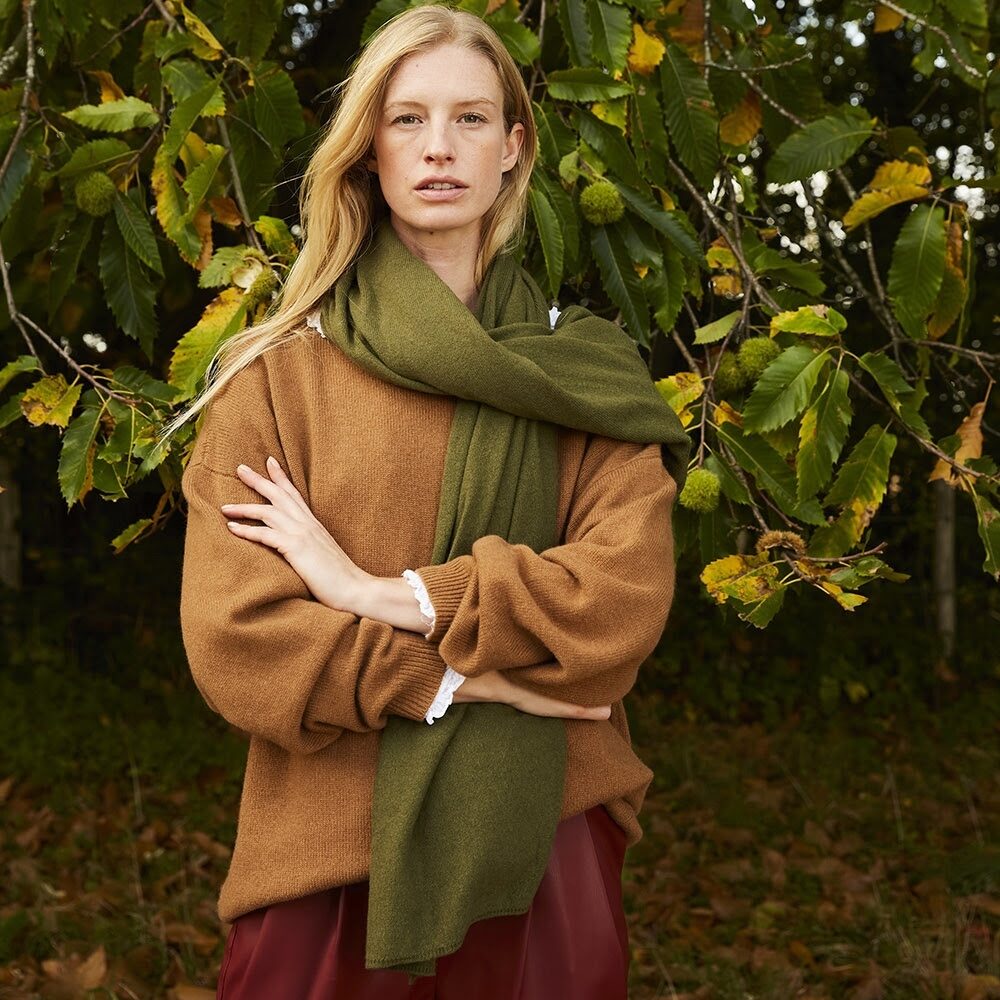 Beaumont Organic is an awesome brand for those looking for minimalistic clothing for day and night.
Whether you're layering, transitioning, or going for a monochromatic look, Beaumont Organic offers lovely classic styles with a contemporary twist.
This company only offers two collections a year, so be sure to check it out!
Aside from their organic cotton collection, they also create garments from wool, recycled yarn, and linen.
---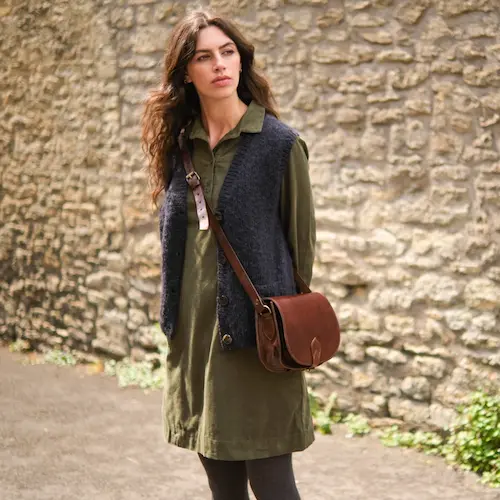 Established in 2007, Bibico is a UK-based brand offering simple clothing made with organic, sustainable fabrics. 
Intended to design and create clothing that will last through all stages of life, Bibico provides dresses, trousers, jumpers, and tons more. 
They offer free delivery over £50 to the UK and USA shipping costs £12.
---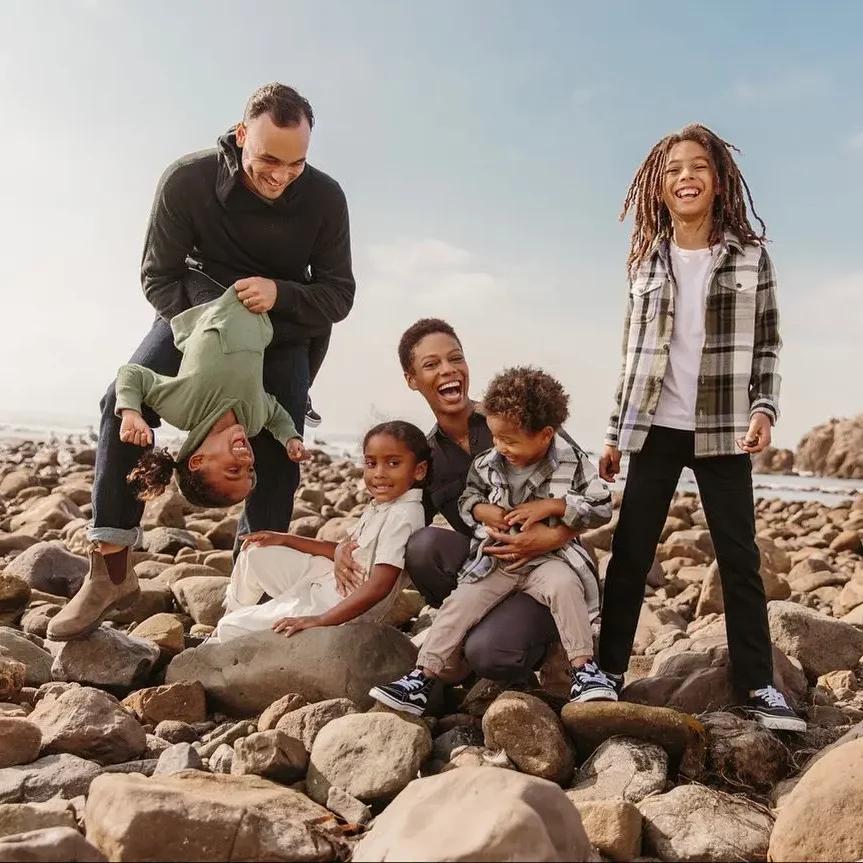 Outerknown is an apparel brand focused on transparency, sustainability, and global impact. 
In fact, you can read all about Outerknown's commitments, which dives into the brand's goals for the upcoming year, its suppliers, its farming methods, and tons more. 
Offering clothing for men and women, Outerknown is an awesome brand to check out! They also have a pre-owned section to shop secondhand for an even better environmental impact.
They use fibers such as organic cotton, hemp, recycled cotton, responsible wool, and others.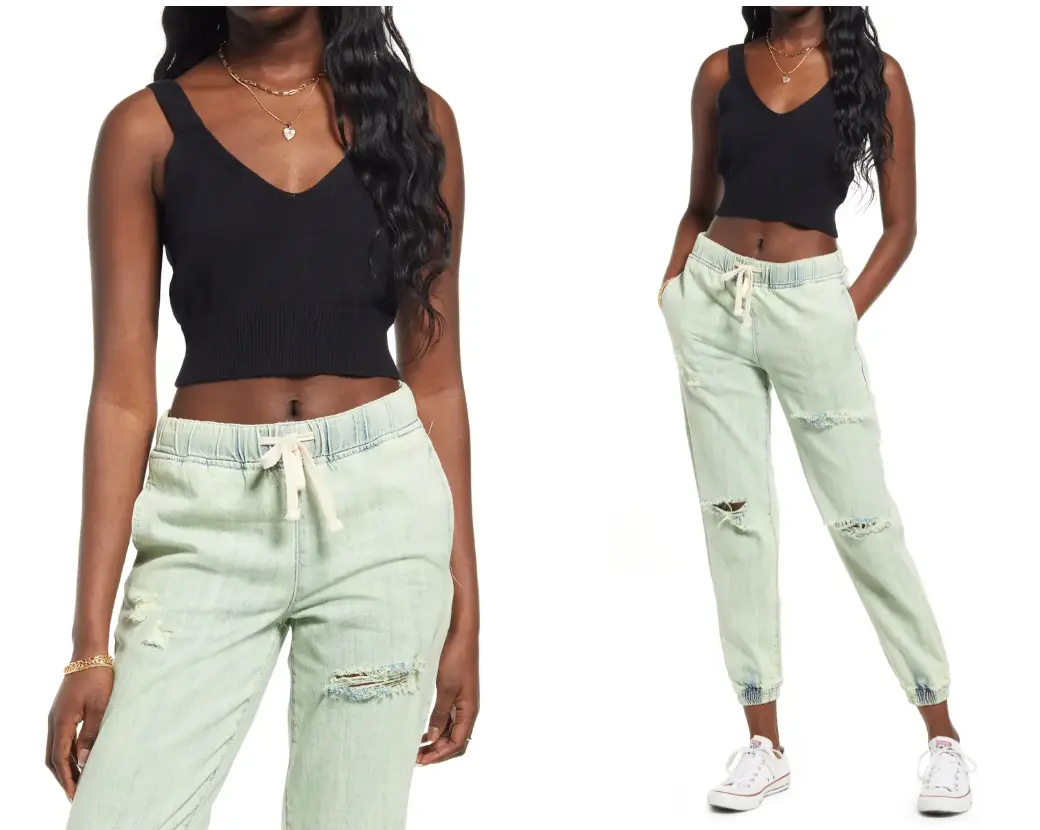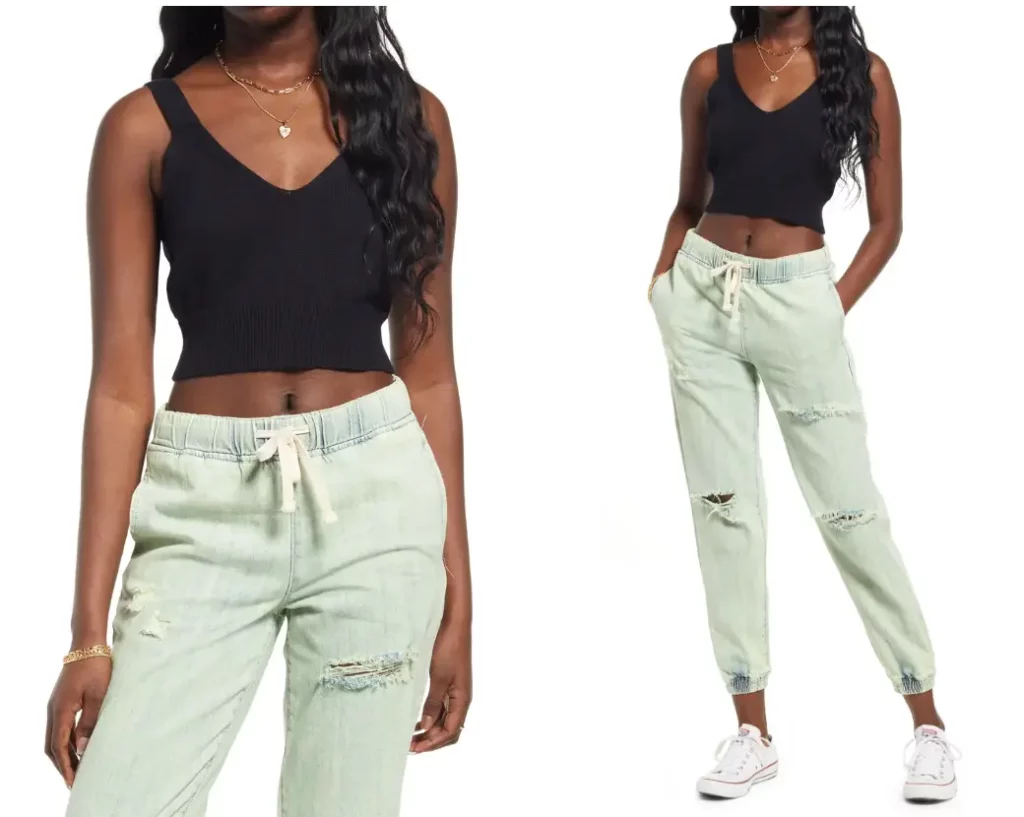 Obviously Nordstrom and Nordstrom Rack don't specialize in organic cotton, but they actually have some surprising options for organic cotton clothing.
Nordstrom Rack is especially great for anyone on a budget (since many organic cotton clothing brands can be expensive for some).
Don't sleep on checking out Nordstrom too, they tend to have some surprisingly affordable items marked down or in certain collections.
For example, BP is an affordable brand sold at Nordstrom Rack and Nordstrom that often has items made with 100% organic cotton.
In Conclusion
We hope you enjoyed our list of the best organic cotton clothing brands!
There are many sustainable options, so we hope you find one that suits your style and budget.
Even if you slowly add organic cotton clothing to your wardrobe, it definitely makes a difference!
Dannica Ramirez is a content writer for ClothedUp. If she's not writing, she's probably reading, re-watching Charmed (1998) for the fifth time, perfecting her latte art, or playing Pokemon Go (yes, it's still a thing). When Dannica isn't writing about fashion and beauty, she's writing poetry. Find her on Instagram @dcrpoetry