With their stylish bottles and eye-catching ads, it's easy to be drawn into Odele's campaign for their low-priced, luxury shampoos. But are their products really worth your hard-earned money? Or will it do your hair dirty?
Keep reading our Odele Shampoo review to see what we think and if you should invest in this brand.
What is Odele Shampoo?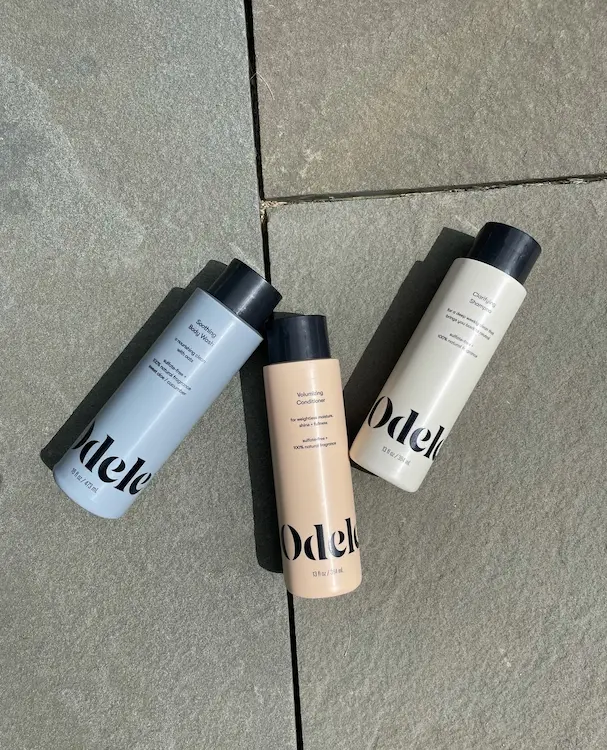 Dedicated to clean beauty, Odele shampoo is a women-owned company that strives to be a brand for all. Their focus is on providing hair products that are ideal for the entire family, regardless of age or gender.
Their goal is to keep your shower free from excess products and your hair free of toxins, while still providing salon quality, all for a reasonable price.
Odele Shampoo Overview
Odele's mission is to democratize "high-end" products and to create the ideal hair care products for everyone.
Claiming to use nothing but the good stuff in their products, Odele has a collection for every different hair type.
You can shop this brand on their website as well as through your local Target.
Odele Shampoo Reviews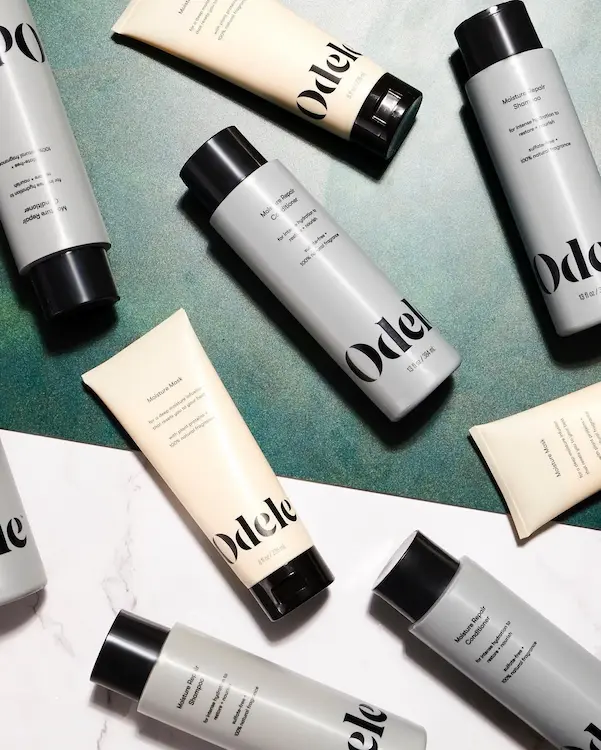 Overall Rating: ★★★★ 4 Stars
Customers seem to just adore Odele. It's not very often that you'll see a review that isn't four-to-five stars. Many lament their previous expensive product purchases after discovering Odele's wallet-friendly, hair-transforming abilities.
Although a small portion report experiencing negative results, showing that it's not for everyone, most attest to having sleeker hair than ever before and promise they'll be lifelong customers.
Pricing: ★★★★★ 5 Stars
When compared to competitors, Odele's prices can't be beaten. Customers often pit Odele's quality hair formulas against brands like Virtue, Pureology, and Living Proof. All of these market products for anywhere between $20 and $90.
All of Odele's products, on the other hand, are available for less than $12. Considering all that the brand has to offer, we'd give them a perfect five for providing us with that killer deal.
Cleanliness: ★★★★ 4 Stars
Although Odele's products aren't perfect when it comes to cleanliness, they do a pretty good job for the price.
Odele's concoctions never contain parabens, sulfate, synthetic fragrances, formaldehyde, or any other ingredient that is banned by the EU.
According to EWG's Skin Deep, most (if not all) of Odele's products are free from ingredients that are linked to ecotoxicity, contamination concerns, and hormone disruption.
However, there are some ingredients they commonly use that are highly correlated to irritation and allergic reactions- which could be a big concern for users with sensitive skin. Because of this, their EWG ratings aren't the best (most products are a 3–4 rating), but they aren't terrible either. We'd just recommend proceeding with caution if you have sensitive skin.
Overall they are a great brand for the earth and a pretty good brand for people when compared to all of the hair-care products in the market. But we wouldn't consider them the end-all-be-all for sustainability and cleanliness in shampoo. For that, we would recommend brands like Attitude Living or CLEVOS.
Shipping and Returns: ★★★ 3 Stars
Odele products typically arrive in about one week, and they do offer free shipping with some exclusions. They do give you some time to make returns, but it's not without a shipping fee and it only applies to full-sized items.
Even though an order from Odele arrives relatively quickly and they offer some free shipping, we give them three stars out of five due to their somewhat unforgiving return policy and less-than-ideal shipping process.
Customer Service: ★★★★ 4 Stars
Odele offers multiple channels for communication including three different email addresses for different needs and a daily live chat from 9am-1pm. They also strive to respond to emails within 48 hours.
They are incredibly open about what their products contain, as they provide an extensive ingredient glossary to help users feel comfortable using their products.
We docked one star for their returns and shipping policy, but despite that, we think they are great to their customers.
Customers Are Saying
After looking through hundreds of honest customer reviews, here's what the people have to say about Odele:
Beautiful bottles
Leaves hair very shiny and very smooth
A favorite in the curly hair community
Their formulas smell amazing, plus they have unscented options
Some shoppers reported that it wasn't ideal for greasy or thin hair
Some shoppers with sensitive skin experienced irritation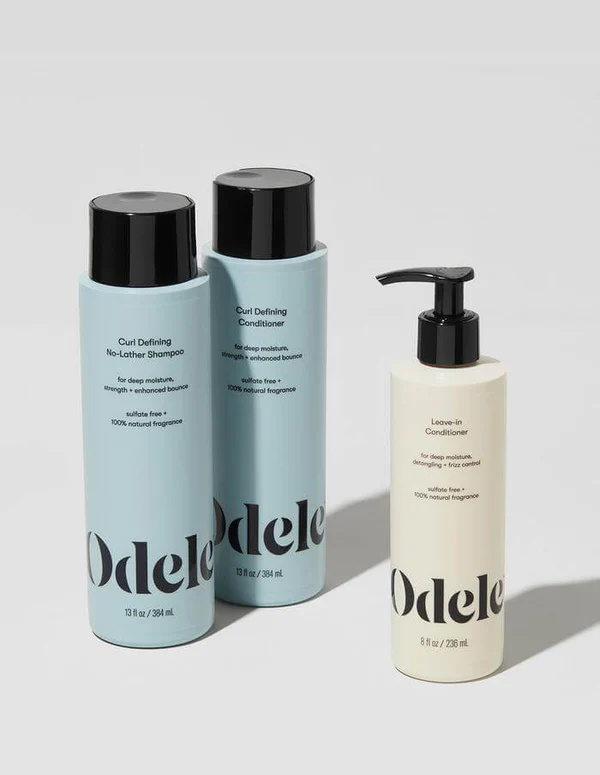 Odele's Curl-Defining Set includes their Curl defining no-lather shampoo, conditioner, and leave-in conditioner. These miracle products are a tried and true secret for maintaining curly hair.
Like their other sets, this steal of a deal comes at only $32.00. Wonderfully hydrating, their moisturizing formula is perfect for medium-curly hair textures.
---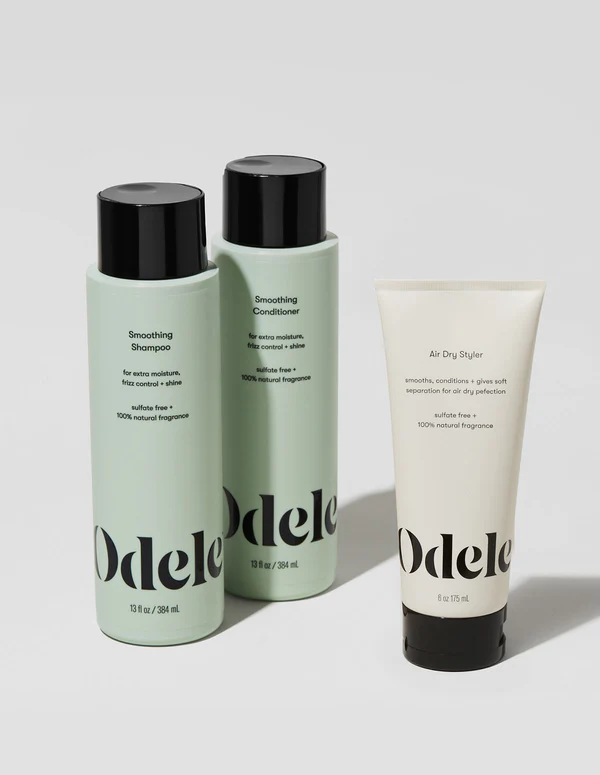 The hit Smoothing Collection comes with their iconic smoothing shampoo, conditioner, and the raved-over air-dry styler. With this remarkable bunch, you can wish your frizz farewell and say hello to glossy goodness.
The air-dry styler is a time saver and may as well be a stylist itself, allowing you to shorten your get-ready routine while still enjoying a fabulous look.
---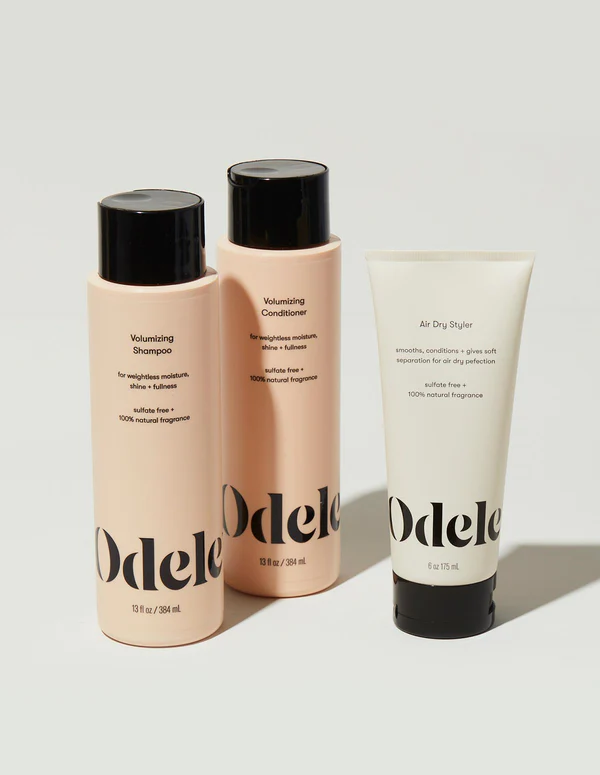 If flat hair is your problem, Odele's volumizing shampoo, conditioner, and the air-dry styler have your back. It will leave your hair high as its ratings, and that's pretty high.
Aside from the set, Odele offers a sea salt texturizing spray and a dry shampoo that work wonders for adding volume as well.
---
Shipping & Returns Policy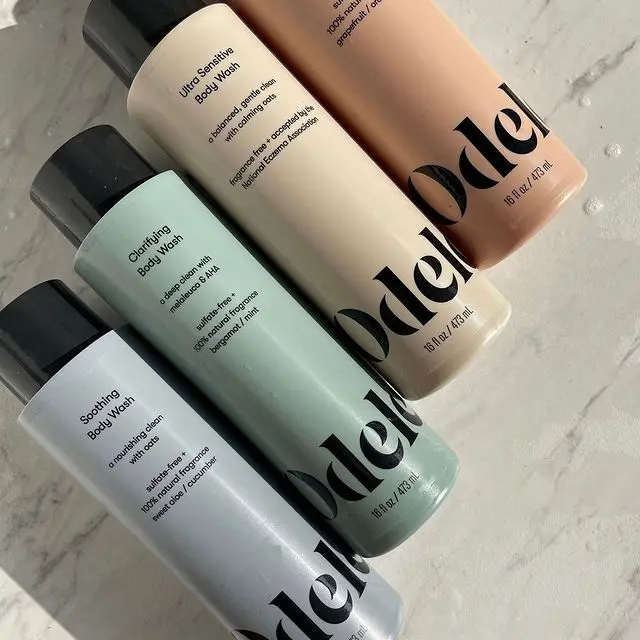 Odele offers free shipping for orders in the United States that exceed $35.00, all other orders require a $6.00 shipping fee.
In Canada, Odele ships orders over $50.00 for free, with a $15.00 shipping fee for orders under $50.00.
United States orders arrive within 5-7 business days and Canadian purchases within 8-10.
Odele has a 30-day return policy in the US for all full-sized items, but they require a $6.00 shipping fee no matter the value of your return; and all Canadian purchases are final.
FAQs
Who are the owners of Odele?
Odele is owned and operated by mothers Lindsay Holden, Britta Chatterjee, and Shannon Kearney in Minneapolis, Minnesota.
What stores carry Odele?
Odele products can be found at your local Target.
Is Odele a clean brand? 
Odele products have a 3–4 rating on EWG, meaning they are a relatively clean brand. Their formulas don't contain parabens, sulfates, synthetic fragrances, formaldehyde, or any other ingredients that are banned by the EU. However, they use some ingredients that can be irritating to those with sensitive skin (even the fragrance-free options).  
In Conclusion
We support Odele's mission to better the earth as well as all of our bathrooms. We're all about working towards cleaner products, and hope they are having success in achieving their dream of democratizing salon-quality shampoo. Odele isn't the cleanest brand out there, but they're making progress.
With a decent return policy and availability in large retail stores like Target, the brand is very accessible and we'd say it's worth giving a shot. Their shampoos are especially loved in the curly and frizzy hair communities, but some people with thinner or greasier hair didn't have a great experience with the brand.
Even if Odele doesn't work well for you, we challenge you to keep searching for your shampoo soulmate and hope you can find one as beautifully packaged as Odele's.
Odele Shampoo Alternatives
If Odele doesn't seem like a good fit for you, here are some alternative brands that offer similar formulas.