Socks are often an under-appreciated component of our wardrobe. Not only do they offer style and protection to our feet, but they can also deliver an addicting level of comfort to our feet. It isn't too difficult to determine the quality of a pair of socks, and some brands have raised the bar on what's required to separate themselves from the norm.
For most people, they're used to thin, cheaply made socks that don't even last a year. Although thin socks have their place with various outfits, they aren't the most practical as they don't provide support, and there's minimal comfort.
This Nordic Socks review will break down the brand's products and how they're able to shine in a saturated market.
What is Nordic Socks?
Created with the Scandinavian lifestyle in mind, Nordic Socks aims to deliver unwavering warmth and comfort while representing the culture that inspired their origin. Nordic weather is known to be quite brisk, and having reliable clothing to face the cold is essential.
The company claims their socks are perfect for everyday use. Their attention to craftsmanship gives their socks longevity that isn't seen with other mass-manufactured options. Whether you like to stay in during cold nights, go out on the town, or spend time out in nature, Nordic Socks claims to be perfect for numerous environments.
Nordic Socks Company Overview
With a passion for Scandinavian culture, Nordic Socks wanted to create socks that could face cold temperatures while providing years of durability. Their socks come in many different designs, and they look great with a decent range of outfits.
After spending some time on their website, it's clear they run a pretty simple operation. They don't boast a massive catalog, but each pair of socks exudes a sense of individuality that catches the eye.
Even if their socks look like a great buy, other factors such as shipping practices and customer service are equally important to retain a satisfied customer.
Nordic Socks Reviews
To get a better idea of how the company operates, it's essential to look past the marketing and high-quality product photos. We thoroughly researched the company from multiple angles, and you can take a look at the pros and cons down below.
Overall Rating: ★★★★ 4.5 Stars
After checking out Nordic Socks Reviews, customers rave about the warm, cozy socks that come in appealing, trendy colors and patterns. You'll find a handful of negative comments about slow shipping, but most customers say the shipping was fast and customer service was helpful.
Try Instead: Nordic Sock Company
Pricing: ★★★★ 4 Stars
You can't argue with the price tag on their socks—they're currently running an end-of-season sale that offers their socks at 50% off!
If the discount wasn't active, some people might consider them not worth the price. Nevertheless, you won't break the bank either way.
Shipping: ★★★ 4 Stars
Nordic Socks currently ships to the U.S., Canada, New Zealand, and Australia. They state that shipping costs a flat rate of $6.99, and customers can expect a delivery time of 6-16 business days.
Though you'll find some disgruntled buyers online, most customers say the delivery was speedy and had no issues.
Customer Service: ★★★★ 5 Stars
Based on what we could find from other people's experience with the brand, it looks like Nordic Socks take the time to respond to their customers and care about how their buyers feel about their shopping experience.
Alternative Option: Bombas Socks
Quality: Offering contrasting colored stripes and bold colored heels, these socks boast a unique look that's perfect for the fall and winter seasons. They're made from a blend of wool, acrylic, polyester, and elastane. They're soft to the touch, comfortable for all-day wear, and significantly warmer than the average sock.
Styles: They may have an abstract design, but that is all the more reason to pair them with different outfits. Great for lazy outfits at home or possibly a more sophisticated look with a clean set of boots, these socks will be a standout piece to any ensemble.
---
Quality: If you're looking for a more toned-down look, these socks are the way to go. Each pair has its own bold colorway that'll blend in with many fall styles, and each comes with a chevron pattern that won't distract from your shoes or bottoms.
The wool gives the socks a surprising level of warmth, and the elastane ensures they don't feel too restrictive.
Styles: They look great with sweatpants, jeans, and even dress pants, and they provide ample support and comfort no matter what shoes you're wearing. Considering their stylish design, it also doesn't hurt to roll up your bottoms a little for contrast in design and color to the rest of your outfit.
---
Quality: Made from the same materials as the others, these socks provide similar quality, but they come with a more exotic design. Although they have a secure fit, they won't pinch around the leg or chafe around sensitive areas of the feet.
Styles: With a blend of diamonds, checks, and stripes, these socks bring an abstract look that's a little more chaotic at a glance. They still exude a sense of warmth with a nice blend of Earthly colors that'll catch anyone's eye. You can pair these socks with a wide range of neutral and exotic fall and winter outfits.
What Other Customers Think
The company makes various claims on their website that make you want to try their socks for yourself. We've compiled a handful of comments from customers that seem to be pretty consistent with most people.
Speedy delivery
Colorful, trendy colors and patterns
Super warm and cozy
Great quality; some customers even say they've owned the same pairs for years.
Helpful and responsive customer service
Return Policy
The company offers customers a 30-day return policy that comes with a few conditions. Customers qualify for a return if they receive a damaged item or the wrong specifications, such as size.
You can also get a refund if your package happens to be lost in transit.
FAQs
Where are Nordic Socks made?
On their materials page, Nordic Socks say their wool is collected from Merino sheep in Turkey, and manufactured in Usak City.
What are Nordic Socks made of?
All of their socks are made from a blend of wool, polyester, acrylic, and elastane materials. Their mountain collection is made with 25% more material, and each pair of socks is meant to be comfortable, warm, and form-fitting.
Where can you buy Nordic Socks?
If you're looking online, you'll quickly come across many different brands that sell a similar Nordic style of socks. For this particular brand, you can find their socks at thenordicsocks.com.
The Bottom Line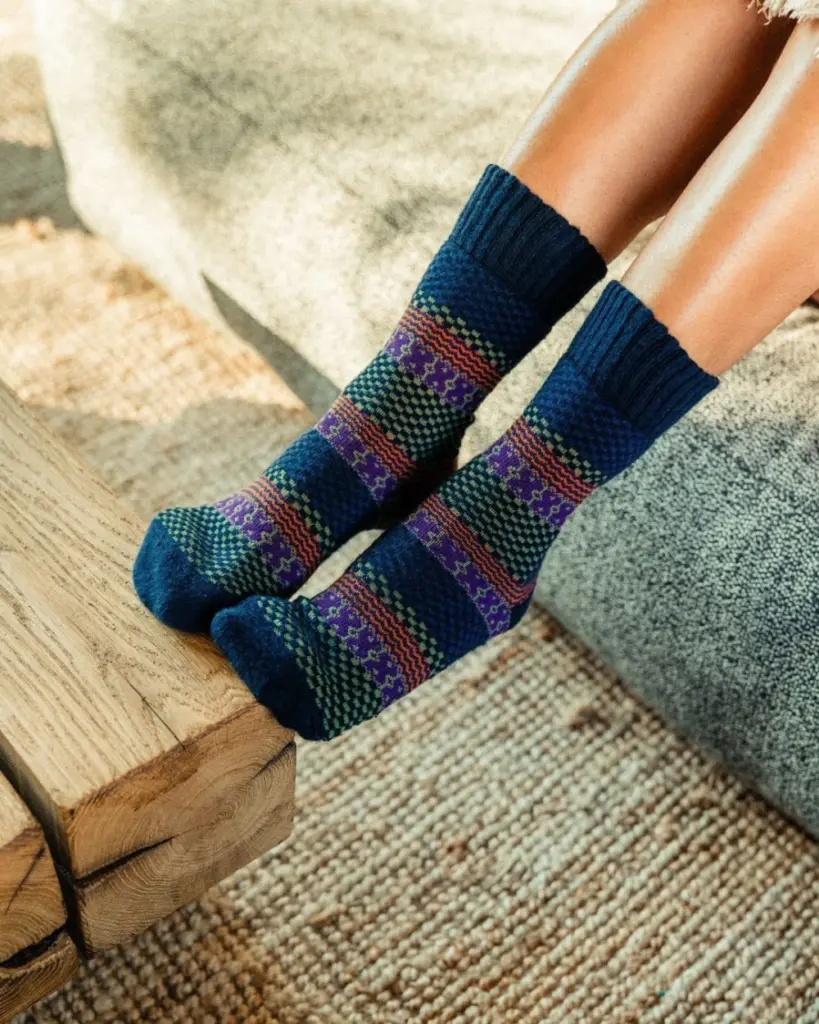 Overall, if you're looking for a warm, cozy pair of socks, Nordic Socks is a great place to find them. They offer patterns to fit anyone's taste, and their durable socks will last for years to come.
You'll find customer service is quick to respond to their customers to either thank them or provide solutions. It's clear that Nordic Socks care about their company and reputation.
This Nordic Socks review discusses the pros and cons of this brand so you can buy with confidence!
Nordic Socks Alternatives
2. Solo Socks
3. SOCKSSS