Having body hair is a normal human thing to have, but that doesn't mean we have to keep it (nothing wrong with keeping it, either)! 
Shaving, waxing, hair removal lotions — it adds up and can be pricey, not to mention painful in some cases. But did you know you have another option? 
Introducing Nood, an at-home hair removal solution that claims to permanently remove hair in just 8 weeks. To see if Nood really works, read our Nood reviews!
RELATED
What Is Nood?
Nood is a beauty brand that offers at-home hair removal tools and skincare to permanently and safely remove body hair using IPL (intense pulsed light).
Nood was founded in 2020 by CEO, Sam Garst.
A fairly new company, Nood believes hair removal should come with soft and healthy skin — always. 
Nood: Overview
Nood offers at-home laser hair removal products as well as skin treatments for post-hair removal.
Aside from the hair-removing tools — which we'll get into later — the skin treatments you can purchase from Nood are The Revealer and The Reviver.
The Revealer is a daily exfoliant made with the likes of botanical extracts and papaya enzymes to reduce ingrown hairs. 
Meanwhile, The Reviver is a gel made with superstar ingredients like aloe vera and lavender meant to soothe and reduce signs of irritation.
Nood Reviews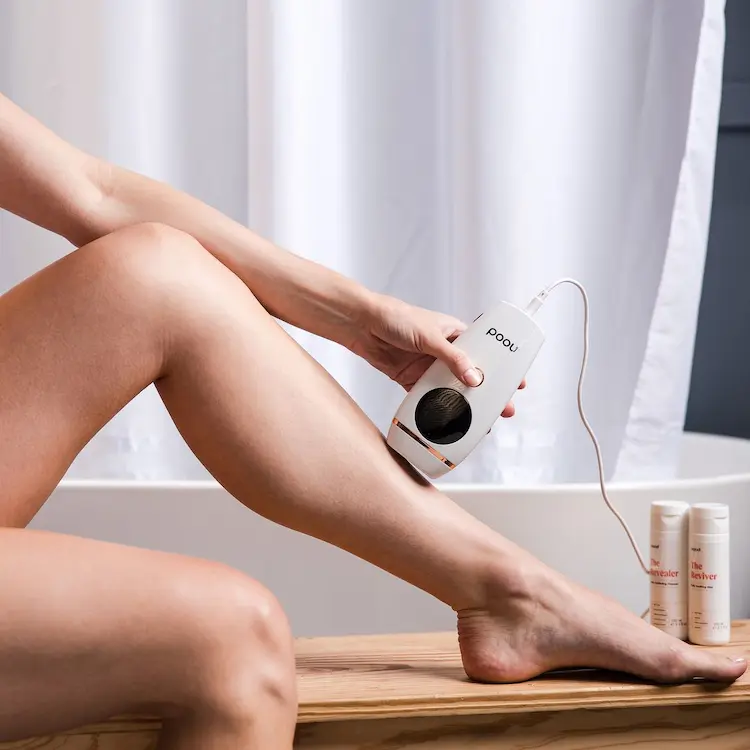 Overall: ★★★★★ 4.5 stars
Generally speaking, Nood has some very satisfied customers who are pleased with their results. It seems to work for many people, but it's definitely not an overnight treatment. It requires time, patience, and consistency.
Also, Nood users have noticed the results aren't always that consistent depending on the part of the body you're treating. Of course, everyone reacts to treatments differently, so you may find some success in some body parts more than others. 
Price: ★★★★ 4 stars
Compared to buying razors, Nood is an investment. You can expect to pay a little more than $200 depending on which product you're getting. 
However, Nood is supposed to be a permanent hair-removal solution, so if you compare what you're paying for Nood to the cost of a year of wax appointments or shaving expenses over the year, we think it's a pretty good deal! 
How It Works: ★★★★★ 5 stars
Nood is different from laser hair removal because it uses IPL (intense light pulse) which is a broadband pulsed light, whereas the laser hair removal light is a single monochromatic light source. 
Both lights target the melanin in the hair follicle, so the efficacy of treatment can depend on hair color and frequency.
With Nood, customers receive a handset that has different intensity levels to use during treatment. However, Nood does advise users to do a skin sensitivity test before beginning treatment to ensure no damage or burning to your skin will occur.
Generally, those who've used Nood state that the treatment isn't super painful but can feel irritable and prickly as you go higher in intensity.
What Customers Are Saying
There's something so comforting and reassuring when you see a product you're interested in getting a ton of praise, and that's the case with Nood.
There are lots of Nood reviews provided on the brand's website from verified buyers as well as on outside review platforms. We looked through the good and the bad (though, there are not many of the bad). 
Here are some of the things customers are saying about Nood products!
Can tell a difference after just a couple of uses
Works on some body parts, but doesn't work as well on others
The light is super bright, so wear glasses
The pain isn't too bad
So much better than regular laser hair removal
Not a speedy treatment, so put some time aside to do it
Love the 90-day no questions asked return policy for Flasher devices
Some users noticed less hair growth in less than 8 weeks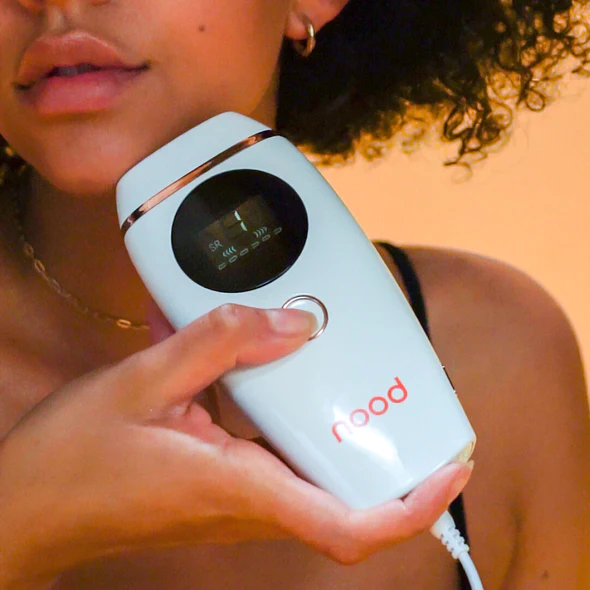 If you want to dive right in with Nood and get all the essentials, The Noodist Kit is for you.
This kit includes Nood's The Flasher 2.0, two The Revival treatments, and two of The Revealer treatments.
Nood promises permanent hair removal in 8 weeks or less. If you don't see a difference in that time, Nood has a money-back guarantee! 
The kit has everything you need for pre-removal and post-removal. All you have to do is exfoliate with The Revealer, flash with The Flasher 2.0, then soothe your skin with The Revival.
This kit sells for $348 and has been featured in major publications!
---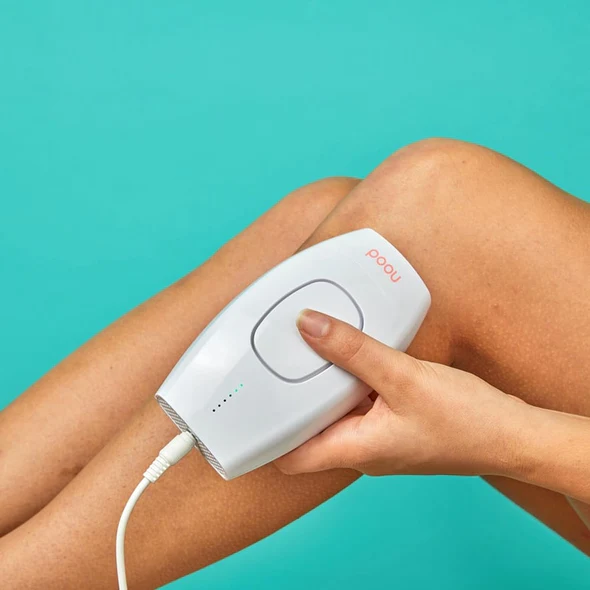 If you're only interested in hair removal, check out The Flasher by Nood.
The company's original IPL tool, The Flasher can be used anywhere hair grows: bikini, Brazilian, underarms, legs, and anywhere else.
The Flasher has six levels of intensity, but Nood recommends starting at level three. The Flasher is built with UV protection and has around 600k flashes out of the box. If you ever run out of flashes, Nood will replace your handset for free!
While using The Flasher, Nood claims you can start seeing results in two to three weeks, and then permanent hair removal after six to eight weeks.
The Flasher can be yours for $239, but if you don't like your results, you can get your money back with no strings attached.
---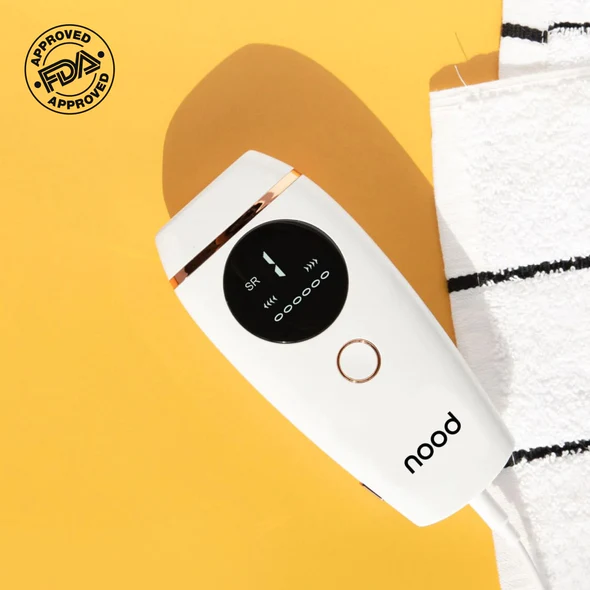 The Flasher 2.0 is Nood's #1 best-seller and is the more refined, evolved version of The Flasher.
The Flasher 2.0 has everything you love about the OG Flasher but with some fine-tuning. For one, The Flasher 2.0 features a wider treatment window so that you can treat bigger patches of skin at a time.
The Flasher 2.0 also has a higher-intensity bulb plus an all-digital display screen for easier readability. 
Like its older sister, The Flasher 2.0 is for anywhere on the body that grows hair, and Nood says you should have no more hair by eight weeks or your money back guaranteed.
The Flasher 2.0 can be yours for $270!
---
Return Policy
Nood offers an awesome 90-day return policy on their Flasher devices, no questions asked.
If you're not satisfied, Nood will offer a full refund with no strings attached and no questions asked.
Currently, Nood only offers refunds for The Flasher and The Flasher 2.0. Other Nood skincare products are eligible for returns. 
FAQs
Is Nood painful?
Most Nood users say the treatment isn't painful, but pain is subjective and ultimately boils down to an individual's pain tolerance. Most customers say the pain is minimal, but could feel like a pinch the higher the intensity level. 
Does Nood permanently remove hair?
Nood is advertised to be a permanent hair removal treatment, but that doesn't mean you won't need to do any maintenance. Nood recommends users to do touch-ups every one to two months as needed considering the treatment only works when the hair follicles are at a certain growth stage. 
Is Nood FDA-approved?
Nood is FDA-cleared. This means the company has proven that its products are similar or equivalent to another already FDA-approved product. 
Who owns Nood?
Sam Garst is the founder and CEO of Nood. 
Does Nood ship internationally?
Currently, Nood only ships within the USA.
Does Nood work on gray hair?
Unfortunately, the efficacy of Nood can be largely dependent on hair color. Nood states the treatment may not work as well for those with super dark hair, blonde hair, and red hair.
In Conclusion
Nood is a great brand if you've been searching for a cheaper, long-term way to remove unwanted hair.  
The Flash and The Flash 2.0 are investments, but with the 90-day money-back guarantee Nood offers, what's not to lose?
Just remember to take Nood's skin sensitivity test before trying out the treatment. Have fun getting Nood! 
Nood Alternatives