Have you ever loved a product so much, but it would leave a big hole in your wallet if you bought it? That's how we feel about Naked Wolfe boots.
These boots are for main characters and main characters only — we love the chunky heel, the platforms, the colors, and the HBIC vibes. What we don't love as much? The price.
Though absolutely justifiable due to the quality, sometimes there's just no room to splurge, and that's where this list comes in.
If you want a pair of Naked Wolfe boots but don't want to commit to the price, keep reading to discover more than 12 Naked Wolfe boots dupes that have a very similar aesthetic at a much more affordable price.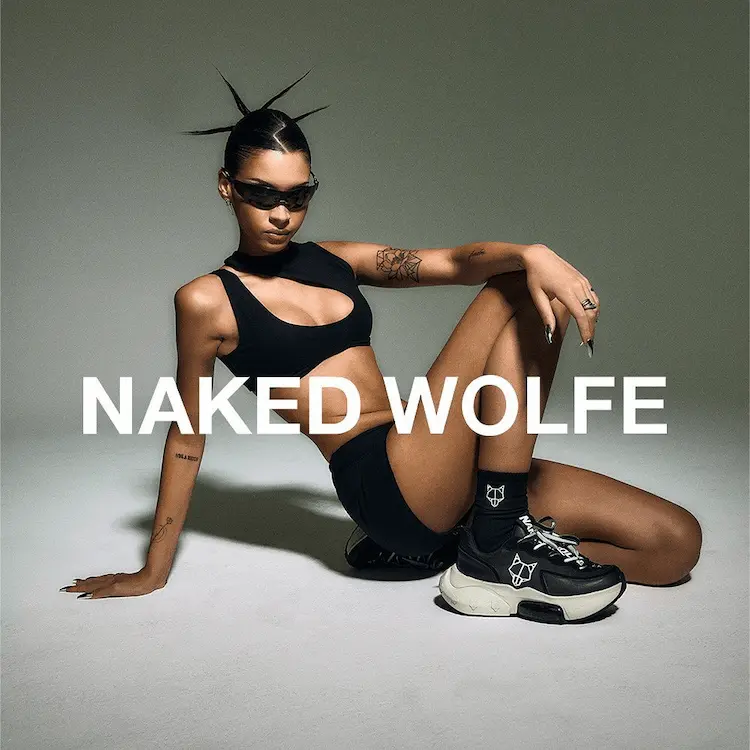 What is Naked Wolfe?
Naked Wolfe was founded in 2017 by four siblings who were tired of luxury goods not being easily accessible and original.
Thus, Naked Wolfe was born, with the mission of providing modern takes on luxury fashion in terms of design, quality, and price.
Not only that but celebrities have been put on Naked Wolfe as well. Big-name celebrities like Olivia Rodrigo, Kourtney Kardashian, Gigi Hadid, and Billie Eilish have all been seen sporting Naked Wolfe. 
But, just because Naked Wolfe products are priced at a fairer price than higher-end luxury brands, doesn't mean it comes cheap.
Specifically, Naked Wolfe's iconic chunky and funky boots range from $300 to $400, which isn't necessarily unattainable but definitely doesn't go unnoticed in your bank account.
Because of that, here are 12 Naked Wolfe boots dupes you'll fall in love with!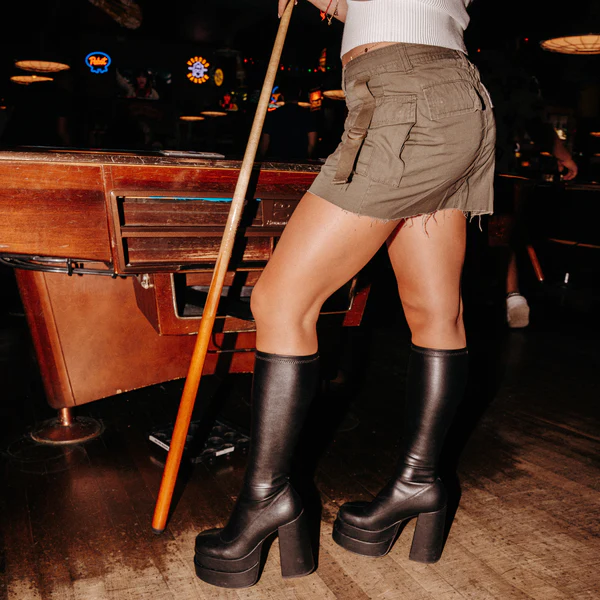 One thing Steve Madden is gonna have is dupes — and good ones, at that.
These CYPRESS Platform Boots are chunky like the Naked Wolfe Boots and are made of vegan leather with a 5-inch heel and a 2.25-inch platform.
These boots come in 8 stunning, bold colors and in sizes ranging from size 5 to size 12.
The best part? You can purchase these boots for almost half the price of Naked Wolfe boots, as these boots retail for $189.95!
---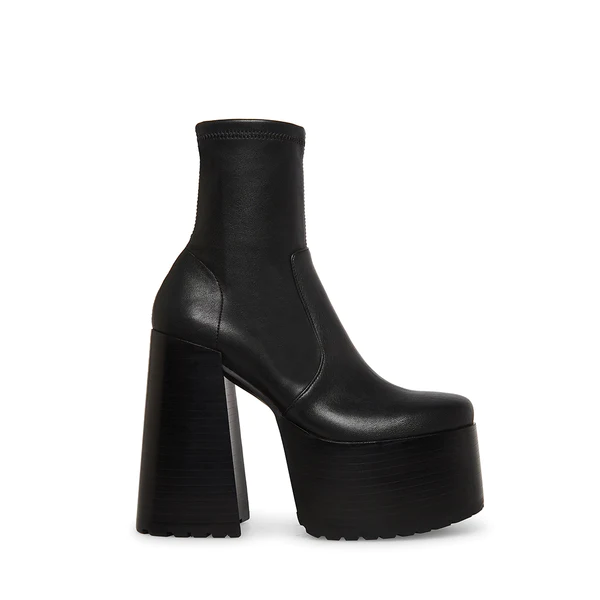 Back again are the SM KYANA Platform boots, which go up to the calf. Also made with vegan leather, these shoes will give you extra height thanks to the 5.25-inch heel and the 2.25-inch platform.
These shoes come in black and brown, and are priced at $169.95.
If you want to look like a total badass, these are the shoes for you.
---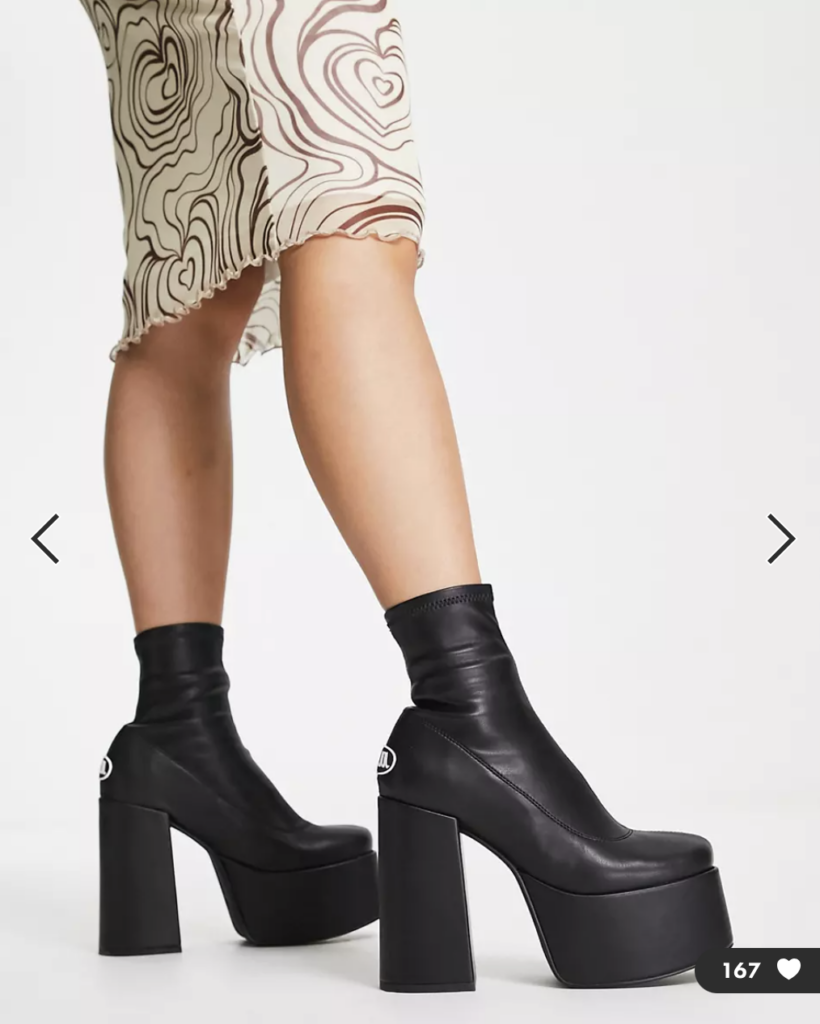 Currently on sale just $40 at ASOS, you'll want to run to snatch up a pair of these baddies.
These boots come in 4 color options (although not all of them are on sale) and are giving off serious Naked Wolfe vibes. With the sock-like ankle and super chunky platform heels, you can't go wrong with these.
Note: Reviewers say these run slightly large, so make sure to double-check your size before ordering.
---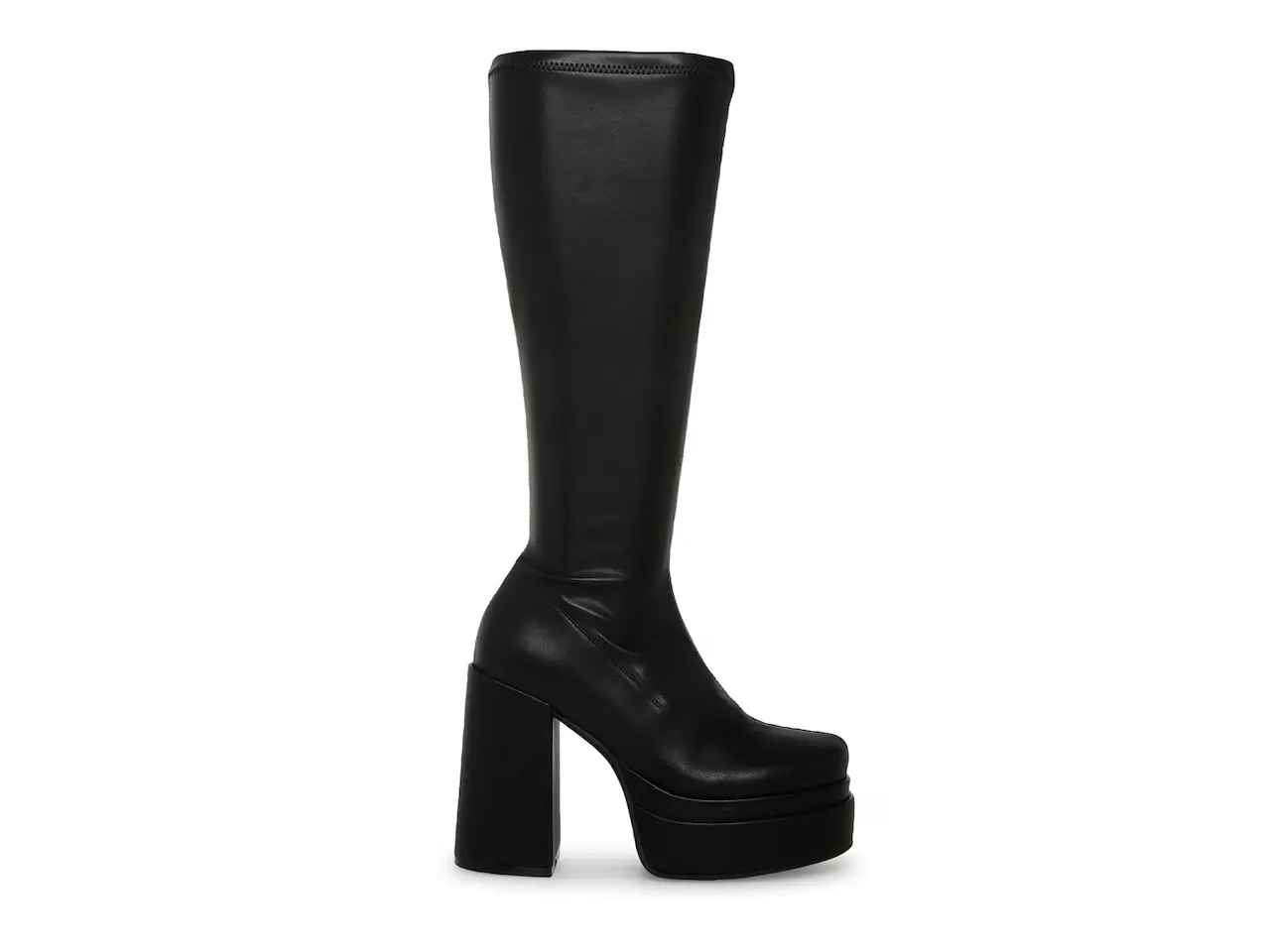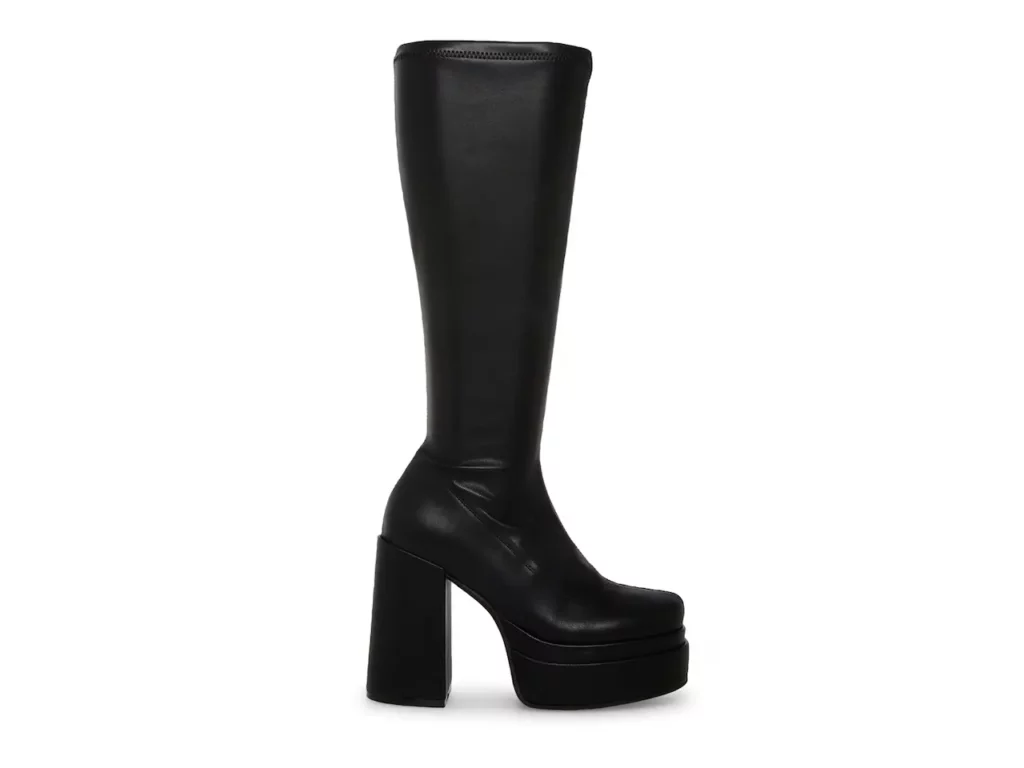 If you're desperate for another tall Naked Wolfe boots dupe, we've got your back.
These fun chunky boots are from Madden Girl and cost less than $100. Much better than $400 if you ask us.
With a 1.5″ platform and a 4.5″ chunky heel, you'll feel like royalty.
---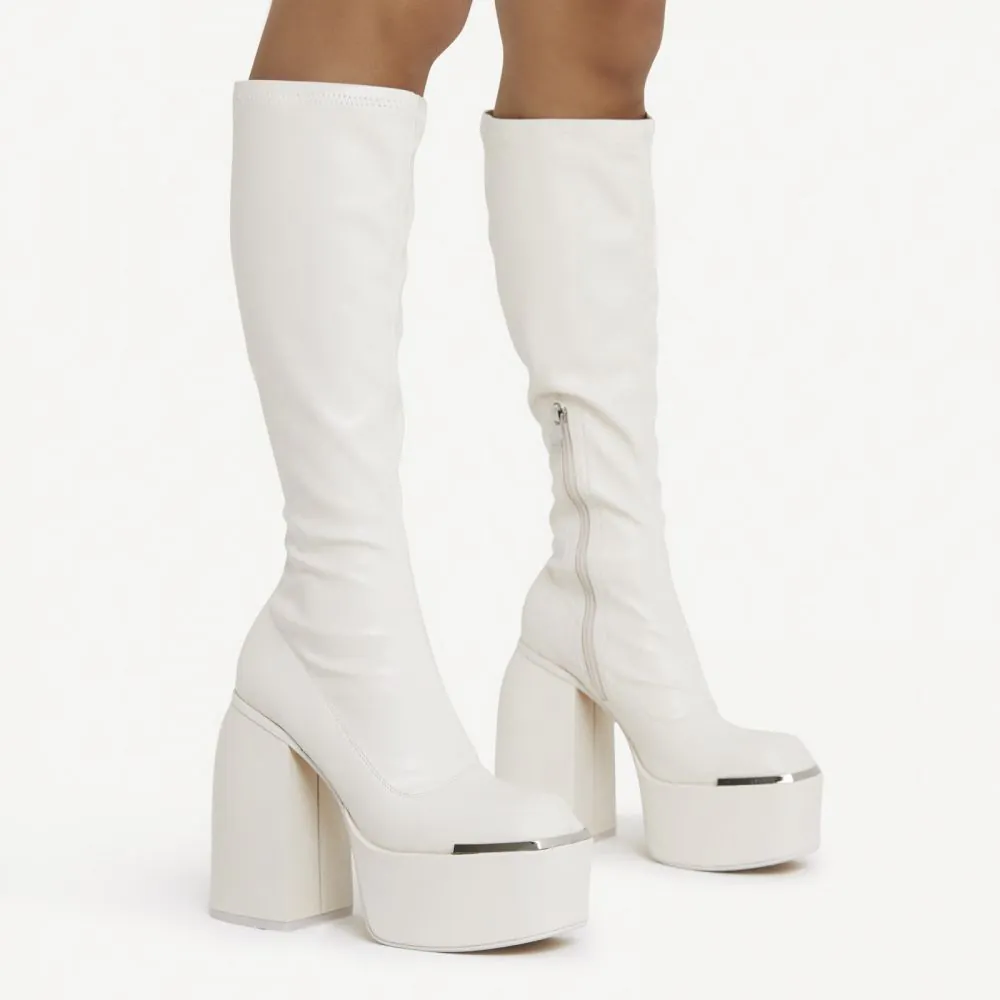 Arguably the most similar Naked Wolf boots dupe on this list, these Ego Platform Boots are made of faux leather and have plated square toes, platform block heels, and a long sock boot design.
These boots are super chic and stylish, and totally give off Charlie's Angels vibes (the 2000s version).
The Ego Boots come in the colors nude and black and are only $67.99, which is an absolutely insane deal.
If you want to stand out from the crowd (literally), grab yourself a pair of these eye-catching boots.
---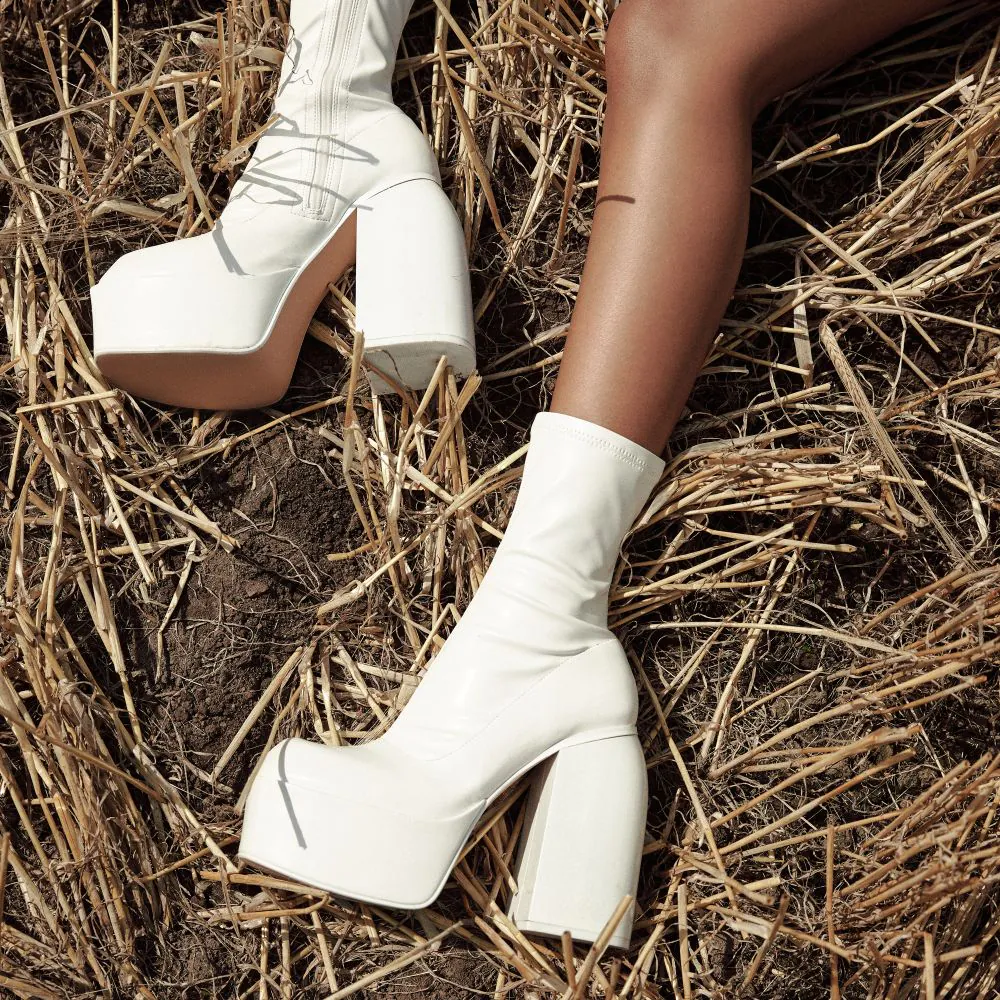 Now, if you're short like me and can't wear long, thigh-high boots because it looks like the boots are eating you, there's another option for Naked Wolfe boot lookalikes that don't go up to our shoulders.
Back on the list is the brand Ego Shoes with its Platform Ankle Boots!
Similar to the last pair of boots on the list, these shoes are ankle boots with the same chunky heel and beautiful exaggerated platform. 
For $67.99, these boots come in four stunning colors: black, white, green, and orange.
---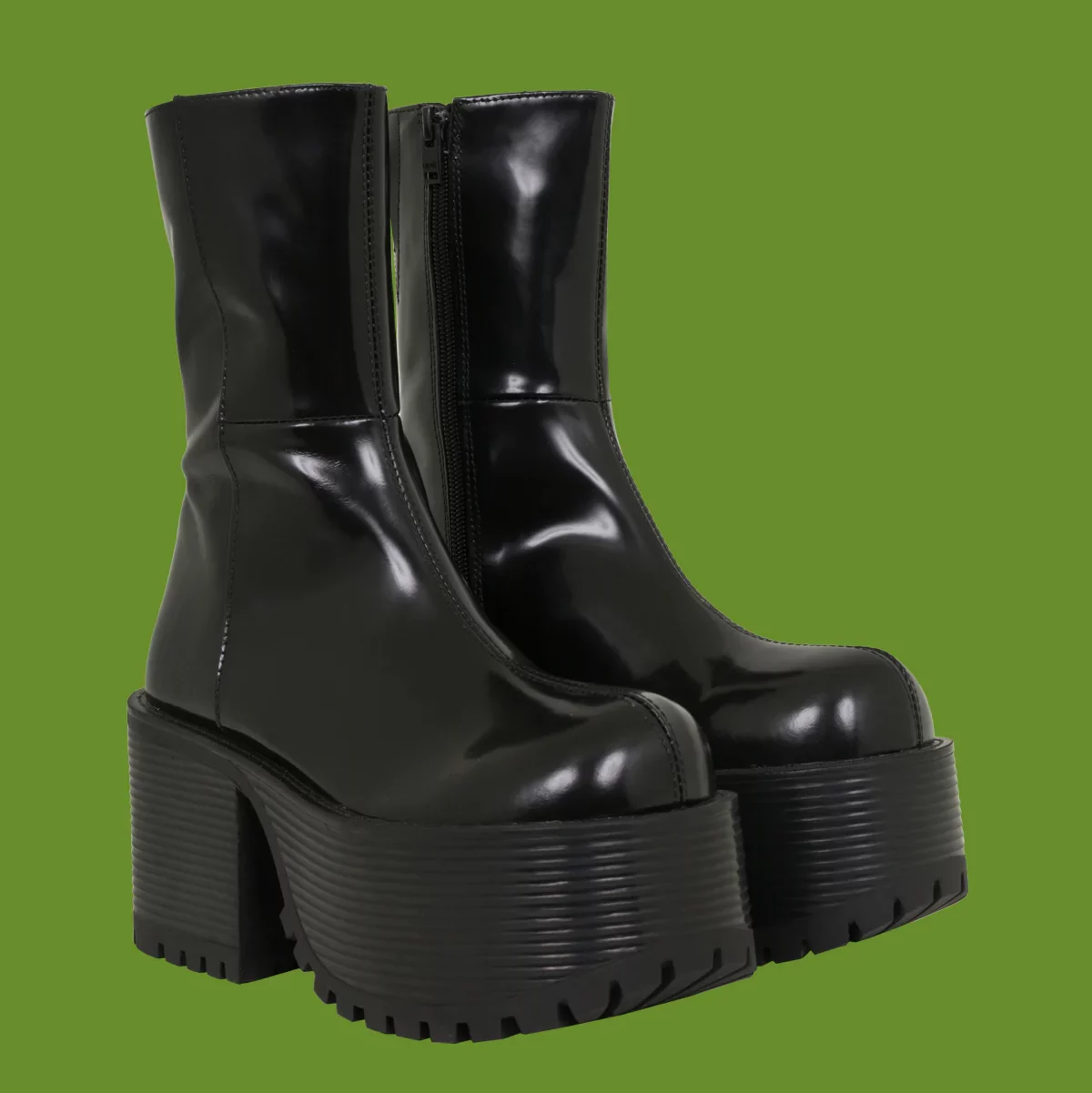 These Slug Boots are chunk galore, made with heavy rubber on the soles and platform and 100% Leather Upper.
These boots come in shiny black and matte black, and can definitely be used as a weapon if need be thanks to all that heavy rubber.
Priced at $142, these Slug Boots are perfect to elevate or amp up any outfit, but UNIF does recommend sizing up! Sizes range from size 5 to size 11.
---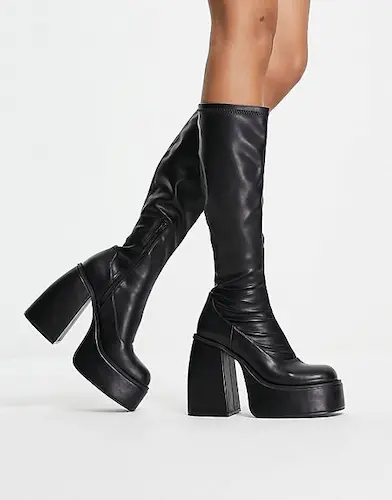 I've yet to find something ASOS doesn't have, and having a dupe for Naked Wolfe boots is not one of them.
ASOS's chunky platform boots are knee-high and are made with a matte faux leather upper. The heel is 4 inches and the boot has a round toe, platform sole, and a side zipper. 
These boots only come in black and are priced at $85 with sizes from size 5 to size 14!
---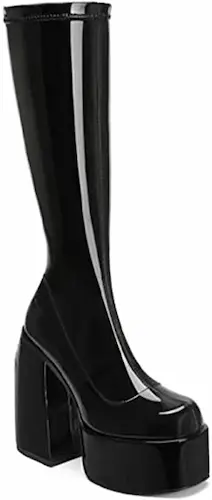 Found on Amazon, these VOMIRA Punk Platform Boots are slip-proof, suitable for long-distance walking, and resistant to folding!
These boots are made of PU leather, making them soft and flexible. VOMIRA offers extra high boots, knee-high boots, and ankle boots. Not only that, but some styles are also waterproof! 
The heel is 5.51 inches which gives so much height, and the boots go from size 5.5 to 13.
Depending on the style you choose, you can purchase these boots and live out your punk princess dreams with prices ranging from $28.88 to $66.99.
---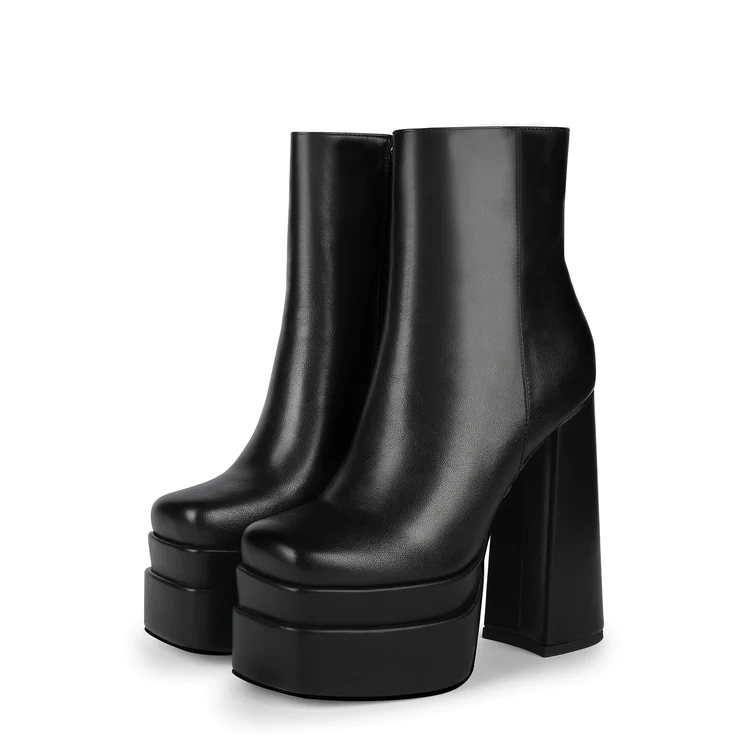 Another citizen of Chunkytown, the WETKISS Platform Boots are made with made artificial leather while the lining is made of soft and elastic Jersey.
The heel for this boot reaches 5.51 inches and has a square toe platform along with a side zipper. 
These boots only come in matte black, and sizes go from size 6 to size 12 and are priced at $109.98.
---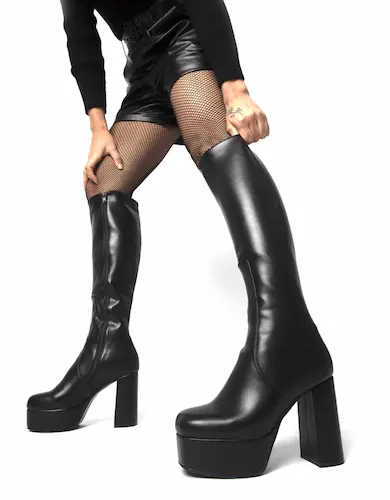 The Lamoda Knee High Platform Boots are always in the conversation when talking about Naked Wolfe boot dupes, and it's partly due to the long length of the boots in addition to the thick platform and heel.
The heel measures about 4.13 inches, which is the shortest on the list, and the platform is only about 2 inches.
In terms of height, this is definitely the tamest boot, so if you're afraid of twisting an ankle but still want the chunky style, these shoes are perfect! Plus, these shoes are only $85!
---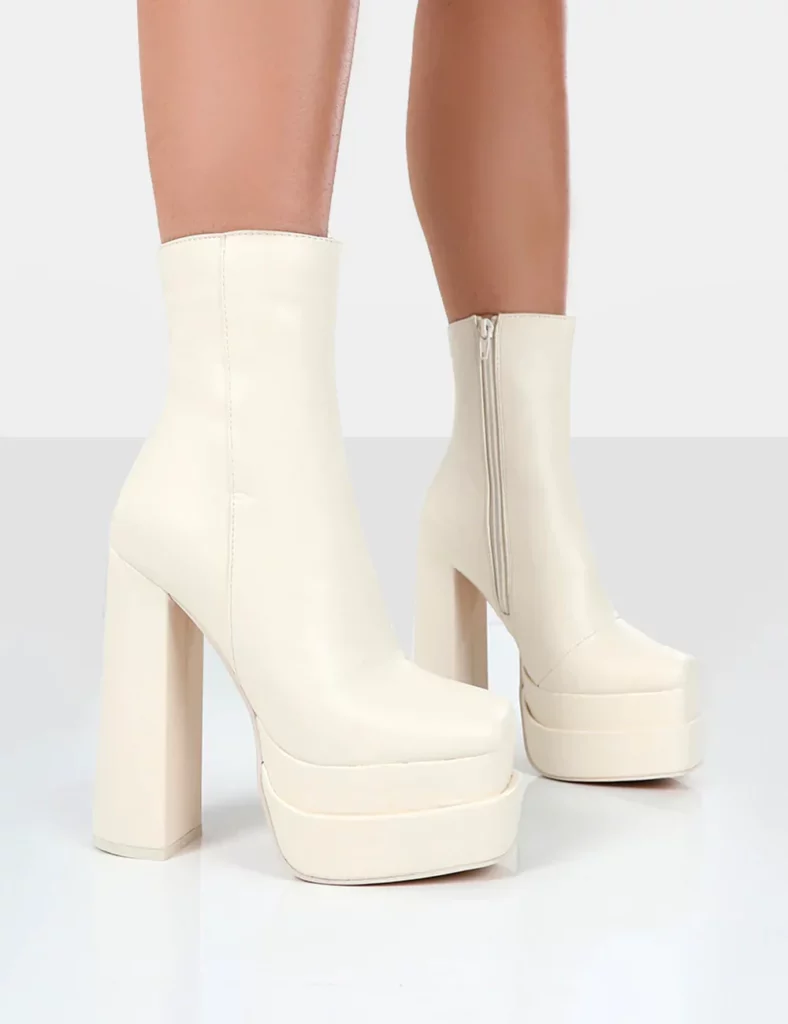 Rounding out the list are these beautiful Supine Ecru Chunky Ankle Boots from Public Desire.
These boots are cream-colored and have a whopping 6-inch heel, making it the lengthiest heel on the list. 
These boots are made of synthetic, man-made PU and cost $74.99, which, compared to Naked Wolfe, is an amazing deal!
In Conclusion
Naked Wolfe boots are amazingly crafted and designed, but a lot of people don't have extra pocket money to be spending $400 on a pair of boots they probably won't wear on a daily basis. 
These Naked Wolfe boots dupes are perfect alternatives for a much more affordable cost, with a very similar style. Unless people are inspecting brand labels, they won't know the difference between these dupes and the real deal!