Curious about this high-end brand? Read our Ministry of Supply reviews to find out more!
High-end brands that truly deliver high-quality pieces at a reasonable price are hard to come by. Ministry of Supply is a top-notch brand that is loved by many, and today, we're going to see why.
We're going to go over their products, prices, policies, as well as my personal review of a few of their products to find out if they're really worth the price!
What is Ministry of Supply?
To start, Ministry of Supply is your go-to for all things comfort. This shop specializes in just about every clothing type out there. But here's the catch: they take pieces that aren't typically the most comfortable (like suits or tight dresses) and make them more comfortable.
Their mission started when they got tired of raggedy, cheap material in these types of clothes. They wanted to create comfortable items for people who are always working hard and on the move. Thus, Ministry of Supply was founded.
On top of that, they put a large focus on sustainability and innovative practices. Therefore, their clothes are on the higher-end of the budget spectrum.
For example, most of their prices for just a pair of pants fall around $150, while their tops are around $130. That said, some of their items can reach up to $300.
Ministry of Supply Overview
Something cool about their clothes is that they were actually inspired by Charles Fraser-Smith's designs, who designed clothing for soldiers and secret agents in WWII to give them better comfort and success. Cool, right?
Although a bit spendy, you have to keep in mind that this brand is built for functionality. Their high-quality pieces are truly made to last. With that said, the prices should be expected to be around the $130-$300 range (many people actually think it's a bargain for how good quality they are).
To save a little money on your first order, they do offer $15 off your first purchase with email sign-up!
My Ministry of Supply Reviews
As someone who hates the majority of work clothes (aside from Betabrand) because of how uncomfortable they are, I was excited to try this brand out.
Since pants are the worst for me, I decided to first order their Kinetic Slim Pant in black ($145). It did hurt my heart to shell out that much for a pair of pants, but I do think it was worth it!
Material: ★★★★ 4 stars
The material of their slim pants is "100% Primeflex® Warp-knit Japanese Polyester (15% sugar-cane derived)." Sounds pretty fancy! I was a little put off when I heard polyester, but apparently, it's a more environmentally-friendly type of polyester.
Despite being a sustainable material that I wasn't very familiar with, the material feels amazing! I've had them for around 6 months and have washed them at least 15+ times. They still look brand new! Just make sure to follow the instructions (for these pants, you want to wash cold and tumble dry on low).
They also claim the fabric is naturally wrinkle–resistant, which is pretty accurate. It wrinkles far less than the typical clothing item. On top of that, they treat the fabric to be water-resistant, which is also accurate!
I tend to spill pretty often and it's pretty cool to watch water droplets glide off these pants.
Comfort: ★★★★★ 5 stars
For starters, they're beyond comfortable. They're stretchy and flattering, but they're still appropriate and look like work pants. You won't be sent home if you wear these.
Sizing: ★★★★ 4 stars
I was a little scared about the sizing since my size tends to fluctuate, but the pants fit me perfectly in both my thighs and butt! However, I'm 5'4 and they are a bit long when wearing them with flats. They're perfect with heels, but I don't always want to wear heels.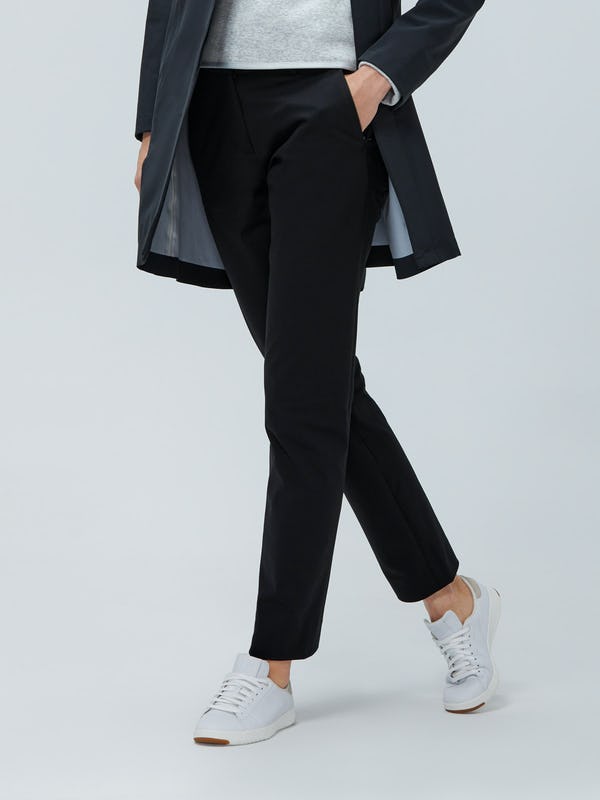 $94
Another of the top-rated products from Ministry of Supply are their pants! This slim pant for women is the perfect pair of pants for work (or really any other occasion).
---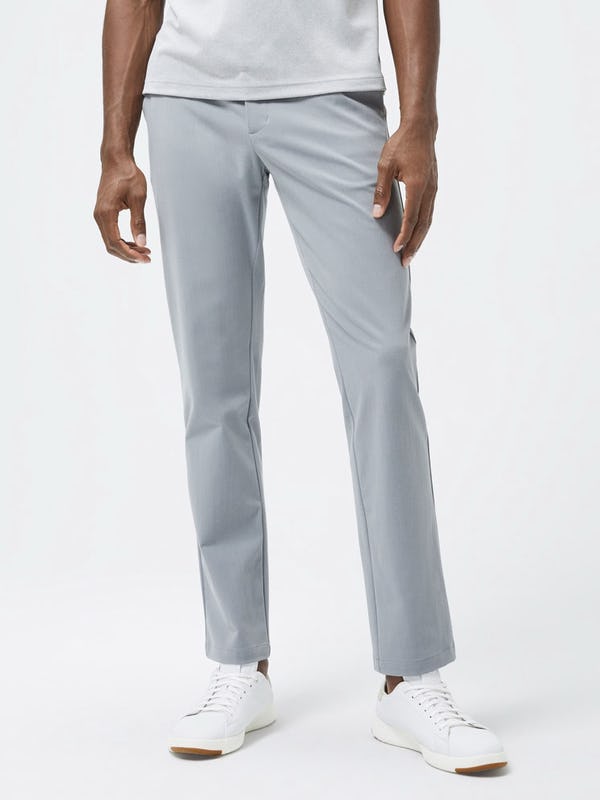 $94
A top-seller for men is the Momentum Chino Pants. These khakis feature lightweight material, a durable stretch, and wrinkle-resistant material. Overall, these pants will have you looking photo-ready no matter what you do.
---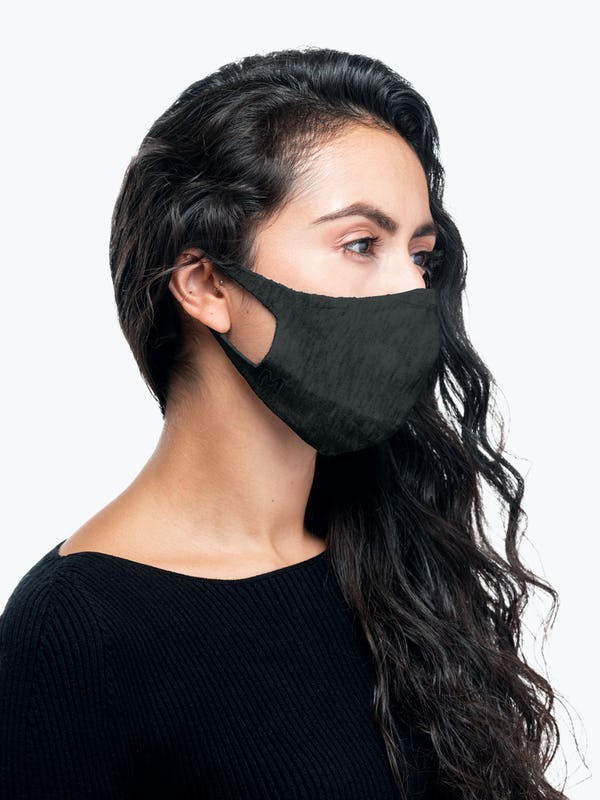 $18
I definitely thought this was one of their coolest items. This mask is made with 3D printing technology, which is pretty cool (and the mask is surprisingly cheap considering it uses this innovative technology).
Ministry of Supply Customer Reviews
Now that we've gone over the basics of what Ministry of Supply is, let's get down and dirty with some other Ministry of Supply reviews. We conducted some research on reviews on their website as well as on various other websites on Google.
We've included snippets that share some of the top feedback we noticed after searching through hundreds of Ministry of Supply reviews.
"I have ordered from Ministry of Supply on several different occasions and their products are always high-quality and very comfortable."
"Their customer service is excellent, and I love how they are environmentally friendly."
"We've been customers of Ministry of Supply for nearly ten years. They bring a high-tech edge to everything they do, and whenever they launch something new, it offers something innovative that no one else is doing."
"I tried one Apollo shirt and I immediately got rid of my other button-ups. Now I have 4. If you have problems with overheating, you won't find a better price unless you're spending 3x more"
Overall, customers tend to agree the Ministry of Supply is:
Excellent quality
High comfort
An investment, but defnitely worth it
Return Policy
For their return policy, Ministry of Supply is pretty straightforward.
Their standard policy states that in order to receive a full refund, you must return your items within 30 days of receiving them. Then, around 7-10 days later, you will receive your refund.
However, if you wish to receive store credit instead, you have up to 100 days to make the return.


Overall, Is Ministry of Supply Worth It?
In conclusion, I definitely think the brand is worth it, especially if you're searching for those perfect clothes to wear to work. We have yet to find more than one or two bad reviews, as 99% of them were positive! Overall, although the price is high, this seems like an excellent brand to shop at and support and one that will truly have your back in regard to durability, style, and comfort.
UP NEXT: 22 Minimalist Clothing Brands To Minimize Morning Stress