Mascara can either make your lashes look dramatic and voluminous or, on the flip side, dry and cakey. It truly matters what brand you select, as eyelashes take a long time to recover once damaged. This Tiktok trend is a total find! Read on to hear our honest Maybelline Sky High Mascara Review is it the right choice for you?
Fortunately, there're a lot of great mascaras on the market. Maybelline has been on shelves for over 50 years, and the brand frequently debues new types of mascara, whether volumizing, curling, or waterproof.
Maybelline Sky High mascara is one of these products, advertising volume and comfort from every angle. 
What is Maybelline Sky High Mascara?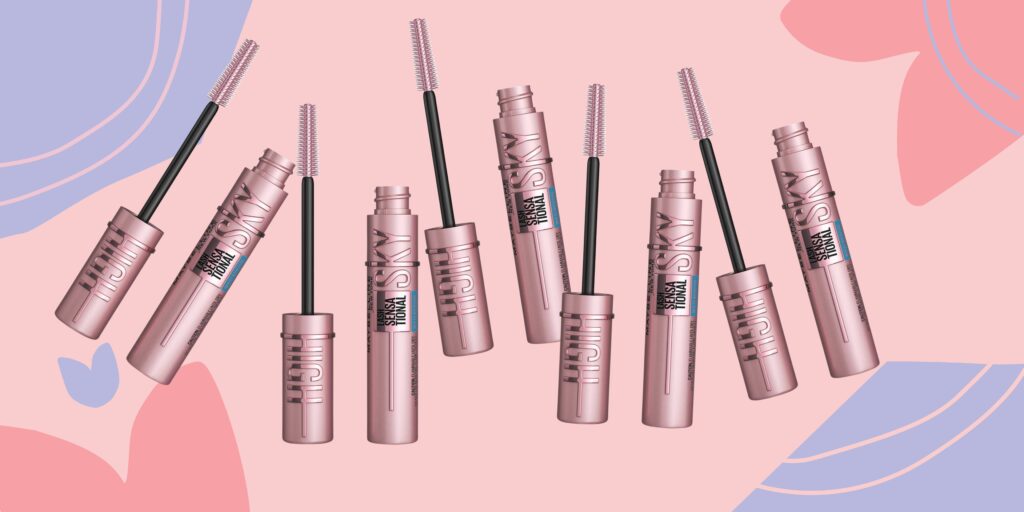 This mascara advertises lightweight lashes with no flaking or smudging. Whereas volume and clumping often go hand and hand with many mascaras, Sky High aims for dramatic lashes without cakiness.
Maybelline Sky High Overview
An exclusive Flex Tower mascara brush works to reach every lash, even the tiny ones at tricky angles.
Also notable, Sky High is suitable for those with sensitive eyes and contact lens-wearers.
At the end of the day, when it's time to take off your makeup, Sky High advertises clean and easy removal.
RELATED: 40 Things TikTok Made Me Buy
Maybelline Sky High Mascara Review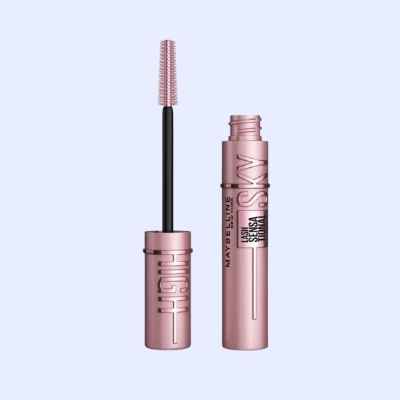 Overall ★★★★ All in all, customers seem very happy with this mascara! Most customers agree that it provides length and volume without flaking throughout the day.
Price ★★★★ Customers say that the price for this mascara is a great value and super affordable.
Quality ★★★★ Many customers say the quality of this mascara is well worth the price. Many compare it to high-end mascaras they've tried as well.
What Customers Are Saying
The TikTok VIRAL @Maybelline #skyhighmascara is BACK IN STOCK 🤩🚨🔥 Look at that before and after 🤯👏🏻 *Immediately adds to basket* 🛒🛍️ https://t.co/60CL0znLqQ #TeamLF pic.twitter.com/8PBexXQFDW

— LOOKFANTASTIC (@lookfantastic) February 19, 2021
Most of the reviews lean toward the 4-star mark; most customers highlighted the mascara's ability to lengthen and volumize. Also of note, many are very happy with the price of the product in comparison to its quality.
Here's a look at what some customers had to say about Maybelline Sky Sky High Mascara:
"I had chemo four years ago and my lashes grew back very thin. I am constantly buying mascara for fullness or length. This mascara made my lashes soooo long. Even my husband noticed!" -Dana, on Amazon
"New ride or die! I'm pretty sure this is a dupe for thrive mascara… I've got both but this one looks better on. Maybelline ALWAYS has the best mascaras! Highly recommend!" -Jill, on Amazon
"Probably taken over for my favourite drugstore mascara, beating out Lash Paradise. I love it. It goes on so well, no clumps, one coat is enough (pictured with two). It's got a bouncy applicator that makes the product transfer to lashes so comfortably and well." -Katie, on Amazon
"The wand makes this product. Will not use any other mascara ever again." -Nat, on Ulta
Based on hundreds of reviews online, here are the top points of feedback from customers:
Pros:
Lengthening
Volumizing
Affordable
Cons:
Some report a bit of clumpiness
Harder to remove the more layers you apply
The Bottom Line
If you're looking for an affordable new mascara, there's no harm in giving Maybelline's Sky High formula a try for yourself!
There's a good chance you'll be happy with it, and maybe you'll even come to call it your "ride or die" mascara.