One of the simple joys in life is accessorizing — elevating your outfits, putting on jewelry that expresses who you are and what kind of styles you love.
Rings especially are perfect pieces of expression jewelry because they're highly visible, come in so many different designs, and can be made from different metals, materials, and gems!
Every ring has a story, but La Manso's rings definitely have some of the most unique. Made in Barcelona and crafted by the hands of artisan jewelers at La Manso's atelier, there's a reason why these beautiful, eccentric rings come at a steep price.
But who said that should stop you from embracing their unique styles? Keep reading to see 10 La Manso dupes and stores that sell similar ring styles that you'll absolutely fall in love with.
What is La Manso?
La Manso is a Barcelona-based jewelry company founded by designer Adriana Manso in 2018.
Gaining traction as a brand thanks to the likes of Bella Hadid and Miley Cyrus sporting the jewelry, La Manso embraces big, bold, and colorful statement pieces that are reminiscent of the 70s, 80s, and 90s.
Each ring is created from a recovered mold found in vintage shops in Barcelona, so every piece is unique and has its own story. La Manso rings sell for $58 – $70 a piece.
La Manso Dupes
La Manso rings have become a whole trend, so there are many stores and sellers releasing similar funky & colorful styles. Here are some of our favorites.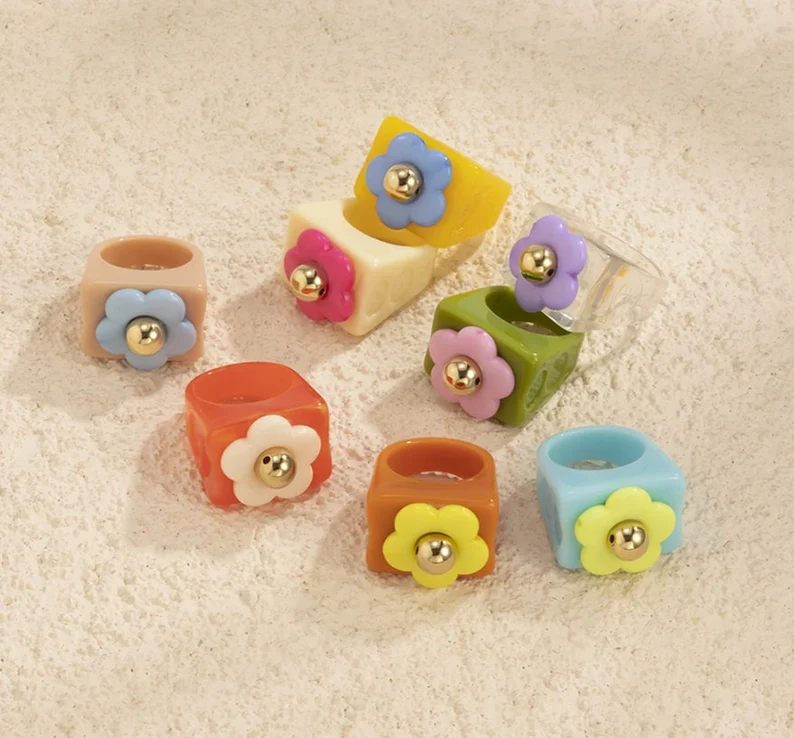 Based in Chicago, this Etsy shop provides the cutest chunky rings for a much cheaper price than La Manso.
These funky, retro-looking rings all have personalities of their own and share the same colorful and eccentric look La Manso rings, with prices as low as $18! We're loving their flower rings.
Customers love how bold, fun, and smooth these rings are and totally recommend purchasing.
---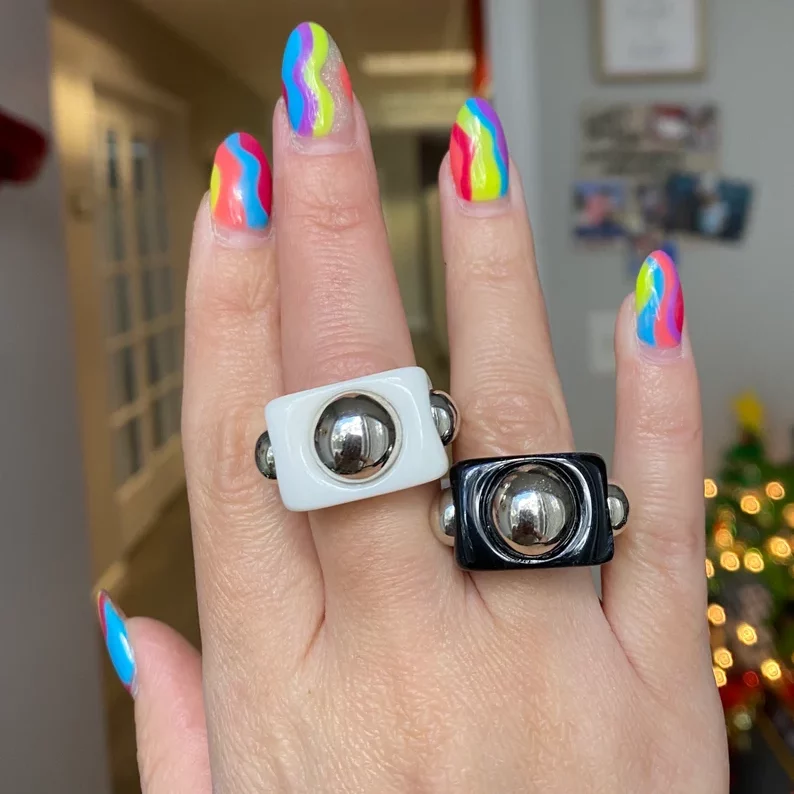 Though primarily a maker of tassels, this Etsy shop has some beautiful chunky resin rings available for purchase that feature big studs in the center and look very similar to La Manso.
Inspired by the 90s, these rings come in either black or white and are extremely loved by shoppers!
This style sells for only $12 a pop and has an impressive five-star rating.
---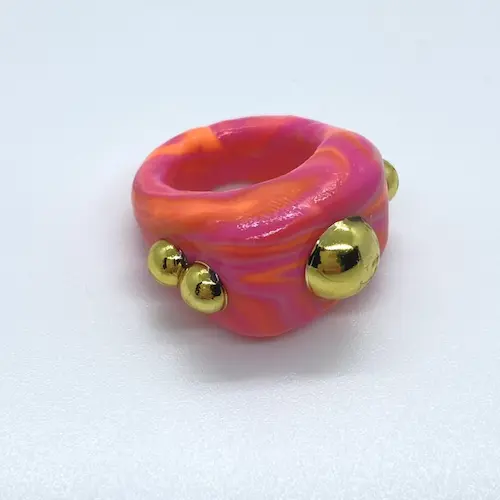 Depop shop owner Hannah Brower makes beautiful La Manso-inspired rings with the same beautiful colors, big retro studs, and striking colors.
These rings go from $11 to $20 and are great pieces to make any outfit fun and bring a splash of color to everyday looks. 
She often sells out quickly, so make sure to snatch up your favorite style before it's gone.
---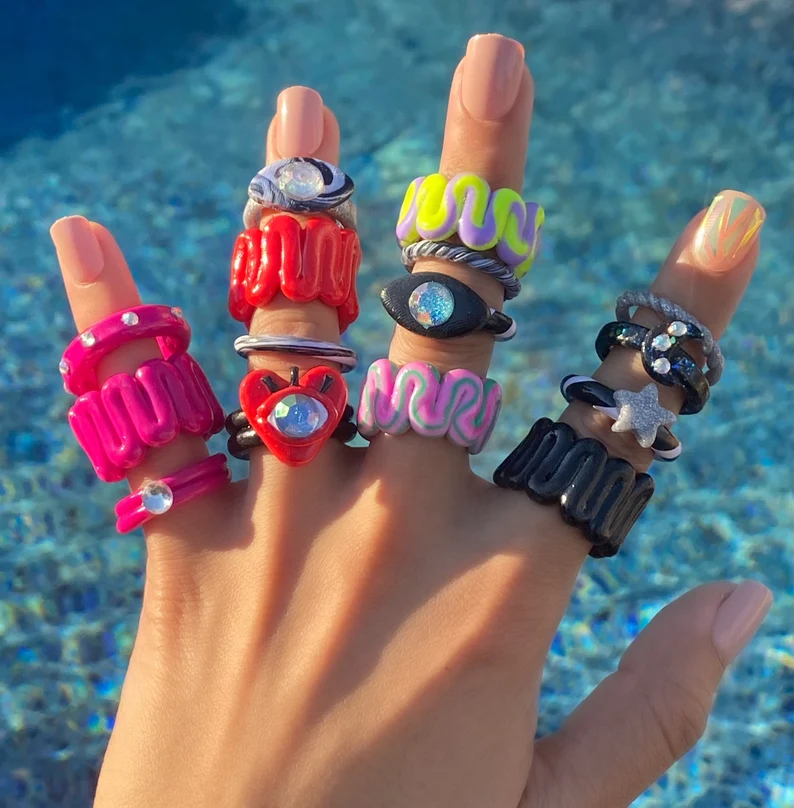 Based in Arizona, this Etsy shop sells incredible resin and polymer clay rings and beautiful beaded necklaces.
KarenMoonArt's funky rings come in an impressive range of colors and have some very distinguishable shapes as well!
These pieces are being sold for under $15 and are amazing dupes when you don't quite have the extra money to spend on La Manso.
---


Another Depop shop, Soozie Circles not only offers eye-catching rings but also a variety of maximalist necklaces and bracelets!
You might need to scroll down a bit to get to their rings, but we swear it's worth it.
Selling from just $9 to $11, Soozie Circles rings are super charming, often offered in eccentric shapes and bright colors.
---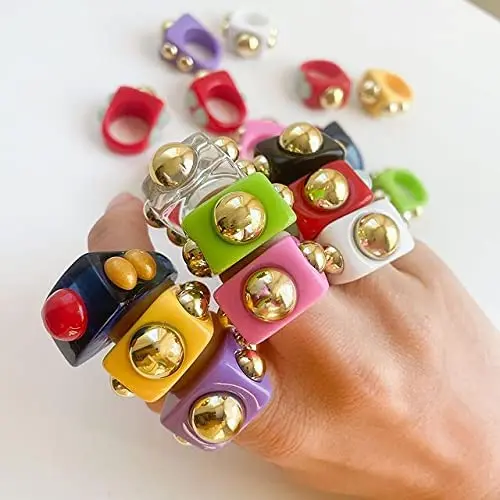 SLOONG on Amazon has a nice collection of jewelry in a wide array of styles, but we're loving this affordable line of Y2K-inspired resin rings.
The rings come in a pack of five different colors and cost $15.99, making it a great deal when you're balling on a budget.
The rings feature daring La Manso-inspired colors and the center of the rings either has studs, beads, rivets, or evil eye designs. 
---
With a huge selection of resin jewelry (specifically rings and bracelets), Gummie Rings has the cutest and most fun jewelry you could think of.
They have plenty of La Manso dupes as well as similar styles with their own unique spin.
The brand has a plethora of abstract shapes, colors, and designs ready for you to buy and use to elevate your outfits – all for under $20!
---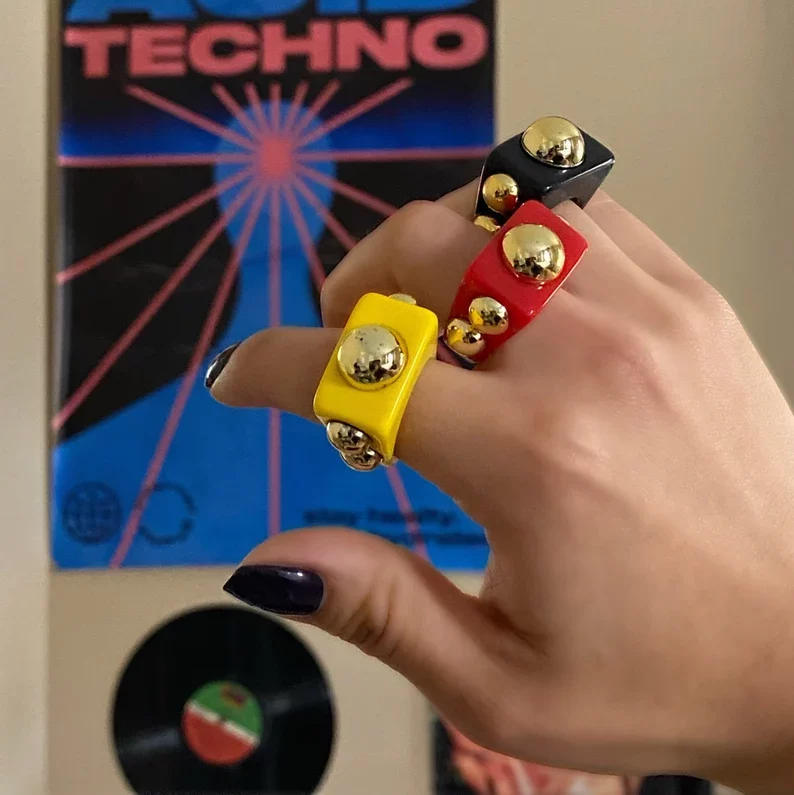 This Etsy seller has a few La Manso-inspired rings that truly are statement pieces priced at $14.45!
These rings are affordable, cube-shaped, and have gold detailing for the best funky, retro, throwback vibes.
---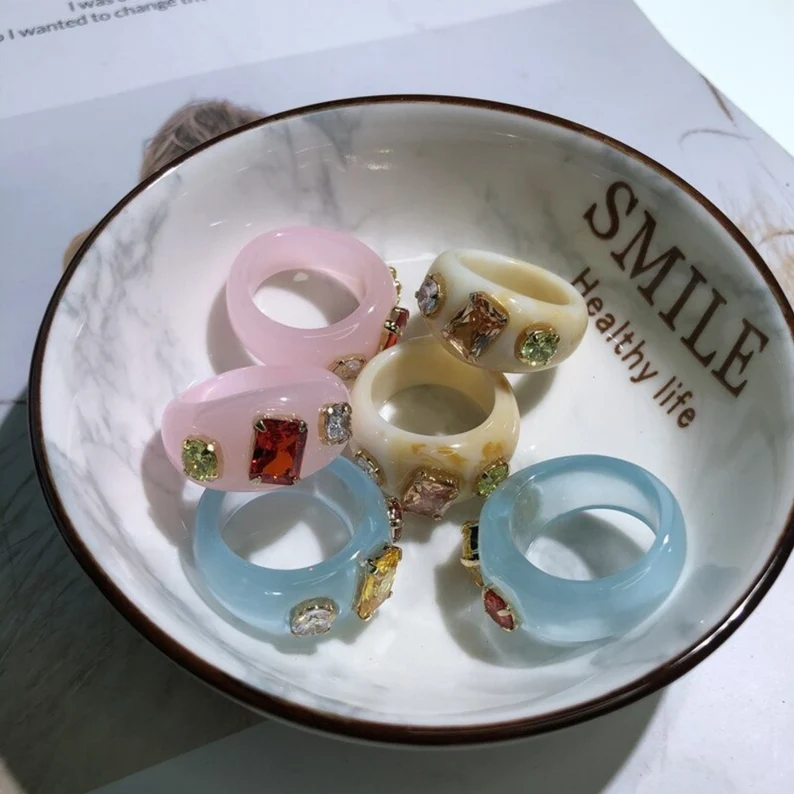 Based in Carlsbad, California, this Etsy shop provides the trendiest jewelry at affordable and accessible prices.
They offer a wide variety of styles, so not everything in their store will be similar to the funky La Manso style.
However, they do have a few Y2K-inspired chunky rings for great prices. For example, these fun rings come in three pastel colors, are stackable, and are priced at $6! 
---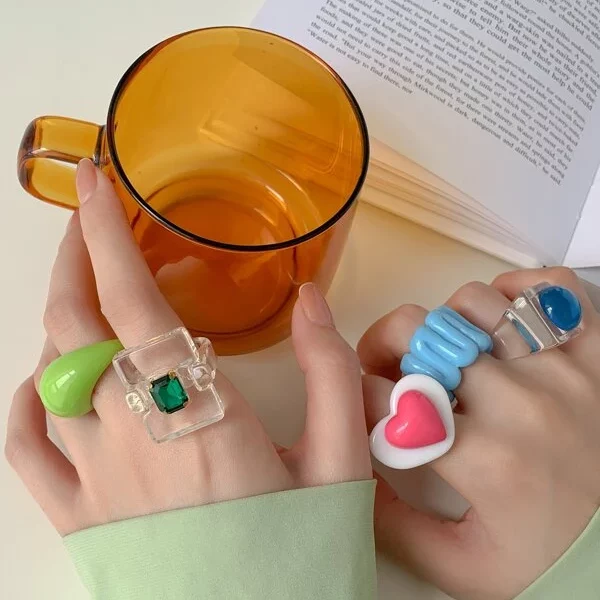 We'd recommend shopping from an Etsy or Depop seller above as many of their rings are handmade and support their small business. 
But if you're on a hardcore budget, you can always rely on SheIn for the latest trends at super affordable prices (as low as $1 per ring). 
Albeit sometimes the quality (and ethics) are questionable, we can't deny that SheIn is a powerhouse in the fast-fashion industry.
You can currently find all kinds of chunky resin rings very similar to La Manso styles for as low as $1 a piece!
Conclusion
The world of dupes is an amazing place, plus it's a great way to support small businesses!
La Manso rings are awesome and we'd definitely recommend buying from the brand if you can afford them, but you don't have to miss out on their fun styles if you can't afford them. These stores and shops offer similar products at a much cheaper price. 
We hope you find something that speaks to you and helps you feel like your best, most fun self!