Over the past twenty years, the beauty industry has witnessed a huge boom in "clean" makeup and skincare products.
And rightfully so! Who wants to be slathering their face in unnatural chemicals on a day to day basis?
We'd all love to avoid clogged pores, breakouts, wrinkles and other skin ailments if we can, and many organic skincare companies are boasting that their naturally-sourced products can make you look just as good (if not better) than their unnatural counterparts.
But as the market for clean beauty has grown, it has become increasingly difficult to distinguish the truly effective brands from those just hoping to capitalize on the movement's popularity.
So to help decide if you'd like to jump on the clean beauty bandwagon, here's our review of Juice Beauty.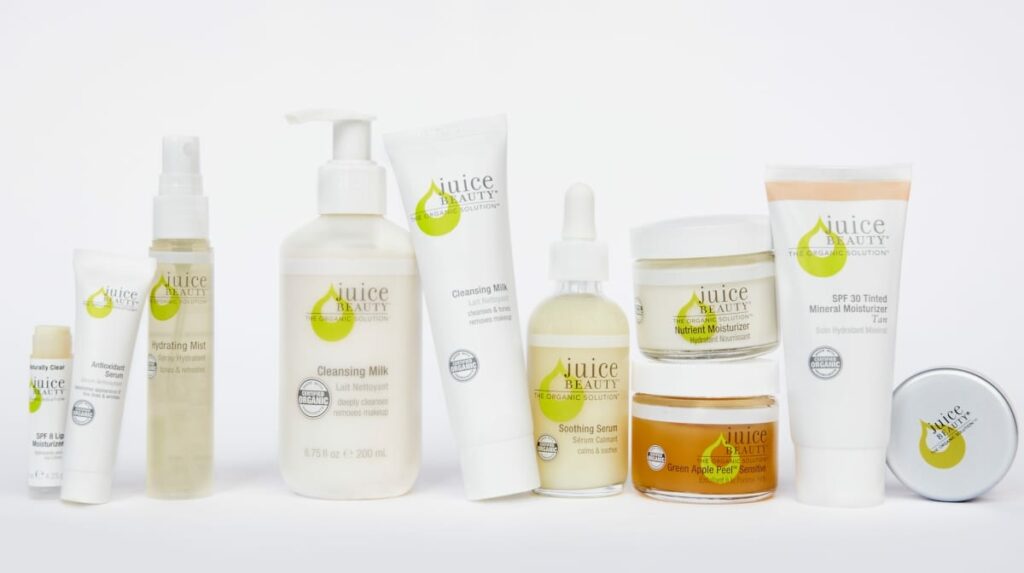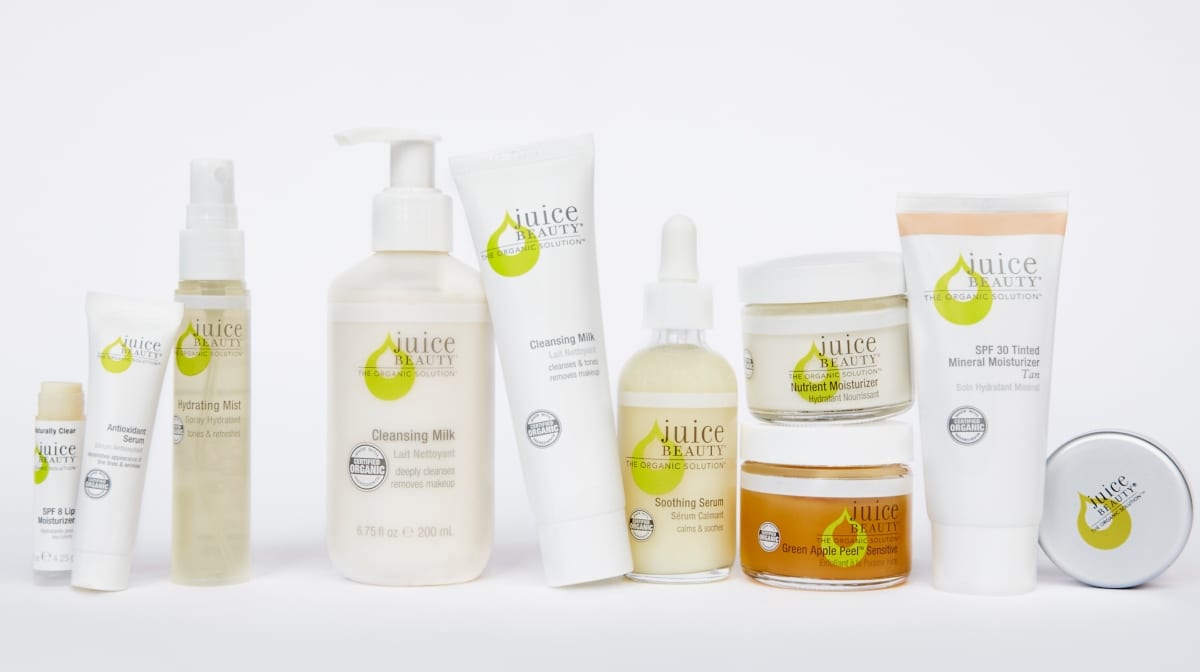 What is Juice Beauty?
Juice Beauty is an organic beauty brand launched in 2005 by California wellness entrepreneur Karen Behnke.
The company took a common complaint among aging consumers, that there are no healthy skincare products to combat the visible effects of aging, and offered a very uncommon solution: they bought a farm.
Yes, a farm(!), where they further incorporated natural farming and ingredients into their products.
Juice Beauty is known for its plant-based makeup products, as well as its ongoing collaborations with expert scientists to develop natural and effective skincare products. The brand boasts a unique "antioxidant and vitamin-rich organic botanical juice base" in its skincare products that they claim yields better results than conventional brands.
And if you're worried that they're all bark and no bite, they've got the clinical results to back it up. The brand's website includes an entire subsection titled Clinically Validated, in which they break down their trials' data and offer visual representations of the noticeable effects of various products.
RELATED: 11 Top Makeup Removers for Sensitive Skin
Average Pricing
In general, Juice Beauty's products average between $30 – $50.
However, their makeup products tend to be priced slightly lower, with the majority of their bestsellers costing anywhere between $15 – $40.
Since their skincare products are clinically-tested and organically-based, they do boast higher prices. The highest singular price looks to be around $110, for the Signal Peptides Firming Serum. However, the site does offer a variety of higher priced duos/packages, which offer several products in one purchase.
From my experience on Juice Beauty's website, it seemed to me that the brand offers decent discounts from time to time on its pricier products. So if you're hoping to get some products for a lower price, keep an eye out for sales.
Return Policy
Juice Beauty's return policy is fairly similar to that of most other cosmetic companies.
They have a 30-day money back guarantee for all orders placed in the United States, and a 14-day return window for international orders.
Products must be mostly full upon return and/or exchange.
You should note that shipping fees are non-refundable, and that you will have to pay for return shipping.
Top Products
Juice Beauty makes it super easy to explore their customers' favorite products. In addition to their individual skincare and makeup sections, they dedicate an entire section of their site to best-sellers.
Between this feature and the careful review of customer feedback, here's our list of the brand's top products.
Skincare
Makeup
Line:
Flawless Serum Foundation – Customers love the lightweight and creamy texture of this foundation. Plus, it comes in 13 gorgeous and adaptable shades!
PHYTO-PIGMENTS Luminous Lip Crayon – This lipstick is incredibly easy to apply and take on the go, it comes in eight stunning colors, and is super hydrating for your lips! Perfect for post-pandemic, safely unmasked adventures!
PHYTO-PIGMENTS Ultra-Natural Mascara – Unlike many natural mascaras, Juice Beauty's volumizing mascara will stay on your lids all day.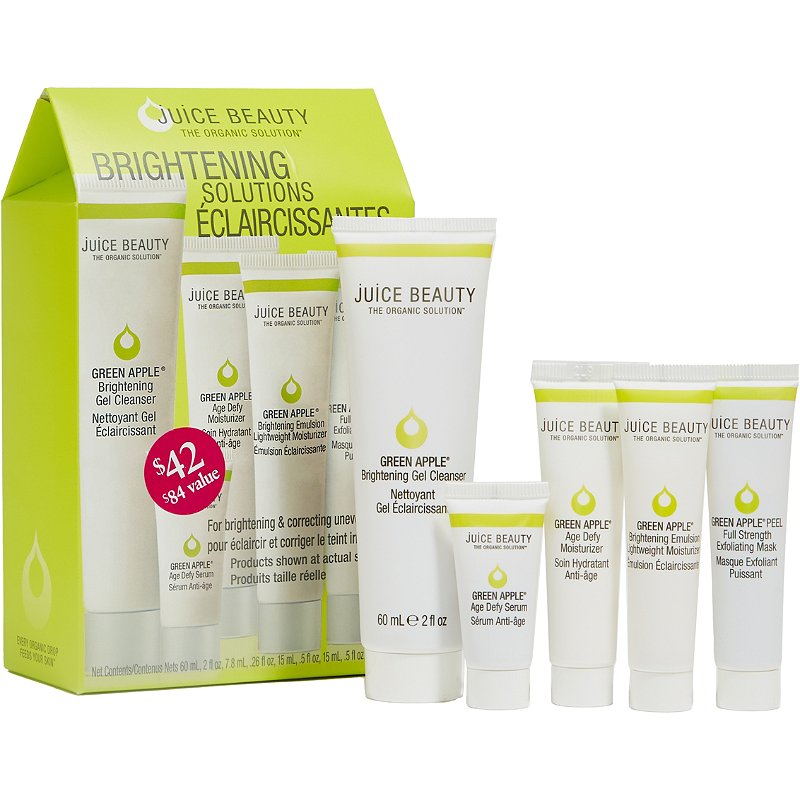 Other Juice Beauty Reviews
In general, Juice Beauty has received good reviews from customers. The reviews of its bestselling skincare products are brimming with praise; customers applaud everything from the acne-erasing properties of the Blemish Clearing Serum to the light everyday coverage of the CC Cream.
The brand's famous Green Apple Peel, available in full strength and sensitive, has been awarded and written up by various editorial magazines.
After browsing through a huge amount of Juice Beauty reviews, customers' main criticisms of the brand seem to break down into two general categories:
Dislike of certain products' strong scent
Lack of noticeable results
Many of Juice Beauty's products are plant-based and/or contain essential oils that give off a strong scent. Some people enjoy scented products, while others do not.
Therefore, I don't fault Juice Beauty for this complaint, as it is a necessary byproduct of their brand. I would just advise consumers who don't like strong smells to steer clear of the brand, or at least peek at the ingredients before buying.
As for the lack of results, it is unfortunate that some buyers did not experience the benefits they expected. However, they appear to be the minority among Juice Beauty customers, as most have raved about the seemingly-miraculous effects of the products on their skin.
One thing I especially liked about the Juice Beauty website in regards to reviews was that it not only listed each product's rating out of five stars, but also showed the number of reviews each product had received to create that rating. This tool shows potential customers what products are tried-and-true favorites, which can be especially helpful when trying out a brand for the first time.
Bottom Line
If you're looking to start taking better care of your skin by investing in clean cosmetics, there's no better place to start than Juice Beauty.
The brand was started with great intentions, and it continues to demonstrate its commitment to finding success through healthy methods by its ongoing work with scientists.
And if that's not enough for you, they're also an eco-friendly company, with an entire page dedicated to Eco-Values & Sustainability.
So while the price tag might be a little higher than your drugstore skincare products, it's not that much of a difference from the majority of products that populate the shelves of Sephora and Ulta. And it may just do wonders for your skin!