II Makiage is a fairly new makeup brand that has had a ton of buzz recently. Whether you saw one of their Instagram ads or heard great Il Makiage reviews from friends, one thing is for sure: you're interested.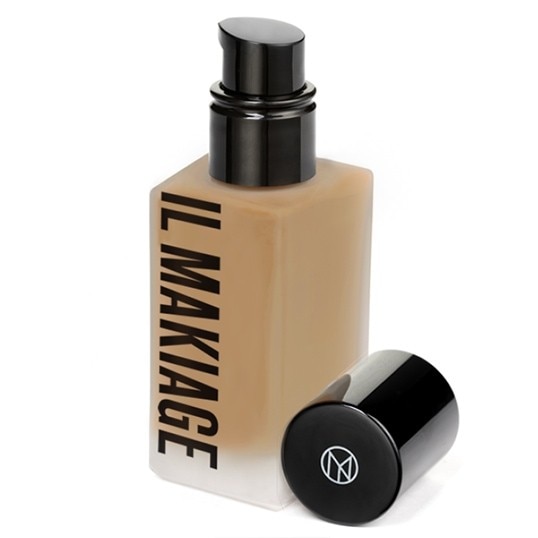 Woke Up Like This Foundation ($36)
I'll be honest, the ads with influencers applying the Il Makiage foundation captured my attention. I mean, their skin always looked incredible after they applied it. Paired with their "try before you buy" marketing, I had to try it out myself.
So, how good is this brand really? Today, I'm going to take an inside look into who they are, their policies, as well as my reviews of a few of their top products that I tried out.
What is II Makiage?
II Makiage is an online beauty brand that sells foundation, concealer, mascara, and most other makeup products. They were officially founded in 1972, but new ownership and a rebrand in 2018 brought them to the center of attention.
Based in New York, this company is all about creating the most divine and sultry pieces ever introduced to the makeup and beauty world.
While they have a variety of great products, their foundation is top-rated and is clearly their focus point. They're dedicated to making shopping for foundation easier.
They do their best to find you your perfect shade online, and according to Il Makiage reviews, they do a pretty good job!
RELATED: 12 Best Waterproof Foundations to Lock in Your Look
I been seeing @ilmakiage everywhere and I finally decided to try it… good god I am in love. how did y'all match me so perfectly?!

— MLQue ✨🏳️‍🌈 (@quingofthefro) April 5, 2021
Got my foundation from @ilmakiage & when I tell you SKIN BABYYYYY!!! 🙌🏽

— ✨ (@UrbnCastles) April 1, 2021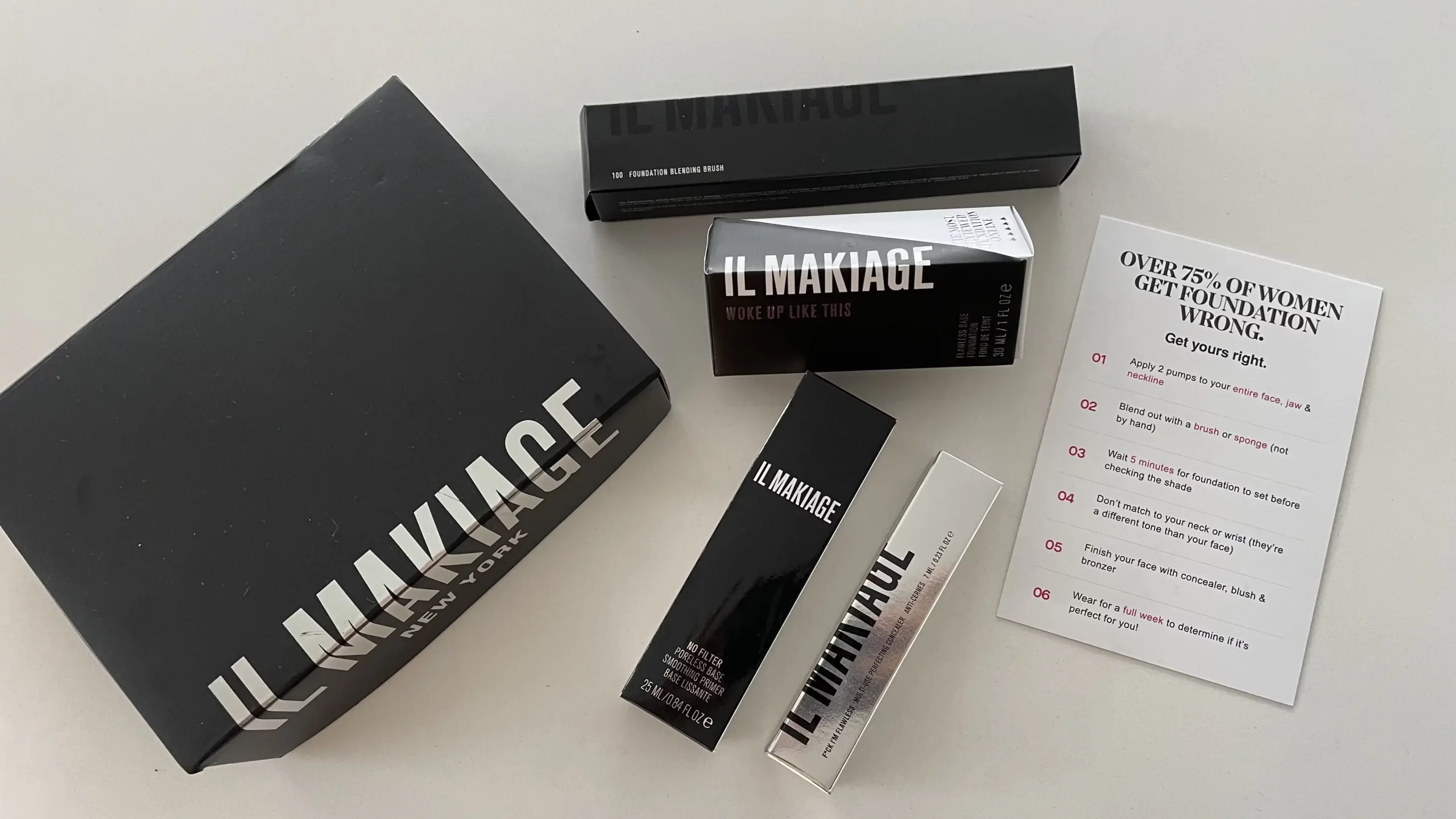 Il Makiage Foundation Reviews
Now, let's get to the good part.
I've tried a few products from Il Makiage: their top-rated foundation, concealer, primer, and mascara. Since their foundation is their main selling point, let's start there.
Price: $44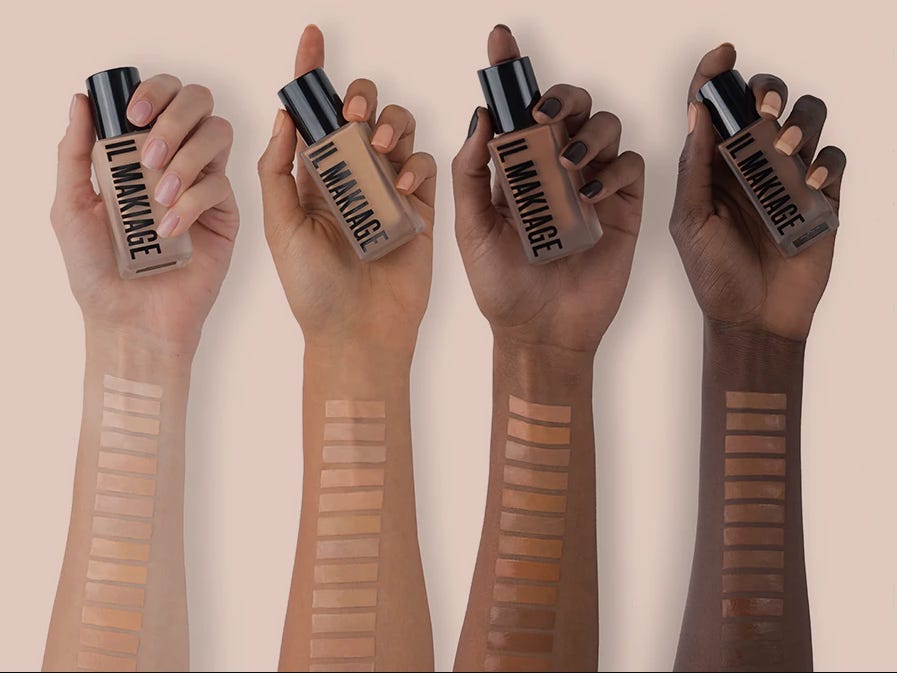 Available in 50 shades, this is a full-coverage foundation with a matte, streak-free finish. There are thousands and thousands of Il Makiage reviews on this foundation (it's one of their top-selling products and is typically the focus of their ad campaigns).
With all the hype and my struggles to find good foundations, this was of course the first product I added to my cart.
Overall Rating: 8/10⭐️⭐️⭐️⭐️⭐️⭐️⭐️⭐️
Overall, I like this foundation a lot more than I thought I would. I tend to gravitate towards light and medium coverage foundations with a dewy finish (or even BB creams) since my skin is on the dry side and I love a dewy finish.
This foundation is pretty much the opposite of that, but it pleasantly surprised me. I do have to make sure my skin is properly moisturized before applying and use a good primer, but this is a must for any matte foundation. Despite being full coverage, it feels very lightweight.
Even after wearing it the entire day, it doesn't feel dry (and doesn't look cakey) as long as I moisturize generously before application and use a good primer. I'll be reviewing the Il Makiage primer in more detail later, but I wasn't the biggest fan.
I'm not a big fan of the matte finish, but this is easy to change with a dewy setting spray.
While this definitely isn't an everyday foundation for me, I'm glad I finally found a full coverage foundation that actually works for my dry skin.
I will say that the instructions say to apply 2 pumps, but I found that my skin needed more than this in order to be full coverage.
My order also came with a free foundation brush worth $45, which was pretty awesome! It's definitely not the best foundation brush out there, but it was free.
Coverage Rating: 9/10 ⭐️⭐️⭐️⭐️⭐️⭐️⭐️⭐️⭐️
This was definitely full coverage as claimed.
Since I usually wear light or medium coverage foundation, it was shocking to see every imperfection on my face covered up. I didn't even need the concealer!
Shade Rating: 7/10 ⭐️⭐️⭐️⭐️⭐️⭐️⭐️⭐️⭐️
Like anyone would be, I was worried about buying foundations online and relying on them to pick my shade based on a quiz.
They seem to be pretty confident in their system since they offer a try-before-you-buy, but I was still worried.
The quiz asks basic questions like your skin type, what coverage you want, skin concerns, your undertone, and your current foundation brands/shades. They also show you a series of photos and ask which one is most similar to your skin shade.
Overall, there's a good amount of questions, but they're pretty easy to answer and the quiz goes quickly. Most of the questions have you select which skin tone is most similar to yours between multiple pictures.
In my case, my shade matched pretty well, but I did feel like it had a bit of an orange hint in certain lighting. The shade was extremely close, but not perfect. It's close enough that nobody would ever notice, but I'll probably try a different shade in the future just to try and find that perfect fit.
I have also had a couple of friends try them out and be disappointed their shade was wrong. This could happen because they blazed through the quiz, so make sure to really consider which photo is actually closest to your skin color (not what you hope your skin color is).
Wear Rating: 7/10 ⭐️⭐️⭐️⭐️⭐️⭐️⭐️⭐️⭐️
At around 12 hours of wear, I did notice it starting to fade and get a little patchy. But still, 12 hours of wear is pretty great! My skin is on the dry side, so this might be more of a problem for those with oily skin.
I also tested wearing the foundation with and without primer (my current favorite is the Touch in Sol Liquid Primer) and setting spray (Urban Decay All Nighter). Without these, it started to fade at around 8 or 10 hours.
Note: If you have oily skin, you might consider their After Party foundation instead. It's full coverage with a matte finish as well, but it's formulated differently to help control oil and shine without clogging pores. People with oily skin tend to like this foundation better.
Il Makiage Concealer Reviews
Overall Rating: 6/10
Il Makiage has four different concealers, but I decided to try their top seller. Although I don't even need concealer when using their Woke Up Like This foundation, I use a dewy foundation as my everyday product, so I usually wear concealer.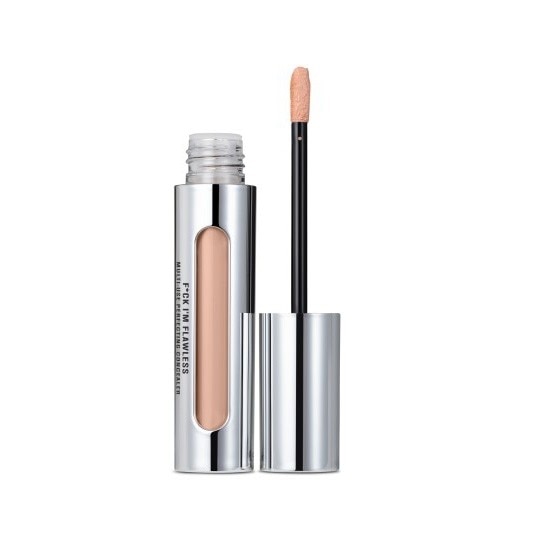 F*CK I'M FLAWLESS CONCEALER ($28)
Overall, I wasn't super pleased with the coverage of this concealer. Although the shade they chose matched me perfectly and it doesn't cake, it doesn't seem to cover much.
I feel like the purpose of a concealer is to offer as much coverage as possible, so I was disappointed with this product and wouldn't buy it again.
Il Makiage Primer Reviews
Overall Rating: 6/10
Another product I added to the order just to give it a shot was their primer. It worked well and helped the foundation last all day, but I don't feel like it was the best fit for my dry skin.
Personally, I need a moisturizing primer otherwise my skin will look dry and my foundation will most likely get cakey.
The primer I've been using is the Touch in Sol Liquid Primer, which is pretty much the consistency of water and I absolutely love it. It's super moisturizing and creates the perfect base for my skin.
I wouldn't say the No Filter primer from Il Makiage was bad, but it just wasn't my top pick and didn't compare to my typical primer.
The consistency is very similar to your typical primer (like Smashbox primer), so if you're a fan of these types of formulas, you'll probably like the Il Makiage primer.
On top of that, the Il Makiage primer is pretty spendy – I don't think I'd pay almost $50 for any primer since I have used plenty of amazing products that are more affordable.
Il Makiage Mascara Reviews
Overall Rating: 8/10
I actually received this in a subscription box, and I'm so glad I did! This is one of my favorite mascaras.
It doesn't clump or make your lashes look spidery, while also lengthening lashes amazingly.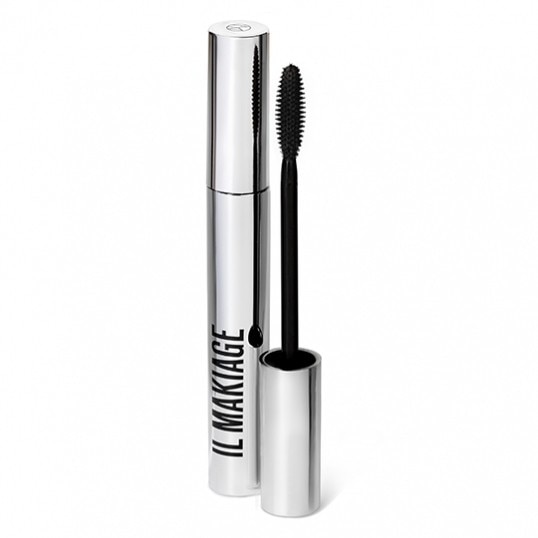 Icon High Volume & Intense Curl Mascara ($25)
Although I'm not overly excited to pay $25 for mascara, I will continue to do so because it's that good! I typically rotate between this one and the Too Faced Better Than Sex mascara.
I will say it doesn't do much in terms of volume, but I always use an eyelash curler since my eyelashes aren't very voluminous naturally.
Even though it could use some volumizing power, the length this mascara can add is out of this world.
Il Makiage Return Policy
Another of the most buzzed-about aspects of Il Makiage is their 100% money-back guarantee and their try-before-you-buy offer.
Their return policy states that you may return the unused portion of your product back to them, either in-store or online, within 60 days of the original purchase for a full refund.
Aside from their regular return policy, they also offer try-before-you-buy (you just pay for shipping). They send you the full-size products and won't charge you for 14 days.
If you return within 14 days, you won't get charged.
That said, I believe this only applies to select products. I did the try-before-you-buy with my foundation, concealer, and primer. They did put a "hold" on my account, which still technically charged me.
With that said, sale merchandise is final with no returns available. They also do not provide any price adjustments or changes on products you already purchased.
*Note: Please don't abuse their amazing return policy!
Shipping
II Makiage offers free shipping in the United States to all orders over $50. If your order is under $50, shipping costs $5.95.
Orders typically take 2-3 days to be processed, but once your order ships, you can expect it to arrive within 1-3 days (excluding weekends). In my case, this was exactly right! I received my order 4 days after ordering.
It is important to note that if you are sending your order to a special location (such as a P.O. box or APO), your order may take up to 14-21 business days. This also includes Hawaii and Alaska.
They also offer Canada shipping for $9.99 (or $7.95 for try before you buy) and international shipping for a $20 flat fee.
Bottom Line, Is Il Makiage Worth It?
To sum up my Il Makiage review, they've become one of my new favorite foundation brands! Although a couple of things I tried weren't a good fit for me, the others I've tried have been perfect.
Their products are a bit spendy, but I definitely think they are worth giving a shot since they have such a lenient return policy and even the try-before-you-buy offer.
Not everyone finds their perfect match, but some people (including myself) love many products from Il Makiage. The foundation shade was nearly spot-on for me!
Despite having tried some of their top-rated products, I've barely made a dent in their entire collection, so I'm excited to continue trying more.