Shapewear is a great wardrobe staple – not only does it help smooth out any lines and rolls, but it also helps define the figure and silhouette when wearing tighter pieces of clothing.
Shapewear isn't anything new, but it definitely has become more popular thanks to the Instagram baddie culture — namely, The Kardashians.
Speaking of, today we'll be talking about Kim Kardashian's brand Skims and how it compares to the popular shapewear-focused brand Honeylove. 
Which shapewear is supreme? Keep reading our Honeylove vs Skims review to find out.
Honeylove vs Skims: Overview
Before we get into the nitty-gritty, let's see some general points on what each brand has to offer.
Honeylove
Skims
– Offers shaping undergarments, bottoms, tops, bodysuits, leggings
– Has a smaller product selection than Skims
– More expensive than shapewear from Skims, but better quality
– Uses an innovative boning-like technology
– Shapewear is comfortable & doesn't roll down
– 30-day free returns policy
– Promotes inclusivity in their marketing & size/color options
– Offers shapewear as well as non-shapewear clothing products
– Offers a more extensive collection of products
– More budget-friendly, but shapewear quality is inferior
– Doesn't offer any type of special technology for their shapewear
– Shapewear often rolls down and doesn't shape as well
– 30-day returns policy
– Promotes inclusivity in their marketing & size/color options
What is Honeylove?
A fairly new company, Honeylove was founded in 2016 by Betsie Larken, a performer who took to wearing shapewear onstage to boost her confidence.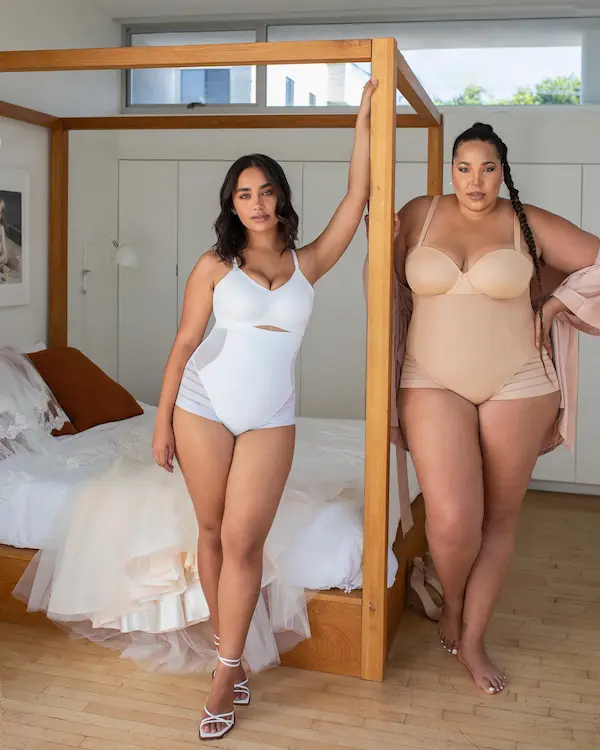 After trying out different brands and being unsatisfied with how the shapewear would move, fold, and do nothing to compliment her figure, Larken decided to pursue her own shapewear endeavors and wound up creating Honeylove.
Offering shapewear for every body size and type, Honeylove's goal is to provide comfortable garments with the best possible shaping powers.
What is Skims?
A shapewear brand founded by A-lister Kim Kardashian and Swedish entrepreneur Jens Grede, Skims was given life in 2019 as a highly-anticipated shapewear brand meant for all body sizes and types.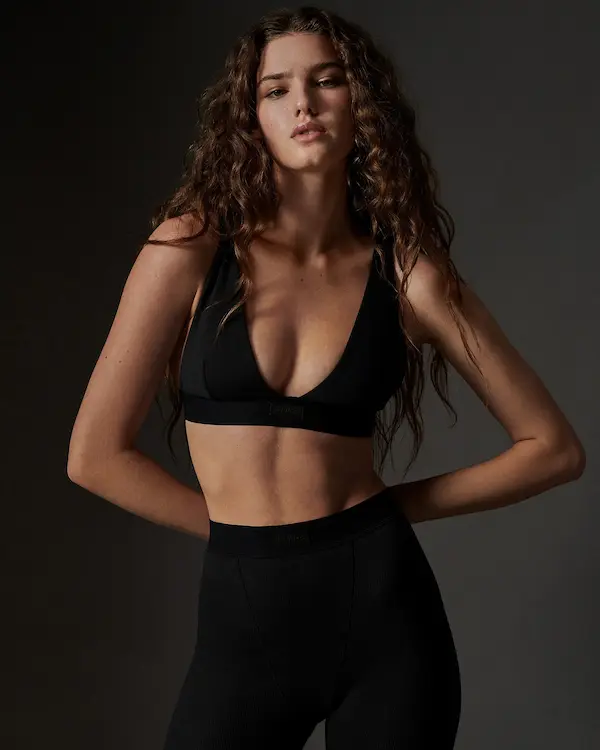 Kim Kardashian was inspired to create Skims not solely because of her interest in fashion, but also because of her experience in altering and designing clothing.
Skims is size-inclusive, affordable, and to no surprise endorsed by tons of other celebrities.
Now that we've established what both of these brands stand for and what they have to offer, let's dive in and compare Skims and Honeylove more in-depth!
Products
Honeylove has a smaller collection in comparison to Skims, but that isn't a bad thing.
Honeylove's small collection allows the company to have better quality control and makes shopping on its website easy to find exactly what you're looking for.
It's also worth noting that Honeylove solely focuses on shaping garments, whereas Skims has shapewear as well as all types of non-shapewear clothing items.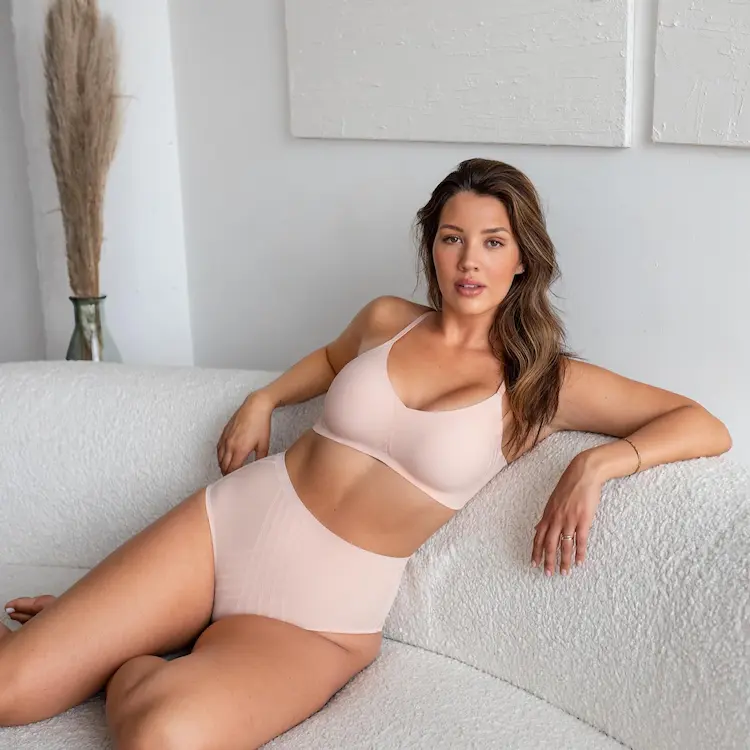 If you're looking for shapewear, Honeylove has it. You don't need to endlessly scroll and try to decide between 15 options that seem the same.
Not just limited to traditional shapewear, Honeylove offers bras, leggings, and tank tops all meant to be smoothing and comfortable.
What Honeylove is especially known for is its sculptwear bodysuits and briefs!
Skims
Since Skims launched in 2019. the brand has definitely grown and expanded into different clothing territories other than shapewear.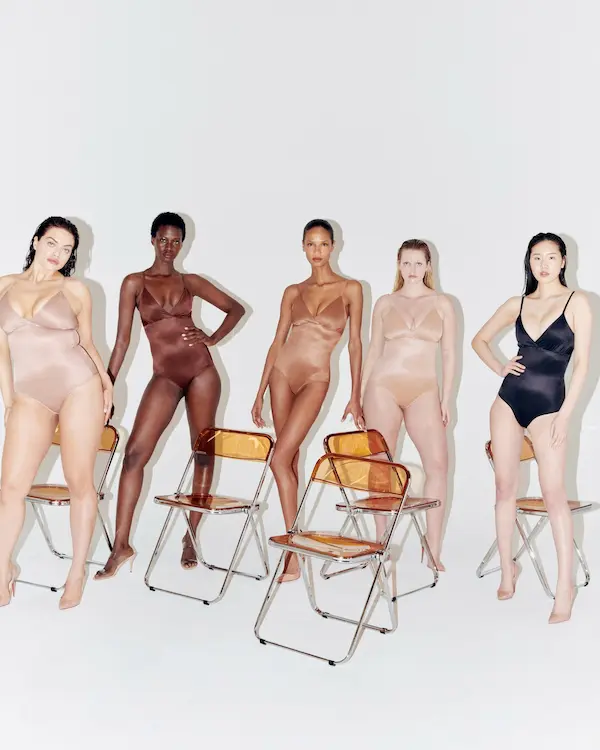 This isn't surprising considering Kim Kardashian and her sisters have all dabbled in the fashion and beauty world and are considered to be trendsetters.
With that being said, Skims not only offers shapewear like bodysuits, underwear, bras, and shorts, but also offers other non-shapewear apparel like hoodies, dresses, panties, and lots more — including a maternity section.
Shaping Power & Quality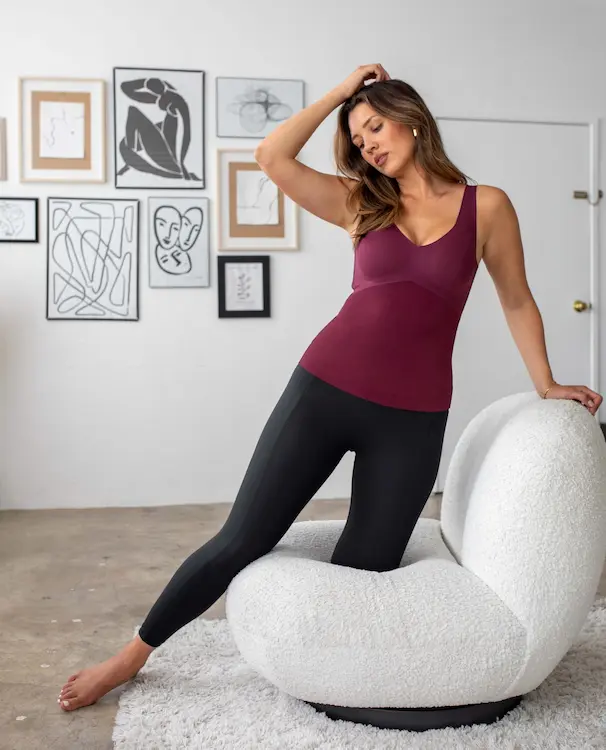 Honeylove differs from Skims not only because they are a shapewear-focused brand, but also due to the build of its shapewear.
Not only does Honeylove's shapewear compress in the places that need the most support like the tummy and upper thighs, but it's also designed to taper off in areas like the rib cage and hem of the legs so that you can actually breathe and be comfortable.
The key feature that sets Honeylove apart from Skims is that Honeylove uses a boning-like feature called SoftFlex, which helps support the garment. They state that no other modern shapewear uses technology like theirs.
SoftFlex's structures are hidden in the seams of the waist and promote good posture and support without putting any restraint on the body.
Plus, SoftFlex doesn't use any uncomfortable rubber grips, meaning you don't need to worry about redness, chafing, or having to readjust the garment.
Best of all, their SoftFlex technology ensures the shapewear doesn't roll down and also doesn't suck the life out of you.
When it comes to quality and shaping, Honeylove definitely takes the crown.
Skims
Skims creates its shapewear using a nylon-spandex hybrid, allowing a breathable, extra stretchy product. Kim Kardashian wanted to create shapewear that could stretch twice its size and still keep its shape.
This material clings to the body and enhances your curves, all while shaping and sculpting the body to showcase and support your natural silhouette.
But unfortunately, one common point of criticism Skims has generally received among customers is that the shapewear tends to roll down if you don't have a very defined waist.
This can become an inconvenience due to having to readjust all the time.
It also doesn't shape as well as Honeylove does, so we would highly recommend investing in Honeylove shapewear for the best results.
Pricing
Honeylove products range from $30 to $139. They're a bit on the pricier side of the scale, but they are well worth the investment if you want long-lasting shapewear that is great quality and actually works (without rolling down).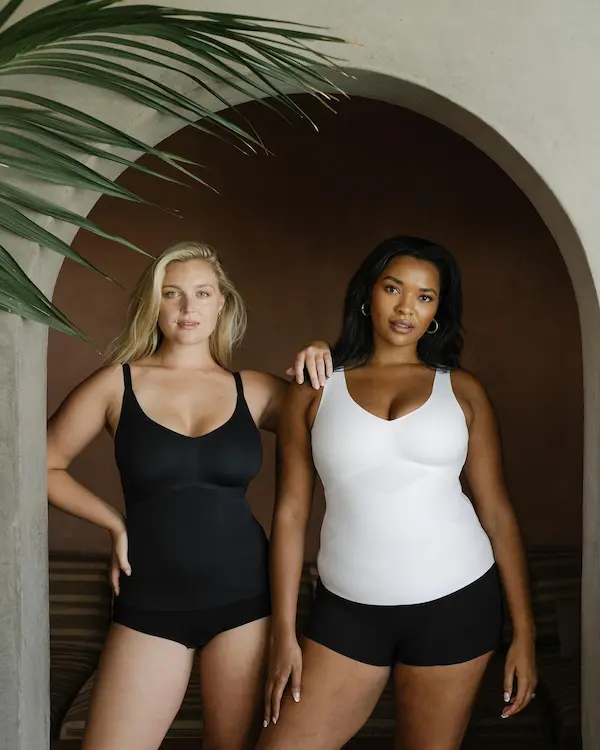 Honeylove's SoftFlex design is one-of-a-kind among modern shapewear brands, and those who use Honeylove (including us) praise how the shapewear stays in place and does an amazing job at shaping the body while still being comfortable.
One of Honeylove's best-selling products is the Cami Bodysuit, which comes in 5 colors and is priced at $99.
Skims
Skims is a little more affordable than Honeylove. Skims shapewear ranges from $30 – $70 depending on the product.
That being said, the quality isn't as good as Honeylove's. Honeylove uses an innovative technology that really works.
With Skims, you're more likely to get shapewear that rolls down, isn't comfortable, or doesn't shape your body to the level you want. You will absolutely notice the difference by investing in Honeylove shapewear.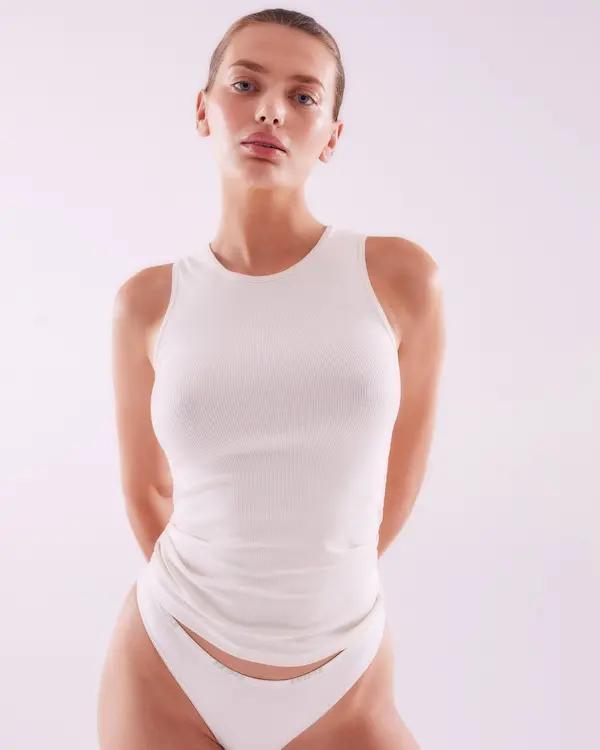 That being said, Skims can be great to shop at if you're looking for products aside from shapewear. We especially love their Fits Everybody thong and other non-shapewear underwear.
In fact, if you look at Skims best-sellers, you'll notice most of these products are underwear and bralettes. This seems to be their specialty, so we would recommend shopping at Skims for these items rather than shapewear.
Inclusivity
Honeylove prides itself on being an inclusive brand and has sizes ranging from XS to 4X in 5 shades to help match different skin tones.
Plus, a quick peek at their Instagram or product pages shows that the brand features all types of body sizes and races in their marketing.
Note: To get the most accurate fit, we highly recommend filling out their size quiz and closely following their sizing charts.
Skims
From the jump, Skims advertised itself to be an inclusive and diverse brand for all. When compared to Honeylove, Skims has a slight larger size range as they offer sizes XXS to 5X.
It's also worth noting that Skims products typically come in 9 shades that aim to match all different skin tones, plus Skims also has a maternity line.
Although Honeylove does offer a few different colors for various skin tones, it isn't as vast as Skims.
Although Skims does offer slightly more inclusive sizing, we will say their marketing materials (like their Instagram and product pages) aren't as size-inclusive. They do post a variety of races, but they focus on skinnier models and bodies that look like, well, the Kardashians.
Honeylove posts every body type out there, which is a nice breath of fresh air.
The Final Verdict
WINNER: HONEYLOVE
Now that we've compared Skims and Honeylove in-depth, the final verdict is in and Honeylove is the winner.
Don't get me wrong, Skims can be a great brand for non-shapewear items, but Honeylove's SoftFlex design can't be beaten.
Honeylove shapewear truly doesn't roll down and makes your body look amazing, whereas Skims shapewear rolls down pretty easily and doesn't always shape that well.
Skims still has some great non-shapewear clothing and undergarments, but we *highly* recommend saving a bit of extra money for a Honeylove piece when you're looking for shapewear. Trust us, it's worth it.