Men's grooming has evolved dramatically over the years, and many have started taking skincare and grooming even more seriously.
Whether you prefer a clean shave, a full-fledged beard, or a little stubble, razors are an essential part of most daily grooming routines. With so many options and upcoming brands, it seems like we're always on the hunt to find the perfect razor.
So let's take a closer look at Harry's, a popular company that is challenging the highly-priced products of established brands with its cheaper alternatives. Our Harry's razors review shares a deep dive into the brand, including how it compares to similar brands and if it's worth giving a try.
What Are Harry's Razors?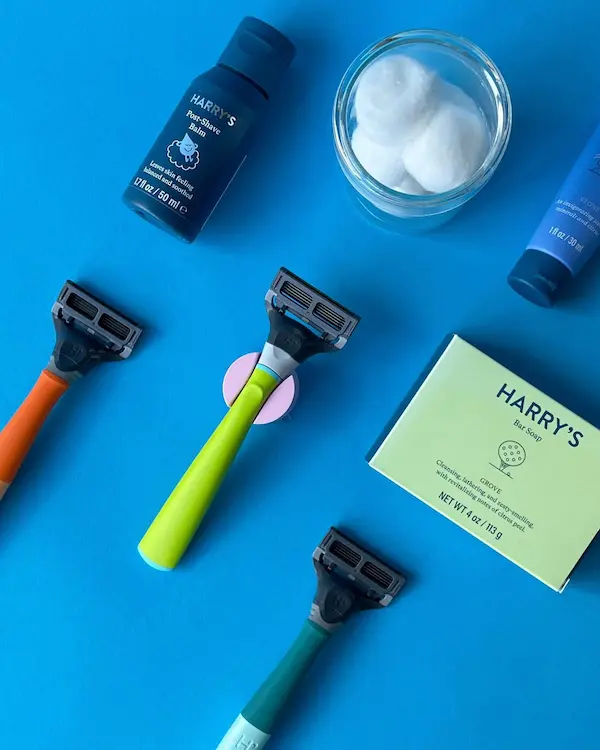 Harry's is a company that manufactures and sells men's care products. The brand started with razors but has expanded to a variety of grooming products, including hair gels and night lotions.
The founders, Jeff and Andy, sought an alternative to the exorbitantly priced options that were on the market. Instead, they wanted a functional product at a fair price – it turned out that other consumers wanted the same thing.
One reason they can offer better pricing is because they own their factory in Germany, allowing them to be in complete control of the process.
Harrys' is also a strong advocate for those with mental health issues, aiming to provide 1.5 million men with mental health care by 2024. They set aside 1% of their sales each year to support their mission.
Harry's Razors Overview
While they have a wide variety of products, we're going to be focusing on their star product: the razors.
With precision engineering and ergonomic handles, Harry's razors are effective shaving tools. Their American designs, German engineering, carefully sourced materials, and lower prices claim to set them apart from their competitors.
They offer shaving sets as well as single razors and blades, plus a subscription model that delivers replacement blades (and other grooming supplies you may need) to your doorstep whenever you need it.
Harry's razors are also available at some retail stores, including Walmart and Target.
Harry's Razors Reviews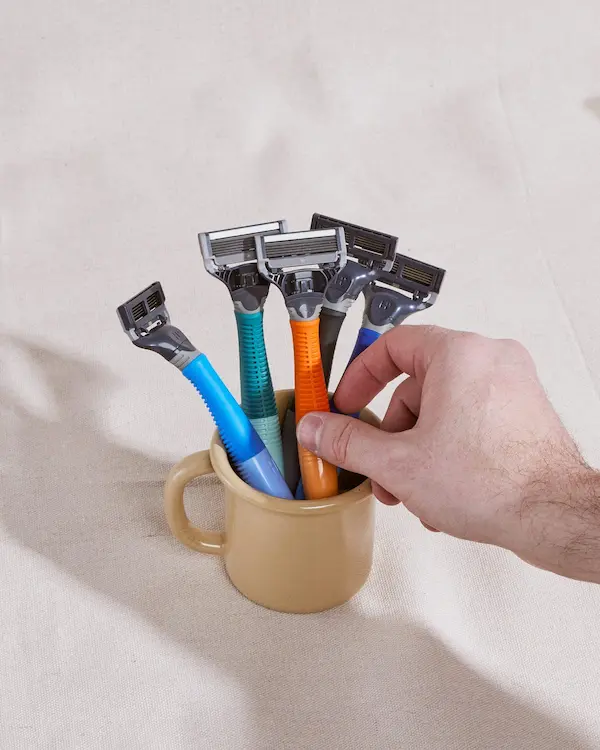 With so many razors on the market, how do Harry's razors compare? We put their razor to the test (well, my boyfriend put it to the test).
Based on my boyfriend's feedback as well as researching through other customer feedback, it seems that whether or not you like their razors will depend on your hair thickness and what type of shaving you do.
My boyfriend is bald and has a beard, both of which he shaves daily. His hair is pretty thick in both of these areas, so Harry's razor wasn't the best option. He said that it tugged at his hair on the first shave and the razor got dull quickly.
Although it's not the most terrible razor he has tried (it didn't leave razor burn or give him any nicks), he said there are better options out there. He thinks their razors would be better for shaving thinner hair.
As an alternative, he recommends the Gilette Mach3 Razor instead or just a regular old safety razor (which will also be much cheaper than all of these refillable razor brands).
He used to swear by Dollar Shave Club (I loved them too), but they recently changed their blades and they don't work as well.
That said, Harry's has a decent return policy and the products are pretty cheap anyways, so it doesn't hurt to give them a shot. Sometimes you just need to try it yourself to make sure.
Overall: ★★★ 3 stars
Although Harry's has a 4.3 rating on Amazon and a 4.6 on Trustpilot, there are still a good amount of negative experiences on the web. 
My boyfriend tried it and he doesn't like them as much as alternative options, plus many other Harry's razor reviews say the same thing. They're definitely a better option than your typical cheap razor from the grocery store, but there are better options out there. Overall, people seem to think Harry's is a mediocre option in the world of razors.
Price: ★★★★ 4 stars
One thing Harry's is known for is their affordable pricing. You can expect to pay $9–$20 for the initial razor handle ($9 for The Truman or $20 for The Winston), then $1.94 to $2.50 for replacement blades. You can also save 9% on replacement blades with auto-refills.
That being said, Harry's razors are still more expensive than buying a regular safety razor and replacement blades.
Shipping & Returns: ★★★ 4 stars
The company offers quick and reliable shipping, with free economy shipping over $25 and free 2–4 day shipping on orders larger than $50.
Their return policy is great as well, with a 30-day free returns policy and a helpful customer service team that Harry's razor reviews rave about.
Quality: ★★★ 3.5 stars
Harry's seems like they work hard to create quality products that work well, but unfortunately, customers aren't always happy with how their razors perform.
Harry's Razors Review: What Customers Are Saying
Customer feedback for Harry's razors seems to be all over the place. Some say that they weren't the best option out there, but others like them for regular shaving. 
We experienced Harry's razors tugging and getting dull quicker than other razors we have tried
Many customers claim that the razors have a nice handle and provide a smooth shave. 
Some customers state the razors do not pull or snag like many big-name brands, but my boyfriend experienced snagging, so it might depend on your hair type. 
Some say their razors stay sharp for multiple shaves, other customers say they get dull quickly.
Some customers found the razors just average quality, and they felt the only advantage was the cheaper pricing.
Many shoppers believe there are better options on the market or recommend using a safety razor instead.
Great return policy in case you don't end up liking your order
The Truman handle feels cheap, The Winston handle is worth the upgrade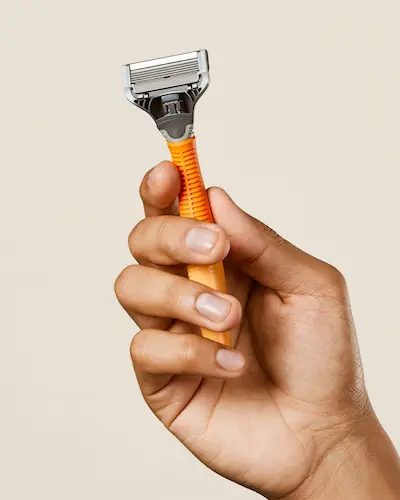 Harry's offers two razor handles: The Truman ($9) and The Winston ($20).
The Truman features a two-tone handle with a no-slip grip to ensure the user has excellent control. It's available in four aesthetically-pleasing color options, from statement orange to a classic grey that will look good in with any modern shower.
My boyfriend chose this razor handle and liked it overall, but he did feel like the plastic handle felt a bit cheap. It's likely that the Winston handle feels a little heavier and higher quality.
---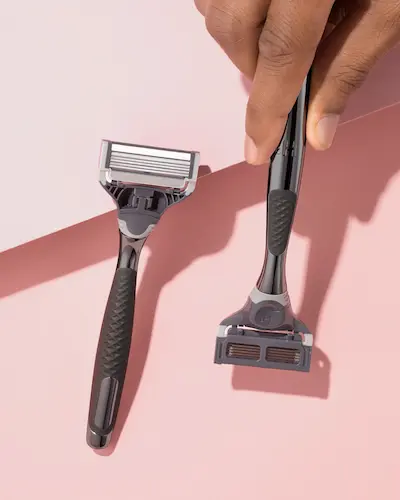 The Winston razor is very similar to The Truman, but the handle is heavier because it's made from die-cast zinc. It's available in a navy or sleek dark grey grip color, both of which look luxurious (we prefer the grey color).
Although a bit more expensive at $20, this handle might be worth the money if the feel of the razor is important to you. The Truman is definitely very lightweight and feels a bit cheap.
To add to the appeal, you can get up to 3 letters engraved on the razor for a customized experience for an extra $15.
---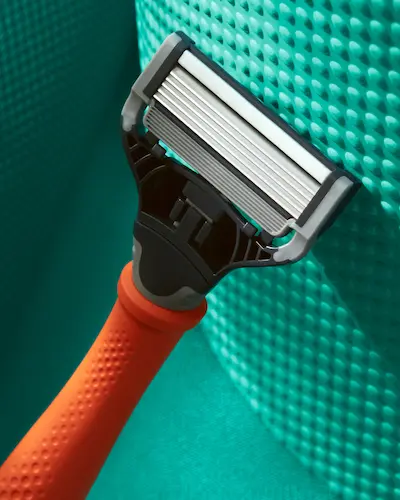 Aside from the handle, let's dive into the feedback surrounding the blades themselves.
Harry's Blades are engineered in their German factory and are made from high-quality Swedish steel, which is supposed to make them very sharp. The blades are designed to cover all the contours of your face and provide a comfortable shaving experience.
The blades are available in various pack sizes of 4, 8, and 16 blades, and you can opt for an auto-refill.
Unfortunately, some customers aren't a fan of Harry's blades. My boyfriend said they gave him a good shave, but they did tug at his hair during it and the blade got dull quicker than other brands he uses.
Where To Buy Harry's Razors
Harry's razors are available in retail stores like Target and Walmart. They are also available at online markets like Amazon. And of course, you can buy their products from their official website as well.
Return Policy
Harry's razor has a transparent 30-day return policy. You can return their products if you are not satisfied with them and get a full refund.
Final Thoughts
Overall, we'd say Harry's is definitely a step up from your typical cheap grocery store razor, but it's not the best option on the market. Some people do like their razors, but many others have poor experiences and don't think they're worth it.
We'd recommend trying the Gilette Mach3 or just trying out a typical safety razor. Harry's is affordable, but safety razors are a much better bang for your buck in the long run and will give you a super close shave.
That said, Harry's can definitely be convenient option since you can purchase subscription-based razor refills. They have a great customer service team and an excellent return policy, so they might be worth giving a shot if you're on the fence.
Harry's Razors Alternatives
Here are more of Harry's top competitors if you want to try different options:
FAQs
Who Owns Harry's Razors?
Andy Katz-Mayfield and Jeff Raider founded Harry's Razors, but sold to Edgewell for $1.37 billion in 2021.
Is Harry's A Good Razor Brand?
Harry's razor is a decent brand and is definitely affordable, but some shoppers think there are better options out there. Some people have good experiences with the brand, so it seems to depend on your needs and preferences.