Harry's has gained immense popularity in a short time, designing products for men that rival the offerings of big brand names. Two friends established the company when they discovered that the prices for many men's grooming products were greater than they wanted to pay.
The company offers a range of men's grooming products at reasonable prices, including shower gels, razor blades, and more. But cheaper prices isn't always a good thing – we'll be sharing our review of Harry's body washes that will help you decide if they're worth giving a shot.
Quick Overview: We love Harry's body washes (and so do most other reviews we found). They're made without sulfates, offer a great lather, don't dry out the skin, and have a variety of enticing scents to choose from. Some prefer different scents over the others, so we love their sampler kit that offers four of their scents (plus a face wash). The only downside is that Harry's doesn't have an unscented body wash.
What is Harry's?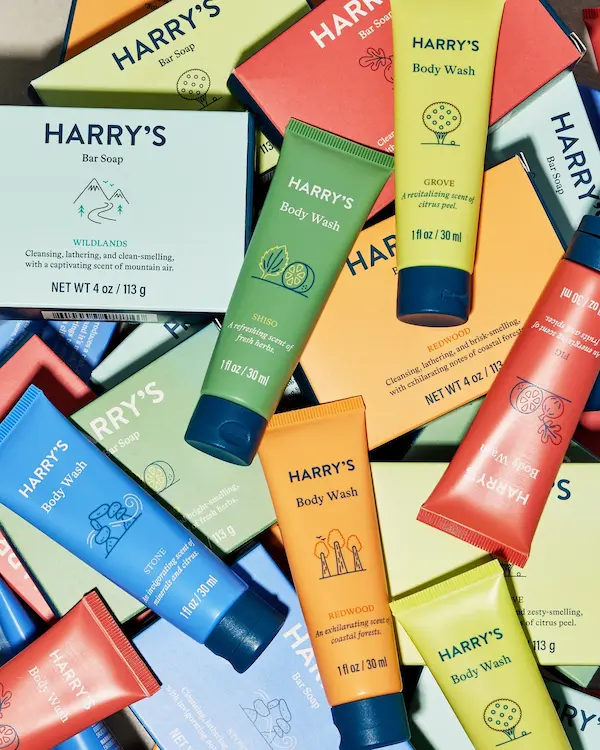 Harry's was developed to provide an alternative to overpriced and over-designed razors, but has since expanded to a large line of personal care products as well.
Andy and Jeff, the founders, realized they were not the only ones dissatisfied with razors on the market and wanted to make a change. They offered a solution by creating simple, functional, and easy-to-use grooming supplies at a lower cost without compromising quality.
One reason Harry's is able to offer low prices on high-quality products is because they own their factory in Germany. This cuts out the middleman and allows them to be in control of the entire process.
The brand is also a big advocate of mental health, and a part of its earnings go to the noble cause of providing mental health care to men.
Harry's has earned its customers' respect and love due to its high-quality products, low prices, and an overall passion for what they do.
Harry's Body Wash: A Quick Overview
While Harry's offers a wide array of shaving and personal care products, today we're focusing on a review of their body washes. 
Harry's body washes will not only refresh your skin, but will also awaken your senses. Many body washes fade quickly or get subdued by the strong smells of cologne and deodorants, but Harry's seems to do a better job than most.
While most men's grooming products are heavy on musky scents, Harry's body washes have a light and earthy scent that offers a refreshing change from the other products available in the market.
Moreover, the price for such luxurious products is much lower than you would expect. The high-quality products at such low prices are giving many high-end companies a run for their money.
Harry's Body Wash Reviews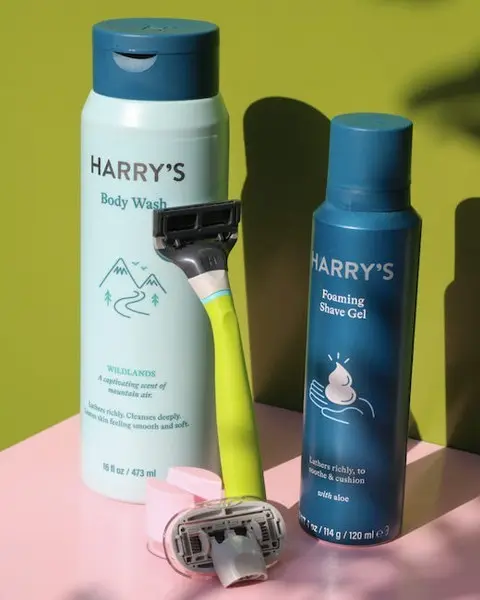 Harry's line of body washes have grown to be one of their most popular products – let's take a peek at the ratings to decide if their body washes are worth the hype.
Overall: ★★★★★ 4.5 stars
The brand's increasing popularity is proof enough of its legitimacy. Harry's body wash has a 4.9 rating on influencer.com, 4.7 on Walmart, and 4.6 on Amazon.
Customers love their wide variety of scent options, plus the scents have a long-lasting effect. People also rave about the fact that their body washes (and other products) manage to be quality without using sulfates or harsh chemicals. They also lather great and moisturize the skin.
One thing we noticed was every customer seemed to have different body wash scent preferences, so we'd highly recommend trying a few options. This $19 sampler pack is a great way to try four smaller sixes of the body wash scents rather than buying a full-size of a scent you might not like.
Price: ★★★★★ 5 stars
Harry's has competitive pricing, which makes sense because they were established to challenge renowned companies that charge very high prices. For their body wash, you can expect to spend $7.49 on a 16oz bottle (or you can opt for this $19 sampler pack to try different scents).
Plus, they offer free shipping over $25. Harry's also offers a Core Membership that costs $15 per year, but grants you 10% off every order, which is great for regular shoppers. If you spend over $150 each year, their membership is worth it.
Shipping: ★★★★ 4 stars
The company offers free economy shipping on orders larger than $25 and free 2–4 day express shipping on orders larger than $50.
Quality: ★★★★ 4.5 stars
Harry's body wash is excellent quality for the price point; they deliver a luxurious feel at an affordable price.
It has a smooth consistency, thick lather, and wonderful scents that make showers extra enjoyable. Plus, they don't use sulfates or harsh chemicals that could irritate the skin (and they don't use animal testing).
Customer Service: ★★★★★ 5 stars
The company provides amazing customer service, with an easy return policy within 30 days and an overall desire for every customer to have a good experience with their brand.
What Customers Are Saying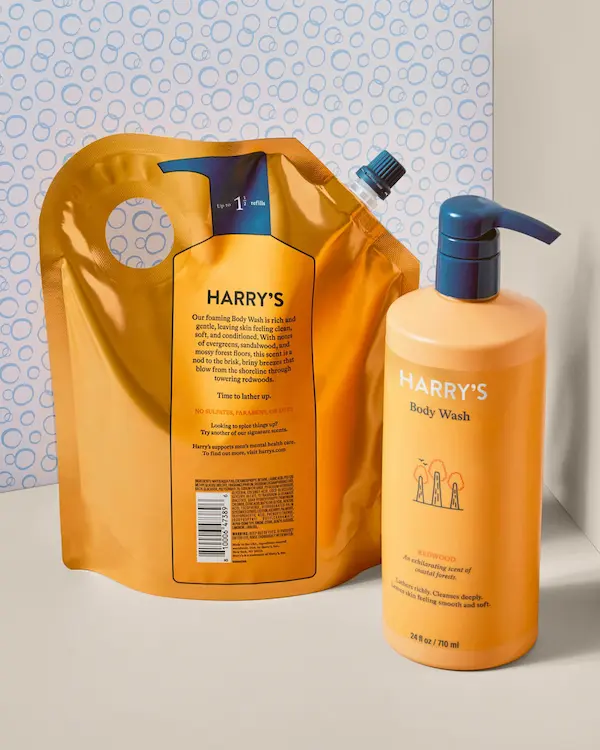 It's not just us – customers love the thick lather and amazing scents. Some prefer the stone-scented body wash, while others are impressed by the fig body wash.
Scent preferences vary drastically, so we'd recommend trying a few options to see which you like best. We love this $19 sample pack that includes four of their top scents, plus a face wash to try too.
Brand is targeted towards men, but some women say they use their body washes and love the scents
Leave the skin feeling hydrated and soft
Affordable pricing
Free of sulfates and harsh chemicals
Don't dry out your skin
No unscented options for those who are sensitive to fragrance
While the products are designed for men, some female customers have also tried and loved the products, stating they have a great smell that is not too masculine.
Some customers have claimed that the body washes are the best and have also switched to Harry's for their other grooming needs. However, some customers found the scents very pungent and strong.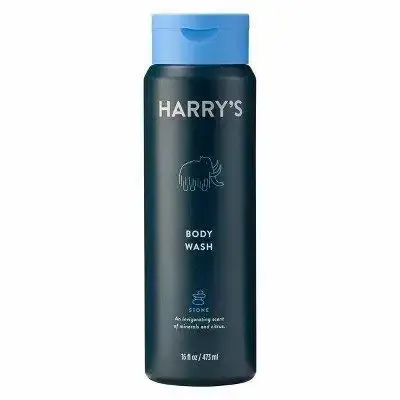 The stone body wash offers a cooling, refreshing, and rejuvenating experience. This scent features a citrus aroma and includes notes of bergamot, Japanese Yuzu, and dry charcoal. It is also available in a bar form if you're not a fan of liquid body washes.
The body wash foams up nicely, leaves you with smooth skin, and does not affect the skin's natural oil balance. The stone smell is refreshing and lasts for a couple of hours.
---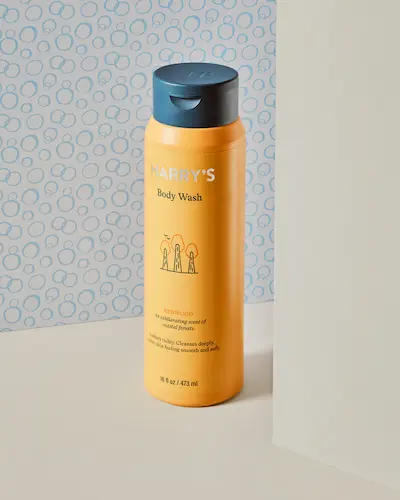 Harry's Redwood body wash has an exhilarating coastal forest scent that is sharp and woodsy.
It contains ingredients like sandalwood, sea salt, and evergreen and is free of sulfate, paraben, and dyes. The body wash gives a refreshing experience, leaving the skin smooth and conditioned.
---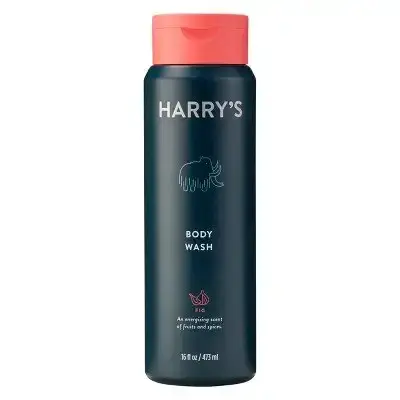 Finally, the Fig body wash is another top-selling scent. It has a rich and warm scent of spices and fruits with cardamom, fig, and blood orange undertones.
The exquisite aroma is complemented with gentle ingredients that are soft on the skin and leave it smooth and silky.
---
Return Policy
Harry's has a 30-day return policy, with a quality guarantee that ensures you can return them for a full refund.
In Conclusion
Harry's is a great brand for affordable, yet quality body washes. Although they're popular for their razors, you shouldn't sleep on the body washes (and their other personal care products since they have plenty of options).
It's clear they formulated their body washes with care, ensuring not to use harsh chemicals or sulfates while also making sure they provided the skin with much-needed moisture (plus, no animal testing). They also have an excellent lather, plus customers love the scent varieties and the long-lasting effects of the scents.
The only downside is that they don't offer unscented body wash options for people who are sensitive to fragrances. Aside from this, shoppers love the body washes.
With free shipping on orders over $25 and a great return policy (not to mention great customer service overall), you can't go wrong with this brand.
The products are free of harmful chemicals that might irritate the skin, and the company's strict policies prohibit any product testing on animals. All the ingredients used are listed on their website, so everyone is free to scrutinize them before buying.
Harry's Body Wash Alternatives
If you're not convinced that Harry's body wash is the right pick for you, check out these other leading brands that specialize in men's grooming supplies:
Harry's FAQs
Is Harry's Body Wash Good?
Harry's is garnering a lot of praise for its body washes, plus the rest of their grooming products as well. The body washes have great reviews – they are refreshing, with perfectly formulated long-lasting scents that customers love.
Where to Buy Harry's Body Wash?
Harry's products are available in retail stores and online marketplaces. Their official website will likely have the best offers since you'd be buying directly from them.
What is Harry's Best Body Wash Scent?
We can't say one scent is best since everyone has such different preferences. Some people love Stone, while others love Redwood or another options. Because of this, we'd highly recommend trying out this sampler pack that costs $19, including four body wash scents and one face wash.