Although Justin & Hailey Bieber's wedding in South Carolina back on September 30 of 2019 was small and intimate, we know it had to be just as iconic as the mesmerizing engagement ring he gave his bride-to-be. 
If you were wondering what features Hailey Bieber's engagement ring has or just wanted to see some close-up pics, we've got you covered. We'll also dive into their wedding rings, plus all the specs you'd need to get a similar engagement ring.
Hailey Bieber's Engagement Ring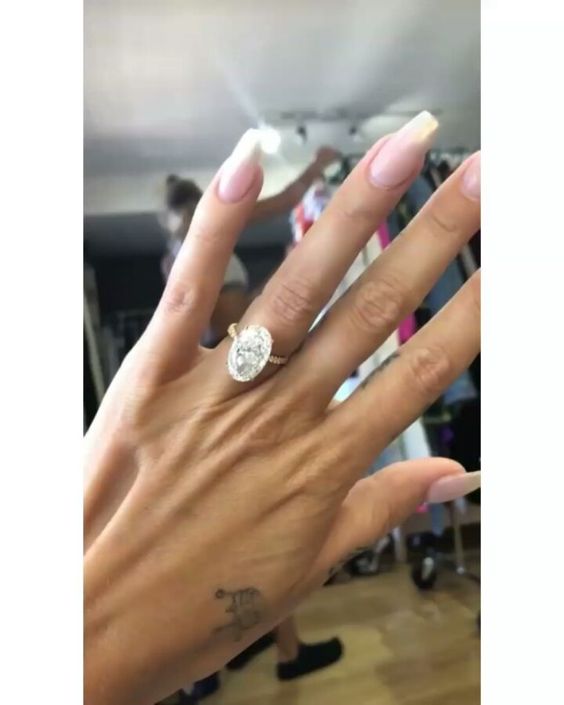 Justin Bieber gave his bride-to-be an impressive oval engagement ring that's estimated to be somewhere between 6–10 carats and worth around half a million dollars. This gorgeous ring was designed by Solow & Co. 
The massive diamond is set in a solitaire yellow-gold band that seems to be 18k gold. The diamond is an estimated VS1 clarity (meaning the diamond has almost no color).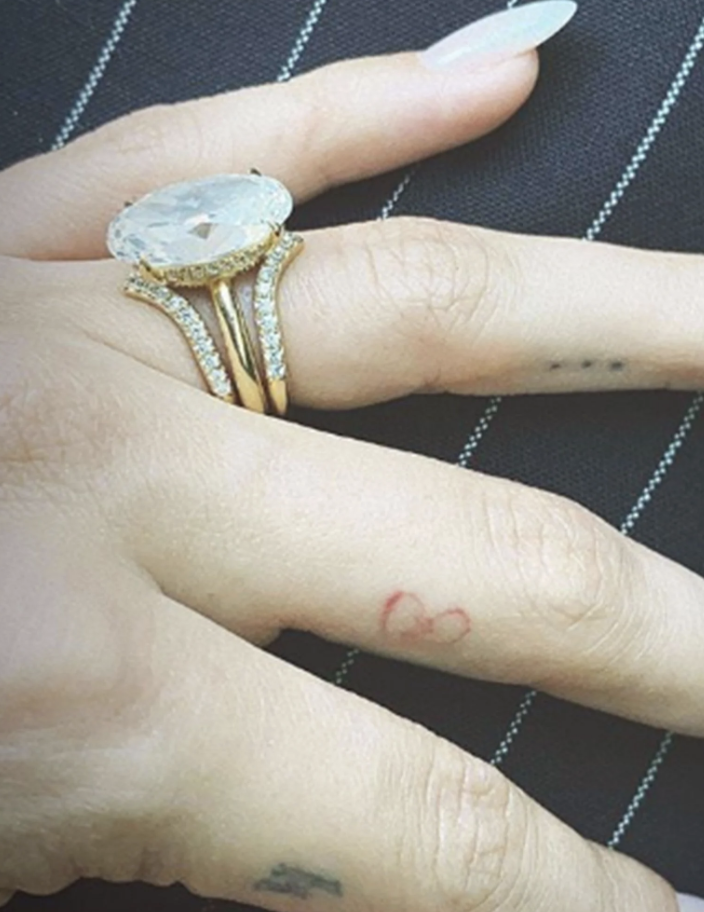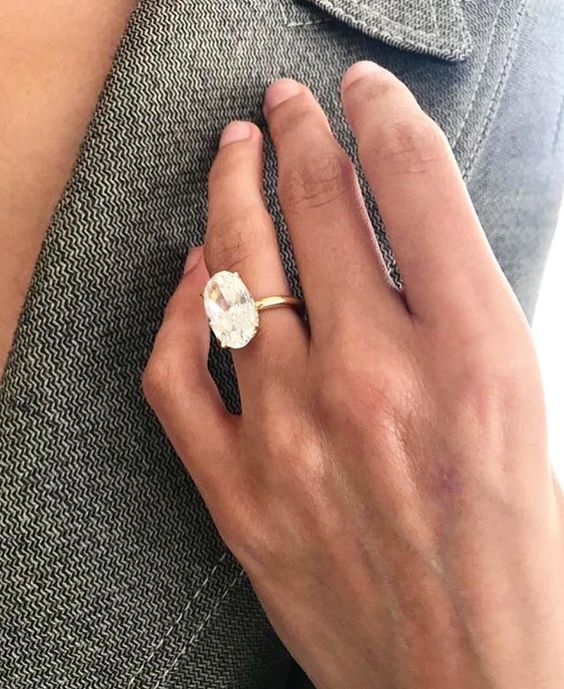 Why oval? Oval is a trendy engagement ring shape that elongates and flatters the finger, plus they tend to be more affordable (clearly not in this case, but overall). They're not going out of style anytime soon.
It's well-known that Hailey wanted a similar design to Blake Lively's famous oval engagement ring – she even tweeted a decade ago that if her engagement ring wasn't as big as Blake Lively's, she wouldn't get married.
Justin got the message. 
Hailey & Justin's Wedding Rings
At their wedding reception, the bride and groom sealed the deal with a gorgeous set of Tiffany & Co rings. You can see Hailey's full set of engagement and wedding rings in the close-up photo earlier.
Hailey went with two wedding bands to stack next to her engagement ring: the Tiffany Soleste 18-karat gold diamond band and the Tiffany Soleste V-Ring featuring 18-karat gold and diamonds. In total, her two rings are worth $5,275.
Justin went with a simple Tiffany Classic 18-karat gold wedding band (valued at $950).
How to Get the Look
We shared the Tiffany & Co. rings above, but the engagemnt ring is a different story.
You can't buy a replica of Hailey Bieber's engagement ring as it's custom-made (not to mention it probably cost more than half a million dollars), but you can definitely find some oval ring designs similar to her gorgeous ring. 
And if you (or your bae) can't afford to spend that much money on an engagement ring, there are options.  
Below we've shared some similar styles that we're loving. Also, these are the most notable features of Hailey's ring in case you want to get a very close ring to her design.
18k yellow gold band (we're guessing 18k because her band looks extra shiny, but 14k works too)
Oval cut diamond with VS1 clarity, or similar clarity that is nearly colorless
6–10 carats
Solitaire style
Definitely smaller than Hailey's ring, but still a beautiful option if you can't afford a massive 6-carat ring.
You can choose from ½ carat to 2 carats, then you can also select the setting finish.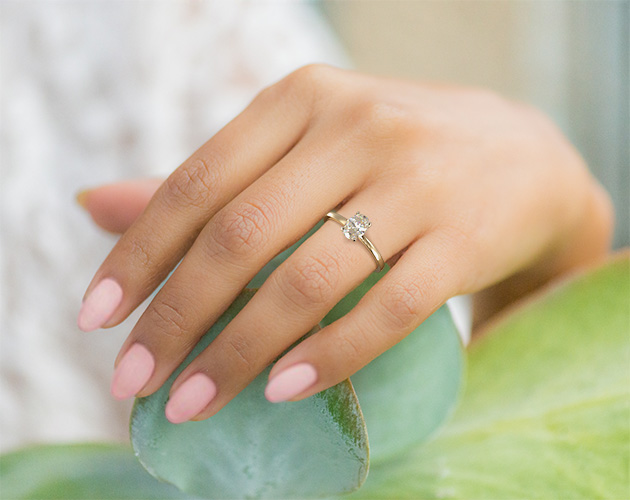 Another popular diamond and jewelry brand, James Allen allows you to build your perfect engagement ring.
Just pick a setting, pick a diamond size, and finish it off with other features. You can also pick between lab-grown diamonds or Earth-grown diamonds.
The photo above is clearly much smaller than Hailey's, but you can pick a larger carat size to make it bigger. Hailey's is estimated to be 6–10 carats.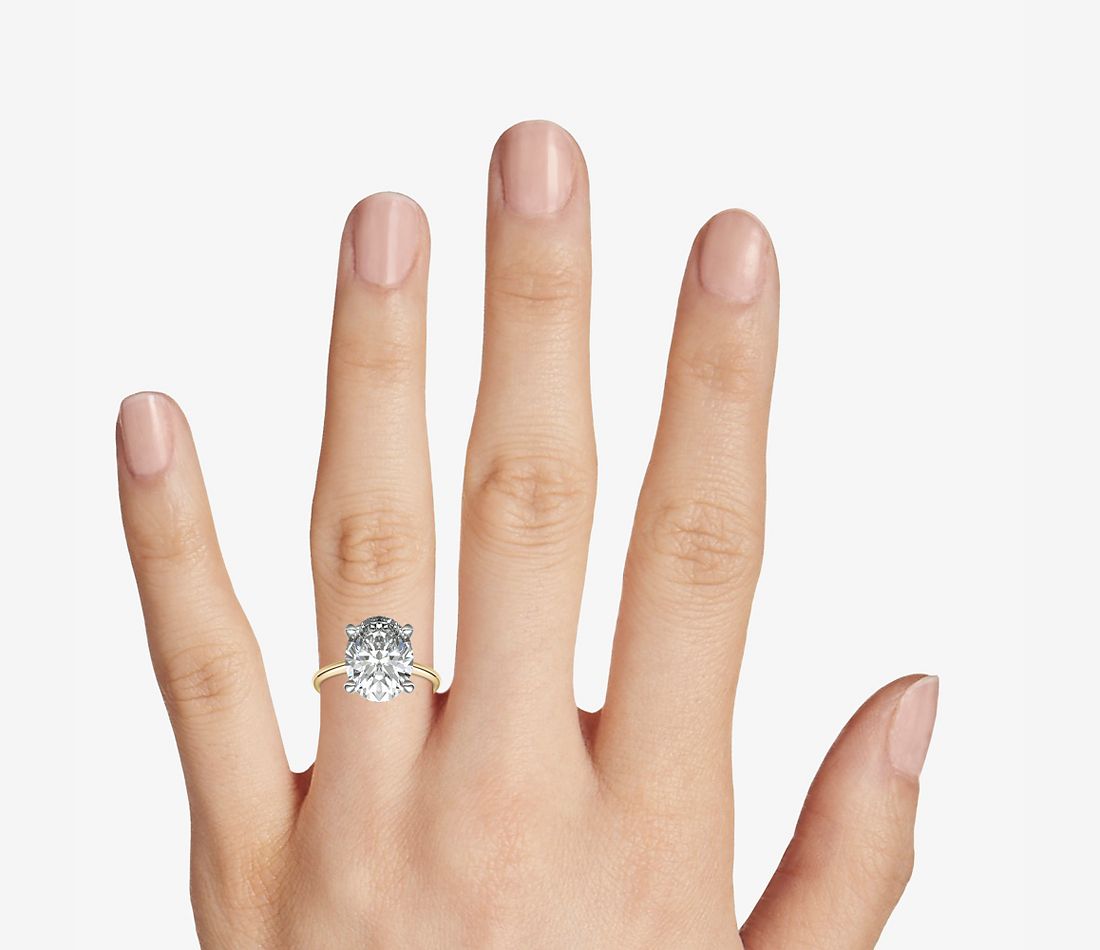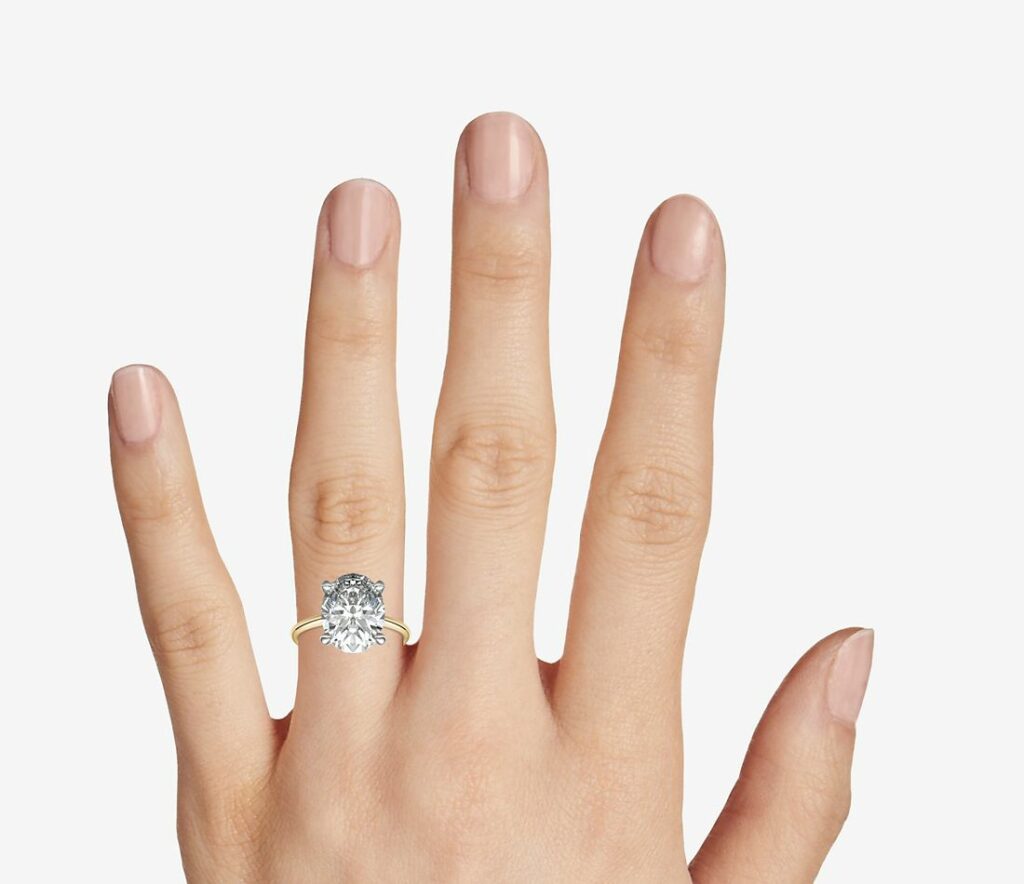 Another very reputable retailer of diamonds and gemstones, Blue Nile has the perfect oval-cut rings for those looking for a Bieber-inspired engagement ring.
Some styles can go up to 5 carats, so you can get a pretty similar size to Hailey's ring. The photo above shows the 5-carat sizing. Not as huge as Hailey's, but still pretty dang big.