There are many luxuries in life, and unfortunately, a lot of them are really expensive — especially when said luxuries come from the iconic high-fashion Italian brand Gucci.
As much as we love the idea of living life lounging in grassy fields and eating grapes, reality often makes us choose between basic sustenance and things that make us actually happy (not a hyperbole). 
Which begs the question: to buy the luxury Gucci slides or not? Well, luckily, there's a solution for that: the magical world of dupes! 
Though not the doorway to 24/7 grape-eating utopia, these Gucci slides dupes will save you tons of money and have you looking super cute.
Keep reading to see 9 Gucci slides dupes you won't regret buying!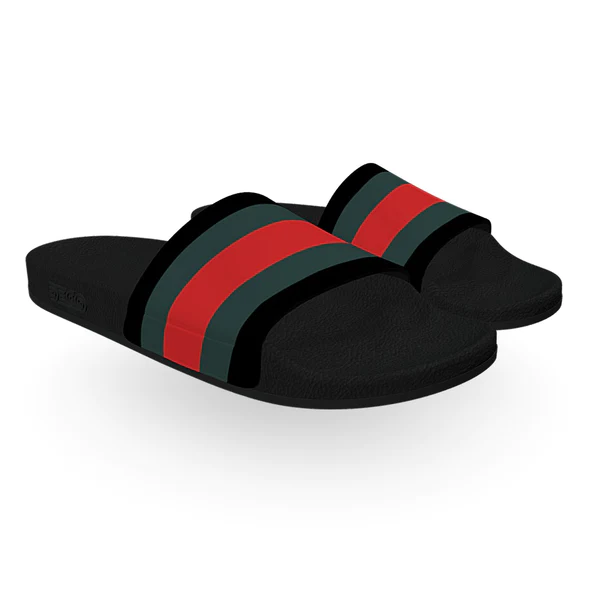 Dupe For: The Classic Web Rubber Slide Sandals featuring the iconic Gucci red and green-striped logo. 
Rather than paying $400 for the luxury slides, you can head over to DecoSlide and get the same design for $39.99!
Not only that, but DecoSlide allows customers to add customizations like text and logos, so that your slides really feel like your own.
---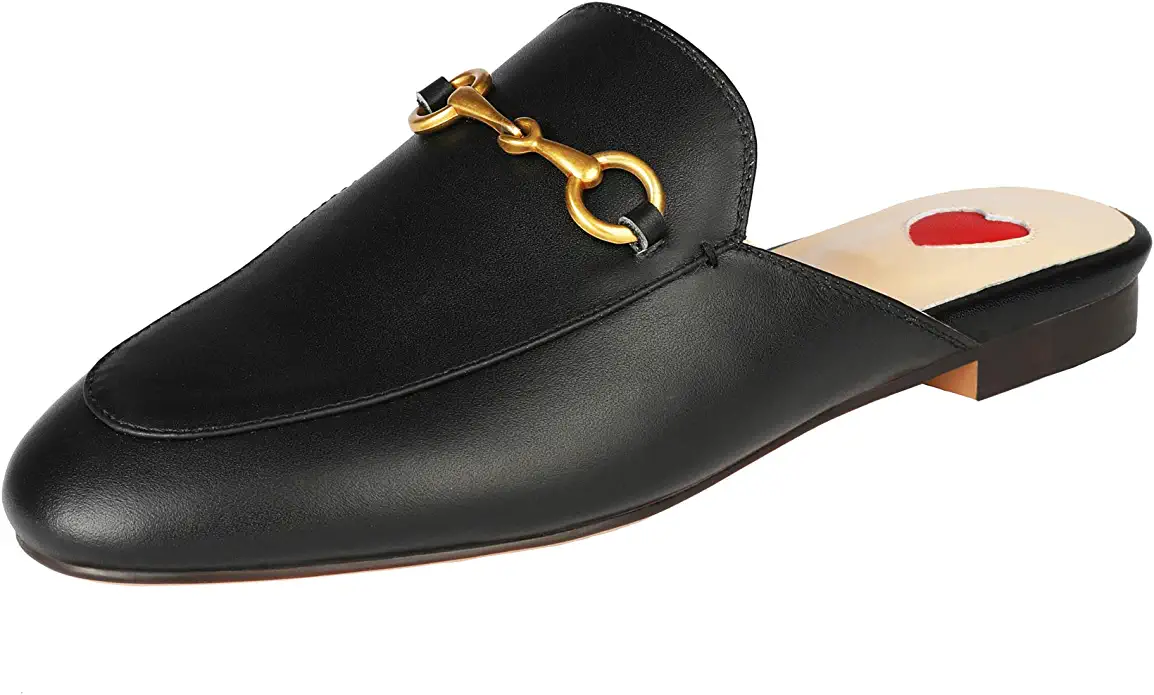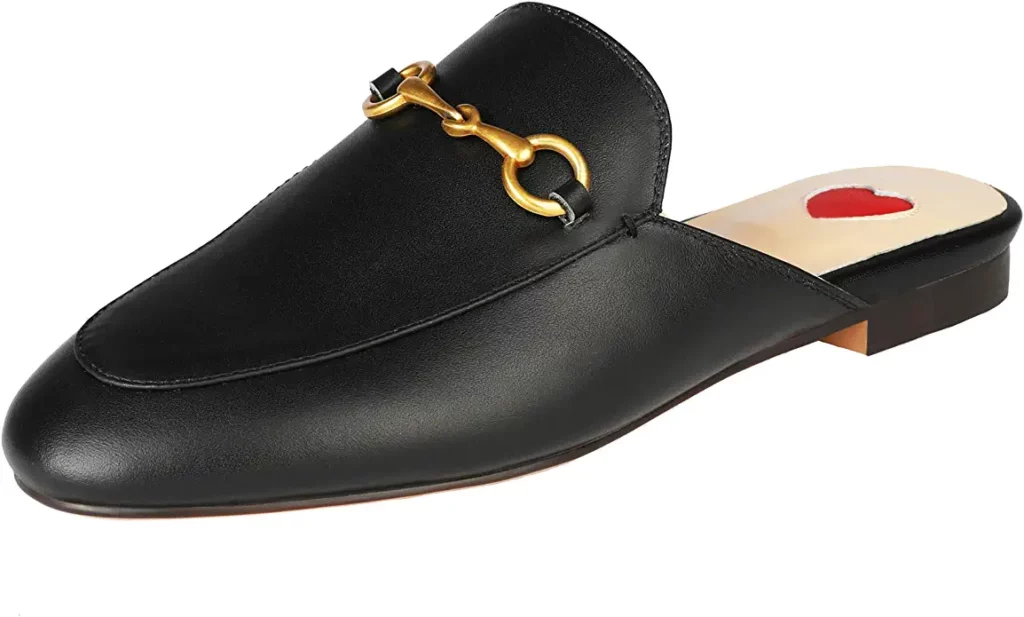 Dupe For: The Gucci Princetown Leather Slippers
If you put these side-by-side with the Gucci version, it would be difficult to tell the difference. They offer an array of colors and sizes, most of which cost less than $55.
SIDE NOTE: They also have a gorgeous version of these slides with fur that look beyond comfortable, similar to Gucci's version with fur.
---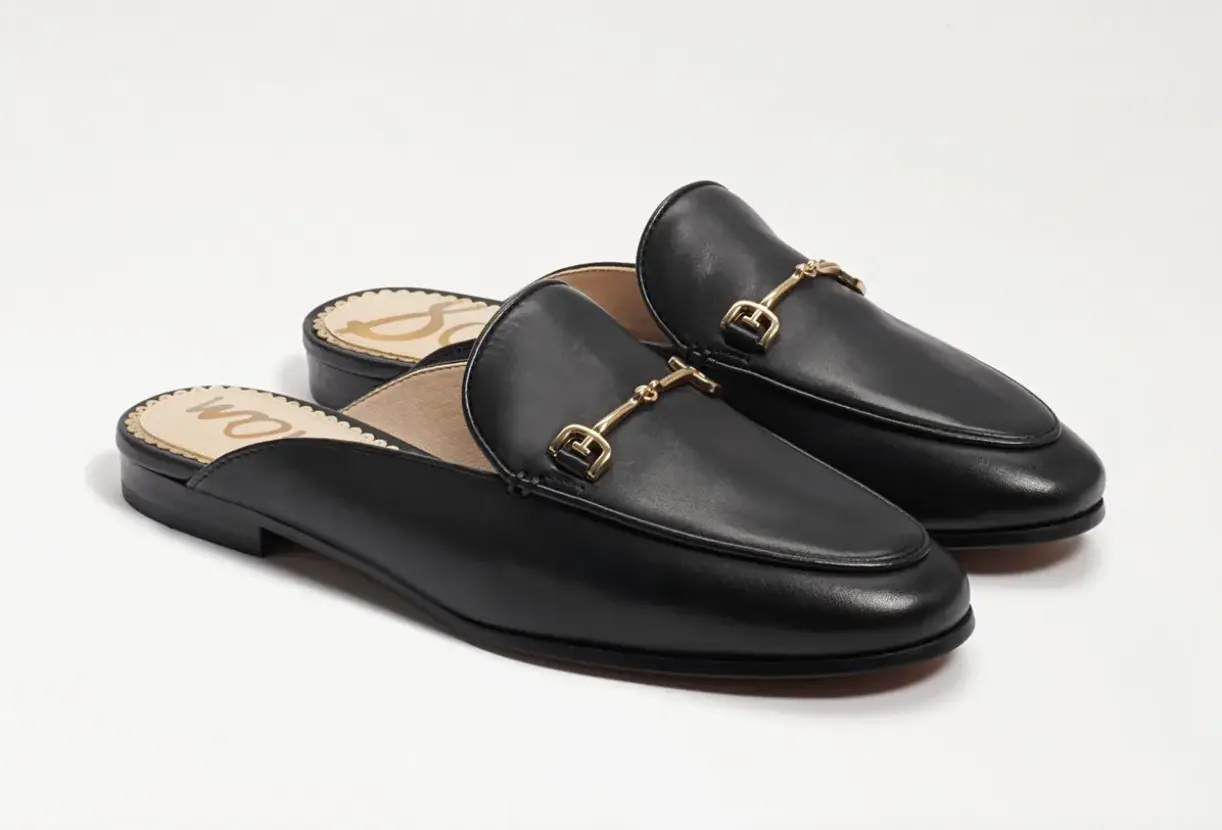 Dupe For: The Gucci Princetown Leather Slippers
If you don't want to spend $850 on the Gucci version of these loafer slides, these Steve Madden shoes are for you.
These loafer slides look extremely similar to the Gucci loafer slides, aside from a slightly different shape on the chain. They're also available in a variety of colors and even some fun prints!
---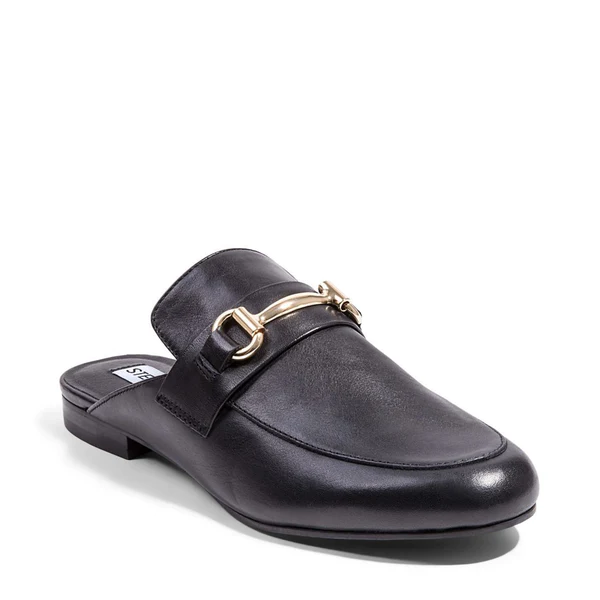 Dupe For: The Gucci Princetown Leather Slippers
We think the Steve Edelman version we shared previously looks most similar to the Gucci version, but they are also more expensive.
Sporting the same chain design across the body of the shoe, these slides could be considered Gucci's Princetown's step-sister. 
For less than $100, you get the style, the comfort, and an excellent deal!
---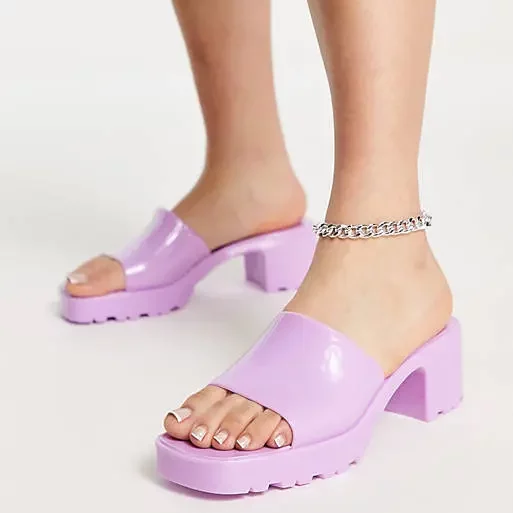 Dupe For: Gucci's Rubber Slide Sandal
Everyone is obsessed with Gucci's heeled rubber slides right now, but if you don't want to spend $450 on them, here's a good alternative.
This pair of shoes comes from ASOS DESIGN and gives all the pastel fun feels anyone could want, all for the impressive price of $30.
As with the Gucci sandals, ASOS's Jelly Mules are open-toed, slip-on, and have a chunky heel for all the retro vibes. 
---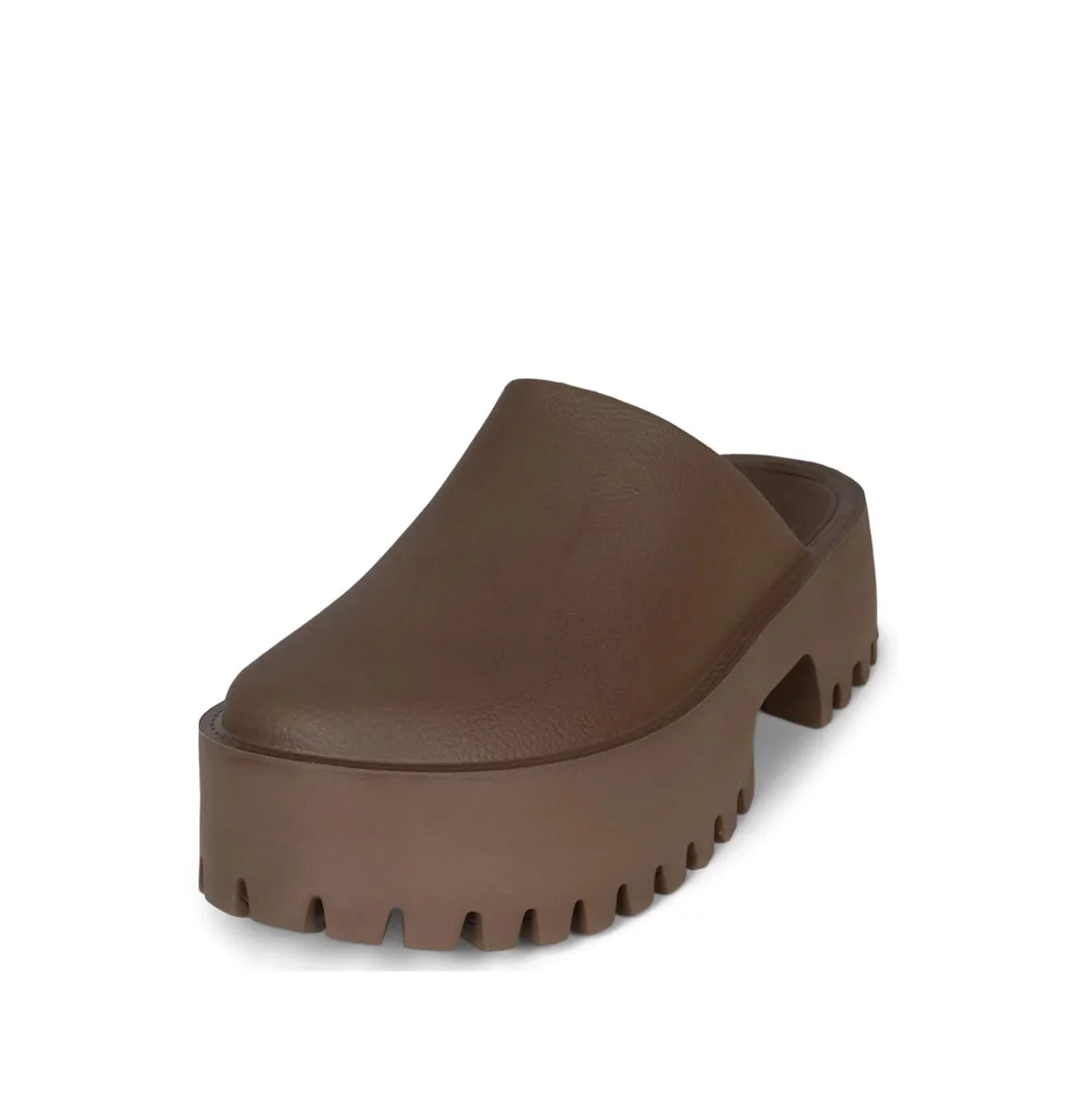 Dupe For: Gucci's Platform Performated G Sandal
Clogs are back in style and we're not mad about it, especially since we found an awesome dupe for this top-rated Gucci slide.
The Jeffrey Campbell CLOGGE features a chunky platform mule much like its Gucci counterpart and it comes in 10 beautiful, bold colors you can use to amp up and elevate any outfit!
Rather than taking the plunge and spending $550 on the Gucci G Sandals, you can steal this style for $60 instead.
---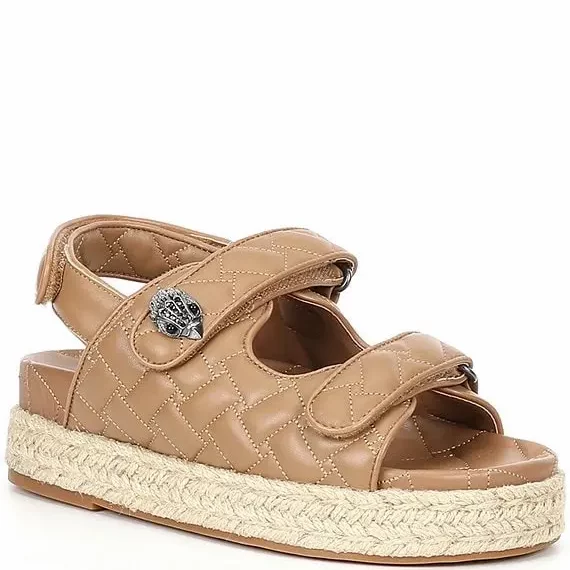 Dupe For: Gucci's Women's Sandal with Mini Double Gs
These Orson Espadrilles have an eagle emblem rather than the mini double G's, but they feature the same triple straps and low heels. 
Though not the same material, these shoes have the same styles and are definitely eye-catchers in their own right.
The best part? You can get the Orson Espadrilles for only $100 compared to Gucci's $620!
---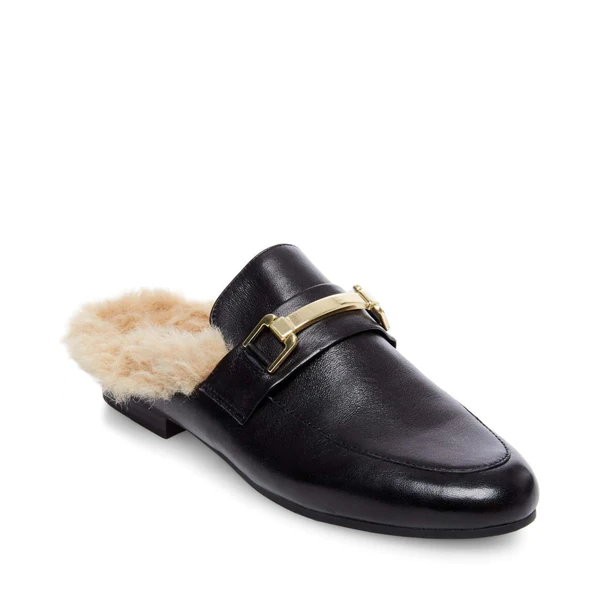 Dupe For: Gucci Princetown Slipper Slides
If you've ever wondered what $1,000 shoes look like, this limited-edition fur version of the Gucci Black Leather Princetown Slipper is it. 
You can do a lot of things with $1k, and if buying luxury shoes isn't at the top of your priority list — no worries! 
Steve Madden has a dupe that costs $69.95 made with leather and faux fur. The KHLOE Mule has a small .5 inch heel, but has the horsebit detail and elongated toe much like its Gucci counterpart. 
---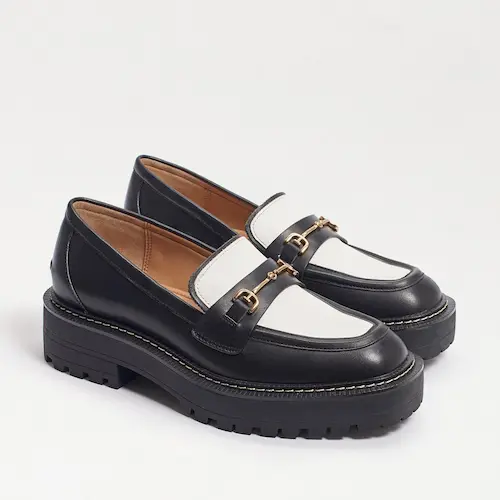 Dupe For: Gucci's Leather Lug Sole Loafer
To continue the $1,000 shoe trend, these Gucci slide-on loafers cost a whopping $1,150. 
Luckily, there's a dupe for that, too. Sam Edelman has all the good Gucci slide dupess – the LAURS Lug Sole Loafer comes in nine different colors and has a cute 1.5-inch heel.
This shoe is a slip-on and features a chunky sole to give stylish, vintage vibes, and we are absolutely living for it.
You can purchase these Lug Sole Loafers for $150, which is such a steal compared to the Gucci version!
In Conclusion
Being into fashion does not need to cost an arm and a leg, and these Gucci slide dupes prove it!
With these shoe alternatives, you can look your best self all while keeping your bank account happy and your closet happier.