When it comes to skincare, a lot of brands focus on dry skin, oily skin, and sensitive skin — but where's the skincare for the eczema and rosacea baddies?
Look no further, because today we are reviewing Gladskin, a skincare brand for my fellow dermatitis besties.
If you're curious to learn if Gladskin will be your go-to skin salve, or if you just want to learn more, read this Gladskin review.
What is Gladskin?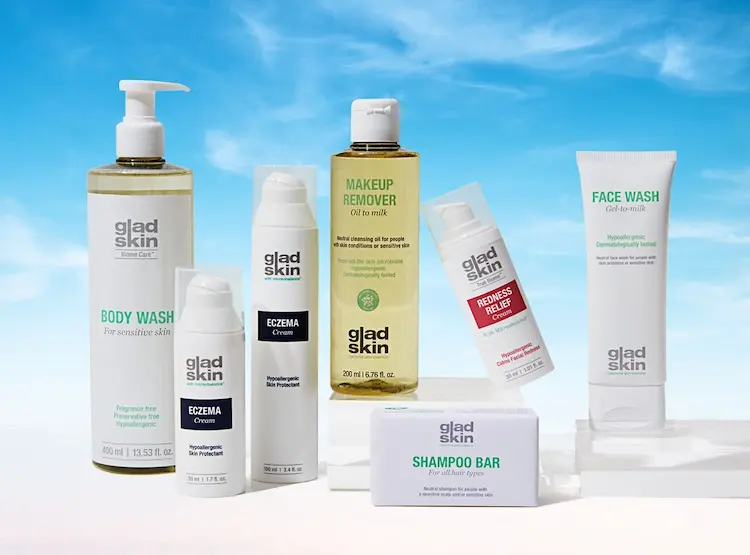 Gladskin is a science-driven, medically-created skincare brand specifically aimed at people with skin sensitivities and conditions such as eczema and rosacea.
Gladskin believes in creating products that work with the nature of skin to restore skin itself in creating a healthy microbiome — in other words, skin bacteria.
Using a patented protein called Micreobalance, Gladskin products mimic the skin's natural defenses in order to restore and maintain a healthy microbiome.
Is Gladskin Legit?
Yes, Gladskin is a legit company! Gladskin works with scientists, dermatologists, researchers, and doctors from top universities and hospitals to develop their products.
Additionally, Gladskin products have also been featured in prominent news outlets, magazines, and websites.
Gladskin Reviews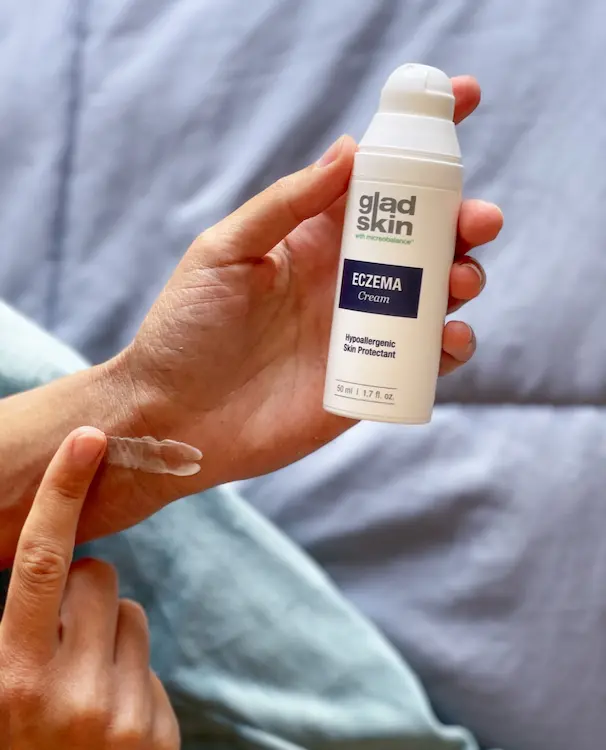 Overall: ★★★★ 4 stars
Gladskin has a great vision, a talented team to back the science, and a set audience, but does it achieve what it's said to?
Here's the thing: Gladskin users don't have an issue with the products, but they're not always mind-blown by all of them either, and that's where the brand falls a bit flat.
Customers say some Gladskin products are definitely worth the money, while others say you can pass on them.
Price: ★★★★ 3.8 stars
With all the science and technology that go into Gladskin formulas, it should come to little surprise that these products are a bit on the pricier end of things.
Depending on the product, prices start as low as $14 and can hit as high as $60.
These are definitely attainable prices, but they're not the most affordable everyday skincare option.
Ingredients: ★★★★★ 5 stars
As mentioned before, Gladskin uses the patented protein, Micreobalance, in some of its products to target bad bacteria while maintaining the good.
The Micreobalance protein helps to maintain the microbiome of the skin all while delivering intense hydration, moisture, and relief.
As for other ingredients, Gladskin products are without preservatives and are also fragrance-free, alcohol-free, paraben-free, steroid-free, and gluten-free!
You can read more in-depth about Gladskin ingredients and their purpose within the products on Gladskin's FAQ page.
Collections: ★★★★★ 5 stars
Gladskin has four awesome collections to shop from: Eczema-prone, Acne-prone, Rosacea-prone, and Biome Care.
Distinguishing between different skin needs is a great way to ensure that customers know exactly what they're shopping for.
And if shoppers don't really know what category would best fit them, Gladskin has an online skin quiz you can try out!
Return Policy: ★★★★ 5 stars
When trying a new product, we always look at the return policy to see if the brand allows returns and to what extent.
Based on their return policy, it's clear that Gladskin stands behind their formulas. They allow returns within 60 days for any reason (minus a $5 return shipping fee).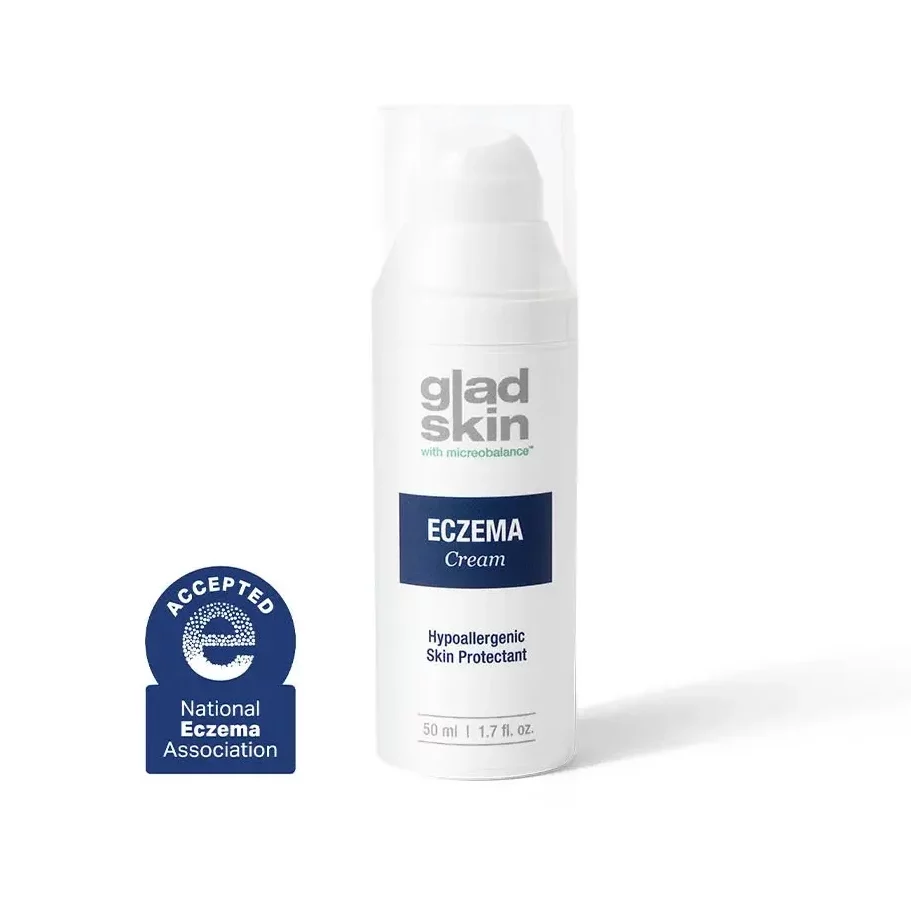 One of Gladkin's best-sellers, this eczema cream is formulated with Micreobalance to help restore and maintain the skin's natural microbiome.
This cream is dermatologist-tested and is free of steroids, parabens, fragrance, preservatives, and gluten!
Proven to reduce itchiness, redness, and flaky skin, this eczema cream hunts down the unwelcome bacteria on the face and body and leaves you with balanced and hydrated skin.
Customers love this product and many see it as a holy grail product!
If you want to purchase this product, you can get a 1.7oz bottle for $35 or a 3.4oz bottle for $55.
---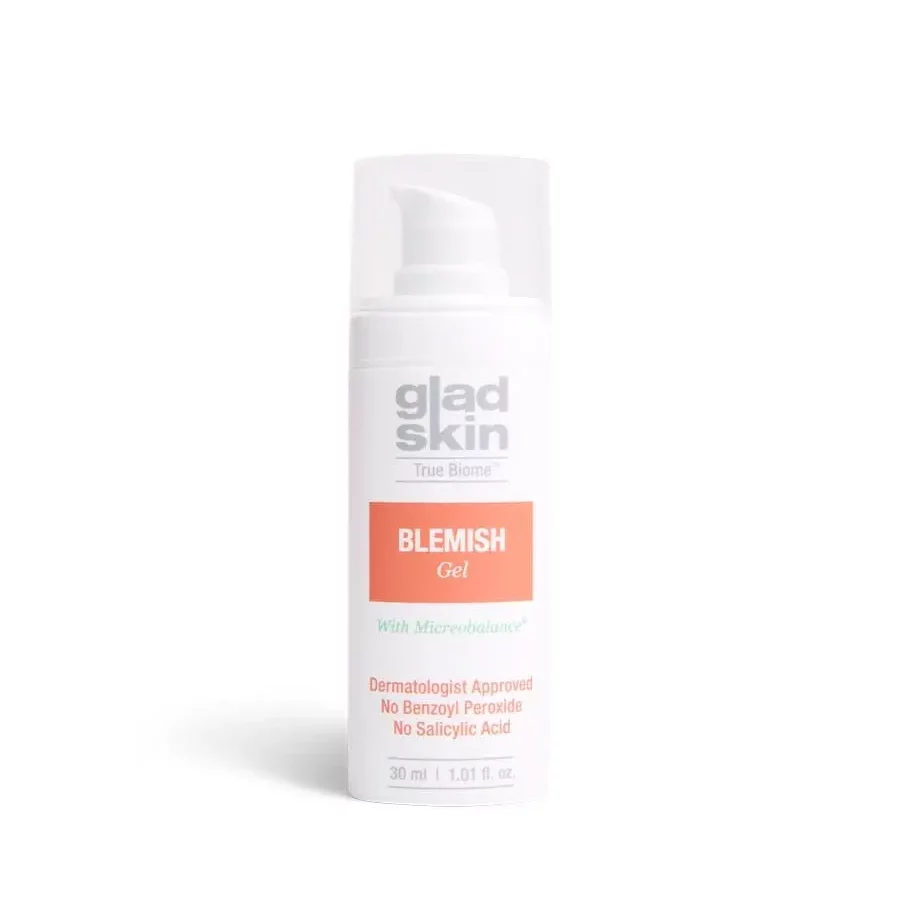 Focusing on improving the appearance of blemishes and reducing inflammation, Gladskin's Blemish Gel is infused with Micreobalance to purge out the bad bacteria and make room for the good.
Rather than relying on other common acne-fighting ingredients like salicylic acid and antibiotics, Gladskin's Micreobalance protein is the main character of this formula.
With only one size to choose from, you can purchase this 1oz product for $35.
---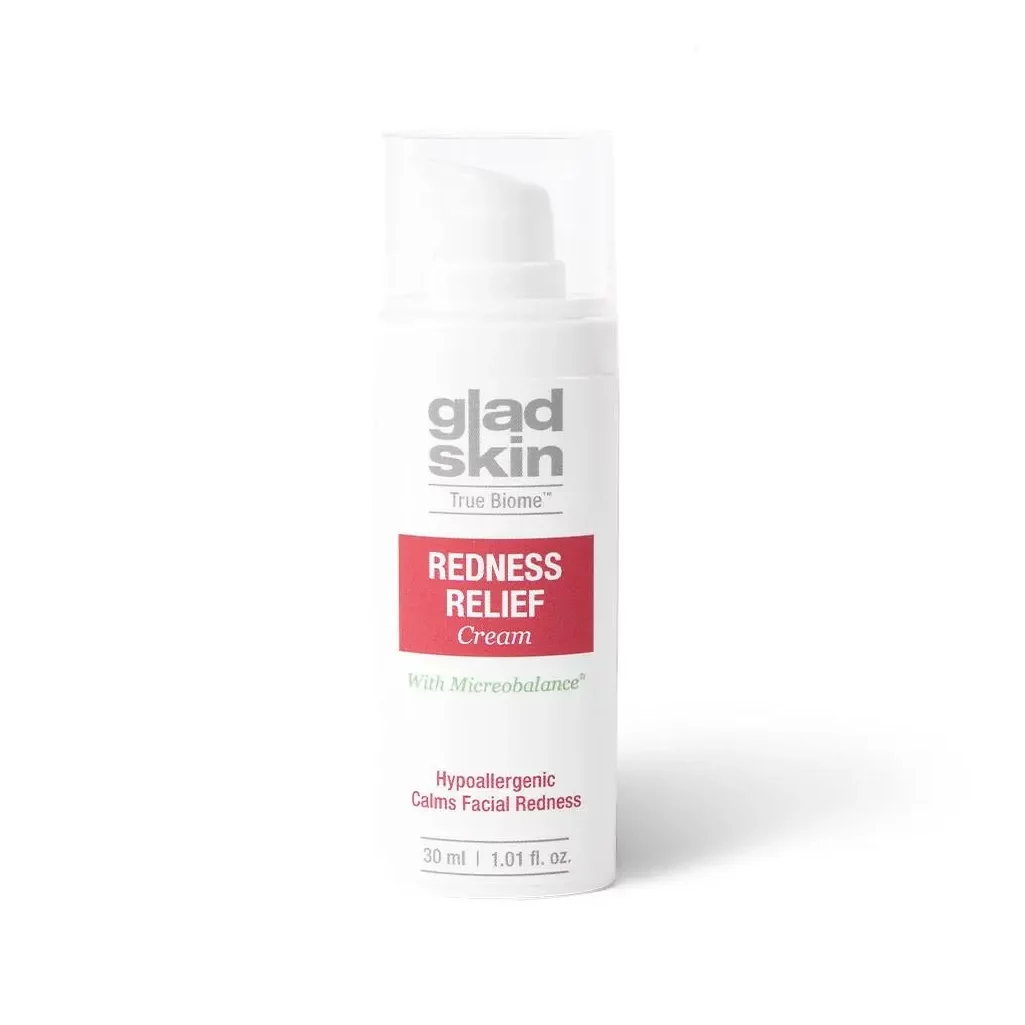 Another one of Gladskin's best-selling products, this cream is aimed at those with rosacea.
Using the famous Micreobalance protein to reduce redness and help treat bumps and dry patches, this relief cream targets bacterial imbalance, is lightweight, easily applied, and makeup-friendly!
Like other Gladskin products, this relief cream is free of fragrances, parabens, preservatives, sulfates, and drying alcohol.
Customers love this relief cream and call it a game-changer for their skin!
You can purchase a 15mL for $19 or you can purchase a 30mL bottle for $35.
---
What Customers Are Saying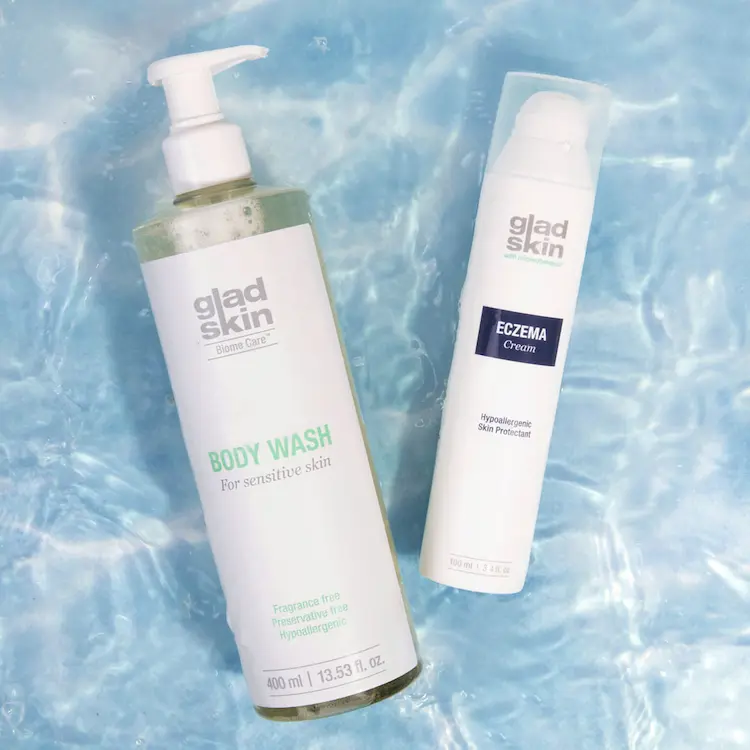 If you're still on the fence about Gladskin and just need a little more persuasion, here are some common things real customers are saying based on Gladskin's reviews:
Gladskin's Makeup Remover is actually a life-saver
The science behind these products are super interesting
Many people with eczema swear by their eczema cream
However, some of the products don't seem to be worth the money
Products provide good hydration, but there isn't much improvement on the underlying skin issue
Can be expensive, especially for those who have full-body skin problems
The Bottomline
As someone who shamelessly has a lot of experience with the likes of eczema and going through the struggles of having sensitive skin, Gladskin gets my approval!
The brand is definitely worth checking out and has some great technology and products to match.
However, it is important to remember that everyone's skin reacts differently to different products, and skincare is definitely not a one-product-cures-all. Some people have good experiences with Gladskin, while some others don't feel like it does much.
Luckily, they do have a great return policy and helpful customer service team that wants to make sure you enjoy their products.
Gladskin Alternatives
If you don't think your skin will vibe very with Gladskin, that's totally okay! Here are some similar brands you might enjoy:
Return Policy
Gladskin is set on creating positive shopping experiences, which is there is a 60-day return policy.
If you are unsatisfied with a product, you must request a return through Gladskin's customer service to being the return process.
FAQs
How long does it take Gladskin to work?
Gladskin claims that noticeable relief can be felt in a span of a couple of days after using the product. However, some experience improvements weeks after, in some rare cases, the condition may get worse before getting better due to the skin purging. 
Is Gladskin FDA-approved?
Yes, Gladskin is FDA-approved
Where can I buy Gladskin?
You can purchase Gladskin through the official Gladskin website and you can also find Gladskin at drugstores and pharmacies.