Getting the best shave is a constant pursuit for many men, especially for those who need to shave and maintain a bald head. With so many brands out there claiming to provide the best shave, it can be hard to find the top razors and other shaving products.
Freedom Grooming is an upcoming shaving brand that aims to provide a universal shaving solution. Their main product is their electric head shaver that claims to provide the closest shave, but does it live up to these claims?
In our Freedom Grooming review, we'll be sharing a comprehensive analysis of this brand to see if they are worth the price, or if you should shop elsewhere.
What is Freedom Grooming?
Freedom Grooming offers shaving products for the head that come with a decent range of features, with their focus product being their electric head shaver.
Their main product is their electric head shaver, plus they offer a variety of bonus products to help men achieve the perfect shave.
They offer customers a 30-day free trial on kits and bundles and offer products for scalp care, shave essentials, and a decent number of accessories.
Freedom Grooming Reviews
Keep reading to see our overall ratings on this upcoming shaving brand.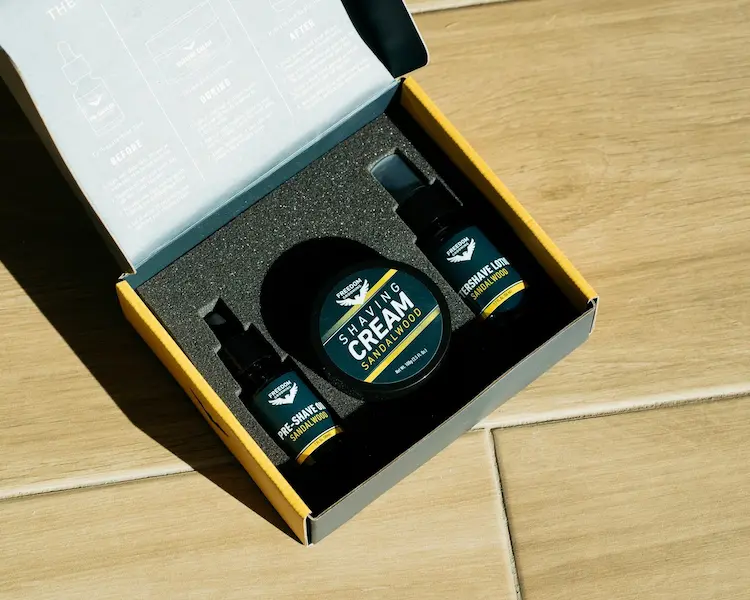 Overall Rating: ★★★ 3.75 Stars
Although the company is pretty consistent with its advertising, they don't have many reviews aside from Amazon reviews. We also found that they have a few complaints against them through the BBB.
Not only does the company have a few negative reviews, but nearly every complaint on BBB comes with a one-star rating. It seems their main issues are customer service, slow shipping times, and product quality.
That being said, many shoppers love their head shaver. If you do decide to buy this brand, we'd recommend shopping through Amazon so you don't have to deal with the brand themselves. Plus, you can always return it for free if you buy through Amazon Prime.
Pricing: ★★★ 3 Stars
Regardless of product quality, a majority of their items come with a fair price, in our opinion.
The most expensive item on their website is their Best Buzz Kit, which is a bundle that includes everything you need for a clean, smooth shave for $174.95.
Individual scalp and razor accessories are pretty affordable, and they should last quite a while, even with repeated use. That being said,
Quality: ★★★ 3.5 Stars
Most of their products look pretty decent, but a few customer reviews have mentioned a lacking quality in their electric razor. This may depend on usage, but multiple Freedom Grooming reviews mention the electric razor breaking down in just a few months.
Other than this, customers state their electric razor does a great job at giving their head a smooth shave without nicking or causing irritation.
As far as their shaving creams and other add-on products go, many customers state they aren't worth the extra cost and you should stick with your go-to shaving cream.
Shipping: ★★★ 3 Stars
With the options of express, priority, and standard shipping, their website claims it takes roughly 2–7 business days for shipments to arrive. For international orders, it can take around eight to fifteen business days.
Unfortunately, a decent number of reviews mention a serious delay in shipping, and customer service isn't much help when they inquire about the status of their order.
However, the brand is sold on Amazon Prime, which offers Prime members 2-day shipping in most areas (and even 1-day shipping for some).
Customer Service: ★★ 2 Stars
This is probably the area of their company that needs the most work. Freedom Grooming doesn't seem to offer the most responsive or helpful customer service, and some people feel scammed when it comes to pursuing their refund policy.
We feel this can be seen as a red flag and should be considered before making a purchase. We highly recommend purchasing through Amazon to avoid having to deal with their customer service.
What Customers Are Saying
After browsing through all the Freedom Grooming reviews out there, these are the top points of feedback we found:
Electric shaver provides a very close shave
Can be time-consuming because some users needed to go over the area multiple times
Works best with shaving cream
Doesn't give razor burn or leave skin feeling irritated
Easier and less irritating than using a standard razor
A standard razor tends to be quicker
Worth the money overall
Their shaving products aren't worth the extra cost, people recommend sticking with your typical shaving cream and other shaving products
---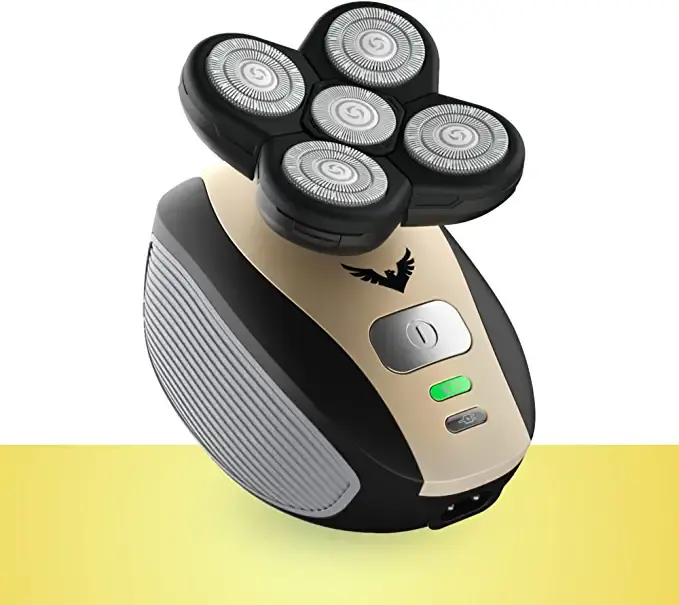 Their star product seems to be their electric head shaver, targeted toward helping men keep a shaved and stubble-free head.
Some people don't think the head shaver offers as close of a shave as the brand advertises.
Note: Many negative Freedom Grooming reviews surround the brand's customer service and shipping speed, so we recommend shopping through Amazon. They have a huge presence on Amazon with over 7,000 reviews on their electric head shaver alone.
Amazon offers an excellent return policy, so you can always send the shaver back if it doesn't work as advertised.
---
To get a better bang for your buck and try more of their products, you can also shop for kits. Their kits include the electric head shaver as well as other products to help get a close shave.
The Clean Cut Kit comes with their FlexSeries razor, pre-shave oil, smooth shaving cream, and even an aftershave lotion.
It also boasts a soft shaving brush to help lather the shaving cream and ensure you easily cover the shaving area.
---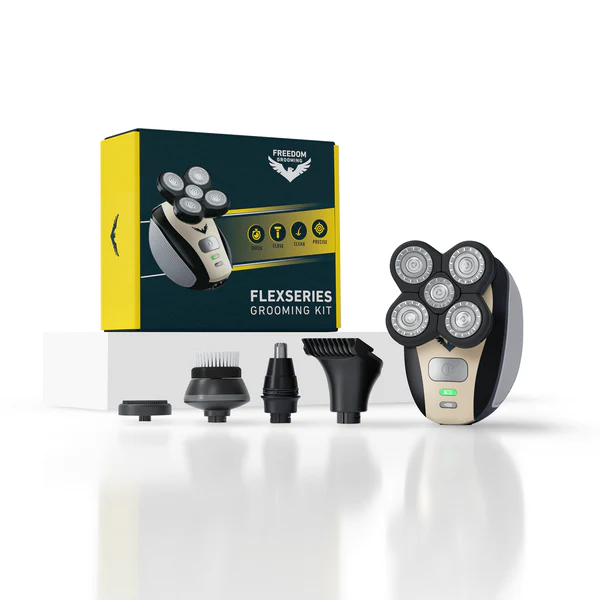 The shaver may be all you need; in that case, the Flex Series Grooming Kit is a great place to start.
Aside from the shaver itself, you also get the interchangeable heads that are meant for precision clipping, exfoliating, ear and nose trimming, and even a pre-shave massage.
A few additional accessories include a cleaning brush, a protective cover for the blade, and a rapid-charging USB cable.
---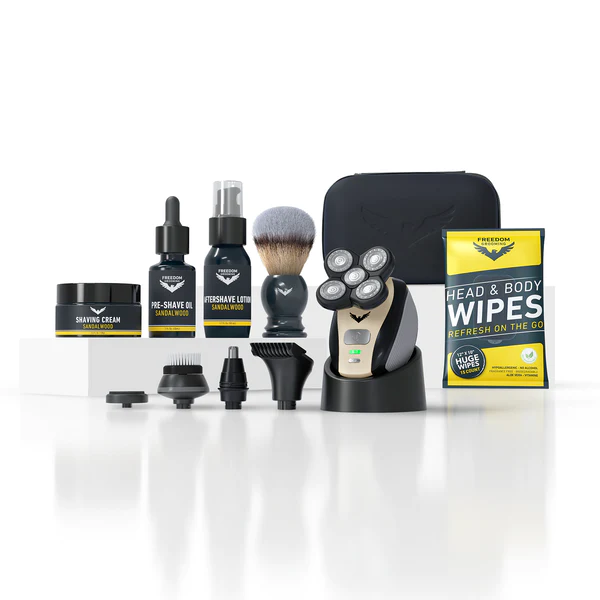 For the ultimate Freedom Grooming experience, their Best Buzz Kit has it all. Starting with the FlexSeries Kit, buyers also receive all shaving essentials, a charging dock, head and body wipes, and a nifty travel case.
It also comes with a shaving brush; everything is waterproof and shower friendly. It's the best deal they have to offer from our perspective.
Return Policy
Freedom Grooming offers a pretty standard return policy of 30 days which kicks in from when you get the receipt for the product. However, a handful of reviews mention the company isn't very interested in honoring this policy.
We'd recommend shopping the brand through Amazon because of this, just make sure that the product you want is available through Amazon Prime.
FAQs
Who Owns Freedom Grooming?
The owner of Freedom Grooming is a man named Jacob Barson, who conceptualized and created the idea of the all-in-one shaving experience for the FlexSeries.
Are Freedom Shavers Good?
It seems they provide a close shave without causing irritation, but for many buyers, the overall quality doesn't really last as long as most people had hoped.
How Long Does The Freedom Grooming Blades Last?
Their website claims the blades last for up to 50 shaves, but it looks like this can be lower depending on how much hair you're working with.
Can I Use Shaving Cream With Freedom Grooming?
You most definitely can, and if anything, it's suggested to do so. The company has its own shaving cream you can look into, or you can use your preferred brand.
Final Notes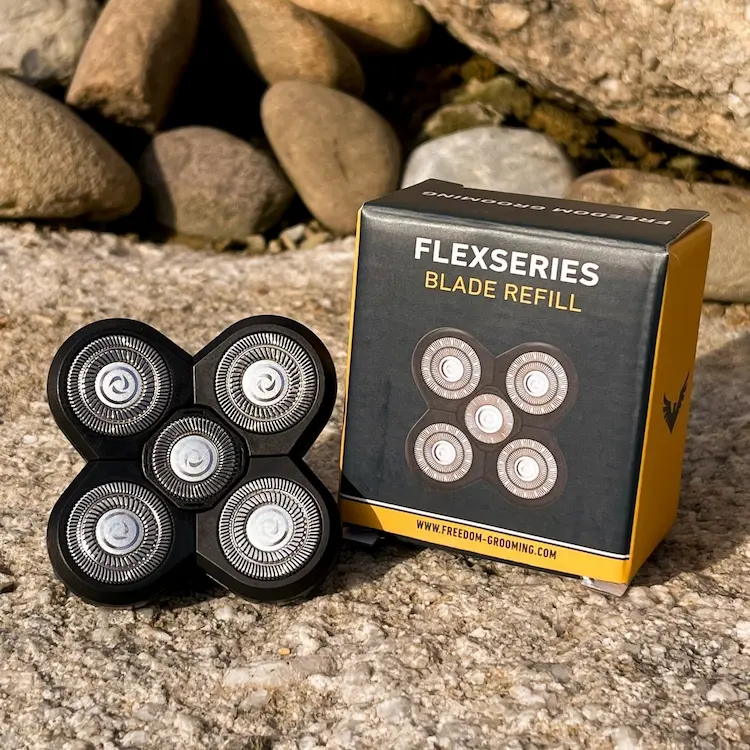 Overall, Freedom Grooming products seem to be a hit or miss. Their products have worked great for some people, but others have complained about unresponsive customer service and difficulty making returns.
If you want to give Freedom Grooming a shot, we recommend buying through Amazon. Most of their products are available through Prime, which offers fast shipping and a reliable return policy that doesn't require you to deal with the brand themselves.
Freedom Grooming Alternatives
1. Harry's
2. Philips
3. Gillette