With a focus on premium footwear and handmade leather goods, Ecco aims to provide variety without wavering on quality.
The brand claims to have everything if you're looking for stylish casual footwear or need something unique for a particular occasion.
In this Ecco shoes review, we'll break down what makes their footwear unique and if the brand is worth the money overall.
What Is Ecco Shoes?
Offering quality footwear for any type of outdoor activity with plenty of styles for men and women, Ecco is a top-rated footwear store. With shoes suitable for anything from hiking to golfing, any outdoor-lover is sure to find what they need
Plus, they have a variety of leather goods such as handbags, backpacks, niche items, and more, all of which have a signature quality that's hard to replicate.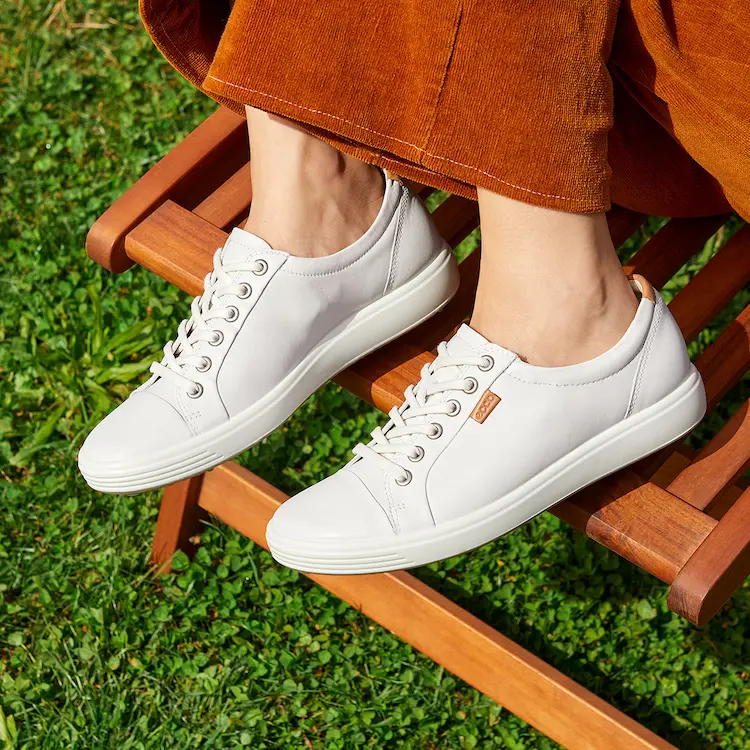 Ecco Shoes Overview
When you visit their website, it's apparent that the company focuses on product quality with a sense of neutrality, making their items great for everyday wear.
Once you look a little further into the brand, you'll find that they do their best to cater to a broad customer base as well.
Although the company offers a variety of items, this review will look at their footwear, which is the focal point of their catalog.
Ecco Shoes Reviews
To better understand their product quality and the customer service that backs them, we reviewed what the brand has to offer from every angle.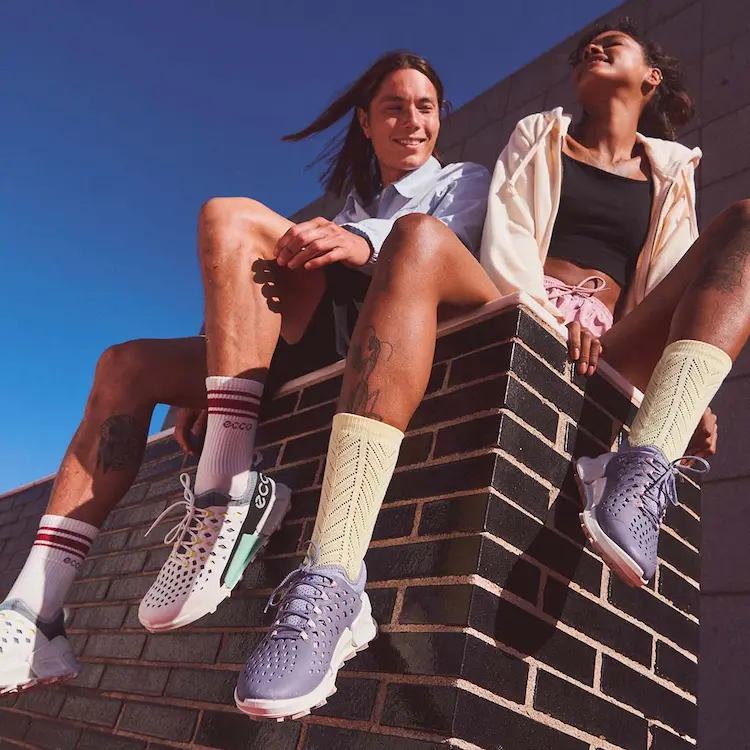 Overall Rating: ★★★★ 3.75 Stars
The company seems to be a great choice if you're looking for quality shoes that will last for years. Their shoes come with reliable quality with a wide variety of style options, plus their overall customer service goes above and beyond for most people.
Some shoppers state their shoe designs look unattractive and have too much branding on them, but we'd say they are improving this with their new releases. Many of these styles look trendier and more streetwear-inspired.
People also were displeased with the brand when Ecco refused to shut down their factory in Russia when the war in Ukraine began, many are still boycotting.
Pricing: ★★★★ 4 Stars
Ecco shoes range from $100 to $250. Nevertheless, each pair of shoes comes with the same attention to detail as the next. Based on Ecco reviews, it looks like the quality matches the price tag and they are truly designed to last for years.
Although their shoes might be a splurge, Ecco makes quality products that are made to last, and many customers seem to be able to see and feel that for themselves.
Fit: ★★★★ 4 Stars
Ecco shoes run true to size and shoppers state they are very comfortable, so you shouldn't have to worry about finding a pair that fits. They offer a decent range in sizes for men and women.
Qualuty & Durability: ★★★★ 4 stars
Overall, it seems that Ecco creates quality shoes that are designed to last for years.
Most Ecco reviews state that their shoes have lasted years of regular wear and still look great, plus are still comfortable. There seem to be a few complaints here and there (mostly customers who noticed the quality diminishing after a couple of years), but their customer service team seems to be very helpful with all issues.
For example, one Ecco shoes review stated their shoes started "crumbling" after 2 years and the brand actually sent them a voucher for the full cost of the shoes.
Shipping & Returns: ★★★★ 3.5 Stars
Shipments typically take 2–3 business days to go out once the order is placed. Right now, the company only ships within the U.S.
As far as their return policy goes, Ecco allows unused and unorn shoes to be returned within 60 days of shipment date. However, you will need to pay for return shipping.
Customer Service: ★★★★ 5 Stars
Overall, Ecco seems to be highly dedicated to making sure their customers have a positive experience with their brand.
They have a lenient return policy, plus we noticed multiple Ecco shoes reviews that stated the brand helped resolve their issue years after their purchase. Most brands don't care about the customer experiecne after 30 days (or whenever their return policy ends), so Ecco seems to be a breath of fresh air.
You may find a small number of isolated incidents that say otherwise, but there aren't enough for that to really make a dent in the customer experience.
What Customers Are Saying
Here is a breakdown of other top feedback we saw among Ecco shoes reviews: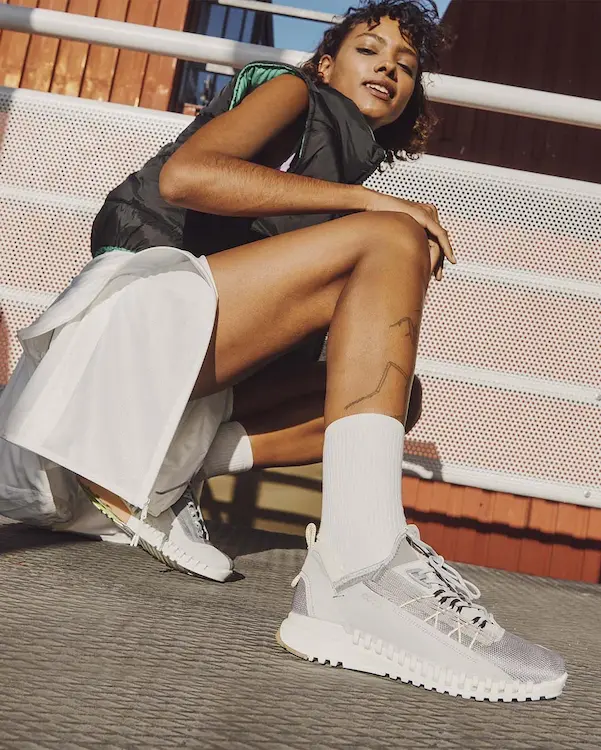 Not the most affordable brand, but the quality lives up to the price
Built to last for years
Wide variety of shoe options made for both outdoor or everyday activities
Comfortable shoes
Customer service is excellent (one customer was sent store credit after 2 years because their shoes fell apart)
Many love the many options available in their catalog
Some Ecco reviews dislike their designs, stating they are unattractive or have too much branding on them
True to size
Some shoppers are boycotting the brand because they didn't close their factory in Russia when the war statrted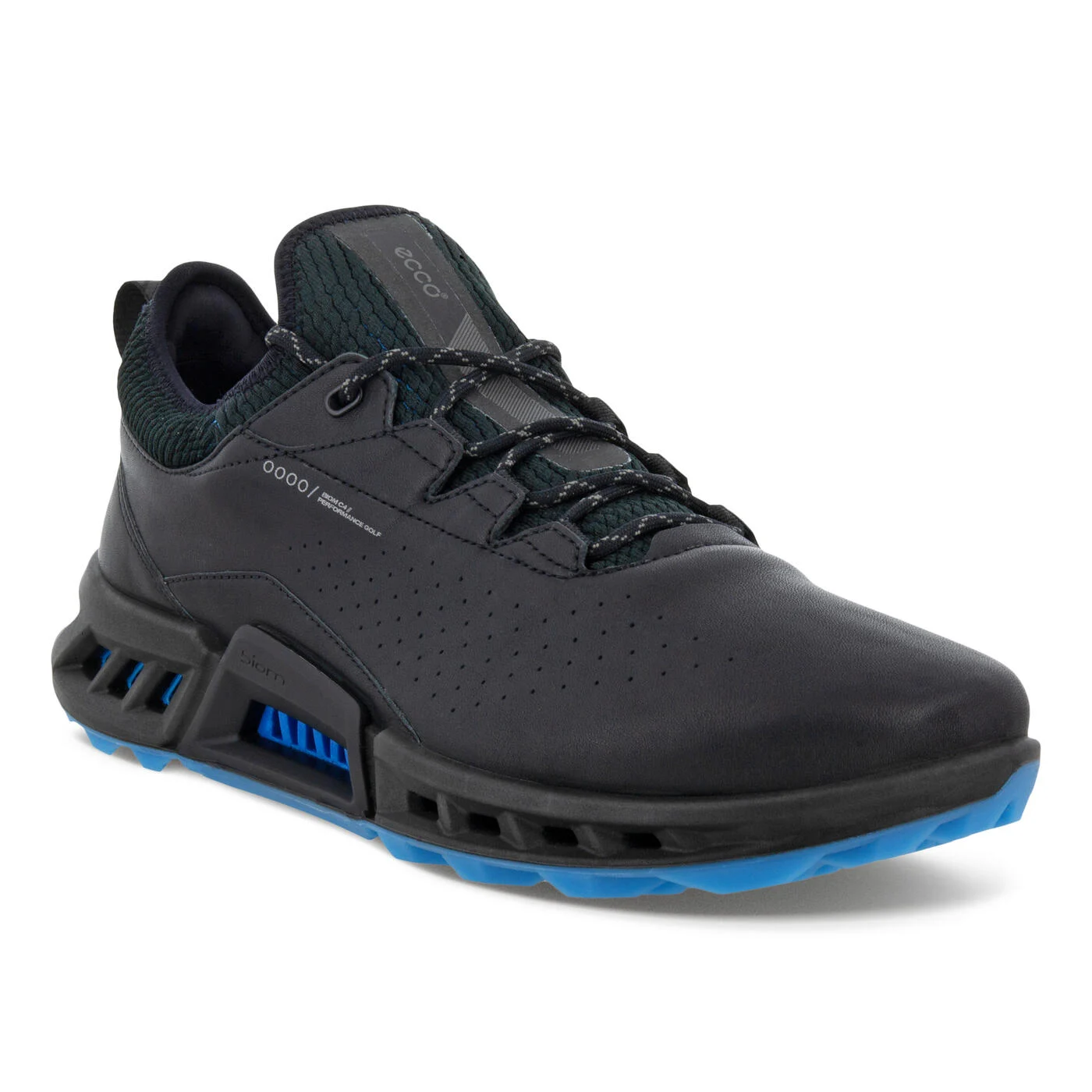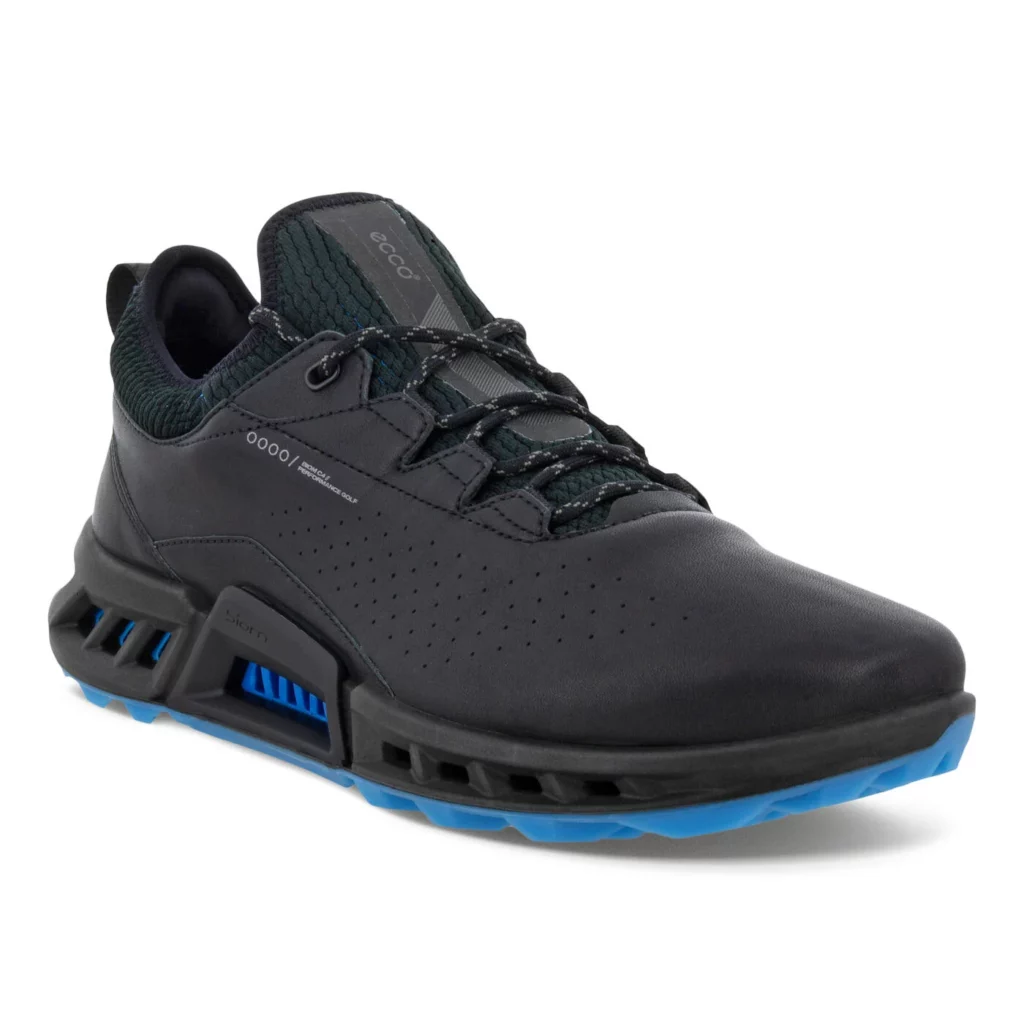 If you like to spend some time on the golf course, you'll need a pair of shoes that are built for the job. These are made with a contemporary, sneaker-style design, and the shoes offer breathability from all sides with the durability that's needed for consistent use.
They're made from Ecco performance leather and are 100% waterproof, highly comfortable, and feature three different sections for traction, stability, and support for every rotation of your feet.
---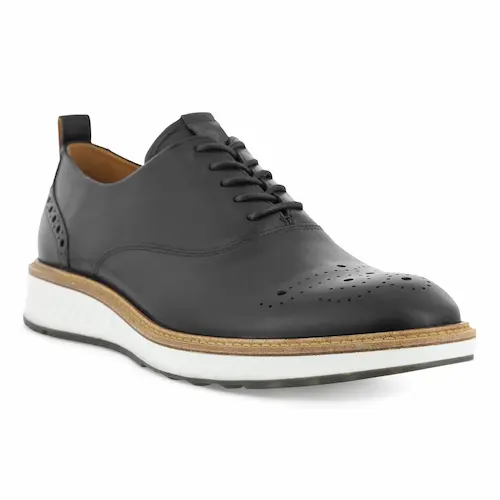 Offering a unique design, this shoe takes influence from professional dress shoes and adds the comfort of casual sneakers on the bottom. The top side is clean-cut and suitable for many business casual outfits.
They're great for all-day wear as the bottom comes with substantial support, a glove-like fit, premium flexible leather, and Ecco Phorene, which adds to the comfort, support, and shock absorption.
---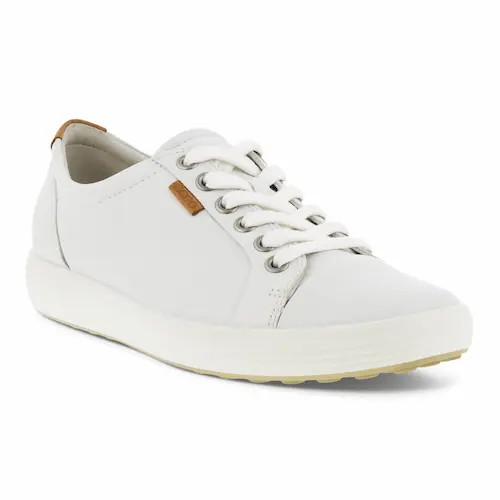 Another popular shoe from Ecco, the design of these $160 sneakers achieves the look of a casual sneaker but delivers a quality that's meant to last.
That said, the white color not be the best choice if you want a shoe that lasts for years – white tends to get dirty quicker and is more difficult to clean.
The shoe is soft and features a comfortable textile lining that adds to its breathability.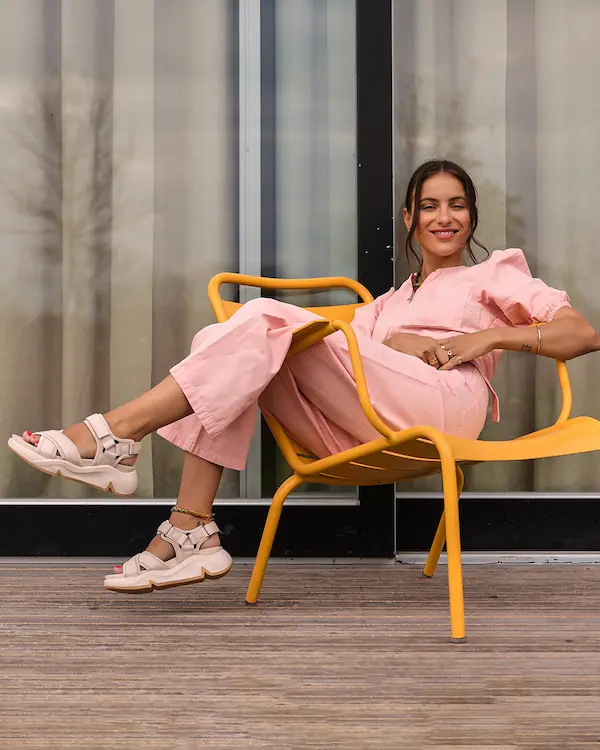 The Bottom Line
After taking a deep dive into what Ecco has to offer, it's refreshing to see they truly care about the footwear they create. There's a chance they may not be a perfect fit for every individual, but they've found a way to cater to a broad market of interests and body types.
Nevertheless, this Ecco shoes review has everything you need to find the perfect pair for your first purchase.
Ecco Shoes Alternatives
If you've decided Ecco isn't the brand for you, here are some great alternatives to consider instead.
Return Policy
Thankfully, Ecco offers a respectable return policy – customers have up to 60 days to request a return. Ecco will provide a full refund as long as the shoes are unused and unworn. It also takes about two to four weeks for a return to be fully processed.
FAQs
Where Are ECCO Shoes Made?
Their shoes are crafted in many countries across the world (some of which include Portugal, China, Thailand, and Vietnam).
How To Clean ECCO Shoes?
This may vary depending on the shoe's material. Generally speaking, start by removing the laces and then brush away dirt with a damp cloth. You can then use Ecco's leather care cream to keep leather soft and smooth.
Finally, apply a shoe polish to retain that new shine, and use a water-repellant spray to keep the shoes looking healthy regardless of weather conditions.
Where To Buy ECCO Shoes?
You can buy their shoes on their official website or visit one of their physical stores. Moreover, Ecco shoes can be found at a vast range of major retailers such as Macy's, DICK's Sporting Goods, and many more.