A black leather boot is a basic that belongs in every closet. It agrees with almost every style, and can tackle many of a day's challenges. Since what feels like the dawn of time (or the dawn of footwear), Solovair, formerly known as Sole-of-air, and Dr. Martens have been the big names for boots.
Although these two British brands were once one brand and today they still sell very similar looks, there's more to each brand than meets the eye – we're here to help you spot the differences between them and which one you should choose.
Dr. Martens vs Solovair: Overview
Solovair has been at the art of shoemaking since 1888. They were the first company to trademark the signature leather combat boot, and even aided in the creation of the first ever pair of Dr. Martens boots in 1960.
Dr. Martens became independent from Solovair in the 90s, and the two have been separate ever since.
Becoming massively popular during the 90s grunge scene, Dr. Martens remains a staple for footwear in the United States, while Solovair owns the show in the UK.
Both brands offer very similar styles and selling points, with leather being their mainstay for manufacturing. Comparing the two side by side, however, reveals crucial differences that could tip the scale for which boot you choose to buy.
Dr. Martens
Solovair
– Signature, bold Dr. Martens yellow stitches
– Thinner leather that breaks in easier
– Padded soles for comfort
– Extensive variety of styles and colors, including platforms and flats.
– Single stitching around soles makes boots less waterproof and prone to tearing.
– Lower prices than Solovair
– Leather is sourced from Asia and South America.
– Available in a larger variety of stores around the world and online retailers
– Returns cost $7 and must be done within 30 days (unworn with tags attached)
– Sleek black, silver, or contrasting white stitches
– Thicker leather that holds its shape longer and is more durable
– Shank in soles for durability
– Extensive variety of styles, including platforms and flats, but not as many fun color options
– Boot Repair Policy: Customers can send in their boots for sole replacement
– Double stitching around soles, makes the boot more waterproof and tear-resistant
– Leather is sourced from Europe.
– Available on the Solovair website and a few local stores in Europe
– Free returns within 60 days (unworn and in original condition)
Dr. Martens vs. Solovair
---
Pricing & Customer Service
Dr. Martens prices vary from $65 – $230, although most of their products fall between the $150 – $200 range.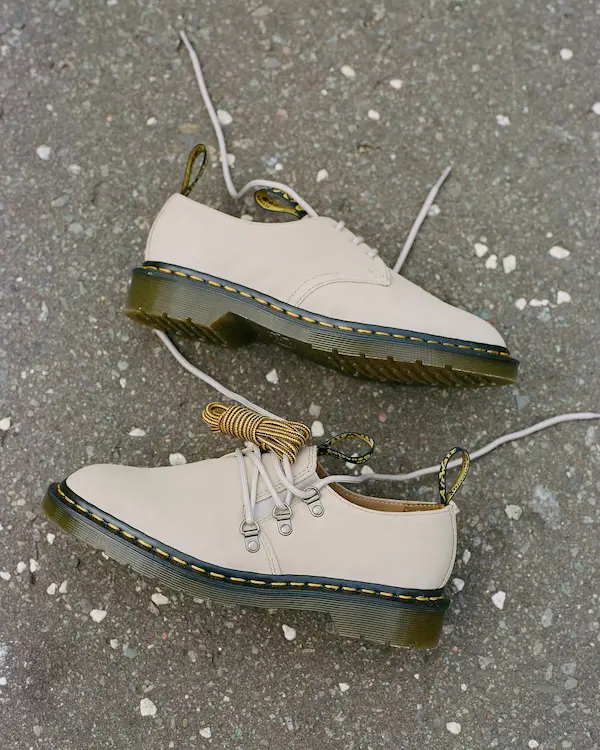 Dr. Martens does accept returns within 30 days of receipt, but requires you to pay $7 for return shipping. You can also find Dr. Martens at a ton of different retailers, so the return policy will vary depending on where you buy.
The prices you'll find on Solovair's website range from $190 – $320 and the majority of their goods are between $190 – $230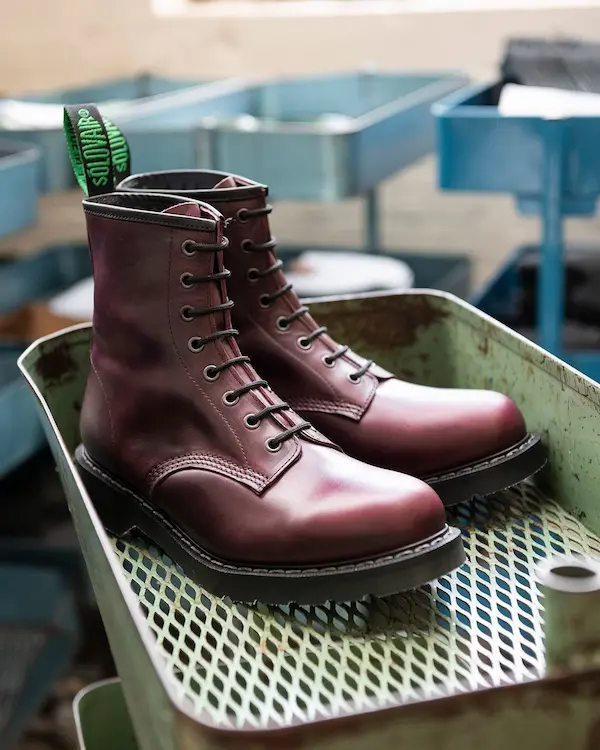 Even though the price for Solovair is higher, they ensure you get your bang for your buck by providing free repairs and re-soling for the shoes you've purchased from them.
Quality
They may generally have lower prices than Solovair, but this comes at a cost – Dr. Martens uses a thinner leather that wears out quicker than the standard Solovair stomper.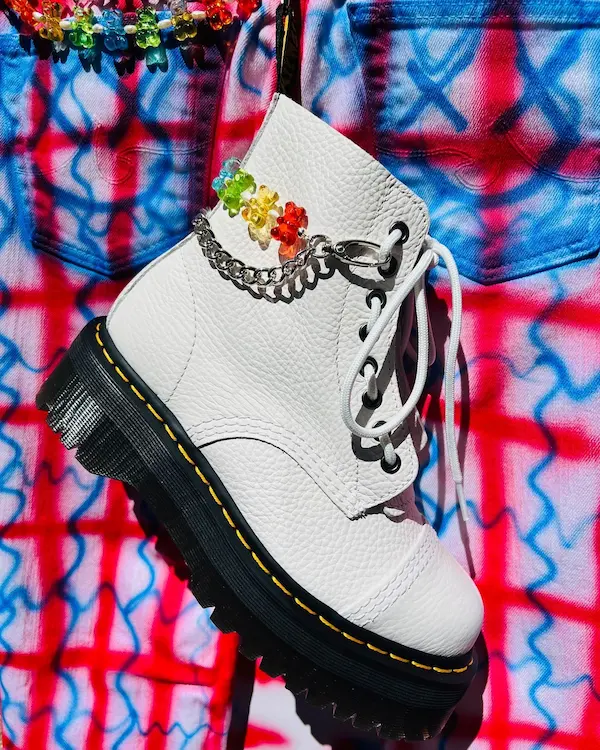 With that being said, their thinner leather provides much more comfort initially. This allows a relatively smoother break-in process with fewer blisters. Dr. Martens boots also have an extra layer of padding in the soles; which, again, provides initial comfort but wears down within 1-2 years.
The majority of consumers report that Dr. Martens didn't last as long as they felt the price point warranted. Many claim that the company has increasingly come to rely on style power and has chosen to cut corners on quality over the years, losing their original appeal and customer base.
The Solovair shoe is made to last-and we mean really last. Not only are they made with thick, high quality, European leather, but their soles have a built in shank, which provides structural support to keep your boot looking boot-ish for years and years to come.
In the words of Nancy Sinatra, these boots are made for walking.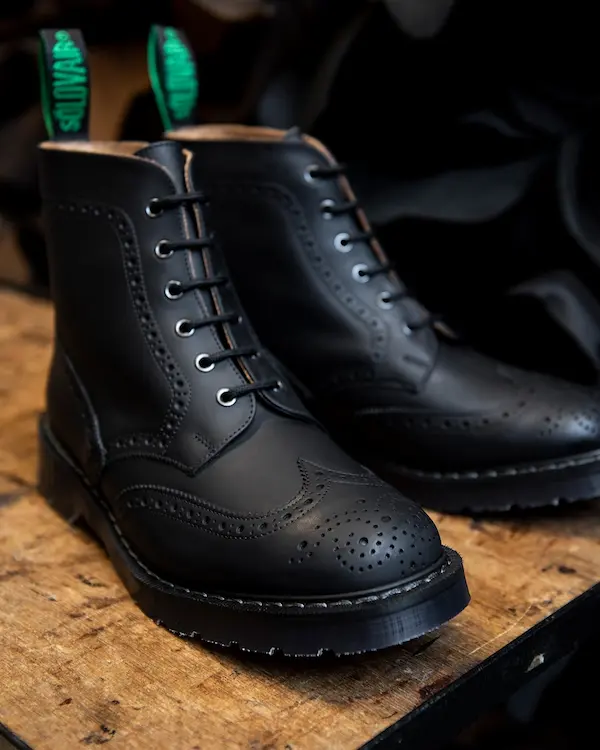 They do take more time to break in, and are more likely to cause some initial foot pain to begin with. Even still, users report that after about the 100-hour mark of wearing these boots, they begin to fit your feet like a foot glove, providing ultimate comfort and durability.
Style
Dr. Martens remains true to the classic grunge look. Even though most brands have strayed away from it, Dr. Martens has kept the boxy toe look; providing the ideal statement boot for anyone with an alternative style.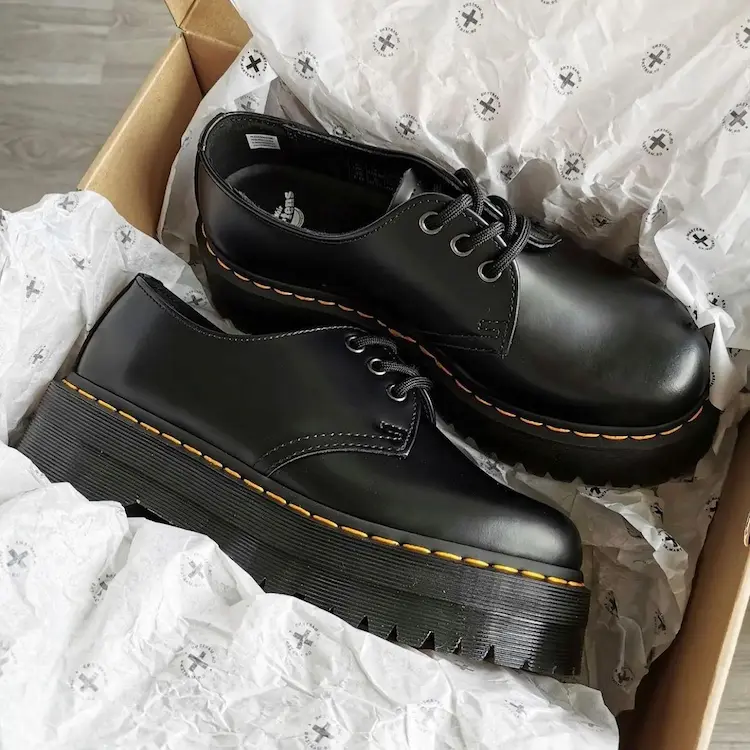 In addition to is shape, Dr. Martens is known for its iconic yellow stitching. Their bright yellow looks are arguably recognizable by all they walk past. As superficial as it may seem, wearing Doc Martens earns instant clout from the iconic yellow seams.
Aside from this, Dr. Martens also offers a broader array of prints and color options compared to Solovair (see some examples below). Similarly, Doc Martens styles are available at many more popular retailers than Solovair.
Solovair opts for silvery-gray stitching and a smooth toe, providing a sleek, classy look for their leatherwear.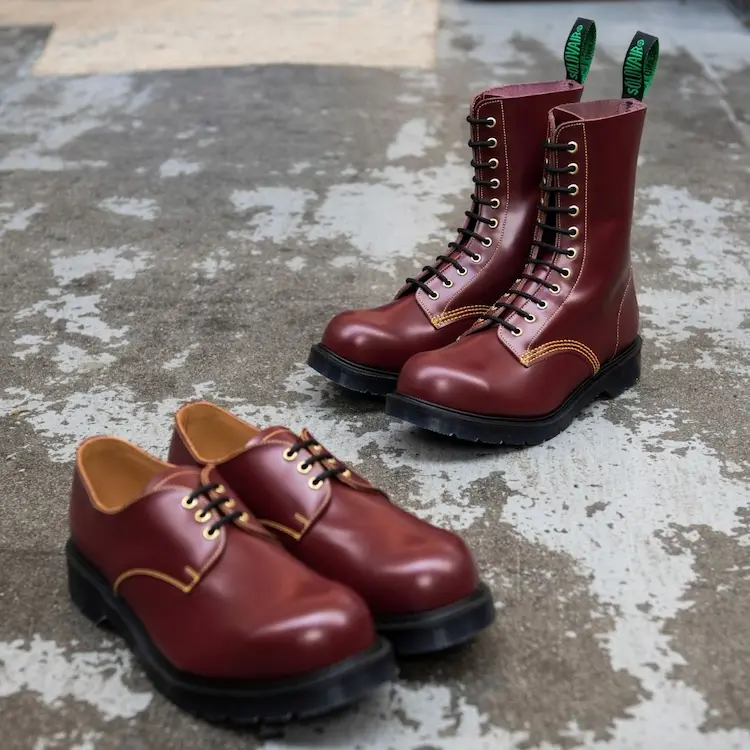 As we mentioned previously, although Solovair offers a variety of colors and finishes for their boots, they don't offer nearly as many styles and colors as Dr. Martens. If you love standout prints, you might gravitate more towards Doc Martens.
However, Solovair does provide an excellent selection of classic footwear. So if that's more your style, they may be the brand for you.
What Others Are Saying
After searching the web for customer feedback with these two brands, these customer opinions are what we found:
Solovair is the longer-lasting boot.
Dr. Martens has more style options and is overall more fashionable.
Dr. Martens have decreased in quality since their popularity in the 1970s, people think they should last longer for their price.
Solovair has better waterproof technology than Dr. Martens.
Conclusion
Overall, if you're searching for the best quality shoe that can take the tests of time, then Solovair is the brand for you.
However, if you're looking for a more affordable option with a wider variety of prints and colors, Dr. Martins may be the way to go. Trend lovers will always notice a pair of Doc Martens, but might not even know what Solovair is. 
Despite being lower overall quality than Solovair, a pair of Doc Martens will still last for years as long as you're not being too rough on them.
Either way, we love this 90's staple style of boots (and other shoes) – we wish you happy hunting!