You might have stumbled across an ad or social media post about Chicwish and are wondering if this brand is worth giving a shot.
We're here to help – keep reading for my 100% honest reviews on this brand and everything else you need to know before buying.
Note: This review was sponsored by Chicwish in order to pay for the time taken to review the brand. However, my opinions remain 100% honest.
What is Chicwish?
Chicwish is a vintage-inspired clothing brand that offers a wide variety of styles, many of which focus on a minimalistic color palette and modesty.
With plenty of dresses, skirts, tops, pants, and outerwear, Chicwish is a one-stop-shop for cute work clothes (as well as garments for plenty of other occasions).
It's also worth noting that Chicwish is based in China. However, as far as pricing goes, they are more expensive than other China-based companies (such as SheIn).
Outwear costs anywhere from $50 – $100, around $50 for most pants, $30–$50 for tops, and so on.
Based on my experience, these higher prices are reflected in the quality. Chicwish is definitely better quality than super cheap brands.
Let's dive into more specific reviews of garments I received, sizing, quality, and more.
My Chichwish Review
I was able to try around 10 or so items from Chicwish – here are my honest reviews of this brand.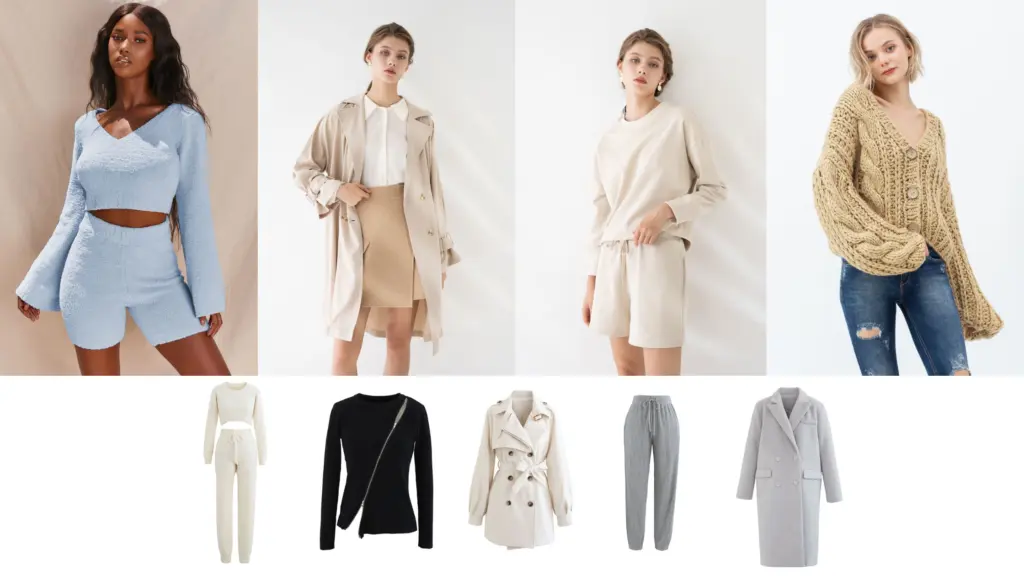 Product Reviews
Knit Tapered Joggers – I loved these joggers, I wear them all the time. They're beyond comfortable and the quality is great. They haven't even started pilling yet, which most of my cozy pants start doing pretty quickly. They've already been washed a few times and still feel (and look) brand new.
Sweater & Shorts Set – This set was decent. The material isn't incredible quality like you'd expect for a sweater, it's fairly thin. This won't keep me warm in a snowstorm, but it's still a cute matching set that's perfect for lounging around the house!
Wool-Blend Coat in Grey – This is one of my favorite things I got and is a new staple in my closet. This coat is the perfect length and is excellent quality. It's so thick that sometimes I get too warm in it (in severely cold weather)!
Chiffon Trenched Coat – I didn't like this coat as much as the previous one, mainly because it's a lot thinner material and is way more prone to wrinkles. That said, it's great for warmer days.
Ivory Belted Coat – Although I didn't think I would like this coat as much because it's shorter than styles I usually like, I was pleasantly surprised! It's a gorgeous coat that's fun to wear with shorts and tights on warmer days.
Chunky Cardigan – This cardigan is beyond cozy! It's very heavy and bulky, which is perfect for keeping me warm in cold winters.
Zipped Ribbed Top – This simple zipped top is another great addition to my minimalistic winter wardrobe. Again, the quality is good and the material is thick enough to keep me cozy warm.
Button Neck Ribbed Top – There wasn't anything wrong with this item quality-wise, I just wasn't a fan of the style.
Ruched Joggers – Having recently gotten back in the gym, these were the perfect addition to my activewear collection. They're comfortable, stretchy, and breezy – thankfully, I don't overheat when I work out in these.
Fluffy Blue Cropped Set – I loved this set. It's so soft and it's perfect for lounging around the house while still feeling cute.
Fluffy White Joggers Set – This was the biggest disappointment, only because it's pretty see-through. You can see every pair of underwear through it – a white thong might be fine, I just don't have one at the moment to test out. It's extremely comfortable though, so I just wear it around the house (clearly I do a lot of lounging around the house).
Overall, I really liked most of the products I received and they were of great quality! That said, there were some types of items I sadly wasn't able to try out, including their best-selling dresses and skirts.
I also noticed that the higher-priced products are the best quality, which is to be expected with any brand. If you can catch something on sale that normally costs more (plus shop when they have a sitewide sale), definitely add it to your cart!
Styles
I loved the wide variety of styles you can find on Chichwish, especially when it comes to modest clothes.
I honestly don't really care about modesty for myself, but I know people who have serious difficulties finding clothes that are modest and cute. Chicwish does a great job in this department!
The loungewear section is my favorite for work-from-home and athleisure goodies, but I adore their outerwear styles as well.
After researching other Chicwish reviews, people also love their selection of pants and I can't help but agree. If you're looking for office pants that don't make you look ridiculous or everyday comfy pants that will replace your jeans, definitely check these out.
Quality
The quality of the garments I received is great! One of my favorites is their outwear, a couple of pieces have become staples in my winter wardrobe. I've washed everything a few times (except for the outerwear) and they remain in great condition.
The only quality complaint I have is for a white loungewear set I received, which is very see-through.
Size
One complaint I saw on quite a lot of Chicwish reviews was sizing, so I was a little scared to receive my garments, but everything fit me true-to-size!
I did size up for a couple of things just in case they ran small, but I could have stuck to my normal size with no issues.
Returns and Refunds
If you're not a fan of your purchase, Chicwish offers free returns on your first order if you live in the US. They have a few different options for returns – click here to read their official return policy.
Return for store credit within 60 days of purchase (plus you get a $2 bonus credit to use)
Return for a full refund within 30 days of the date you received your items
Exchange for a different size or color within 30 days (always free, even after your first order)
Note: Chicwish is also available on Amazon, where you can view even more Chichwish reviews on specific products you may be interested in purchasing.
If you have Amazon Prime, this can be a great way to try out Chicwish without worrying about potentially slow shipping and refunds if you need to return.
Sales and Promotions
Chicwish typically features their current discounts and deals in a bar at the top of their website and often on the homepage as well.
For example, they currently offer 5%–10% off depending on your order size as well as free shipping on orders $50 or higher. Make sure to add the promo code to your cart in order to get the discount!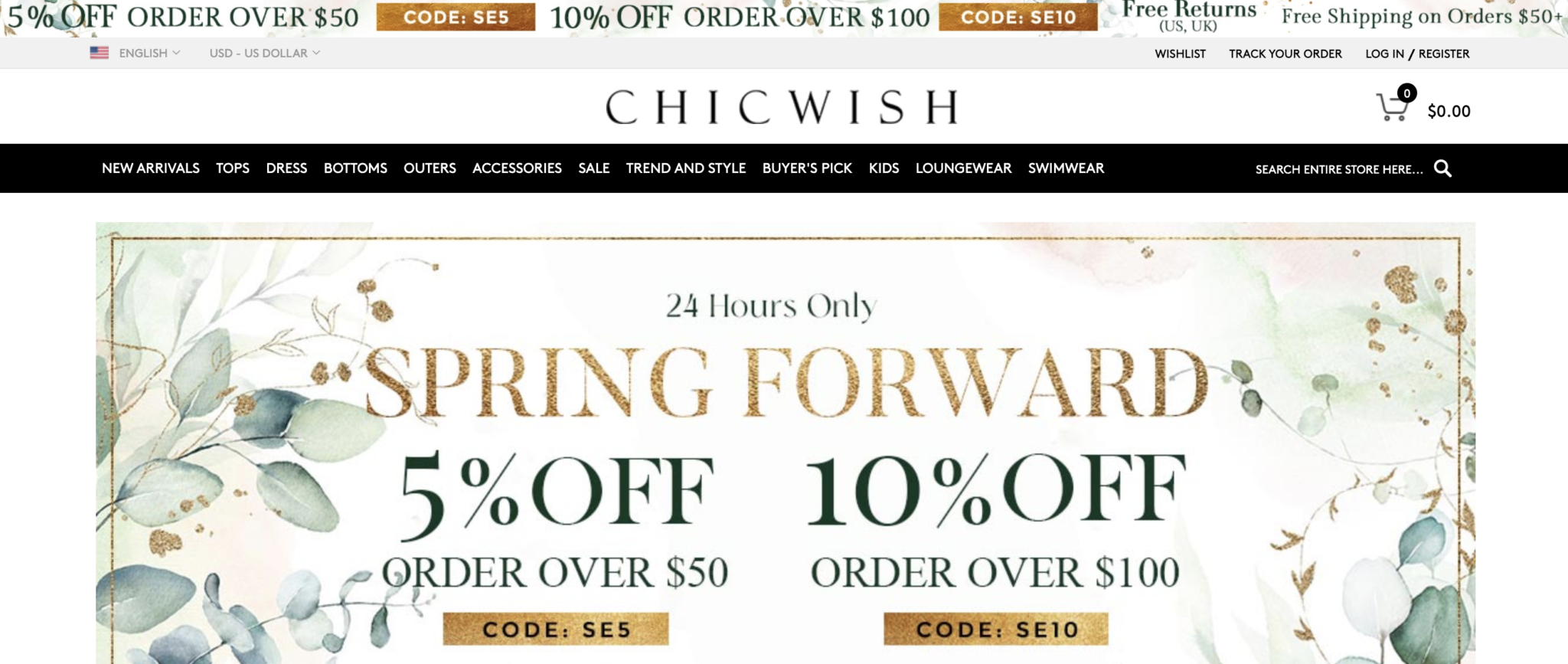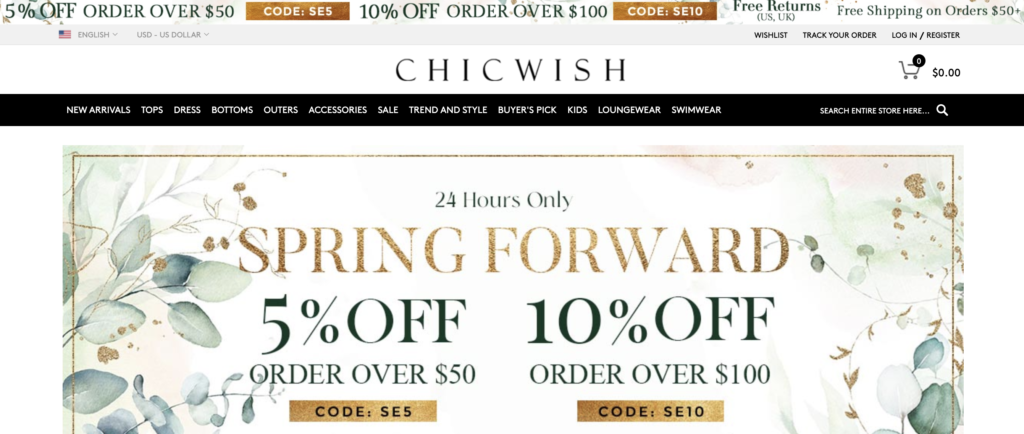 Ethics
I didn't feel this review would be complete without diving into ethics. There are many China-based companies that take advantage of unethical labor practices.
Since Chicwish doesn't share anything about their factory or labor standards, I'd recommend shopping elsewhere if this is an important factor in your shopping decision.
I'm not saying they do have unethical labor practices, I just have no idea since they don't share any of this information, so there is a chance.
Other Chicwish Reviews
Aside from my own experience, what do other people think about this brand?
The biggest issue is their BBB rating, which is an F rating. This is likely because they have 20 or so complaints that were filed against their business that they failed to respond to.
It's concerning that they haven't responded to these complaints, but on the other hand, they only have 24 total complaints and have been in business for 11 years total.
They do have decent ratings on BBB (about 4.22 stars on average) and on other review platforms.
I also noticed that bad reviews on quality and sizing were typically older reviews, whereas new reviews tended to have better experiences, so they may likely have improved the quality of their items.
These are the biggest complaints and issues among Chicwish reviews:
Shipping took longer than advertised
Poor communication when people have issues with their orders
Took months to receive a refund
Need to pay for returns if it's not your first order
Some products were of poor quality
Overall Thoughts
At the end of the day, I enjoyed the garments I received from Chicwish and thought they were pretty good quality for the price point.
As you might expect, the higher-priced items were the best quality (I loved the outerwear I got from them the most).
That said, there are a couple of concerns with this company, mainly their lack of communication with unhappy customers as noted in a variety of other reviews.
Some people experience poor product quality every so often, but the majority seem to enjoy the quality. Some also experience slow shipping speed and slow return processing.
Another huge concern is labor. China-based companies often have unclear labor standards, so who knows how these clothes are being made and by whom. If this is something that you value, you can find a ton of American companies that are transparent about their labor and often charge similar prices to Chicwish.
Brands Like Chicwish
If you're not convinced, here are some alternatives to Chicwish worth checking out.
UP NEXT: 30 Stores Like SheIn for Affordable, Trendy Clothes