Styling hair can get tedious, especially when it comes to curling. All the parting, the extra time it takes, and you have to tire out your wrist twisting and rolling to get the perfect curl? No thank you! 
Any time an innovative beauty product comes on the market to make your morning routine easier and faster, we're on board. Today we're checking out CHI's Spin N' Curl Ceramic Rotating Curler. 
Meant to easily give the perfect head of curls with little to no effort, this curler could be the answer to all our hair prayers. But is it as easy and effective as they say?
Read our CHI Spin N' Curl review to find out!
What is CHI Spin N' Curl? 
The Spin N' Curl is a 1" ceramic rotating curler from the popular haircare brand, CHI.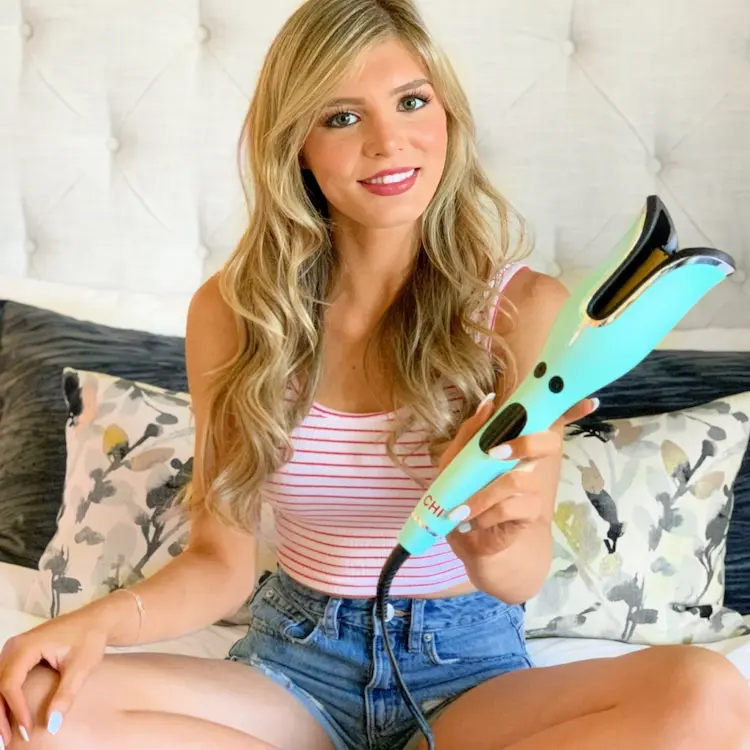 Best known for its hair styling tools, CHI is an acclaimed brand loved by hair-styling baddies and hair enthusiasts alike. 
The Spin N' Curl came out back in 2019 and was immediately pushed to the forefront of the beauty world, with everyone super excited to try it out.
This unique tool features the following:
1" rotating barrel
Pre-set temperatures for different hair types: 370 degrees, 390 degrees, and 410 degrees max
Tangle protection
Dual voltage
Directional buttons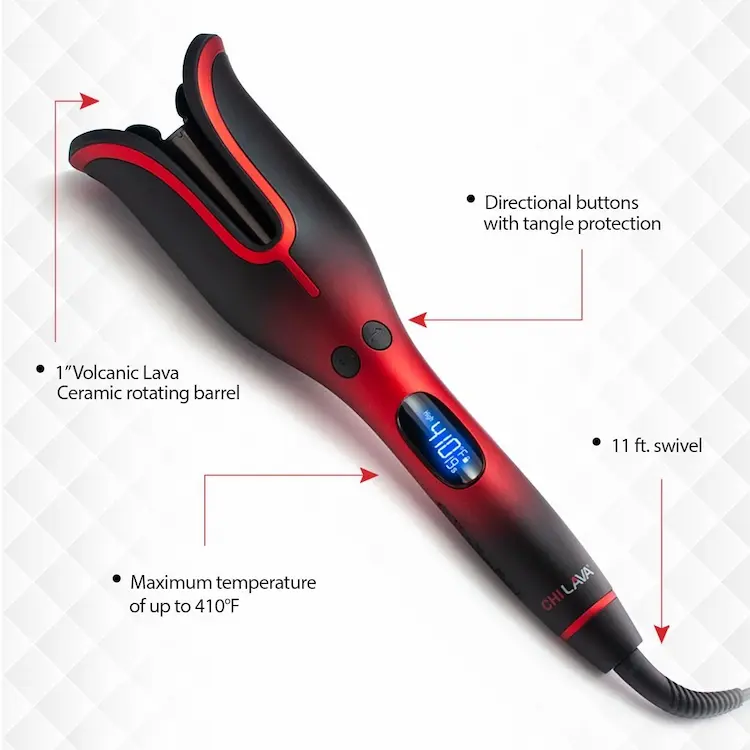 How It Works
The Spin N Curl is an automatic curling tool, and with a push of a button you are supposed to get perfect, consistent curls. Here are the steps to style your hair using the Spin N Curl.
Set the Spin N Curl to your desired temperate. 410 degrees is the max and is recommended for thick and stubborn hair
Place the backside of the curling tool against your head
Insert a ¾ to 1" piece of hair into the opening of the curling chamber at a 90-degree angle
Depending on which way you want your hair to curl, hold down the arrow button. The barrel will rotate, curling your hair within the curling chamber
Once the rotating stops, release the button and hold in position until you hear four beeps, which means the curl is set
Gently remove your hair from the curling chamber and continue the process until you are satisfied
CHI Spin N' Curl Reviews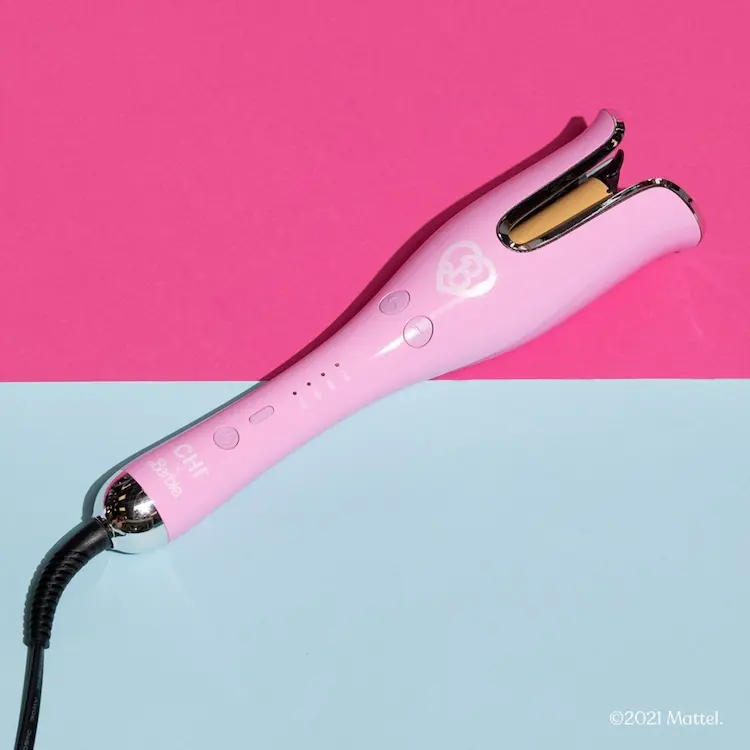 Overall: ★★★★ 4.5 stars
Everyone who has used the Spin N Curl has had nothing but praise for it, aside from a few small issues from people with longer hair. Most users say the tool is easy to use, saves time, and you don't need to be worried about getting burned by the barrel.
Those with longer hair had more issues, mostly surrounding hair getting tangled in the barrel. But overall, the Spin N Curl is a great tool to have in your beauty arsenal — it's fairly priced and you can also choose from twelve different colors so you can get one that fits your taste!
Price: ★★★★ 4 stars
For being able to get a headful of curls at the push of a button, the Spin N Curl is reasonably priced.
The prices vary depending on which color you get, but prices range from $99.99 to $139.99. It's also sometimes available for cheaper prices at Amazon or Ulta.
We think with everything this curling tool has to offer, it's definitely worth the price and worth the investment. Not just that, but quality heat styling tools generally last a long time – CHI is one of the most reputable brands in the hair industry, so this tool should last quite a while!
Styling: ★★★★ 4 stars
The only minor complaint the Spin N Curl gets is it's best suited for medium-length to shorter hair. People with long hair can totally use this tool still, but it's easier for longer hair to get tangled up.
Additionally, those with longer hair have to section their hair well so that the pieces are not too thick in the barrel chamber. On the flip side, those with medium to shorter hair seem to have no issues using the Spin N Curl!
What Customers Are Saying
Those who use CHI's Spin N Curl are raving about this curling tool. We looked at real reviews from real customers and picked out the most common points that were made.
Here's what customers are saying about the Spin N Curl:
So easy to use
Almost burn-proof (way less likely to burn you than a typical curling iron)
The pre-set temperatures are great
There's a bit of a learning curve, but it's easy when you get used to it
The variety of colors is so cute
The barrel could be a little longer to accommodate those with longer hair
Gives beautiful curls
In Conclusion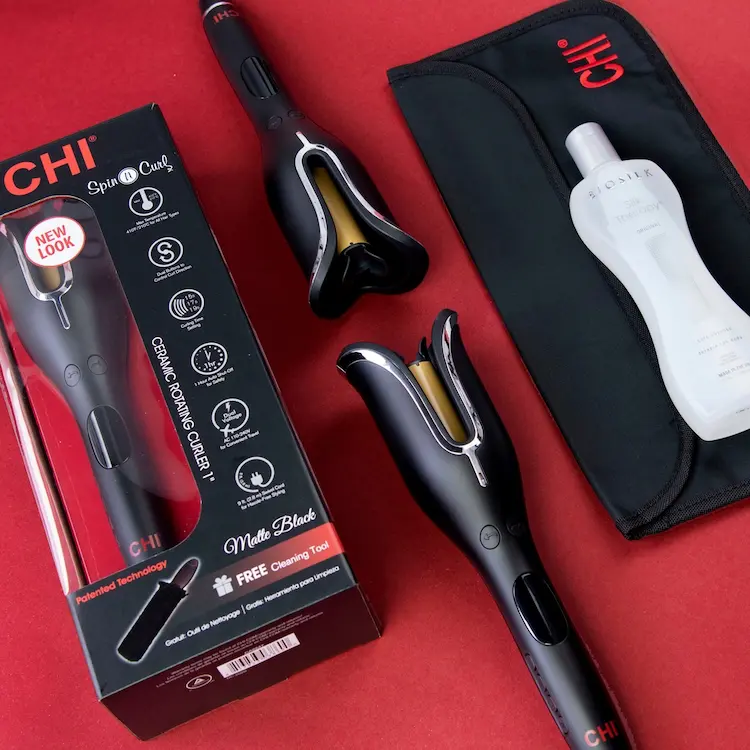 So, is the CHI Spin N' Curl worth the hype? We would say yes, especially if you have short to medium-length hair. You can still give it a shot if you have longer hair, but we noticed the most complaints from people with longer hair. Longer hair tends to get tangled in the barrel and needs to be sectioned out more, which takes longer to curl. 
But overall, this is an amazing curling tool that will save you so much time and make your hair look beautiful without all the hassle (or burn marks).
We think it's definitely worth the investment, especially if you love styling your hair! In fact, anything that makes you feel like your best self is worth it, and this Spin N Curl will do just that (just don't forget the heat protectant spray).
FAQs
Where can I buy the CHI Spin N' Curl? 
You can purchase the Spin N Curl directly from the CHI website, or you can purchase this curling tool on Amazon, Ulta, and general merchandise stores like Target.
Does the CHI Spin N' Curl damage hair?
Any heat styling tool can damage your hair, even if used in moderation. We recommend always using a heat protectant spray when using heat styling tools and trying to use lower temperatures.
What is the return policy?
If you are not satisfied with your product, CHI has a fifteen-day return policy from the date the product was purchased. However, when it comes to styling tools, most CHI products have a one-year warranty, which will be more clear once you open up the product. You can also shop from Amazon, Ulta, or Target to take advantage of their flexible return policies.