Since we're always using our phones, phone cases (and other accessories) are an important part of our lives. They keep our phones protected and can add a touch of personality to them! But, nobody wants to spend $60 on boring Apple cases.
Casely is a popular brand that sells cases and other phone accessories – we'll be sharing our Casely reviews after trying out a few cases!
What is Casely?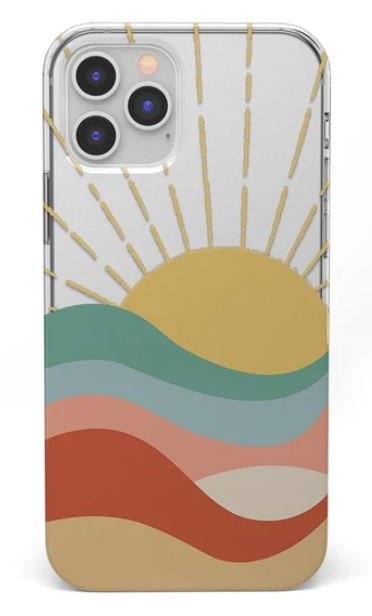 Here Comes The Sun (From $12.50)
Casely is an online tech retailer based in New York that specializes in phone accessories.
From phone cases to phone rings, Casely designs all of their own products and sells them exclusively to their website.
Not only this, but Casely is the only brand in the world that sells a phone subscription box. Yes, you read that right – a phone subscription box.
Now, this doesn't include a new phone every month (sob), but it does include new phone accessories each month (yay!).
Not to mention, they are sent to you for much cheaper than the typical retail price for phone accessories.
Prices
If you skip the subscription and are just looking to buy a thing or two, the average price per item is around $25 for a typical phone case. For phone rings, you can expect to pay $10.
Now, if you're instead choosing to sign up for their unique subscription program, you can now sign up for $15 a month, at a current discounted price.
Casely Subscription: How It Works
If their monthly subscription box has sparked your interest, we don't blame you. 
Casely's subscription sends a recurring case picked out for you (you can receive it monthly or every 3 months). It costs $15 a month, which is a way better deal compared to buying the case buy itself, which typically costs $25.
To join, just click the 'join the club' option on their website (or follow this link to make it easier). From here, you will be prompted to provide some info about your phone and preferences.
This info included: what kind of phone you have, what type of case you want (protective or slim), and the weight (lightweight, medium, or heavy).
After this, you are given the option to choose your first style or let Casely surprise you with a random case.
Return Policy
Now, if you receive an item from Casely and don't like it, what can you do?
Thankfully, Casely's return policy states that they will accept returns within 30 days of purchase as long as the item is in its original packaging and in resellable condition.
If you purchase a 'final sale item, you will not qualify for a return.
Casely Reviews
Note: Casely sent me a couple of cases to review.
Having tried three phone cases from Casely, I feel I have a good feel for the brand as far as quality goes. Overall, I've enjoyed all of my cases from them! I received one wallet case that is extremely convenient for on-the-go when I don't want to carry a bag.
This case can hold cash or cards (not to mention this cushions the fall in case I drop my phone). It feels high-quality and has lasted for months.
I received a printed case as well. Ive purchased low-quality cases before where you can just tell they're cheap, and that's not the case with these!
The print is bright and still looks great after a couple months of wear.
Other Customer Reviews
We've gathered a few reviews that shared most common experiences to give you a sum up of the average customer experience with Casely.
"I love the products I have got from Casely! I have six phone cases, and all of them are super cute and protective. I just ordered an AirPods case as well. I love the brand and the products!! Highly recommend." – Audrey B. on TrustPilot
"I love my Casely case! They are so adorable and are good quality, too. There are also so many styles and patterns to choose from, which is what makes Casely so great. They truly fit every vibe!" – Shawna K. on TrustPilot
"My Casely just arrived. I'm in love with it! Very protective and beautiful, definitely will buy more. Thanks, Casely!" – Hany Z. on TrustPilot
Bottom Line – Is Casely Worth it?
Overall, Casely is a fun, unique, and quality brand. With an average 4-star review, people rave over this tech brand for a reason. Next time you're in the market for a new phone case, save yourself the $60 you'll spend at a retail brand and instead shop Casely.