My boyfriend gifted me with a beautiful thick Cartier love ring a couple of years ago, but I had to return it and get a different size and potentially a different color. During this process, I was very torn between getting the thin version or staying with the thick love ring.
I started out with the thick version, returned it for the thin version, and returned it once again for the thick version.
I don't know if you still need to know but the difference is that the wedding band is 3 mm wide (I believe) and the regular love ring is 5.5mm wide.
Cartier Love Ring Thin vs. Thick (Overview)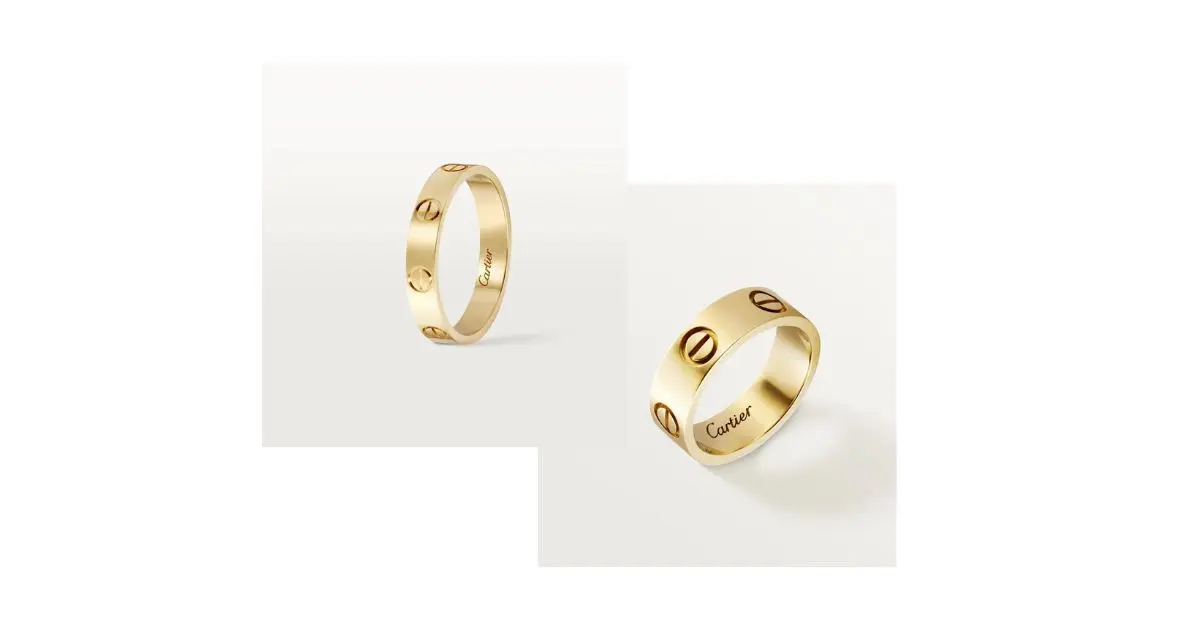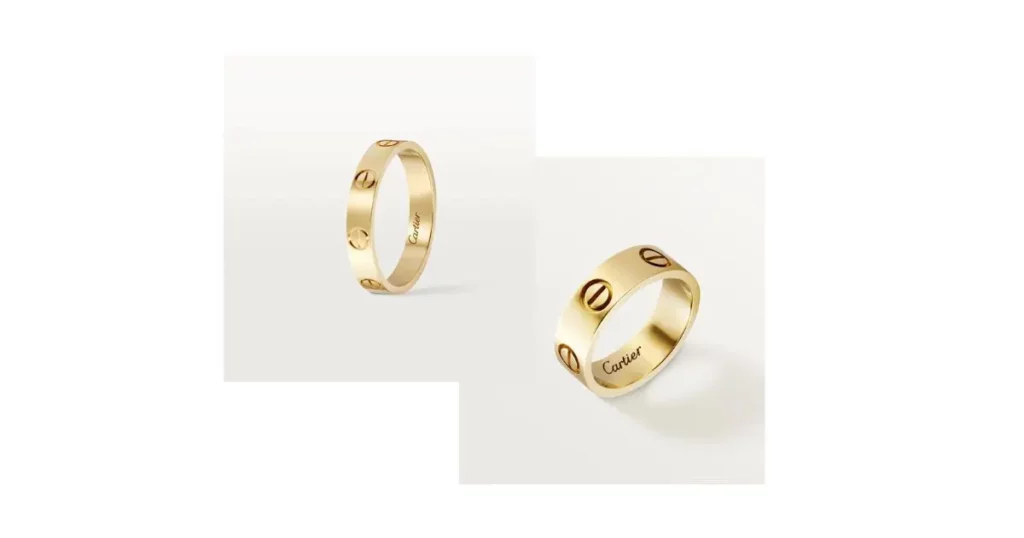 Here were the main differences I noticed between the thick and thin Cartier love ring.
Thin Love Band: Feels less luxurious and lighter compared to the thick love ring, but obviously is more affordable at $1,170 (or more if you pick platinum gold). This ring is 3.6mm. Although it felt less luxurious, it was easier to stack with other rings when desired. The thick love ring is more of a standalone ring, in my opinion. The screws on the smaller band also seem less noticeable.
More affordable
Feels less luxurious
Looks better when stacked with other rings (in my opinion)
Screws are less noticeable
Thick Love Ring: Looks and feels much more luxurious and is more recognizable on your finger. It's heavier and bigger at 5.5mm. It's also more expensive, of course, currently $1,820. I also worry about the ring falling off, so for some reason, the thicker size felt less likely to fall off (this is all in my head, it obviously won't fall off as long as you get the right size).
More expensive
Feels more luxurious
Screws are more noticeable
They also have an even thicker version now at 11mm, but this one costs over $3,000. It's beautiful though!
RELATED: 10 Cartier Love Ring Dupes to Save a Fortune
Which is Better?
Having tried both, I went with the thick Cartier love ring in Rose Gold and I love my ring. It is still beautiful years later.
I went with the thick version because it just felt more luxurious overall, enough so that it seemed worth the extra cost. It stands out more on my finger and people can always tell which ring I'm wearing. If you want your ring to be noticed, I'd go with the thick version. It seems harder to notice the screws in the thin band unless you looked closely.
I also noticed the thinner version was labeled as a wedding band, and since this was more of a "promise ring" that my boyfriend gifted me, I thought the regular ring would be better.
It's also worth noting that the thin version looked more natural when stacked with other rings. To me, the thick love ring version is more of a standalone ring.
The Love rings do scratch very easily as most gold pieces do, but you can get it polished every 6 months or yearly to keep it looking pristine. That said, I actually haven't even gotten mine polished yet after a couple of years. There are a ton of scratches, and it's definitely not as shiny as when I got it, but it's still shiny and looks good until you look closely at the ring and see the scratches. I plan to get it done soon, but it's still beautiful.
The only thing I wish I had done differently was picking yellow gold instead of rose gold. I absolutely love the rose gold color, but I later realized that none of my other jewelry is rose gold and I don't really like how the rose gold looks when paired with regular gold jewelry. This might not bother you, but I felt it was worth mentioning.
Overall, when comparing the thin vs. thick Cartier love ring, you really can't go wrong with either option. There are definitely some minor differences – I personally liked the thick version a little better because of the more luxurious feel, but I would have been more than happy with the thin band too.
If you're really on a budget, don't be afraid to go with the thin band. You'll love it!