Clean beauty has been on the rise over the past decade and nowadays it's as easy as ever to find a brand that offers skincare or beauty products that feature natural and clean ingredients.
Carrot & Stick is one of those skincare brands, but is the brand worth the splurge? Keep reading our Carrot & Stick reviews to find out.
What is Carrot & Stick Skincare?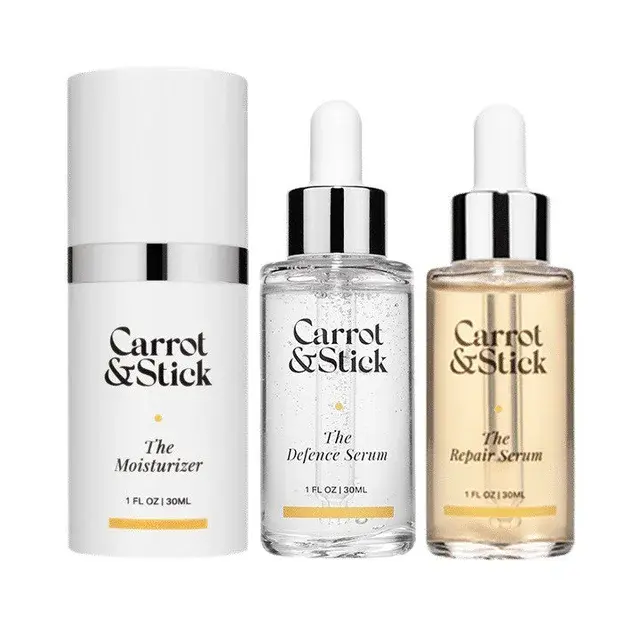 Carrot & Stick is a skincare brand that prides itself on offering products that have plant-powered ingredients backed by innovative science.
Strangely, there's no information regarding who the owner of Carrot & Skincare is, nor when the company was founded.
However, Carrot & Stick states that its mission is to deliver high-quality products without having to rely on harsh chemicals or preservatives.
According to Carrot & Stick's about page, the company is based in New York in the United States and in London in the UK.
Is Carrot & Stick Skincare Legit?
There's not much information about the brand's founders or origins, nor are there a lot of Carrot & Stick reviews. It does appear to be a legitimate company, but it's definitely a smaller company.
One of the things that make Carrot & Stick a bit sus is the company's review page. There's a pageful of reviews that are all five stars from the same five people.
Maybe the same five people just reviewed different products or there's something wrong with their website when we looked — we can't really know for sure, but it is kind of sketchy. However, when looking at individual products, the reviews look a lot more legit.
Carrot & Stick Skincare Reviews
Overall: ★★ 2 stars
There's not much to go off when it comes to Carrot & Stick Skincare considering there aren't many reviews, but the biggest distinguisher of the brand is its natural formulas and plant-powered ingredients.
We also think it's a little weird that the brand shares nothing about its founder(s) or origins. We believe that if a brand is proud of its brand and formulas, it won't be afraid to share this info.
Also, the brand is a bit pricey. And from the existing reviews, some customers state the products they ordered didn't work as advertised while others praised the lightweight and cooling formulas.
It's also worth noting that many of the product reviews on Amazon were from people who received free products in exchange for a review.
Price: ★★★ 2.5 stars
Carrot & Stick falls on the pricier side of things, with prices ranging from $40 to $110 for individual items.
This is a hard sell not just because you can get plenty of clean skincare brands for lower prices, but because Carrot & Stick is also not a very popular brand.
It's difficult to market products at a high price point when there's no hype surrounding them, and unfortunately, that seems to be the case with Carrot & Stick.
Ingredients: ★★★★ 4 stars
The selling point of Carrot & Stick is its ingredients. The brand prides itself on having clean ingredients and excluding from its formulas some of the following:
sulfates
parabens
formaldehyde
phthalates
mineral oil
synthetic fragrances
Instead, Carrot & Stick focuses on plant-derived ingredients and advanced science to create its products.
For example, the Brightening Spot Treatment features superstar ingredients like mulberry root and grape stem cells!
Return Policy: ★★★ 2.5 stars
Carrot & Stick offers full refunds within 31 days of receipt.
However, there is no online process to request a refund; you must dial the number given on their FAQ page. Call to make a return? Pretty old school if you ask us.
That being said, they do have some Prime-verified products on their Amazon store. These are eligible for free returns through Amazon as long as you're a Prime member, so we'd recommend shopping here if you do decide to try this brand.
What Customers Are Saying
Though there aren't many reviews for Carrot & Stick products, there are still shoppers out there who are doing us all a favor and letting us know the 411.
We went through honest reviews from real Carrot & Stick customers; here's what they had to say:
Pretty pricey
Formulas are nice, but not worth the cost
Customers love the texture of Carrot & Stick's moisturizer
There are plenty of other natural-ingredient brands that are cheaper
The products have a subtle scent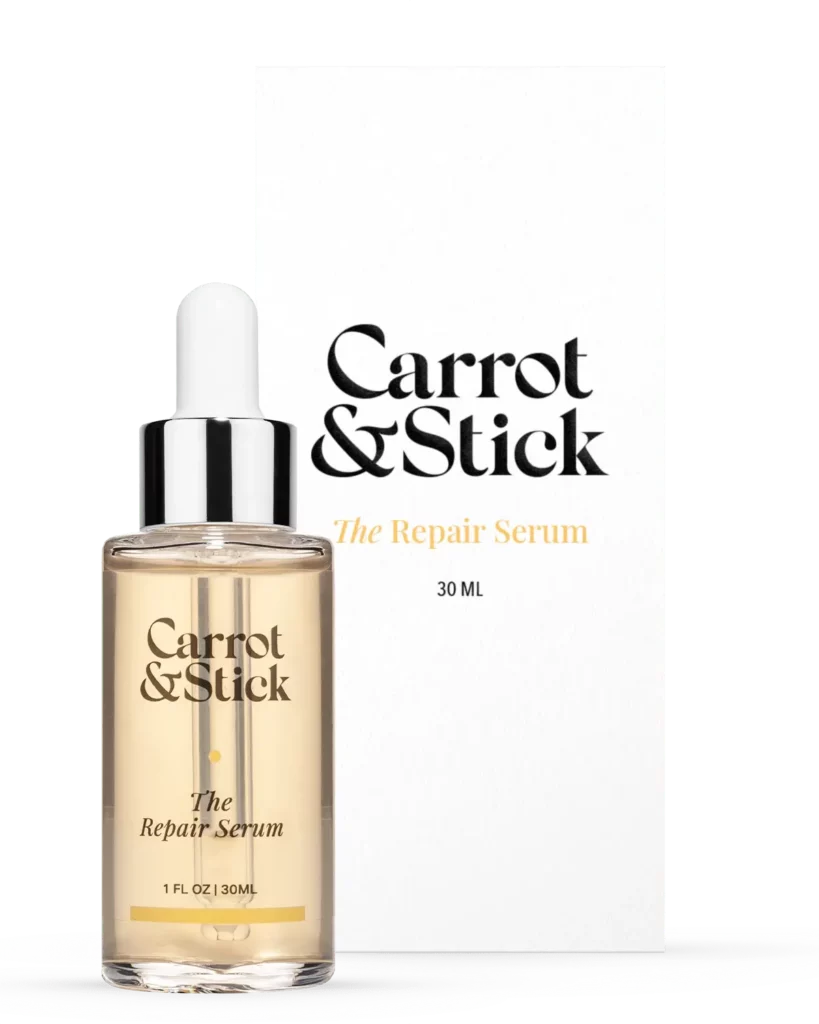 Carrot & Stick's The Repair Serum is for everyone's skin — normal, combination, oily, and dry!
This serum is meant to revitalize the skin by lifting, tightening, hydrating, and firming it. Impressively, this serum is packed with a team of superstar ingredients like Vitamin E, Chamomile Flower Extract, and Green Tea Leaf Extract.
In fact, this serum is also infused with a Neuropeptide Complex that carries amino acids to stimulate collagen and help fight fine lines and wrinkles.
The Repair Serum is listed as one of Carrot & Stick's best-selling products, and customers are completely in love with it, saying the consistency is cooling and not sticky at all.
This serum is sold in a 30mL bottle and sells for $80.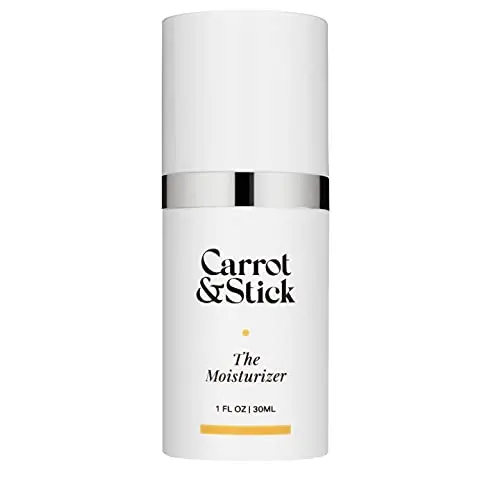 One of the most reviewed products, Carrot & Stick's The Moisturizer is a lightweight formula packed with antioxidants. This product is best for fighting signs of aging, lines, wrinkles, and loss of the skin's elasticity.
This moisturizer is loaded with plant proteins, vitamins, peptides, and more powerhouse ingredients including vegetable proteins like Turum Butter and Trealix.
For $60, this 30mL moisturizer can be yours!
Customers love the velvety and smooth texture, the subtle scent, and how hydrating it feels on dry skin textures.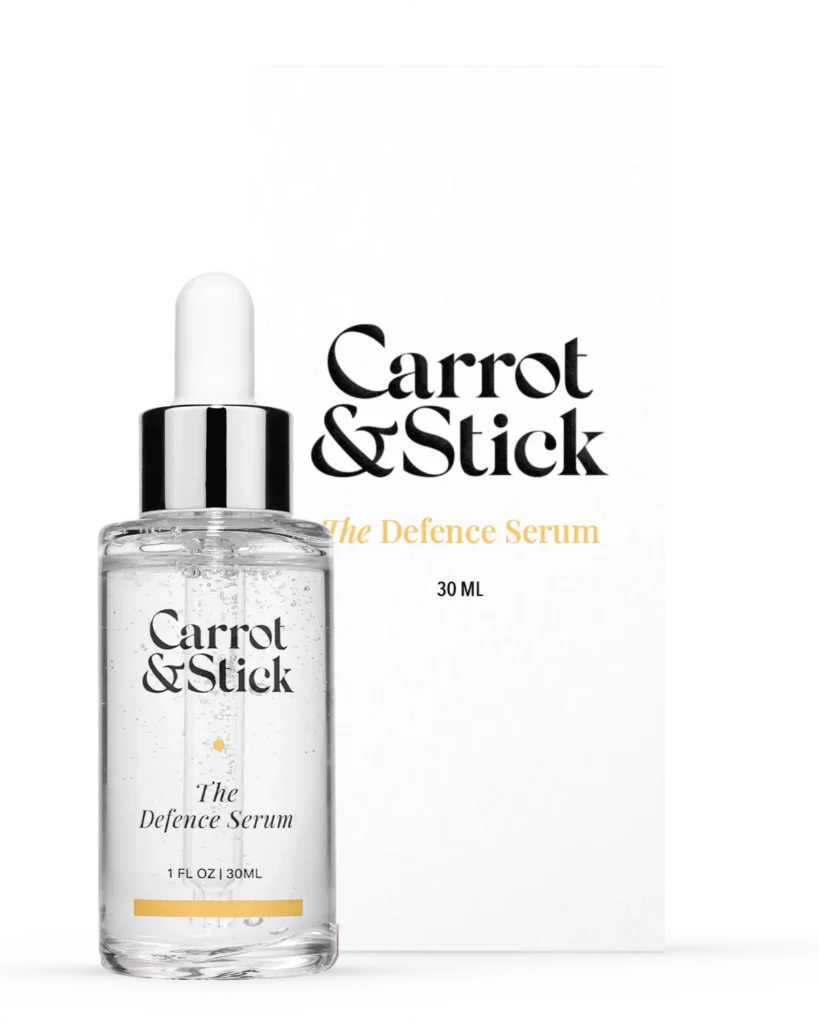 This Carrot & Stick serum is made to be used in the morning and the evening and is made to hydrate and brighten the skin.
Filled with antioxidants and vitamin C to promote collagen production, this serum makes skin look bright, radiant, and healthy!
The key ingredients of this Carrot & Stick serum include Ascorbyl Glucoside, which helps brighten the skin by releasing antioxidant benefits and inhibiting pigment production, and Sodium Ascorbyl Phopshate, which is a gentle form of vitamin C that helps boost collagen production.
A 30mL bottle of The Defense Serum is $80 and is best used for lines and wrinkles, signs of aging, and loss of firmness and elasticity.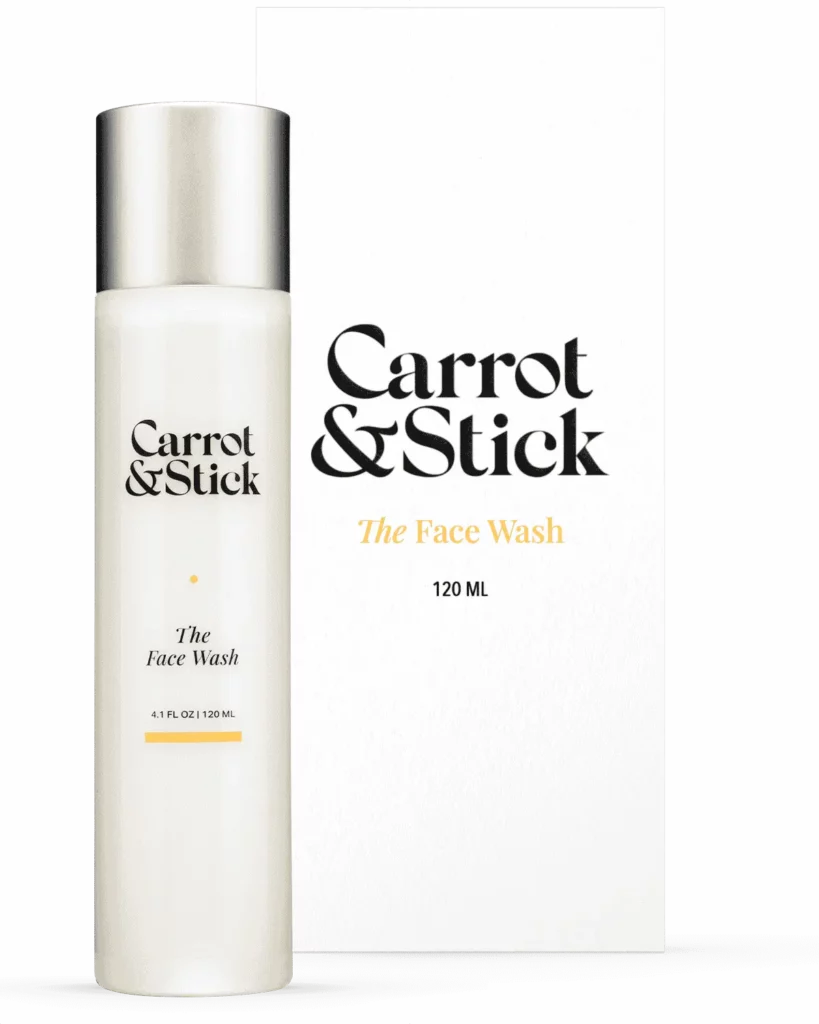 The Carrot & Stick face wash has a gentle formula perfect for those with oily, combination, dry, and normal skin!
Since the formula is gentle, it's not stripping of the natural oils the skin produces. In fact, it helps protect the natural skin barrier thanks to the rose seed hip oil, geranium flower, and red seaweed present in the face wash formula.
$40 will get you a 120mL bottle, and users of the Carrot & Stick face wash love how the product doesn't dry out the skin and leaves it feeling renewed and refreshed.
The Final Verdict
It's totally understandable to be hesitant to try a brand that doesn't have many customer reviews or exposure to go off of.
However, Carrot & Stick does appear to have thoughtful formulas with super clean ingredients — we're just a little hesitant because of the high prices for their products (not to mention the suspicious way they don't share anything about their origins or founders).
We'd recommend picking a more reputable brand until Carrot & Stick gets some more feedback, unless you're willing to take the risk.
Since their return policy seems pretty dated, we'd recommend looking on Amazon to see if they currently have any Prime-eligible products. This way, you get free returns through Amazon rather than having to rely on the brand to refund your money.
Carrot & Stick Skincare Alternatives
FAQs
What is Carrot & Stick good for?
Carrot & Stick is good for all skin types and for people who are looking for plant-derived skincare products.
Who owns Carrot & Stick?
We couldn't find any current information about who owns Carrot & Stick skincare.
Where is Carrot & Stick skincare made?
All products are manufactured in the USA.