Getting your nails done is one of life's simple pleasures, but getting acrylics or even a gel manicure is pricey these days.
Especially if you want a cute design like what you see on social media, there are so many components to factor in: price, time, and finding the right nail tech.
That's why press-on nails have been on the rise, and one place you can consider getting your press-ons from is BTArtbox.
With a huge selection of press-on nails, BTArtbox has the cutest designs, but are they worth it? Read our BTArtbox press-on nails review to find out.
What is BTArtbox?
BTArtbox is a beauty supplier that primarily offers nail products and tools.
Established in California in 2013, BTArtbox was founded by MS Better who wanted to inspire women to be creative, innovative, and confident with their nails.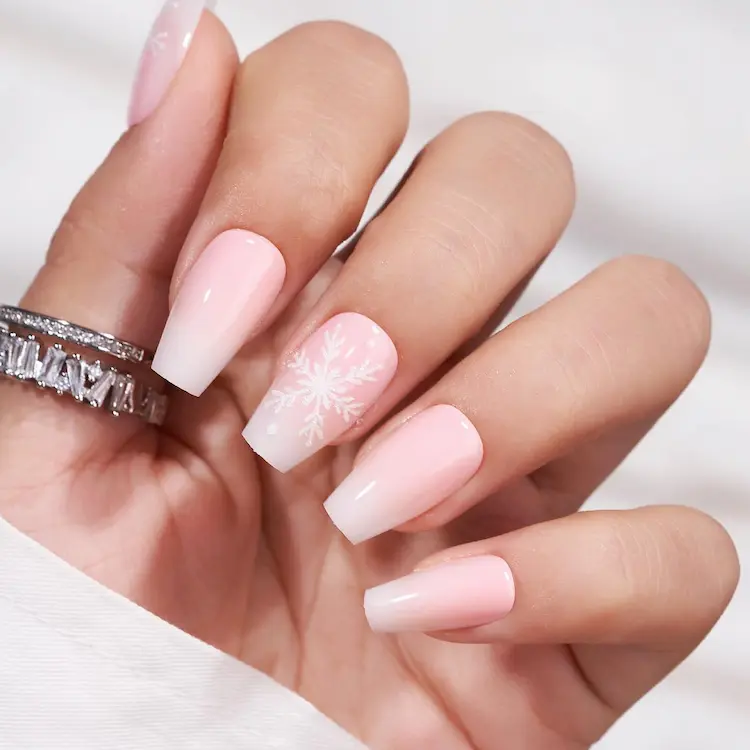 BTArtbox is most popular for the brand's press-on nails and fake nails.
The brand offers press-ons of all varieties, including different nail shapes, designs, and lengths! In fact, you can even choose if you want plastic press-ons or soft gel.
BTArtbox Reviews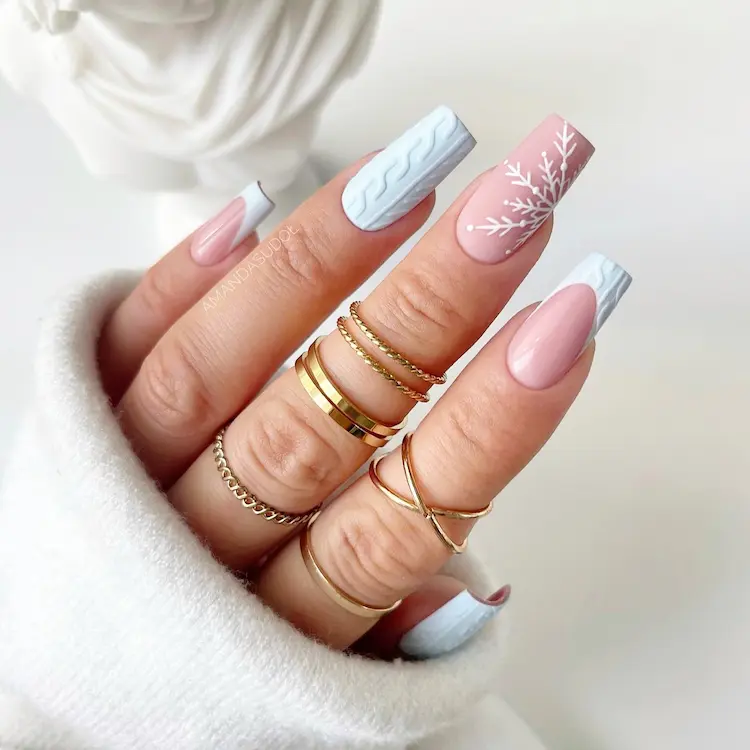 Overall: ★★★★★ 5 stars
Not only does BTArtbox have a loyal customer base, but the brand has a big social media presence where the brand posts tips and tricks about all things nails!
Shoppers rave about BTArtbox's press-ons and can't stop talking about how durable, high quality, and stylish they are. 
After trying them myself, I would say they have some gorgeous styles and long-lasting capabilities. They will come off if you're extra active, but that goes for any press-on nails. BTArtbox nails have lasted longer for me than other press-on nail brands I've tried!
They're also readily available on Amazon, which always makes life easier.
Price: ★★★★★ 5 stars
It's hard to find a set of good quality press-on nails (believe me, I know), and for $15.99 BTArtbox delivers just that.
In comparison to the $60+ it would cost to go to the salon and get your nails professionally done, you can apply BTArtbox's press-ons in just a few minutes from the comfort of your own home without breaking the bank (and without fear of damaging your nails).
Quality: ★★★★★ 4.5 stars
Myself and lots of customers agree: BTArtbox's press-on nails are extremely durable, high-quality, and fashionable. 
The brand offers seasonal nail designs, classic nail designs, intricate nail art, and tons more! You'll definitely be able to find a set of press-ons that fit your aesthetic and style.
Again, they will likely come off if you're doing intensive activities, but I don't think there's any press-on brand that wouldn't. That said, they last longer for me than other press-on nails I've bought from the drugstore.
Styles: ★★★★★ 5 stars
BTArtbox offers a large variety of different styles to choose from. The brand offers almond, square, and coffin-shaped nails and cute designs like french tips, solid colors, swirls, and more! They also cater lots of their designs to the seasons, which I love.
How it Works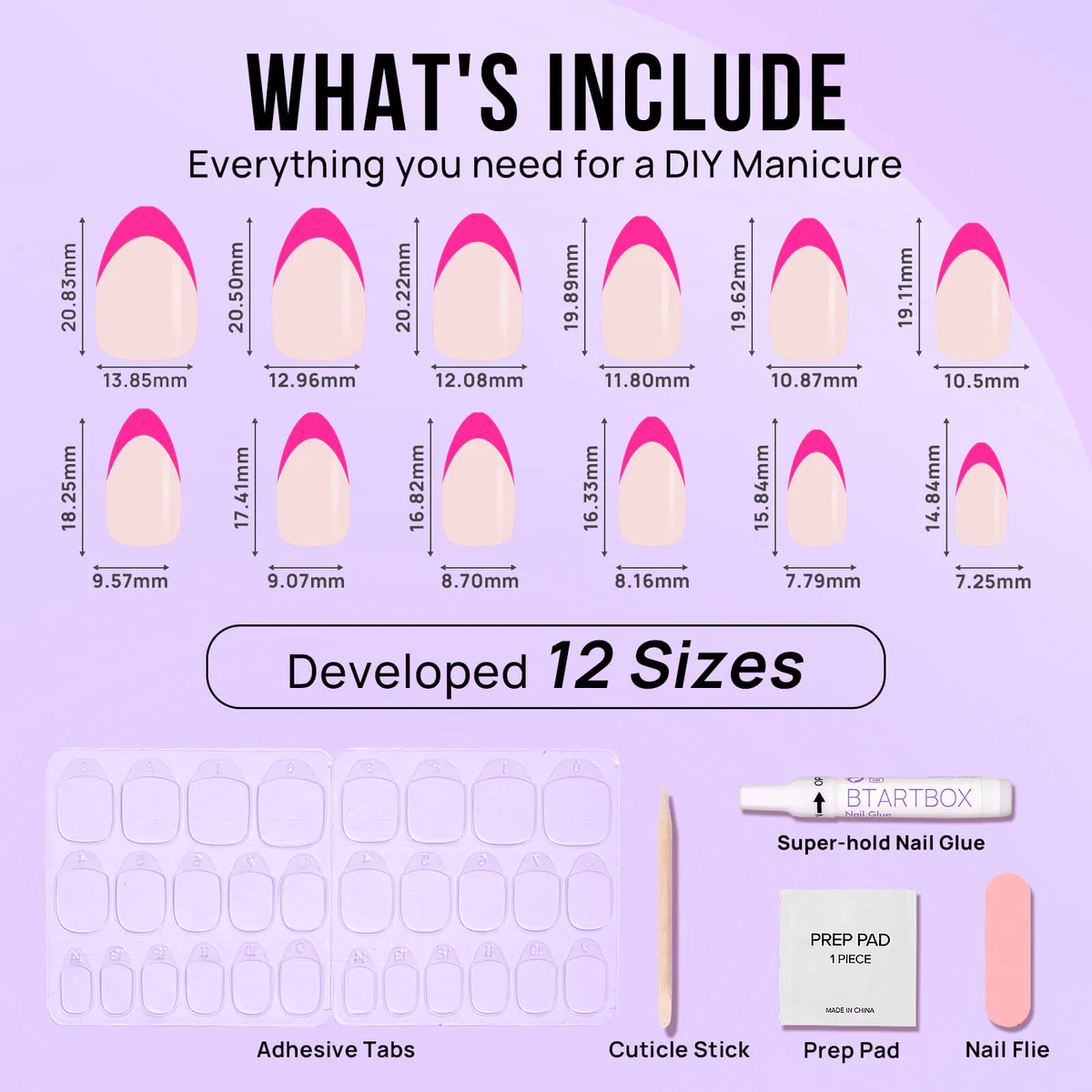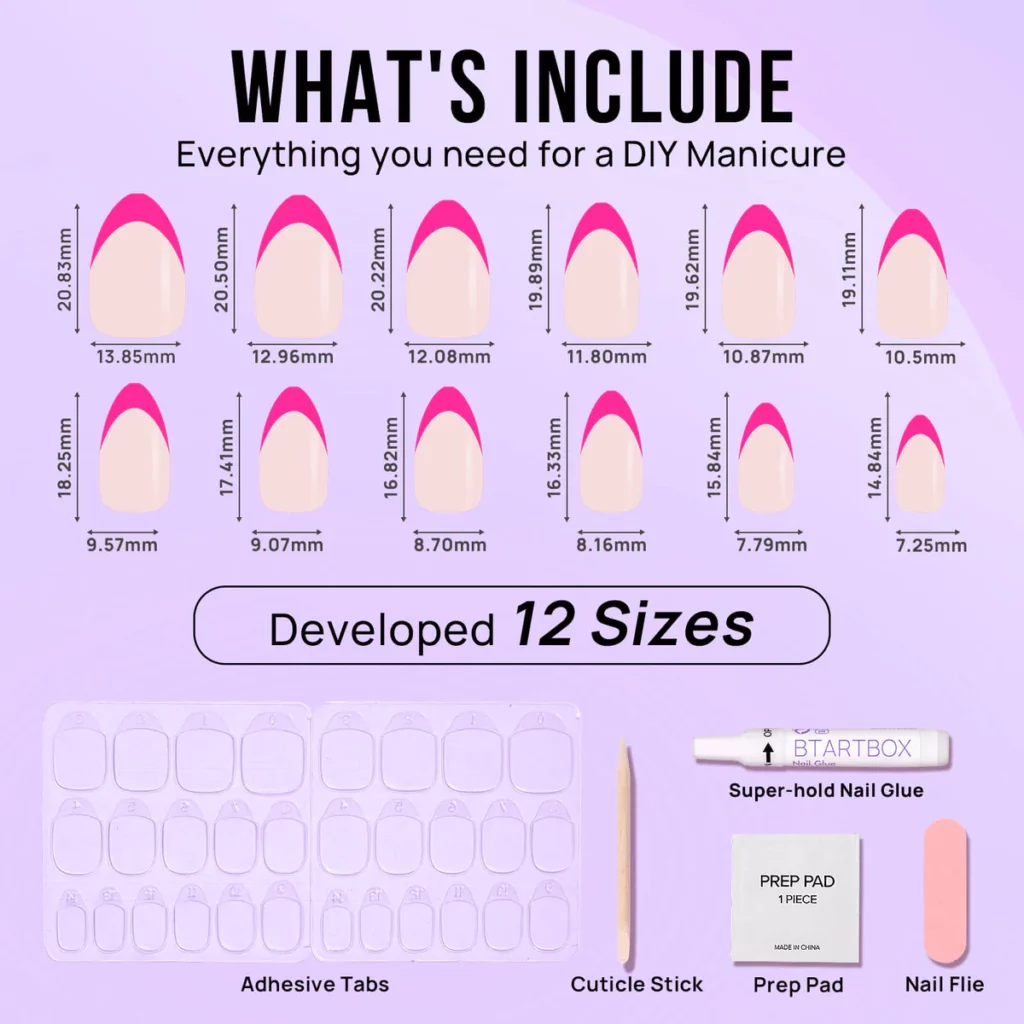 BTArtbox's press-on nails come in a little pack that has 30 nail tips in total so you can find your right size.
The press-ons have a natural look so that they fit the nailbed with a gentle flex and a seamless cuticle line.
The pack also comes with:
glue
mini nail file
cuticle stick
jelly glue
clean pad
how-to manual
The how-to manual will have more thorough instructions, but essentially all you have to do is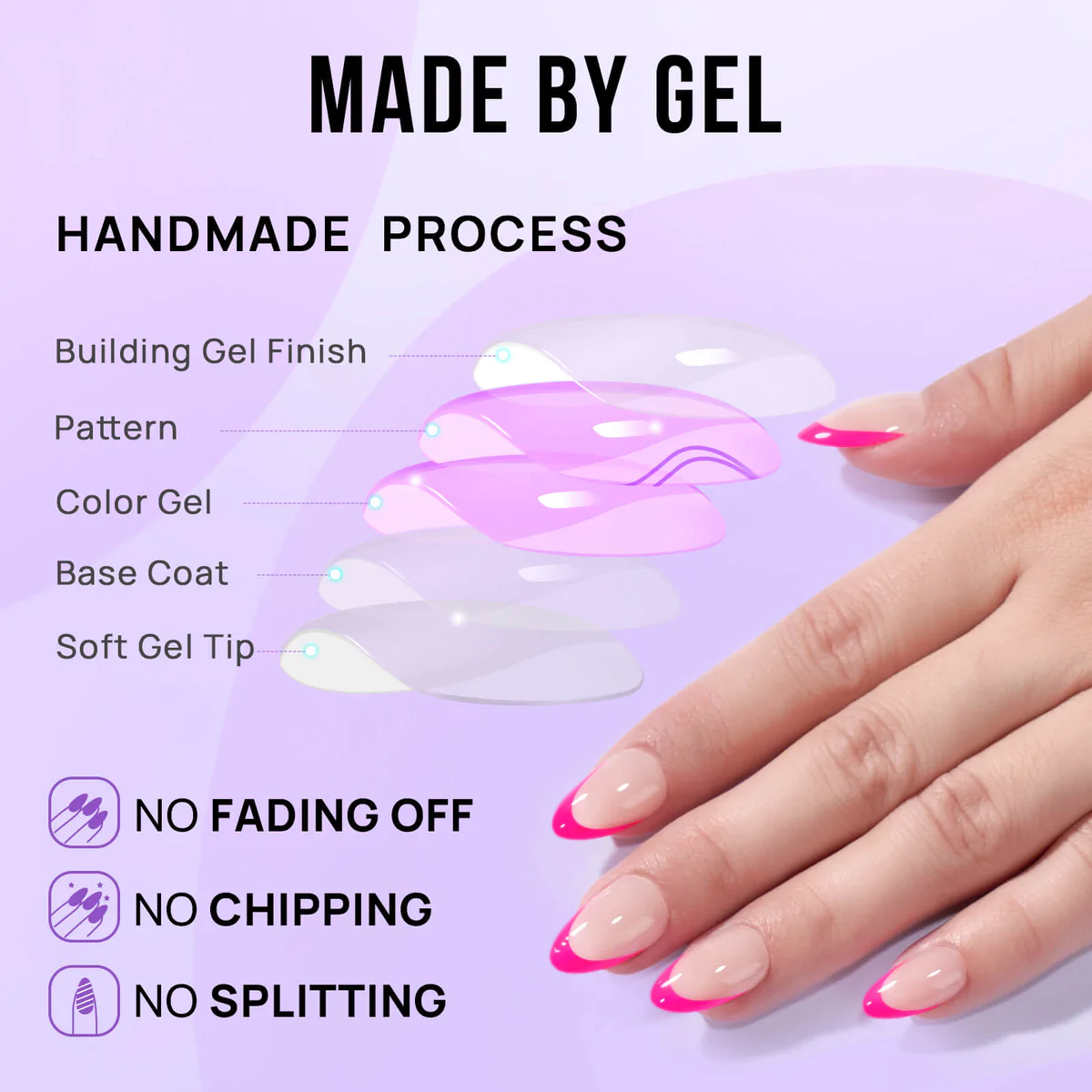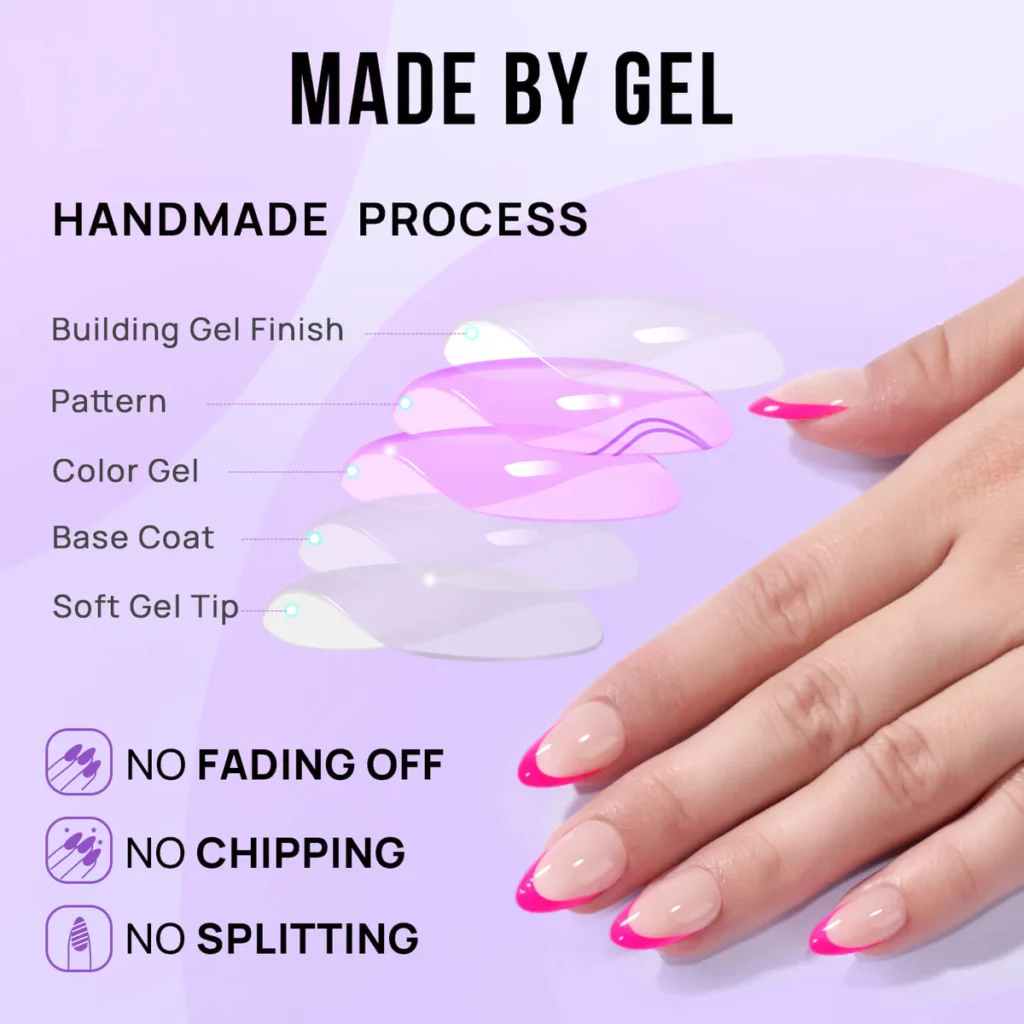 Start with clean and trimmed nails
Find the right nail size
Apply the glue/adhesive
Press the press-on nails onto your nailbed so that it blends with your natural cuticle
Wait for them to dry and you're done
You can have beautiful, salon-like nails in less than fifteen minutes and for less than half the price!
Return Policy
BTArtbox has a 30-day return policy. All items must be unworn and unused, and you must contact BTArtbox via email for the return to be authorized. 
Once the return has been received, BTArtbox will inspect your returned item and notify you through email whether the return is eligible or not.
You can also find most of their press-on nails and other nail supplies through Amazon Prime, which is subject to Amazon's return policy.
In Conclusion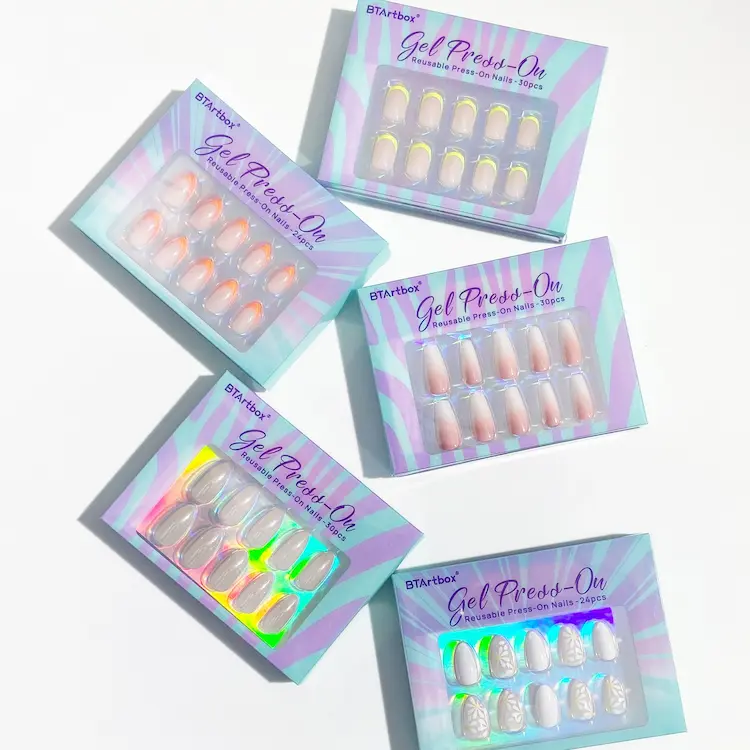 If you're looking for nails you can remove on short notice, change up when you want, and not have to worry about the price, try BTArtbox!
This nail supplier has the cutest designs for a reasonable price, and shoppers absolutely adore how long-lasting they are.
Expressing yourself with your nails can be affordable and fun with BTArtbox!
BTArtbox Alternatives