Read our in-depth Boxycharm reviews for everything you need to know about this box!
Along with the likes of Ipsy and Birchbox, Boxycharm has become a popular subscription box for beauty lovers everywhere. Since beauty box subscriptions are such a fun way to try out new makeup and beauty products, you might be torn between which box to sign up for.
With the promise of only full-sized products in their box, does Boxycharm live up to its hype? Let's dive into our Boxycharm reviews and see whether or not this box is worth your money.
What is Boxycharm?
Boxycharm is a monthly beauty subscription box that sends 5 full-sized brand-name beauty products to your door. For $25 a month and free shipping (within the US), you'll receive up to $175 worth of products, according to their website.
If you don't have the time to search for new beauty products, you can let Boxycharm do it for you! Every month you'll receive one product of your choice, plus four surprise items. In the past, they've sent products from Tarte, Murad, First Aid Beauty, Nars, and more.
If you want to see some of the brands they include in their boxes for yourself, check out their previous boxes here!
Boxycharm Overview
Boxycharm's basic plan is $25 a month and includes 5 full-sized items. You can, however, prepay for 3, 6, or 12 months in advance that equals out to a little bit of a discount per box.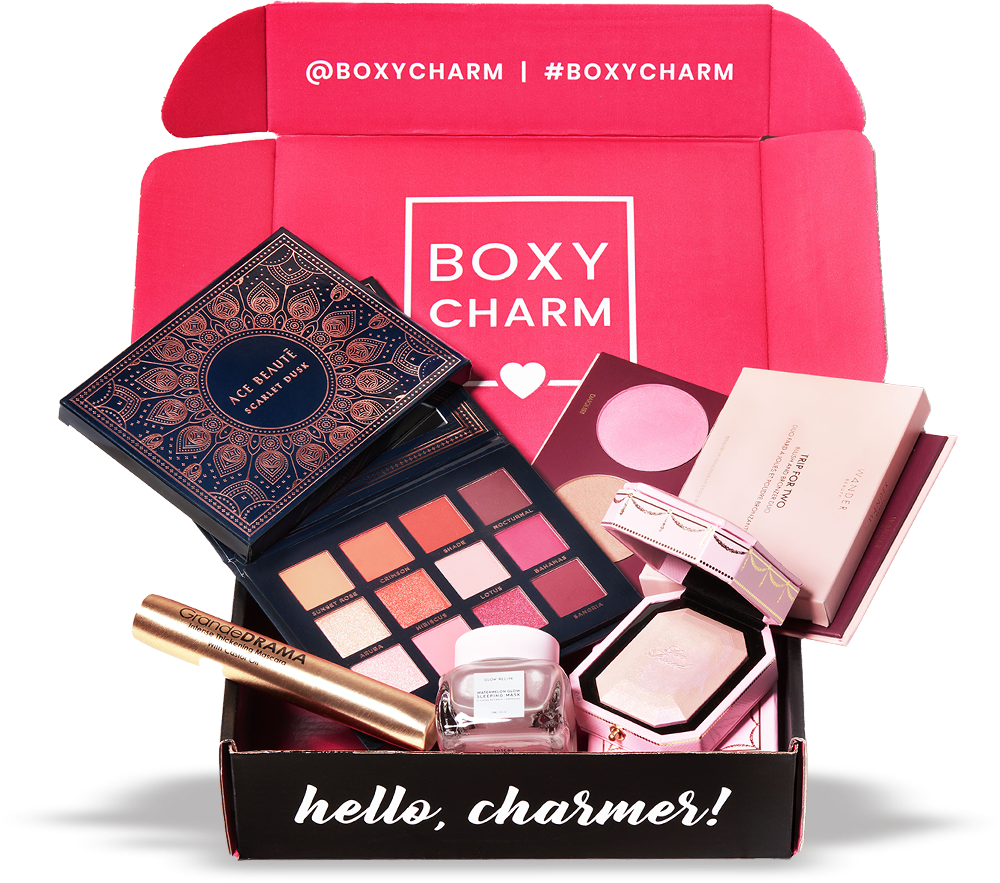 How Boxycharm Works
Their membership is pretty straightforward. They offer two different plans:
Regular subscription: $25 / month for 5 full-sized products
Premium subscription: $39.99 / month for 6 full-sized products
LUXE subscription: $49.99 / month for 8 full-sized products
*Note: You can only receive BoxyCharm Luxe if you already have the basic Boxycharm plan, and the upgrade only occurs seasonally. The price of the Luxe box will also include the price of the base box. For more detailed information on their Premium and Luxe plans, check out their FAQ page.
They also offer the following plan packages:
1-month ($25 per month)
3-month ($23.33 per month)
6-month ($23 per month)
12-month ($22.92 per month)
You can also earn exclusive membership points with Boxycharm to put towards full-size products, which is pretty cool. These points can be earned through tasks like reviewing your box, referring friends, etc.
Boxycharm Reviews
Since I'm just one person, I decided to delve into some of the top customer reviews to get a better idea of what you can expect with this brand.
Overall: ★★★ 3 stars
All in all, some customers are happy with their Boxycharm products while others are disappointed. Many people say the products are definitely worth more than what they pay, but that customer service is lacking. Others find that the value is over-exaggerated and most products they receive are poor quality.
Price: ★★★★ 4 stars
Most customers agree that Boxycharm is affordable, at least when it comes to the basic plan.
Quality: ★★ 2 stars
Many customers say that have received old or dried-out products or just poor quality of products overall. I experienced this as well–I typically received one or two products I actually liked, while the others performed poorly or were dried out.
Value: ★★★★ 4 stars
Overall, most customers agree that the products in their boxes are worth more than what they pay for. Some believe the value is over-exaggerated, but even if the value is half of what they advertise, it's still worth more than you pay for the entire box.
What Others Are Saying
"I'm a makeup junkie and every time someone asks me about a good deal to get beauty products, I'm always referring them to Boxycharm. It's a great and affordable way to build up a makeup collection since they send full-size products." – Dida
"If you have a small collection and you aren't sure what kinds of products you want, it is excellent. It's also relatively inexpensive. Thus makes it a great choice for building a collection, learning what you like, and playing with different color options with low risk." – Auracounts on Reddit
"I literally never use any of the palettes they sent. They were never anything I would have picked out for myself and they were brands that were lower end and performed as such." –idklmaoxD on Reddit
"I have Boxycharm and I absolutely love it! I've had different boxes in the past, but Boxycharm is my very favorite! I am so grateful for being able to receive such nice brands and wonderful products for such an amazing price." – Audrey
Based on thousands of reviews across the web, customers mostly think that Boxycharm is:
A great way to explore new beauty items
Worth more than what you actually pay
Mostly good quality, with some saying they received poorly performing or dried-out products
Worse than Ipsy Plus, their top competitor
RELATED: Ipsy vs Boxycharm (Our Pick)
Return Policy
According to their return policy, Boxycharm does not offer returns, refunds, or exchanges. They do, however, offer replacements for missing or damaged products.
Is Boxycharm Worth It?
Overall, subscribing to Boxycharm or a similar subscription can be a fun way to try out new makeup and beauty products you might not have discovered otherwise. If you like to receive surprise beauty products and can afford to spend $25 a month on the subscription, then it's worth giving a shot.
According to Boxycharm reviews, everyone seems to have a different experience so I'd recommend trying it out for yourself. In my experience, it was fun to receive full products from Boxycharm for a while, but I switched to Ipsy Plus because Boxycharm products were usually mediocre and there were only one or two in each box that I enjoyed using.
Personally, I like Ipsy Plus much better. Although it's three dollars more expensive at $28, I found that the Ipsy Glam Bag Plus typically has better variety and more high-end brands than Boxycharm. Plus, they focus more on personalization.
If you're struggling to decide between the two, I'd even recommend trying out a month or two of Ipsy Plus and then a month or two of Boxycharm to get a feel for both subscriptions, since some people prefer one over the other.
Boxycharm does include a lot of palettes (mainly eyeshadow palettes), which was fun at first, but at some point you just have too many unnecessary palettes! Regardless, it's pretty affordable, so why not try it out for a month or two if you're on the fence?
A lot of customers are happy with their Boxycharm subscription and say they love the products they receive every month. Some customers, however, say that while Boxycharm is decent, there are preferable alternatives that offer better products.
If you want to explore other options, below are some Boxycharm alternatives to check out.
Boxycharm Alternatives
Ipsy vs. Boxycharm – Which is Better?