Bondi Boost and Olaplex are both hair care brands that specialize in improving the quality of your hair, as well as encouraging healthy growth.
While Bondi Boost is all about helping people achieve various personal hair goals with a focus on hair thinning, Olaplex is more focused on restoring damaged hair by strengthening the disulfide bonds (the stuff that gives your hair structure and strength).
Both brands promise to help you have gorgeous hair, but which is better? We looked into each brand to find out how they compare and determine which one is worth your time.
Bondi Boost vs. Olaplex (Quick Overview)
Bondi Boost is a newer Australian brand with somewhat mixed reviews. In contrast, Olaplex has an amazing reputation with patented formulas you can't find anywhere else.
Thelp break these two brands down a little more, we've summarized the main compariosn points for each brand below.
Bondi Boost
Olaplex
– Targeted towards hair thinning
– Unique formulas that some customers have great results with
– Prices range from $15 – $30 for individual products and $50 – $140 for bundles (more affordable)
– Offers shampoo, conditioner, masks, sprays, tonics, oils, and supplements
– Free shipping on orders over $75 in the US
– Can return within 30 days (customers must pay return shipping)
– Available at Ulta, Sephora, and other top retailers
– Targeted towards repairing damage
– More popular brand with powerful, patented formulas
– Prices range from $30 – $100 for most products (more expensive)
– Offers shampoo, conditioner, sprays, oils, masks, and serums
– Free shipping on orders over $50 in the US
– Free returns within 60 days
– Available at Ulta, Sephora, and other top retailers
– Offers a hair quiz to help determine which products you need as well as an easy comparison guide
Bondi Boost vs Olaplex
Now, let's go into more detail on how these two popular haircare brands compare.
How They Work
IMPORTANT NOTE: Both brands promise to improve the quality of your hair after using their products, but Bondi Boost is more known for helping those with thinning hair while Olaplex is all about repairing damaged hair and is the only real bond-builder on the maket.
Bondi Boost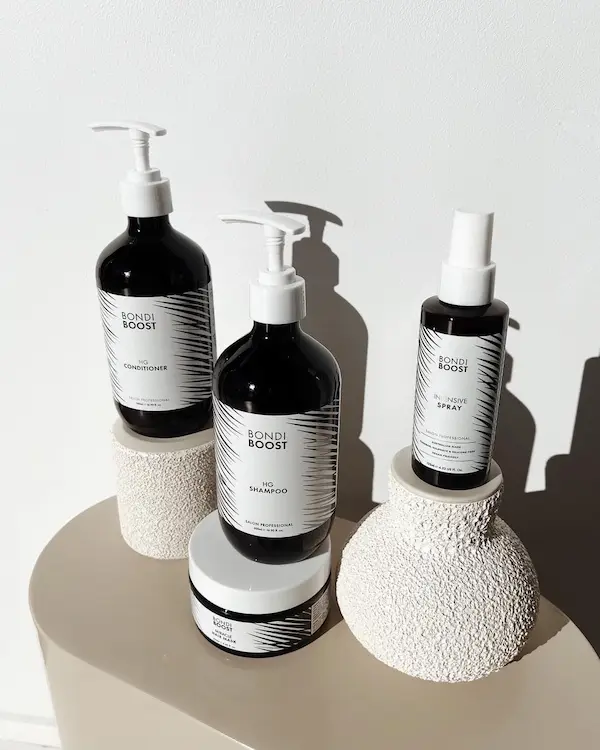 Bondi Boost offers several product lines to target specific issues, such as their Thickening Therapy System. Their products are packed with natural ingredients like hyaluronic acid, peppermint, and aloe vera.
Bondi Boost's principal product lines target hair thickening, growth, and repair, but they also offer accessories, tools, and even skincare. They even offer products for kids and pets, making them a more diverse brand overall in terms of the target audience.
Olaplex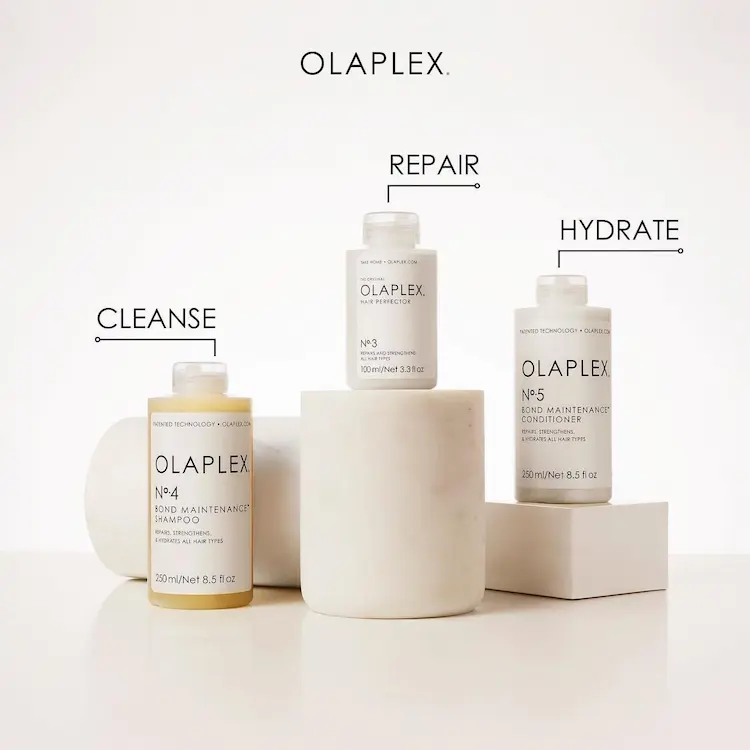 Olaplex, on the other hand, is all about repairing hair damage.
The brand claims to be the only true bond-builder on the market, they have patented formulas and have even sued multiple companies who tried to copy their formulas.
Olaplex boasts that their patented Bis-Aminopropyl Diglycol Dimaleate ingredient repairs hair damaged by hot tools, the environment, chemicals, or lifestyle, among other things.
Therefore, the brand is very popular in hair salons (although the Olaplex sold to regular customers is different from what you get in a salon). Salons usually carry No. 1 and No. 2, which are not available to the public.
However, No. 0 and No. 3, which are sold to the public, are slightly weaker versions of 1 and 2. So while you may not be able to get salon-quality Olaplex, you can get pretty close.
To help decide which products are best for your hair, they have a helpful quiz that will recommend starter solutions, a kit, and a personalized 2-week calendar.
Pricing
Bondi Boost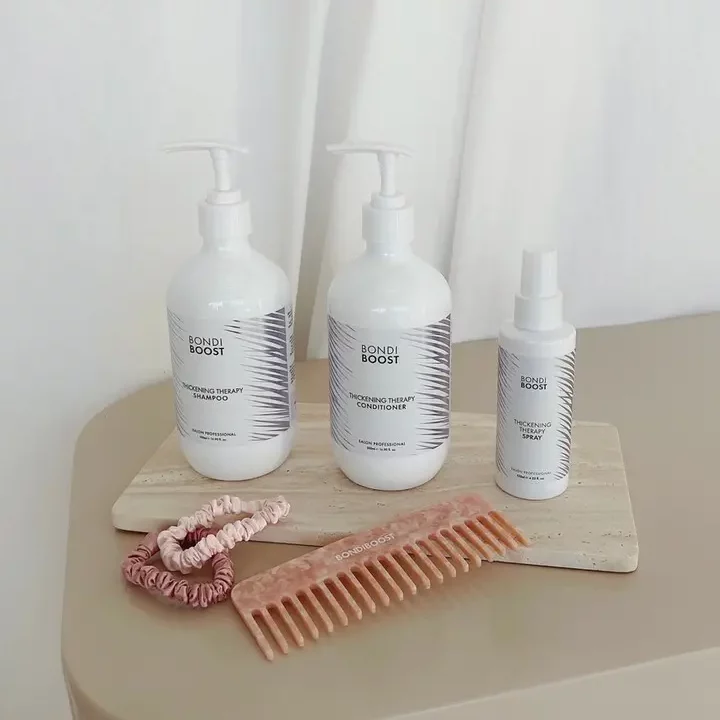 Bondi Boost's pricing is about on par with other similar hair thinning focused brands like Rogaine. Their individual products usually cost about $30, but many of their products are meant to be used in tandem with the rest of the set.
Their Hair Growth + HG set, for example, costs $104.99 and comes with shampoo, conditioner, a spray, vitamins, and a hair mask.
Results tend to be better for those that use all the products in the line, if you can afford to pay for the full set.
Olaplex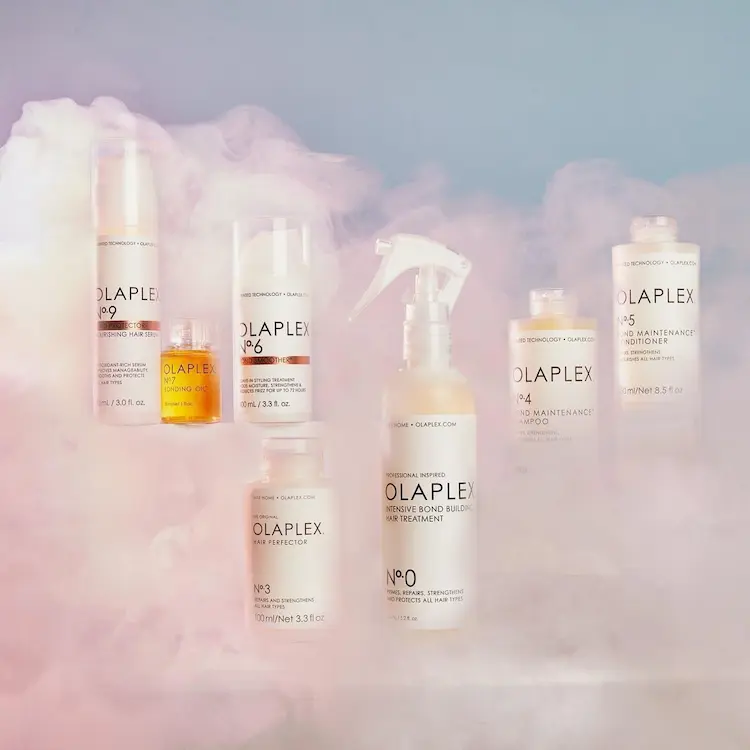 Olaplex's prices are higher than Bondi Boost. Most individual products cost around $30, and sets can cost anywhere from $90 – $240. And on average, Olaplex's bottles are smaller than Bondi Boost's.
Olaplex's No. 4 Bond Maintenance Shampoo, for example, gives you 8.5 fluid ounces (250 ml) for $30, while Bondi Boost's HG Shampoo is $29.95 for 16.9 fluid ounces (500 ml). You get about double the product for the same price.
That being said, some customers say you need to use more of Bondi Boost than they advertise, so that's something to keep in mind when comparing the two brands.
And again, Olaplex uses a patented formula designed for hair repair while Bondi Boost focuses on hair thinning.
Product Options
Bondi Boost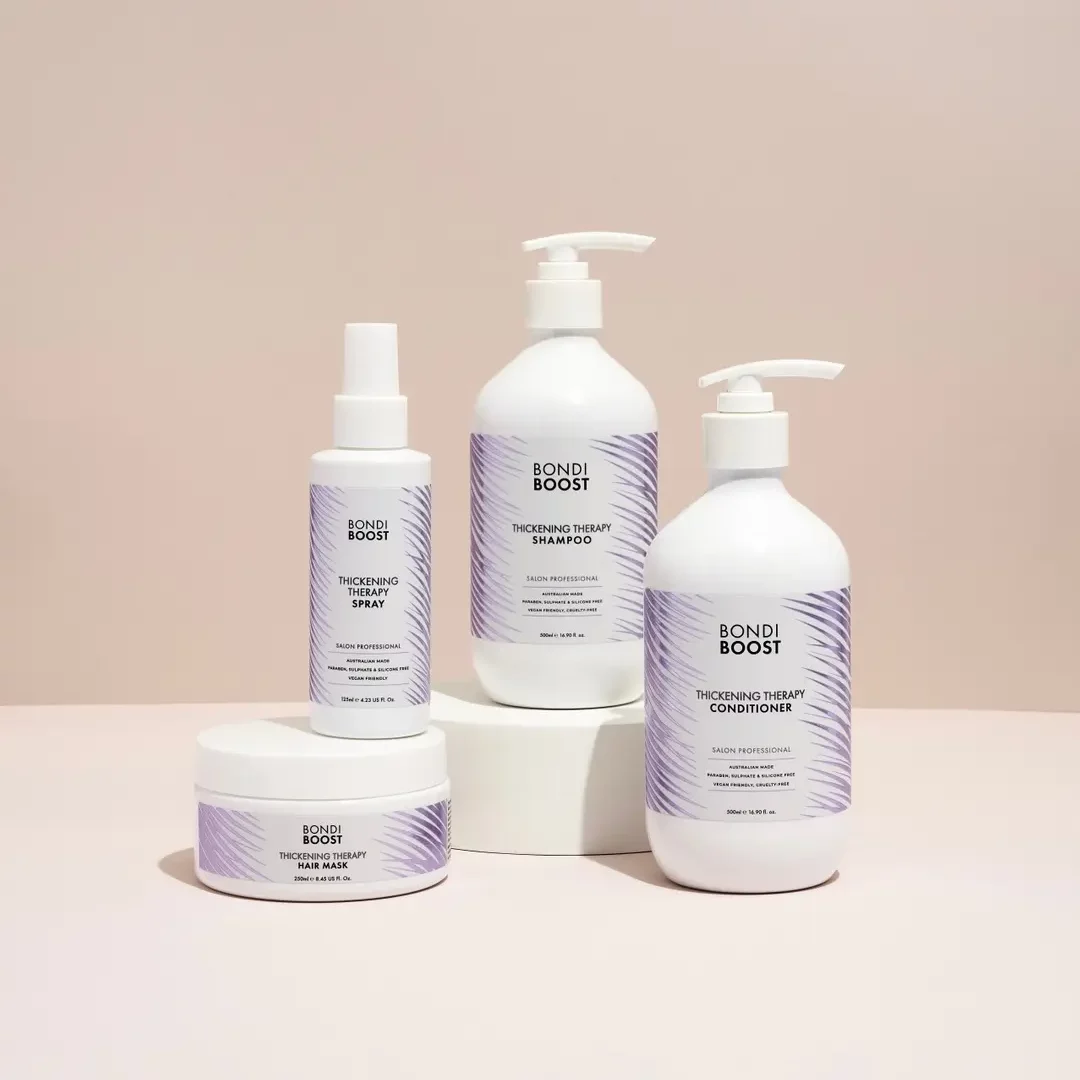 In terms of diversity of products, Bondi Boost comes out on top.
Not only do they offer a variety of products aside from your run-of-the-mill shampoo and conditioner, they also offer products for a variety of concerns.
Among their most popular products are the HG Duo – a hair growth shampoo and conditioner set – the Wave Wand hair curler, and the Intensive Spray.
Olaplex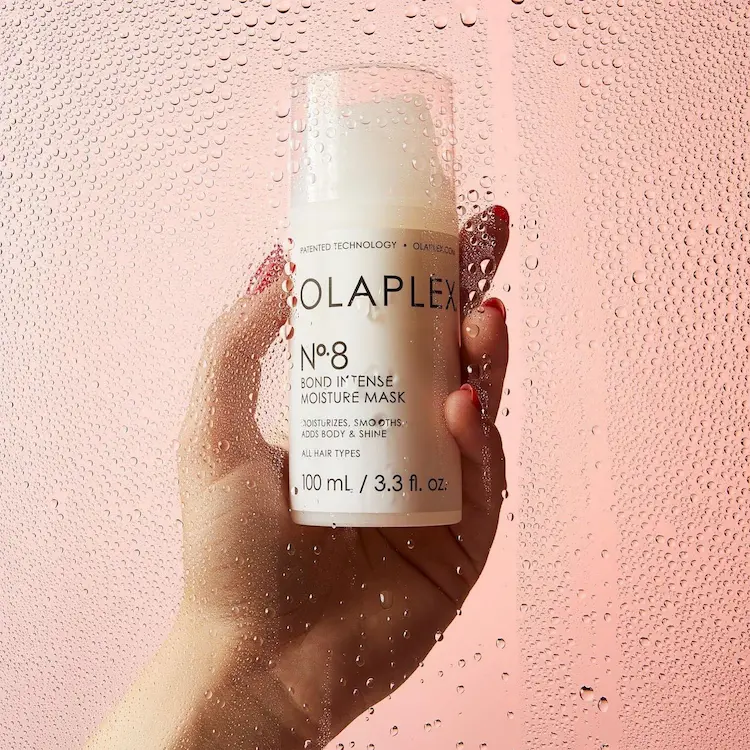 Olaplex also offers a variety of hair products, but they specifically address hair damage, frizz, or hair color maintenance.
However, their products are generally more highly recommended and praised than Bondi Boost products.
Several of their products have received awards. For example, the No. 4C Bond Maintenance Clarifying Shampoo, and the No. 5 Bond Maintenance Conditioner have received the 2022 Allure Reader's Choice Award, and the No. 8 Bond Intense Moisture Mask has received the 2022 Glamour Beauty Award.
Quality
Bondi Boost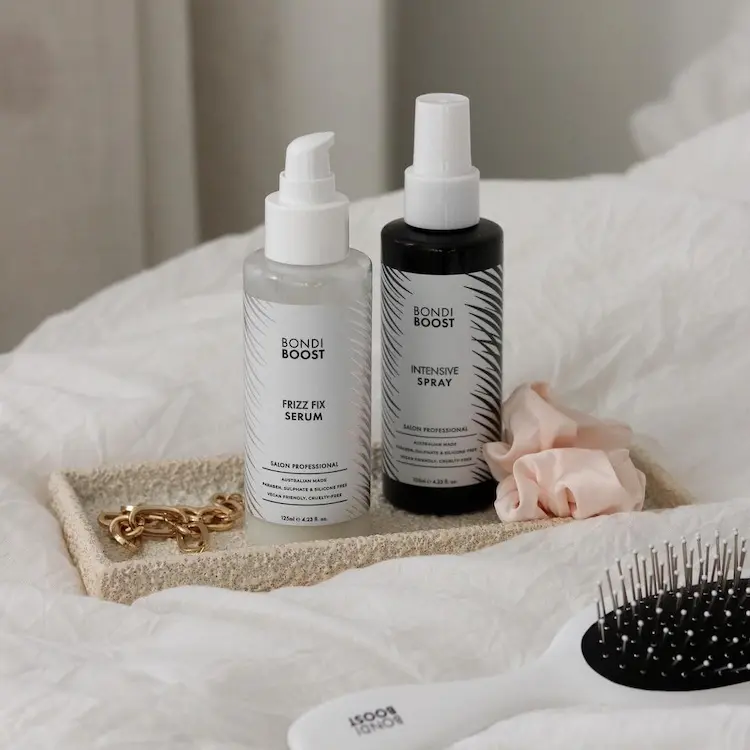 Bondi Boost's quality has received mixed reviews. While popular retailers like Sephora and Bondi Boost's site have mostly glowing reviews for the products, popular platforms like Reddit have less complimentary threads about the brand.
Some people saw amazing results with Bondi Boost's products, particularly those who suffer from hair loss. However, several others also had issues with irritation, clumping, or dryness.
The reviews on Bondi Boost's website, by comparison, are overwhelmingly positive – almost too positive – so it's important to take them with a grain of salt.
Olaplex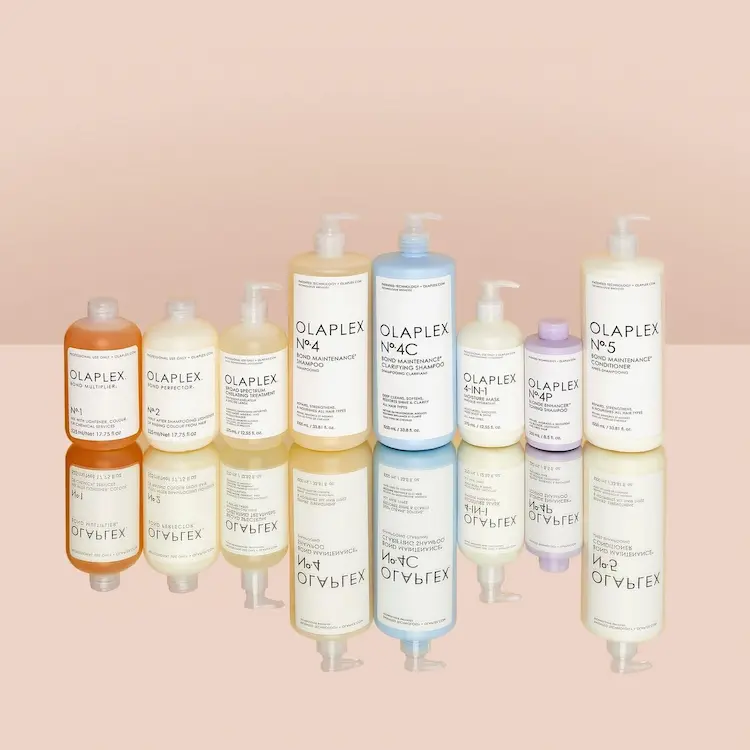 Olaplex's quality seems to be generally more trusted. The majority of customer reviews, on most platforms, agreed that Olaplex is by far worth it.
Most people who have used Olaplex understand why it's the go-to for salons. You get what you pay for, plus they have a patented formula that you truly can't find anywhere else.
While Olaplex is designed for repairing hair damage, it can help with hair thinning too (especially if your hair might be falling out more because of damage).
What Others Are Saying
Here's what people are saying about Bondi Boost vs. Olaplex:
Bondi Boost is great for people with thinning and dull hair, while Olaplex is designed to repair hair damage.
Olaplex is generally of higher quality and delivers on its promise to strengthen hair.
Olaplex is better for the majority of people to prevent and repair damage (although it can indirectly help with hair thinning too by promoting stronger hair that falls out less).
Olaplex uses a patented ingredient that truly repairs hair, so there isn't a brand that compares
Most users see results when using Olaplex, whereas Bondi Boost results seem to be a hit or miss
Conclusion
Overall, we say Olaplex is your best bet for damage prevention and hair repair.
However, when comparing Bondi Boost vs. Olaplex, it's important to keep in mind what hair issues you're hoping to improve. The biggest difference is that Bondi Boost is targeted towards hair thinning whereas Olaplex is a bond-builder that aims to repair damaged hair.
If you suffer from issues like hair thinning or loss, Olaplex can definitely help, but Bondi Boost might be more effective. And if you are dealing with thinning, it would be a good idea to look at similar brands to Bondi Boost as well (like Rogain or Kerastase) before making a final decision.
Bondi Boost also makes you pay the shipping fee to return unsatisfactory items, but you can always buy through Ulta or Sephora to take advantage of their free returns policy.