Wondering what to wear to a black-tie event? Here is an ultimate guide to the black-tie dress code below.
You may see celebrities going to the Met Gala or award ceremonies and think, when am I ever going to need to dress for a black-tie event? Still, they are surprisingly more common than you think.
Black Tie dress codes appear in some formal weddings and dinner parties, and it can throw you off guard when choosing the right outfit because they are not as expected. Of course, you don't have to dress like a celebrity, but what do you wear?
See our style guide below to find out which outfit would be the best choice for the type of event you're attending.
What is Considered a Black-Tie Event?
In the 19th century, black-tie attire was traditionally worn in Britain and the US for semi-formal events starting after 6 pm. This is where men would wear tuxedos and women would wear formal dresses. Nowadays, there are plenty more choices to pick from.
A black-tie dress code is suitable for evening events like weddings, balls, or dinner parties. Also, everyday events that require a black-tie dress are fundraisers, award ceremonies, galas, and charity events.
Black Tie Dress Code: What to Wear
Black tie dress codes can translate to many things, the easiest being a formal suit, but what kind of dress is appropriate? The good news is, you have a few options!
If you want to wear a dress, the black-tie dress code typically requires a floor-length gown.
You can never go wrong with a long black dress that shows off your silhouette. You will indeed be appropriately dressed and blend right in. Other darker solid colors will do the trick and present a polished, upscale look.
Shop the look: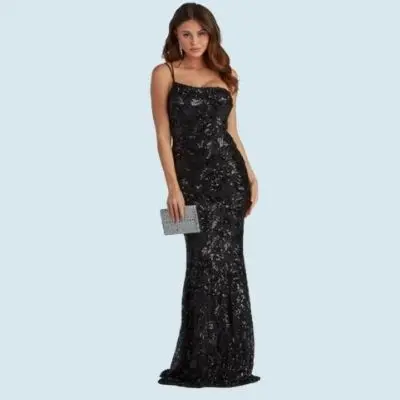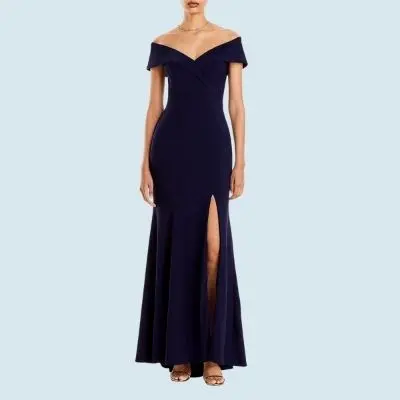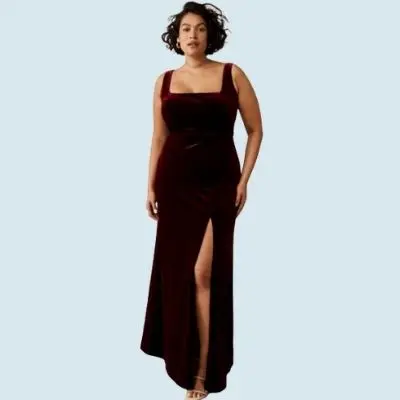 Cocktail dresses are also accepted for this code, but it may be more challenging to find the right line between formal and informal.
To play it safe, stick with dresses that fall to the knees to keep it classy and elegant. Choose black or jewel tones, and don't forget to accessorize with matching heels and jewelry.
Some use the black-tie dress code as an excuse to go all out and be the center of everyone's focus. This calls for a gown! A black-tie event is the perfect place to get glammed up and wear that full-length gown.
As mentioned earlier, an appropriate color palette would be darker shades.
As far as type of fabric, there is more flexibility. Just make sure you go with something timeless rather than trendy.
To really pull off this look, you'll want to spend some money for a quality dress that will look good in photos for years to come.
Black Tie at a Wedding
Pulling off a black-tie wedding look is tricky. Steer clear of white or any color that could interfere with the bride's theme.
Instead, pick rich tones like red or navy blue. Pastel colors like pink and yellow would also work well for daytime weddings. Don't overdo it, and keep it simple. Many floral patterns are welcome and encouraged.
Black Tie at a Gala
This event is a bit more glamorous than the rest, calling for a deep red or metallic sparkle dress. Don't be shy about picking something showy! It is one of the only events you have the freedom to choose that 'it' dress.
What About Black Tie Optional?
A curveball is when the invite says 'black tie optional' under the dress code category. This means floor-length, and cocktail dresses are welcome, but we'd recommend leaving the extravagant gown at home.
Another excellent option for this event would be a dress falling at the ankles with high heels and statement jewelry. There is a bit more flexibility to be unique here, so do your hair in a fun way or wear the dress with a floral stitched print.
Black Tie Dress Code for Men
When it comes to black-tie attire for men, that typically means a dinner jacket and matching trousers, though some men opt for a waistcoat instead. Waistcoats are acceptable, but trickier to pull off.
If you want to play it safe, stick with dinner jackets in deep colors, such as black or midnight blue.
You'll also need a white pleated shirt and a bow tie, not a necktie. You should only wear a necktie if the attire is black-tie optional or creative black tie.
Shop the look: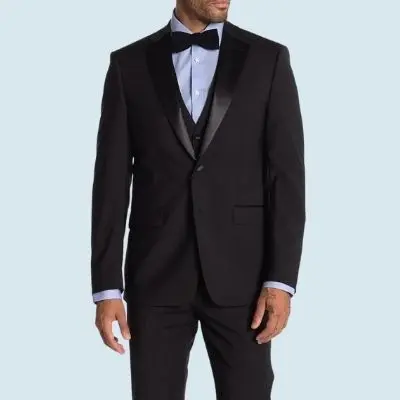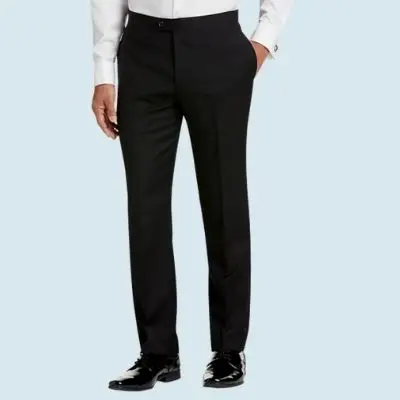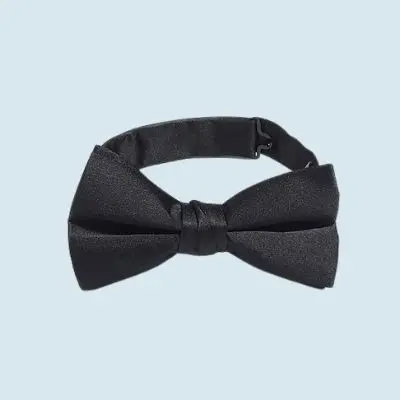 Bottom Line
The only dress code more formal than a black-tie dress code is a white tie, so go all out. White-tie attire typically calls for a full-length ball gown.
If you still feel insecure in your outfit selection, remember a solid black or red floor-length dress or a cocktail dress is something you can never go wrong with. It is timeless, elegant, and will blend into any event.
UP NEXT: 11 Top Entry Level Luxury Watches