Picture this: you've just bought a new sunscreen that promises tons of benefits like broad-spectrum SPF, a non-greasy texture, and antioxidant-rich ingredients. In the morning, you excitedly hop out of bed and dab some on your face after moisturizing, and then layer on your foundation.
And – uh oh. There's an immediate problem. Maybe the new sunscreen starts pilling and comes off in clumps, maybe it's actually way too greasy and your foundation slides around like an oil slick, or maybe it leaves a white cast so strong you look like a ghost.
Whatever the case may be, you're now left disappointed, frustrated, and thinking you should just give up on sunscreen altogether. Before you reach that point (because yes, you really do need sunscreen), we've compiled a list of the best sunscreens for under makeup.
A QUICK APPLICATION TIP: If you're having issues with various sunscreens pilling under your makeup or feeling too greasy, make sure you're not applying too much. It can also help to wait for a minute in-between product application, which allows each product to sink into your skin better.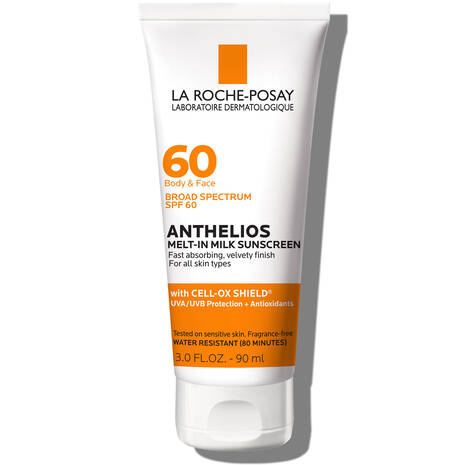 This award-winning sunscreen is designed to absorb quickly into the skin and leave a velvety texture that's the perfect base layer for makeup.
It's a great fit for all skin types, made with powerful ingredients like Senna Alata to defend against free radicals and La Roche-Posay's signature thermal spring water. This sunscreen is a good fit for people with sensitive skin, plus it uses SPF 60 to ensure you're fully protected.
---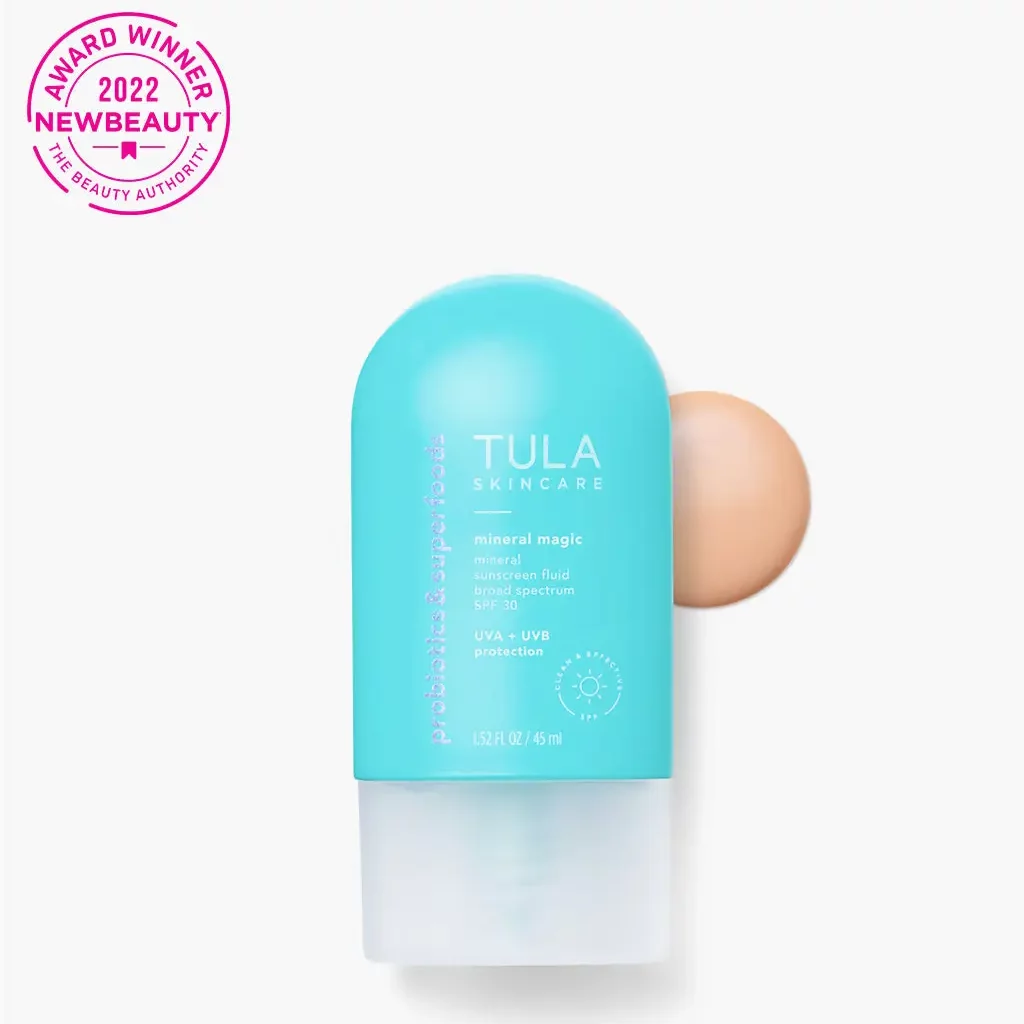 This mineral sunscreen from Tula is designed to be a weightless addition to your skincare routine. It leaves a non-greasy matte finish and contains peach extract to brighten skin as well as wild butterfly ginger to protect against blue light and pollution.
---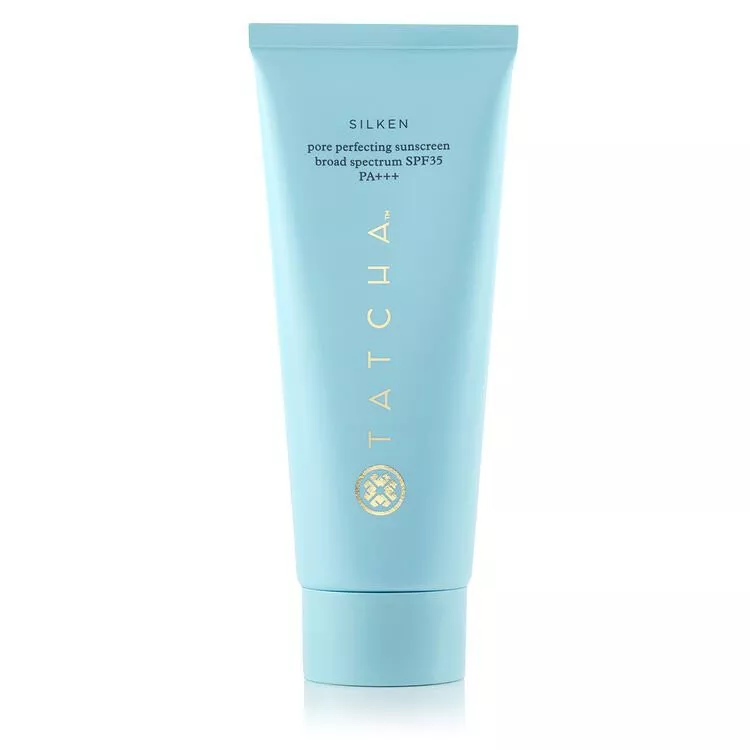 A primer and sunscreen all in one product? Yes, please!
This product contains silk extract to smooth your skin and Japanese wild rose to tighten pores, giving you a flawless base for makeup application.
---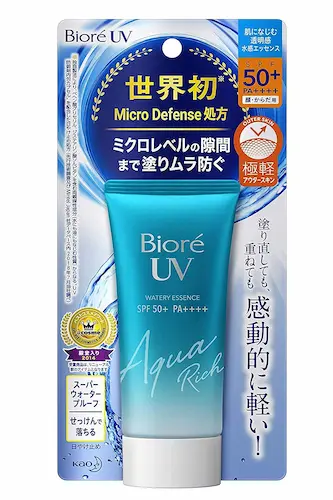 We have shared quite a few mid-range to luxury options on the list, but if you're looking for an affordable sunscreen for under your makeup, check out this product.
Bioré is well known for its acne-fighting charcoal cleansers, and this sunscreen lives up to that reputation. This sunscreen has a gel texture similar to a serum that absorbs quickly and feels more like you're splashing water onto your face.
Formulated with glycerin, hyaluronic acid, vitamin E, and dimethicone, this sunscreen fills in fine lines and smooths skin to allow makeup to glide on easily. Best of all, it costs less than $15.
---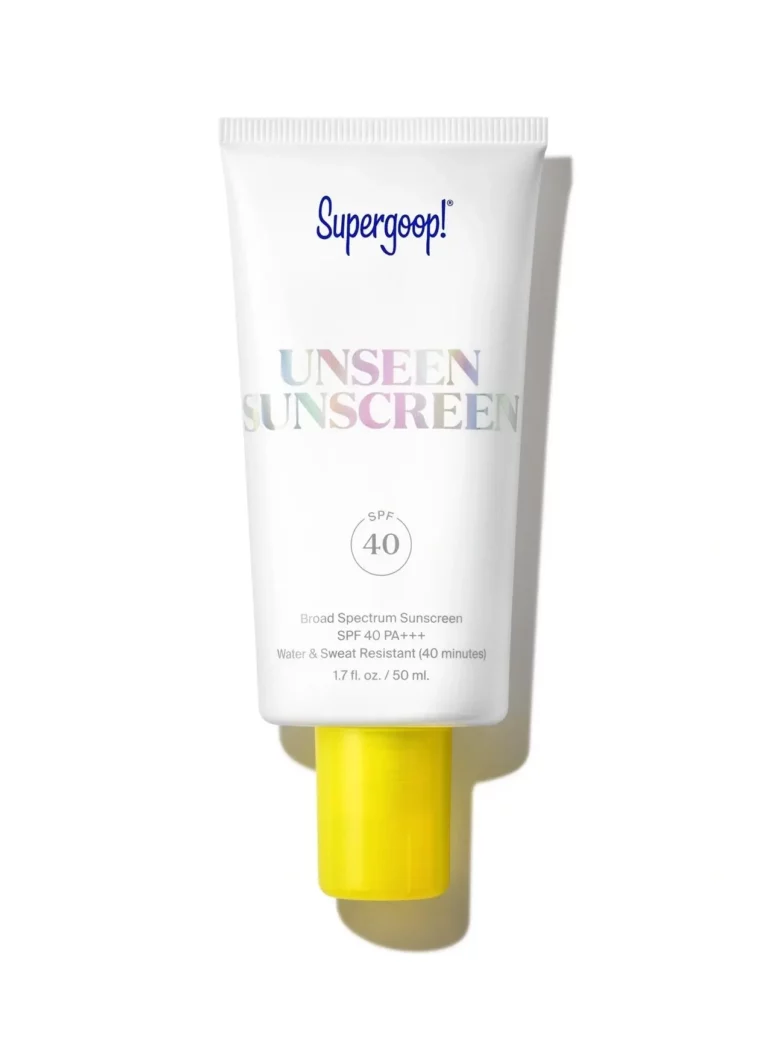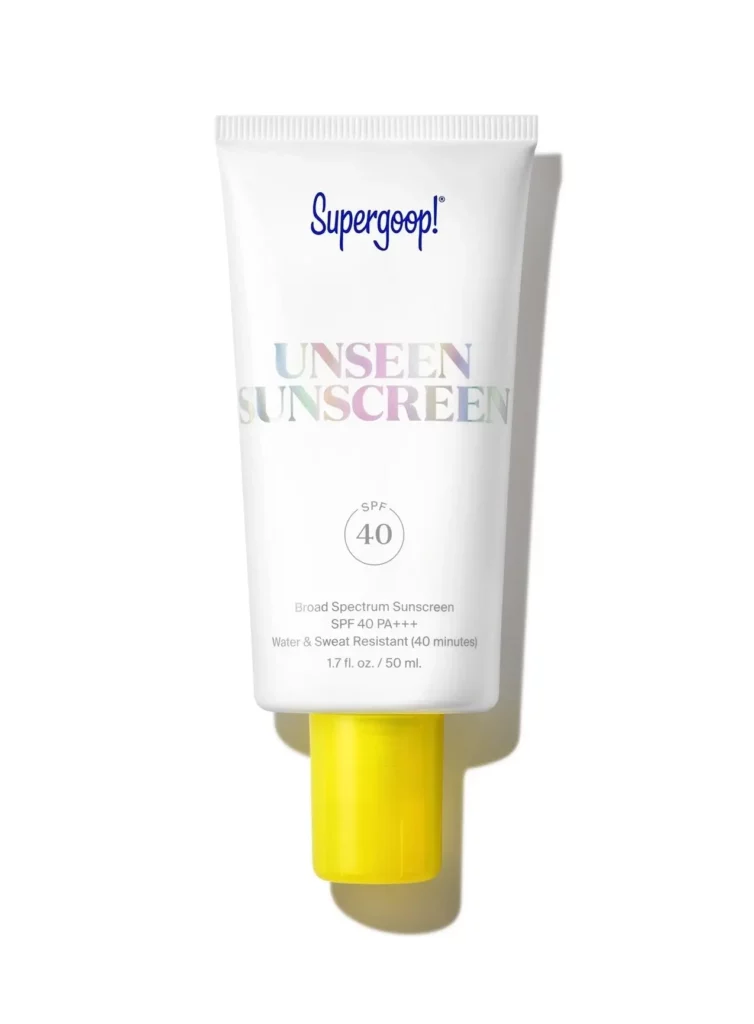 As its name claims, this sunscreen is invisible on skin, weightless, and scentless. It's oil free and contains red algae to moisturize, frankincense to soothe, and meadowfoam oil to improve skin texture.
This sunscreen acts as a primer for makeup – many reviewers noted that it blends in very well and it's great for people with darker complexions.
---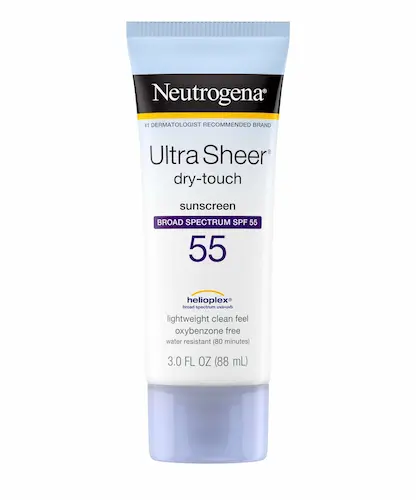 Another affordable sunscreen that's perfect for wearing underneath makeup, the Neutrogena Ultra Sheer Dry Touch is perfect for all skin types.
This dermatologist-recommended product offers SPF 55 with a lightweight and invisible finish, which works great as a base layer for your makeup. It typically costs less than $10 and is available at most drugstores for easy access.
---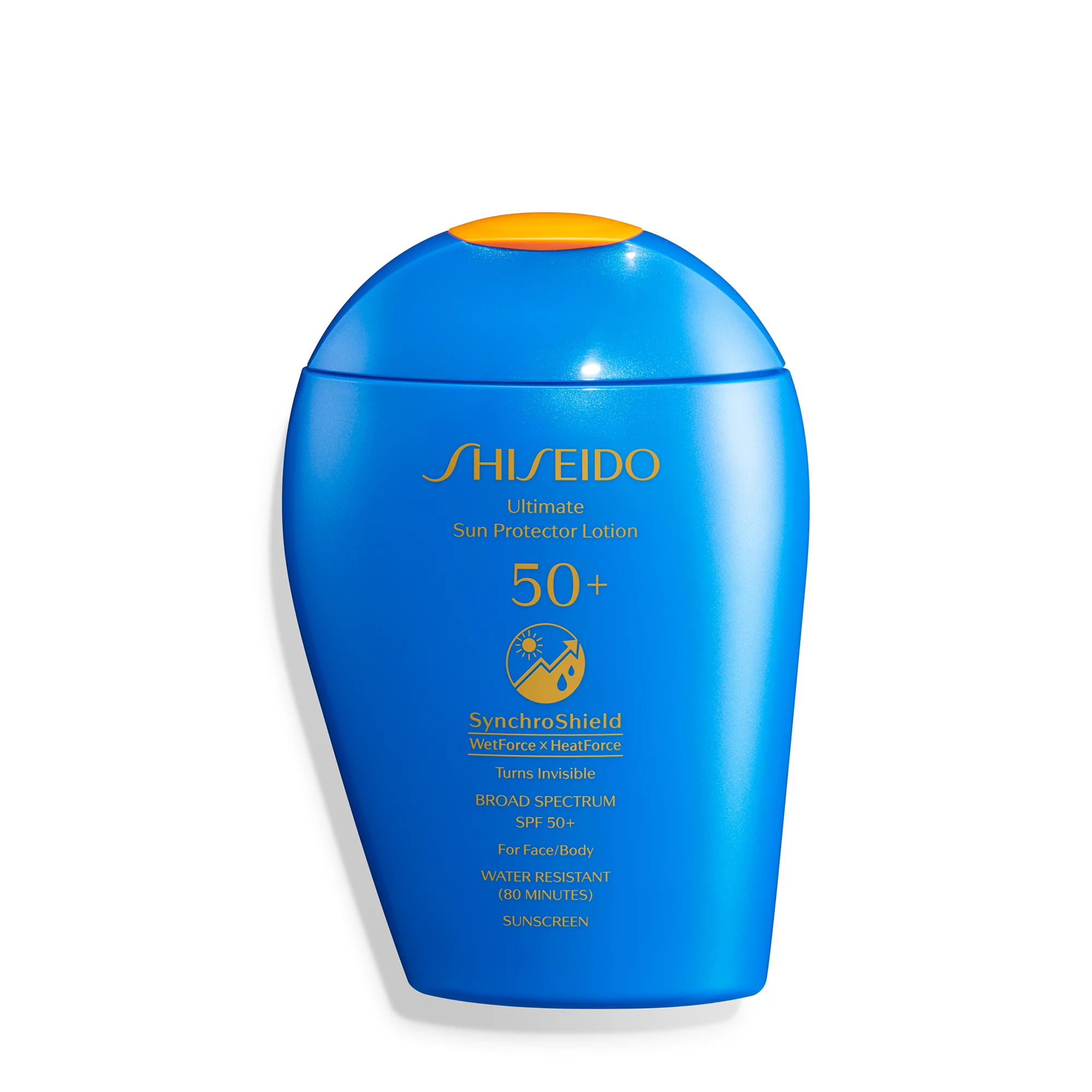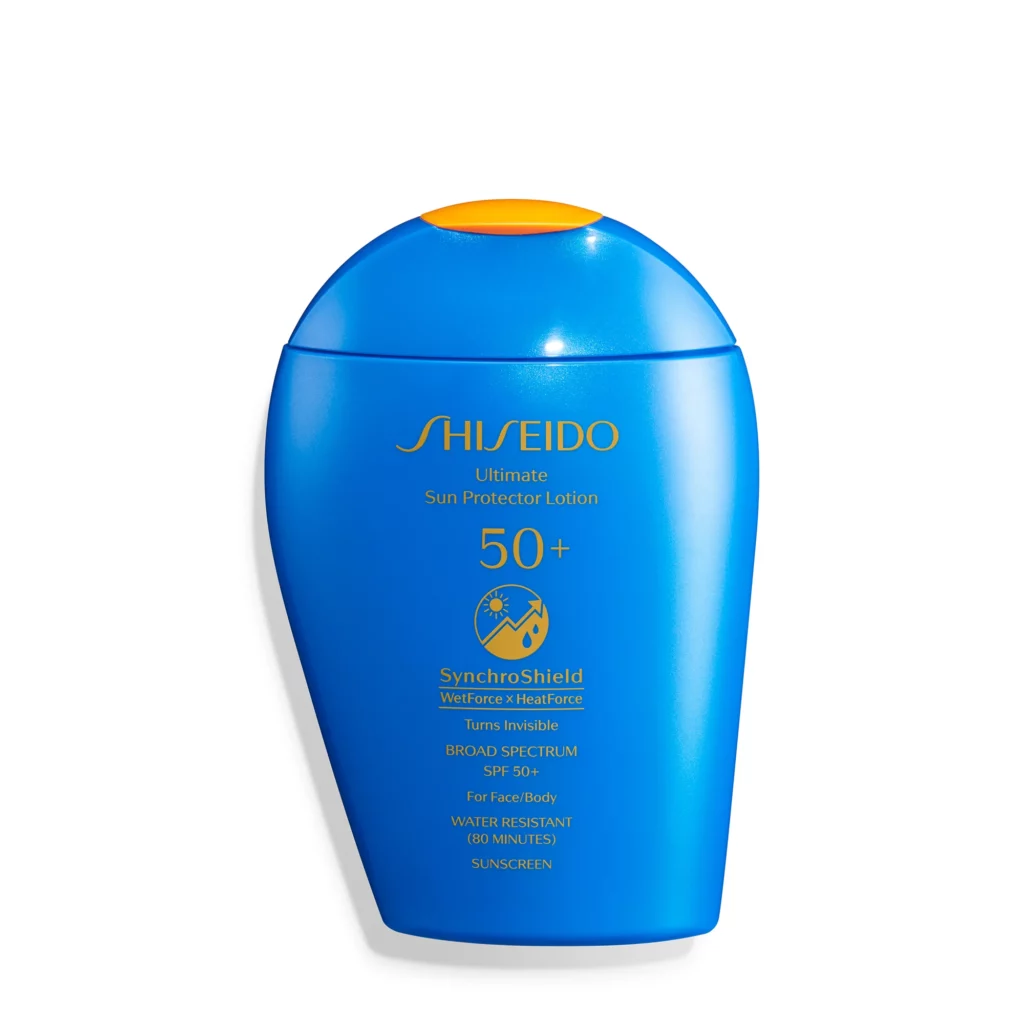 This lightweight sunscreen from Shiseido is invisible and designed with an innovative formula that allows it to become even more effective when exposed to heat and water. Thus, it's a good choice for those who spend a lot of time outdoors.
It's another great sunscreen for all skin types, so you can be sure it won't melt your makeup if you have oily skin or dry you out if you have dry skin.
---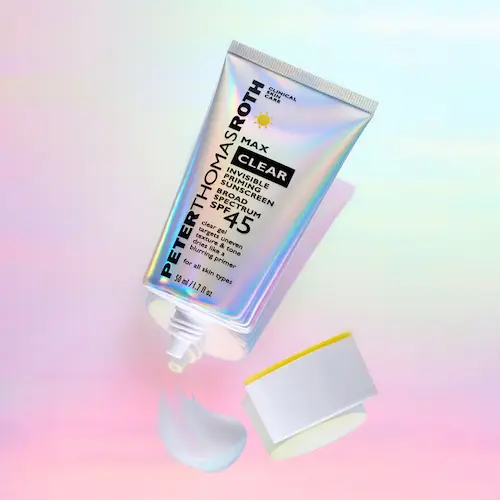 Also designed as a primer and sunscreen in one, Peter Thomas Roth's Max Clear sunscreen is formulated with vitamin E, shea butter, and bisabolol to even skin texture.
It dries with similar effects to a blurring primer to create a soft-focus layer on the skin, while also adding that essential SPF protection.
---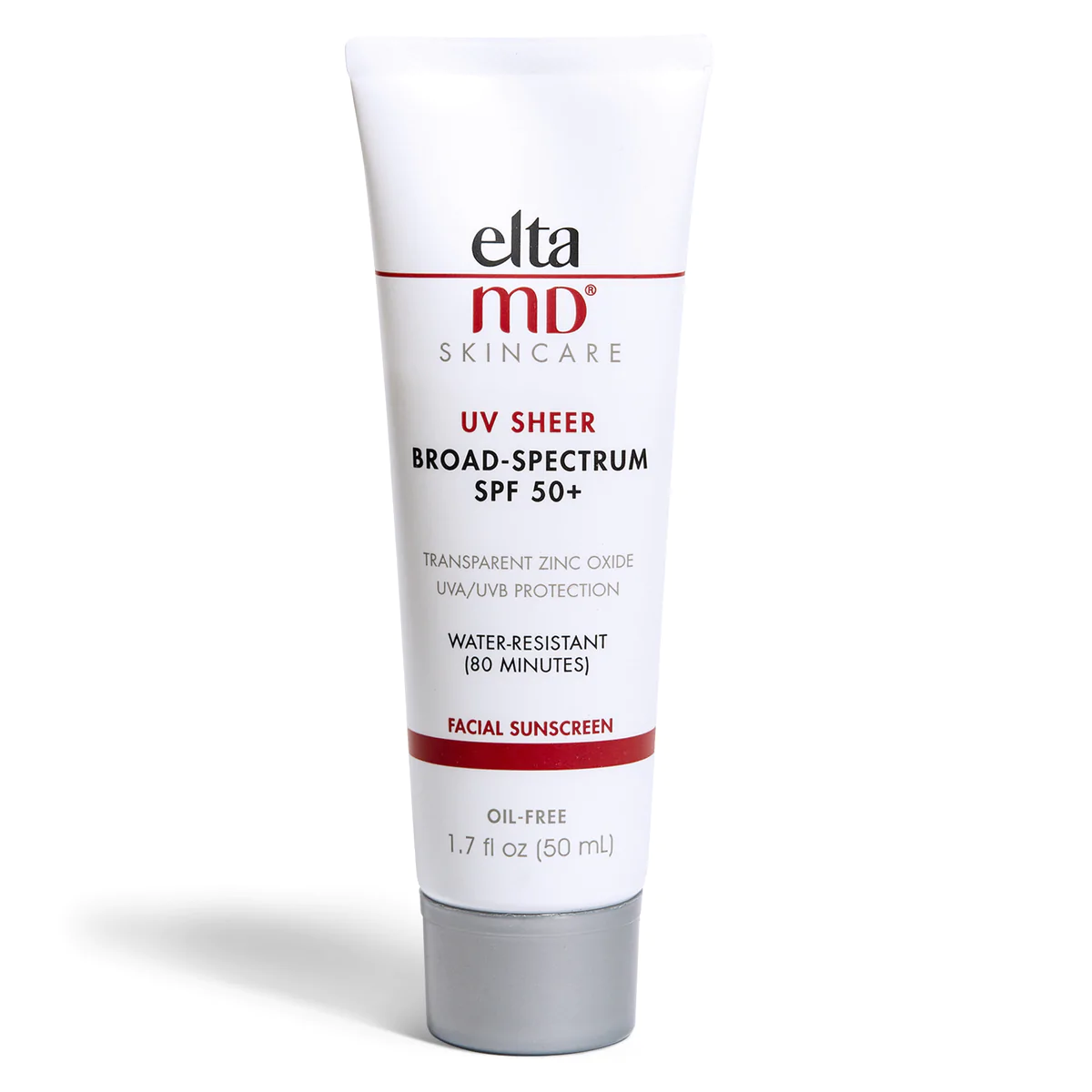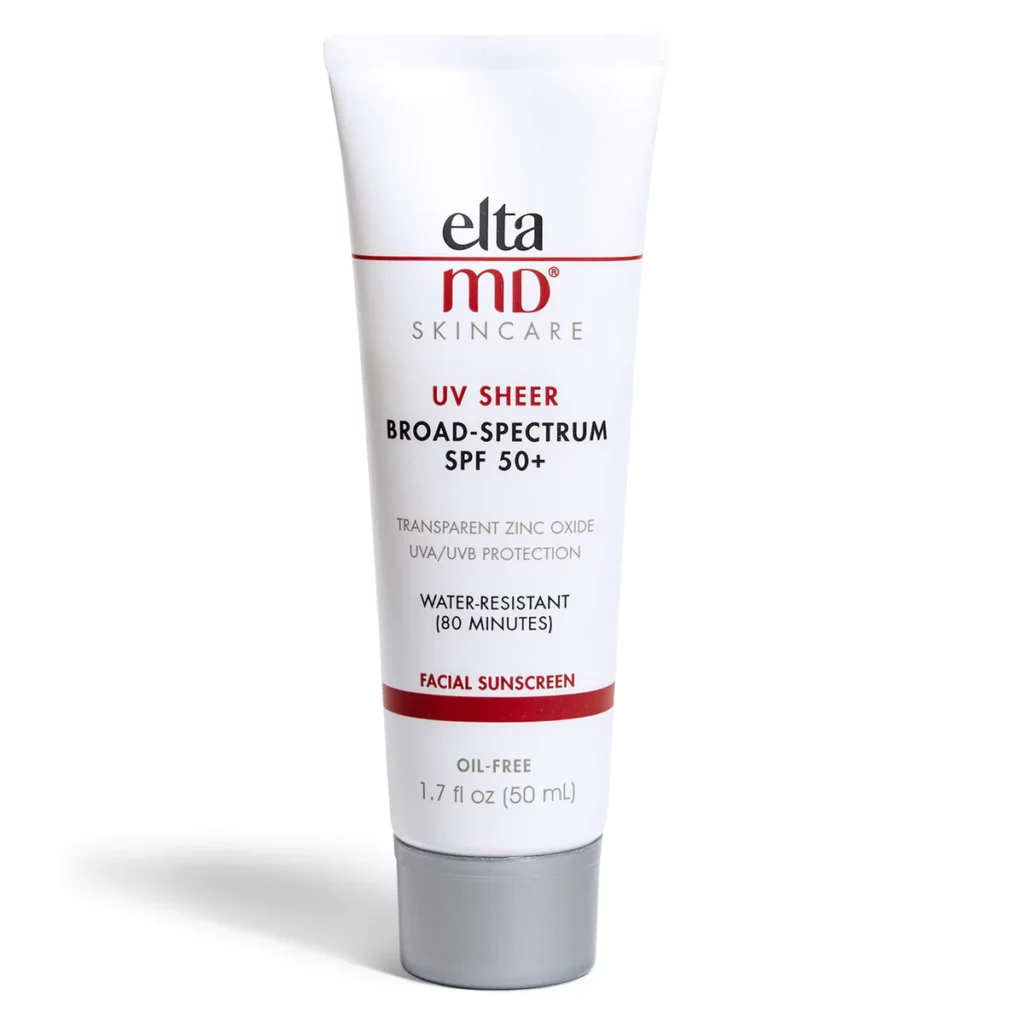 This is another invisible sunscreen that works for most skin types. It's made with hyaluronic acid to retain moisture, vitamin C to fight free radicals, and squalene oil to reduce moisture loss.
This product is gentle and non-comedogenic, so it's especially great for those with acne-prone skin.
---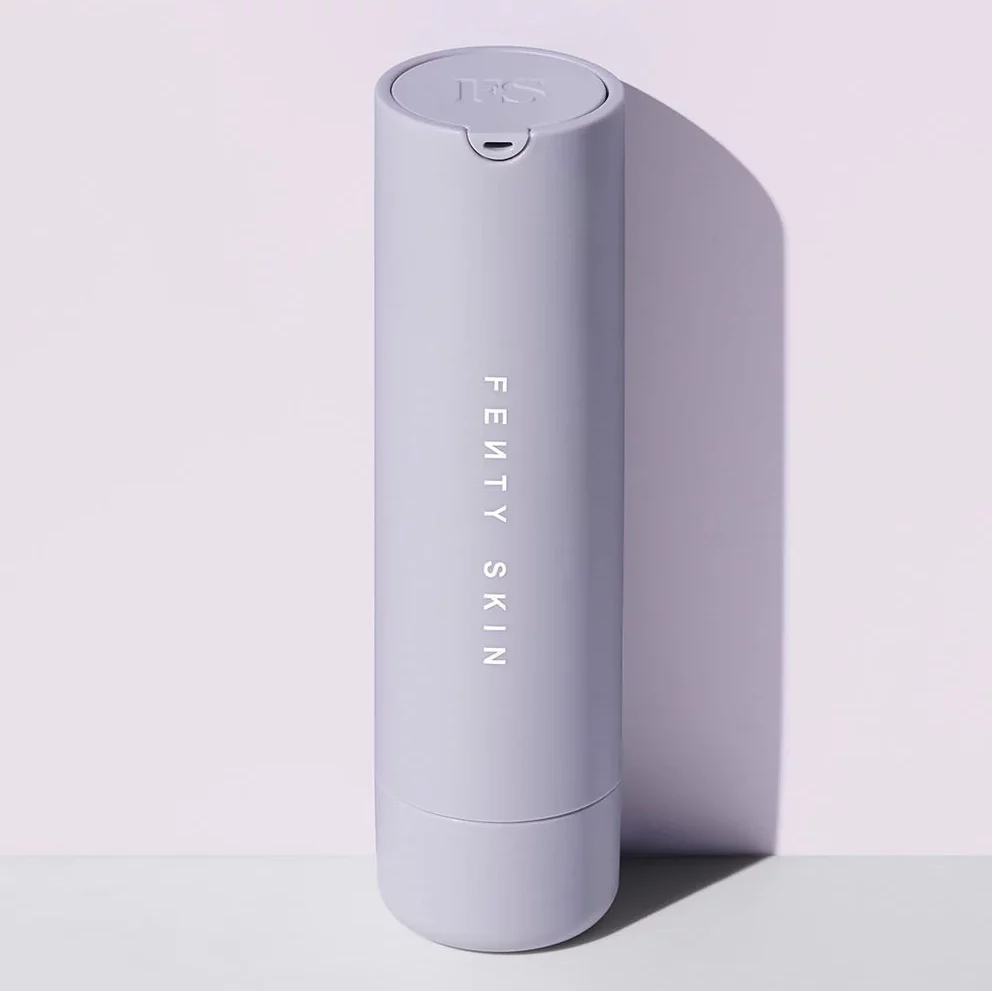 This refillable sunscreen seems to be the answer to all our hopes for sunscreens. It contains niacinamide and Kalahari melon, giving it a light, fresh scent and 98% of users say it works well under makeup.
As a bonus, it's designed to fade the look of pores and dark spots over time, so consistent use will help promote glowing, healthy skin.
---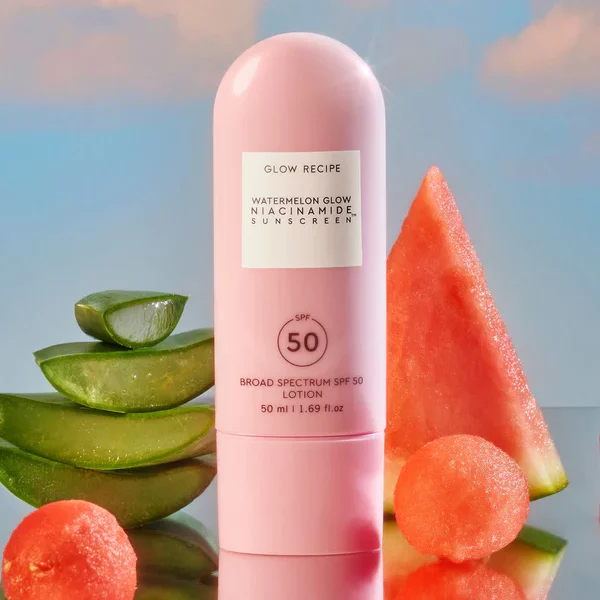 Experts say that the best sunscreen you can use is one that you actually want to wear everyday, and this sunscreen promises to be that one.
It contains niacinamide, hyaluronic acid, watermelon, and aloe and blends physical and chemical sunscreens, making it versatile and blendable. It's not too greasy or too dry, so it's perfect as a base for makeup.
---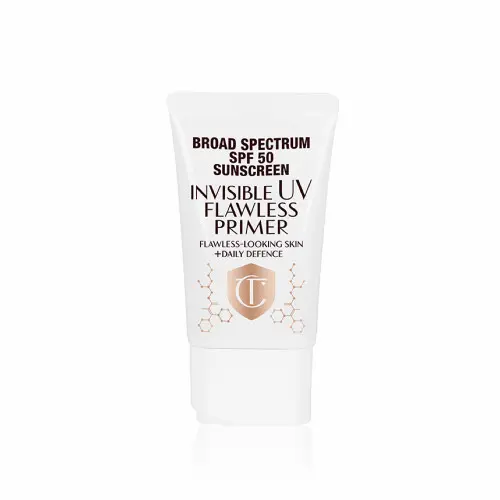 This sunscreen from Charlotte Tilbury is designed as another soft-focus primer with anti-aging and anti-pollution benefits.
It reduces the look of pores and fine lines, hydrates, and brightens skin. It uses powerful ingredients like hyaluronic acid, African mahogany tree bark, BioNymph peptide, camellia oil, and aloe vera.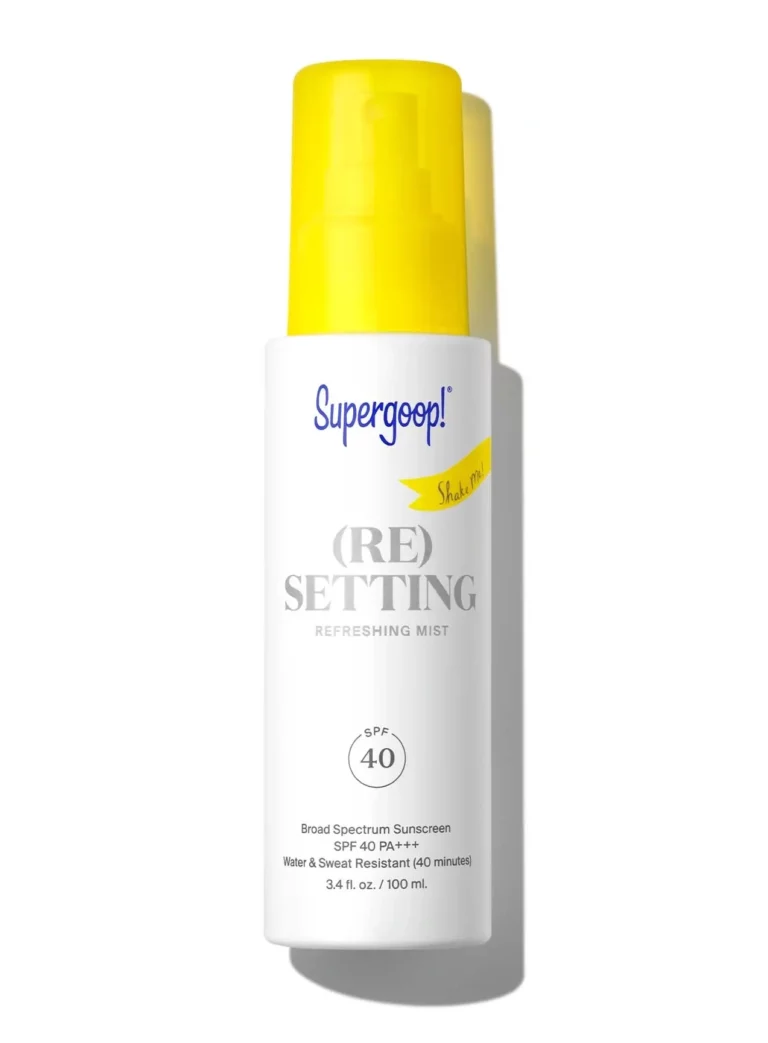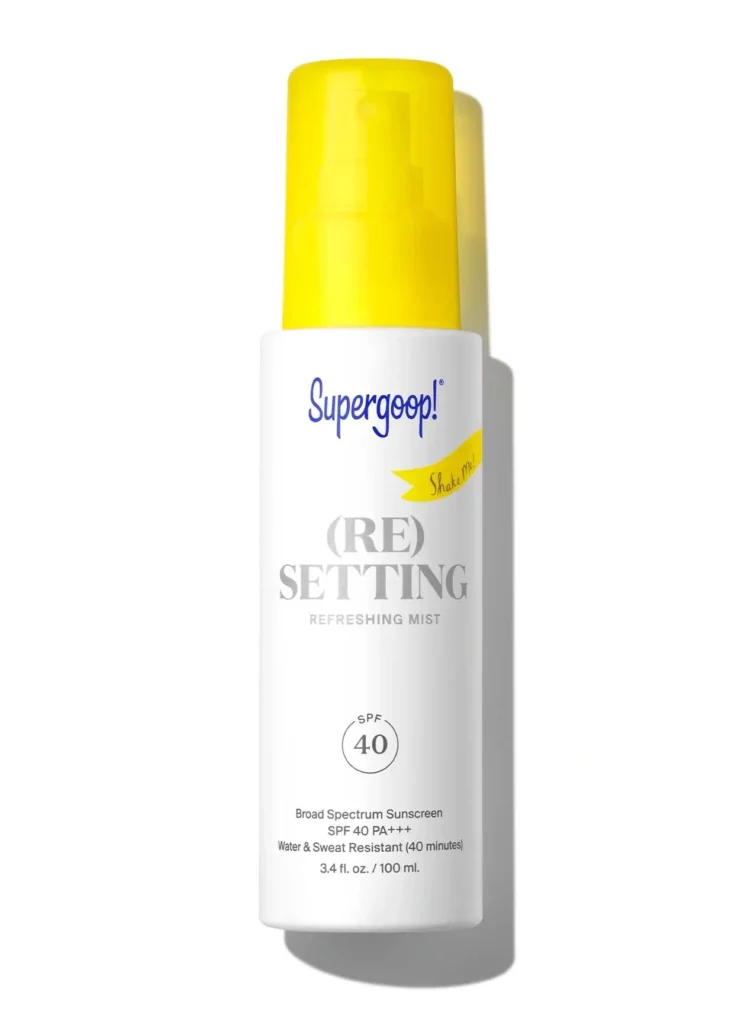 Obviously you're looking for the best sunscreens for under makeup, but we had to mention this game-changing setting mist. Simply apply your makeup as usual, then finish it off with this lightweight setting mist that contains SPF 40 and sets your makeup to help it last all day. 
This is also the ideal product to use throughout the day to reapply sunscreen (reapplying your sunscreen is essential and should be done every two hours). There's no way you'd slather a liquid sunscreen over your makeup that took an hour, but this mist is beyond easy and doesn't affect your makeup. In fact, it will likely make it last longer.
You can also try out the Pixi Sun Mist, a similar sunscreen mist product that many users love (plus it's a better bang for your buck).
In Conclusion…
Like with many other aspects of skin care, finding the right sunscreen for under your makeup is a trial-and-error process that can be costly, time-consuming, and frustrating. 
The best thing you can do is make a list of what you prefer or your skin needs in a sunscreen (i.e., mineral vs. chemical, hydrating, matte finish, etc.) and filter your search with those things in mind.
When finding your holy-grail sunscreen seems impossible, it's important to remember how vital sun protection is in preventing early aging and skin cancer. And don't be afraid to try out other products that might make your life easier, like the setting mist sunscreen we shared above!
Sunscreens that are designed to mix well with makeup are not only a lot less frustrating to use than generic drugstore brands, but they also tend to offer a ton of other benefits for the health of your skin. Although your holy grail sunscreen for under makeup might be a little pricier than basic sunscreens, protecting your skin and looking good in the process is always worth it.