From sandy beaches to dirty college communal bathrooms, the slide is more common than your hair color choice for this month.
And yet, like a Glock 19, getting caught without them might leave you in a bad spot. They're the show that carries when you wish to keep your other shoes from harm.
They clean the bathroom with you, take out the trash with you, go to the corner taco spot at 2 am after a heavy night of seshing with you. The best friend you don't talk about.
But these are the best slides for men, the kind of friends you can't stop telling everyone about.
Best Slides for Men
---
Suicoke Moto-Cab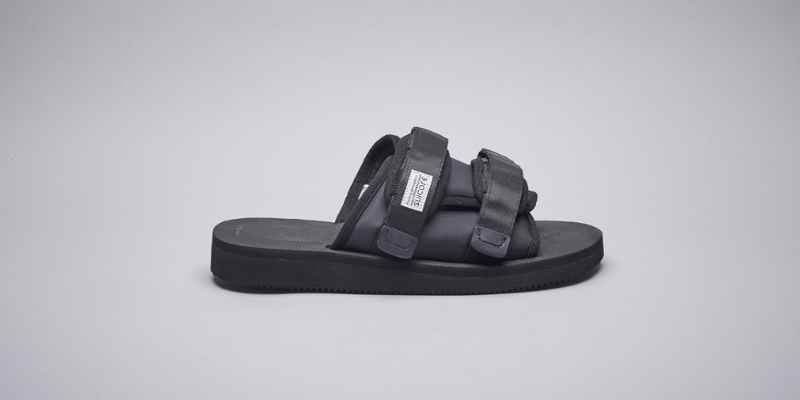 Some companies disappear after making a mark in their niche, crafting things like excellent watches and fun little dolls, before being wiped out of the map.
Others rebrand and rise like a phoenix creating the best looking slides. But mostly it's just Suicoke and their iconic moto-cab.
The neoprene and nylon material combo craft a revolutionary look for this slide, making it pair well with just about any fit, and dare to fit in where it might not.
Adidas Adilette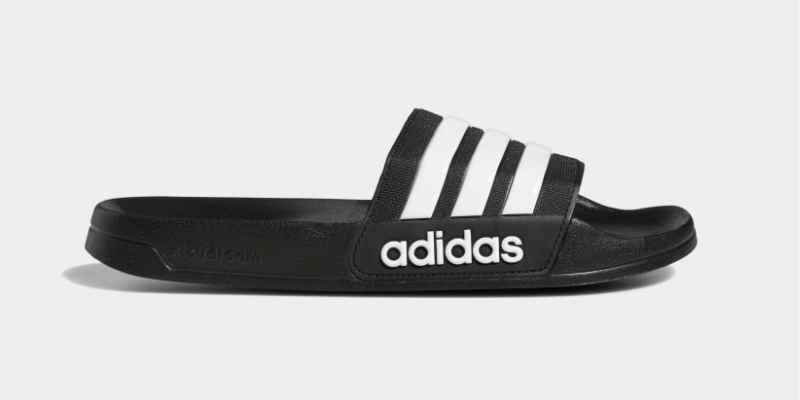 The original shower slide has been around for a while and it's stayed for a good reason: they are comfortable as heck and look good while they're carrying your feet.
Athletes respect the three-stripes for that reason, behind these slides is a legacy of shoe-making of the highest quality, and these slides are no different.
Keep it casual though, no one wants to see how goofy you look with some shower slides and a blazer. Keep the jeans and the sweatpants, with enough finesse, you can pull out crazy comfort-wear fits.
Gucci Slides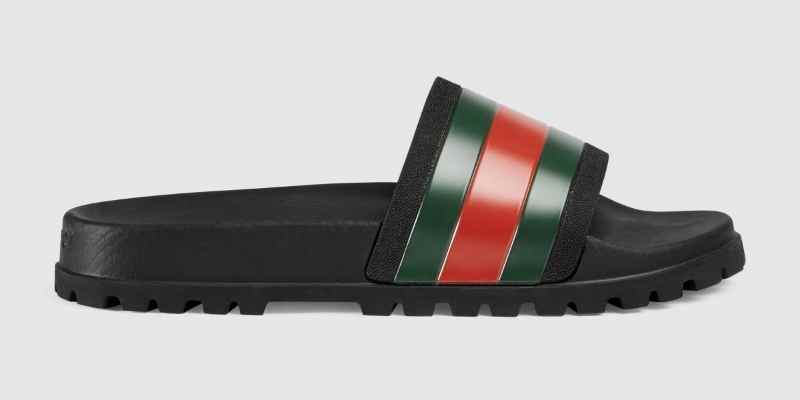 2015 was a wild year. I had just graduated high school, we were about to lose Obama's presidency, and Future told me what it was like to fornicate with strange women in a pair of Gucci flip flops.
And Future was right, those Gucci slides were indeed very hot.
That green strap with the red stripe contrasted the black sole in a way that activated the neurons in the brain's of every rapper and their mom, taking luxury into the comfort zone.
It also gave Gucci the excuse they needed to really branch out of obscure and high-end aesthetics into the everyday man's taste. High quality, lots of money, but with a pedigree you can't deny.
At $290, they are a big flex. However, owning a pair is reason enough to swole your way through life flexing on everyone to cross your path.
Basics beware.
Nike Benassi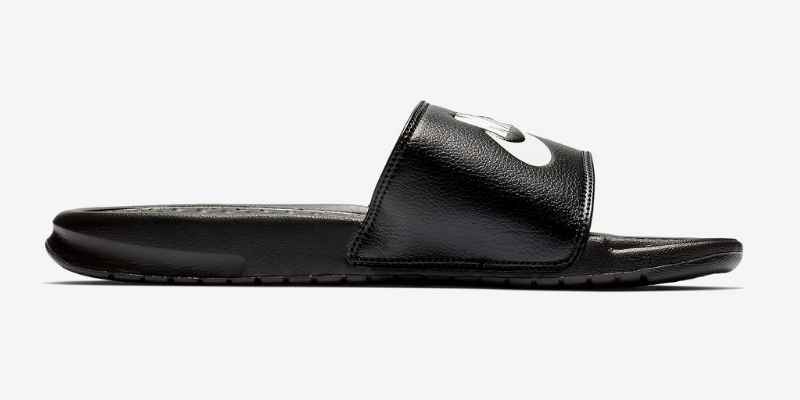 Everyone has a pair of Benassis, no slide is as common or recognizable. The swoosh recognition factor is multiplied by a factor of 10 in these bad boys.
Under that strap is some heaven, where a jersey lining warms the knuckles of your piggies and keeps the slide snug.
And speaking of snug, the dimpled texture of the soles lends itself to the grip of your foot, meaning not just walking about and suddenly losing your slide to the wind.
These kinds of innovations are why Nike has remained in power since the early 60's.
Birkenstock Arizona Sandal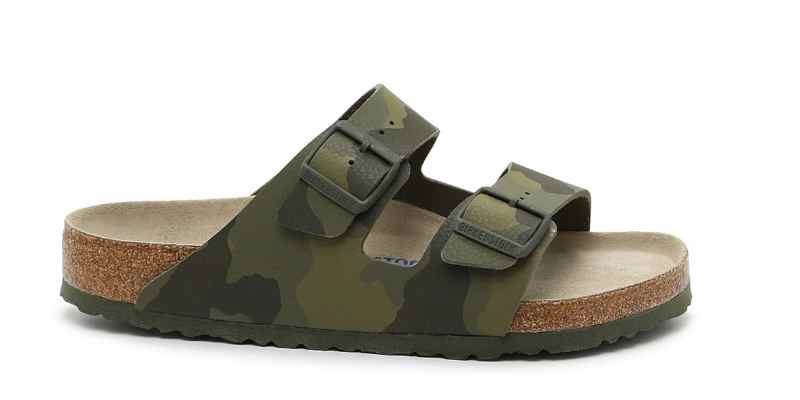 The shoe that walked a thousand miles spreading peace during war and championing rights all over the world, the footwear of the hippie.
Nicknamed Jursalem Cruisers, Birkenstock's signature slide is favoured for its comfy corked sole and straps for that extra grip.
Even looks good with a pair of socks and a nice pair of khaki chinos, for that wealthy beach weather look.
The military should fear those who stay strapped.
Vans' La Costa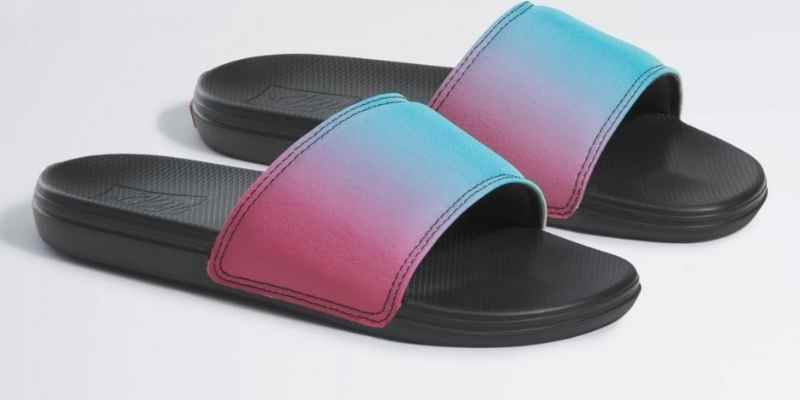 Some people like to have a little more fun with their slides. It's okay, Vans understands, some need that color splash to really feel alive.
And that is what makes their La Costas so fun. Checkerboard finishes and ombre gradients lend a spydhelic atmosphere to their cushy slides.
Their waffle-cone soles also feature Vans' new push into performance comfort with their ULTRACUSH material, making them a bouncy, floaty fit.
Lending themselves greater to any warm weather fit and laughing in their brightness while they do it, they are the true "sneaker slide".
Off-White Towel Slides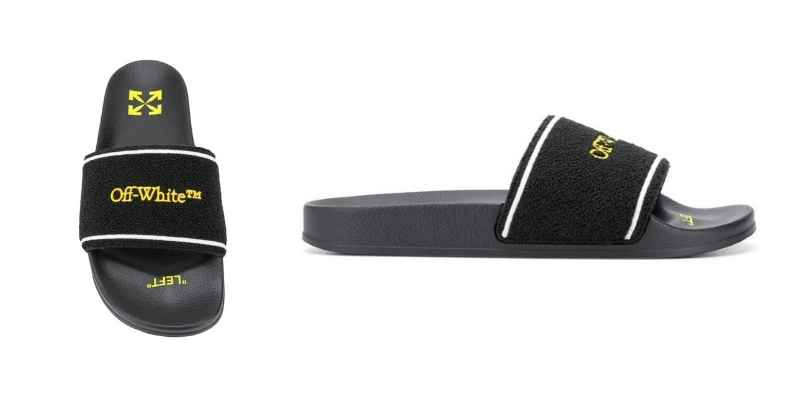 You're not leaving the house today, you're not looking for something that can wade through the Amazon jungle or keep you from burning up your toes in some fiery sands.
No, you really just need something that is really cozy and looks excellent. Virgil Abloh has obliged.
These towel slides feature a terry material for theri strap, making them a powerhouse of contrast with their black fabric soles and yellow lettering, proudly saying "yes, I am bougie".
Keep them safe, though, please. They are not to be worn to your friend's backyard mud wrestling show. Keep them only in your house and trust no one else to know their delicate grace.
Hoka Ora Recovery Slide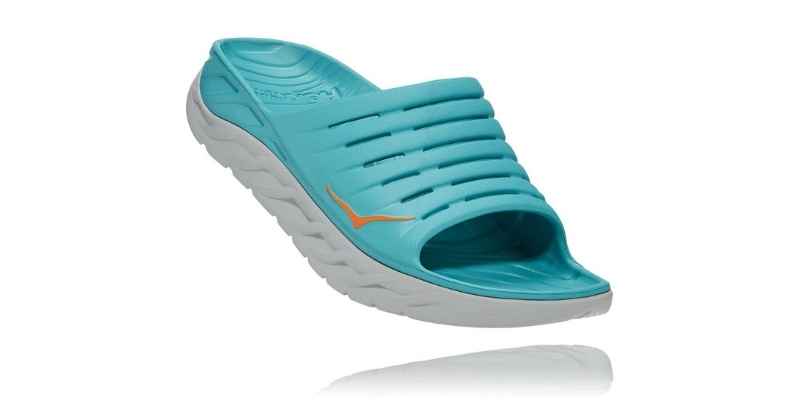 Airplanes and large pieces of machinery aren't simply designed or made willy-nilly. A team works around the clock fine tuning every bit so that their masterpiece can perform top notch.
This is usually done for things like military hardware or medical technology. Hoka ditched that philosophy and instead applied it to a slide designed to help you feel better after a long day of roughing it.
They are not a simple slide: the sole acts as a rocker for your foot, and the upper contours to your foot's shape for a snug fit. They are also specifically designed for your feet to be cared for after a long run.
That's right, the doctor called and you must wear these now.
They have a transformer vibe and look like they belong in a year distant from ours, and yet, wearing them is all you need to know that they belong with you in the here and now.
The North Face EQBC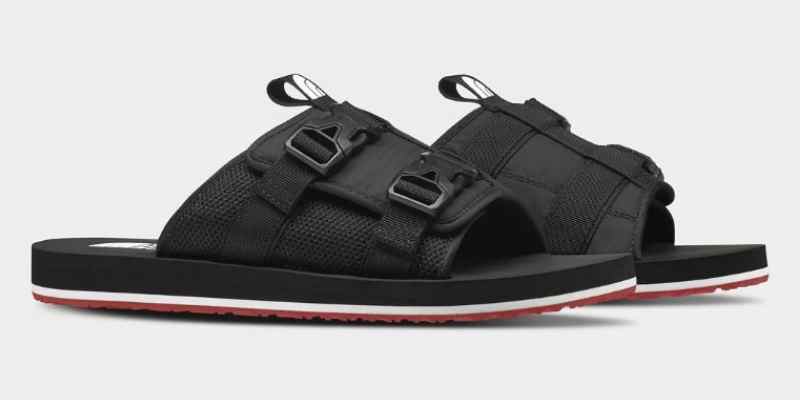 Sure, it's understandable that you'd just wanna chill out for the day.
But that is not what North Face has in mind. Their EQBC slide is not just so you can hang out at the pool, no, they are for you to get in some serious work and start a real hike.
They feature buckles on that strap so you know that bad boy is not getting loose. They also pack some serious comfort, because no one wants tired doggies when you're 5 miles up the Sierra Madre Mountains.
They only come in one color, but that's the point, you need to stay focused on the trail ahead and not look at how pretty your feet are.
Crocs Slide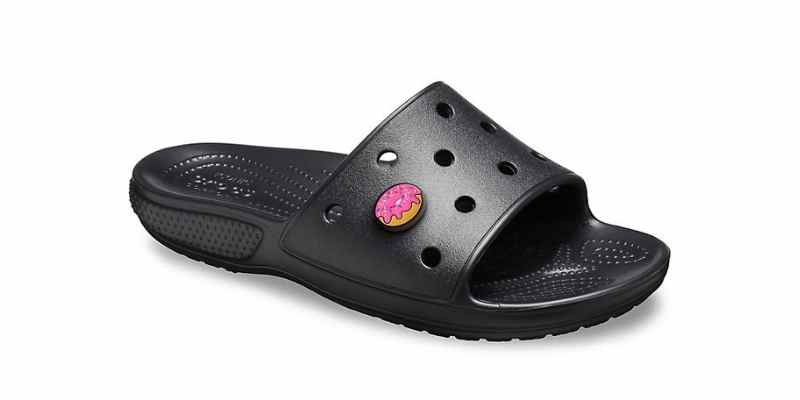 A truly disgusting company, and yet, beloved by so many. The open air stink house that is the Croc has converted it's status from clog to slide.
Boasting the same "open-air" design with the easy slide access, the Croc slide is hard to miss, as it's ugly mug is constantly staring at you.
And yet despite its flaws, the Croc slide has a lot of fun packing in its small package. The slides feature the same easy pin slots as their normal clogs and come in a wide variety of colors.
You'll get crap. You'll get weird looks and mean comments. However, they're comfortable, easy to handle, and so customizable that you'll have a hard time hearing anyone trying to bad mouth you.
RELATED: 21 Travel Essentials for Men (Guide for Any Trip)
Styling Tips
Most slides are meant for warm weather and casual looks. Don't try to stray from that.
If the slide is the star, keep it the star by keeping the rest of your fit neutral.
Socks and no socks are both viable options. Let no one tell you otherwise.
If wearing pants, cuff your leg sleeves a bit. Don't step on your own pants.
Groom your feet as you would any other part of your body.