Having healthy, glowing skin is difficult nowadays especially with sweat from everyday work or an intense gym session, stress, lack of sleep, and even just normal aging. Well, a new phenomena has come to cure all these issues: Exfoliating Gloves. We have put together a list of the 6 best exfoliating gloves for a deeper clean for your skin.
Whether you are struggling with acne and blackheads or just want to feel youthful and energized again, these gloves are meant to bring that bliss back into your life. Check out these gloves and rediscover your inner vibrance!
Best Exfoliating Gloves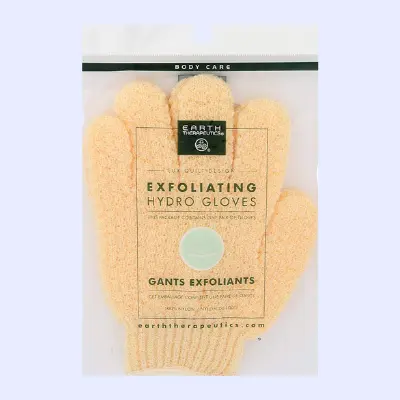 These gloves are crafted specifically to gently exfoliate dead skin from the body's surface. They unclog pores leaving your natural skin glowing as well as help with anxiety and blood circulation.
They come in the colors natural and white and are made of 100% nylon. Earth Therapeutics ensures top notch products at an affordable price at only $8 on Amazon.
---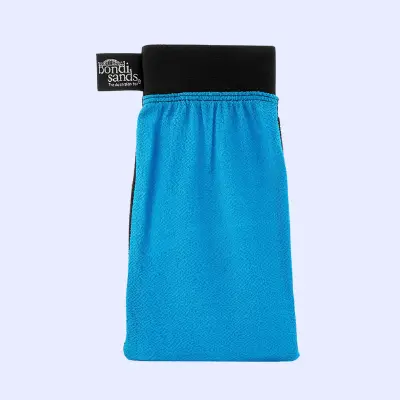 This washable exfoliating mitt is perfect to use to prep your skin before applying self-tanner, or to remove self-tanner if it's starting to fade.
Plus, it's reusable, vegan, and cruelty-free!
P.S. Check out our article on how to perfectly apply self-tanner!
---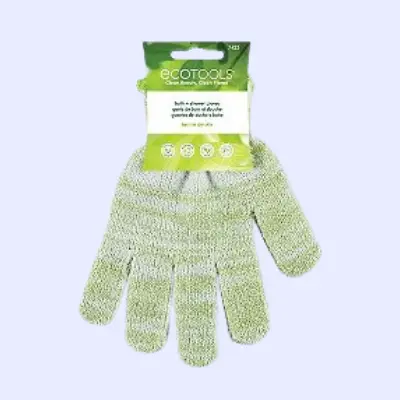 If you're looking for a great but inexpensive exfoliating gloves, these ones by EcoTools is your best bet. At only $3.99, these are a steal!
They gently remove dead skin cells for fresh, rejunvinated skin. Plus, they're made out of recycled materials and biodegradable packaging!
---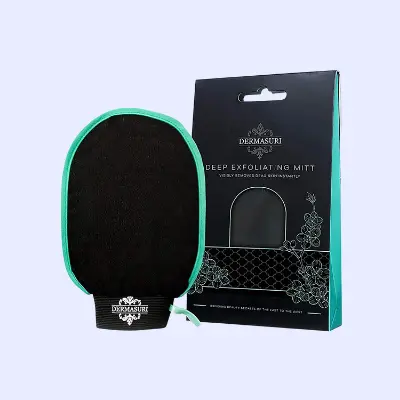 The Dermasuri Body Mitt will give you glowing, refreshed skin and to improve your circulation and lymphatic drainage.
Handmade with an ancient weaving design, these allow for a gentle exfoliation to remove dead skin, reduce ingrown hairs, and leave your skin softer than ever. They also help remove tanning products while leaving the skin absorbent to future skin care.
---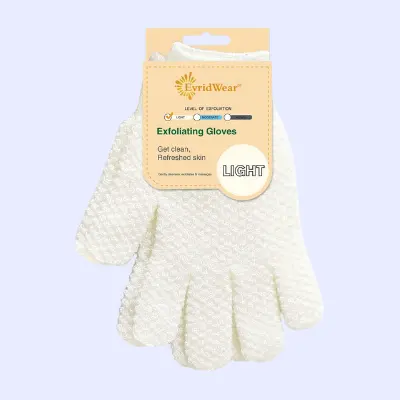 These stretchy, machine washable gloves are perfect for any skin type, male or female. With 3 different exfoliating types: light, moderate, and heavy dual these gloves give everyone the clear, refreshing skin they deserve.
They are a one size fits all glove that also works with any type of body wash. It improves blood circulation and fights acne, rashes, eczema, and clogged pores.
---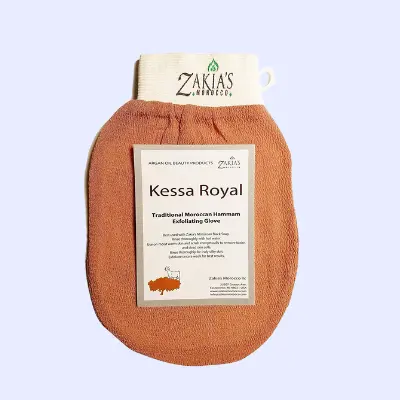 This glove is like giving yourself a mini massage to exfoliate dead skin and oil leaving the body energized and your skin healthy. The glove is great for anti-aging, unclogging pores, and removing dead skin cells.
It also should be used in preparation for tanning and tattoos so that the skin can absorb them efficiently. This can be used on any skin type and for all ages to keep the skin clean and rejuvenated.
---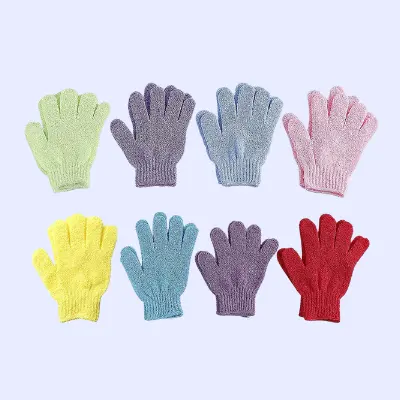 These durable, 100% nylon exfoliating gloves come in a pack of 8 that are perfect for the entire family. They offer gentle exfoliation for sensitive skin but are tough enough to clean out pores and remove dead skin.
Mooerca gloves will improve skin texture, blood circulation, and prevent clogged pores. This pack of 8 pairs is well priced at $8.99 on Amazon.
---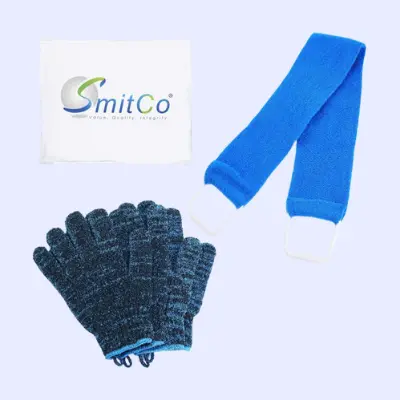 SMITCO Body Scrubbers won the Mom's Choice Award for giving their customers soft, youthful skin after removing dead skin, clogged pores and grime accumulating on the skin's surface with their Body Scrubbers.
These gloves are a must use before applying self tanner or other skin products to get maximum moisture absorption. These come in a value pack of 4 pairs of gloves available at Walmart for $12.99.
In Conclusion
A life-changing investment to improve your skin and everyday mood, each of these best exfoliating gloves offers their own personal charm to reinvent your skin.
Using this list, we know you will find the best glove for your skin and at a price that makes your wallet smile. Start your path of rejuvenation today!
UP NEXT: 15 Best Body Washes for Glowing Skin