If you have oily skin, chances are you have a few different concerns when it comes to picking a concealer.
Perhaps you want one that combats acne, or one that won't slide off of your face once your pores inevitably decide to produce an unreasonable amount of oil. Or maybe you're just looking for one that's lightweight and won't clog your pores.
Well, I've got you covered with the best concealers for oily skin! Keep reading to discover the perfect option for any skin type.
Acne-Fighting Concealers
Salicylic acid is a common ingredient in many skincare products meant for those of us with oily skin, because it gets into the pores and really cleans them out. Applying salicylic acid to a pimple can dry it out and reduce its size in just a few hours.
So, using a concealer with salicylic acid, can not only reduce the clogging of pores you might experience when using a conventional concealer, but can even steadily improve your acne while you're wearing it. I've rounded up a few fan favorites so you can take your pick: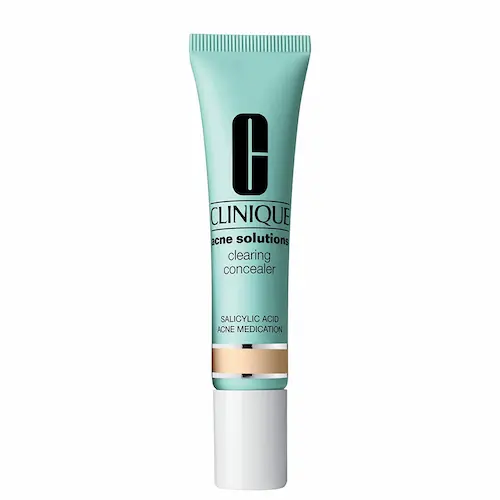 Clinique is a tried-and-true skincare brand, known for many of its acne-fighting products. If I had to trust a concealer that would deal with my breakouts, it would be this one.
Among its other oil-free and oil-controlling ingredients, salicylic acid stands out as the holy grail acne-fighting superstar. While the formulation is great, this concealer is pretty pricey, weighing in at about $37.
---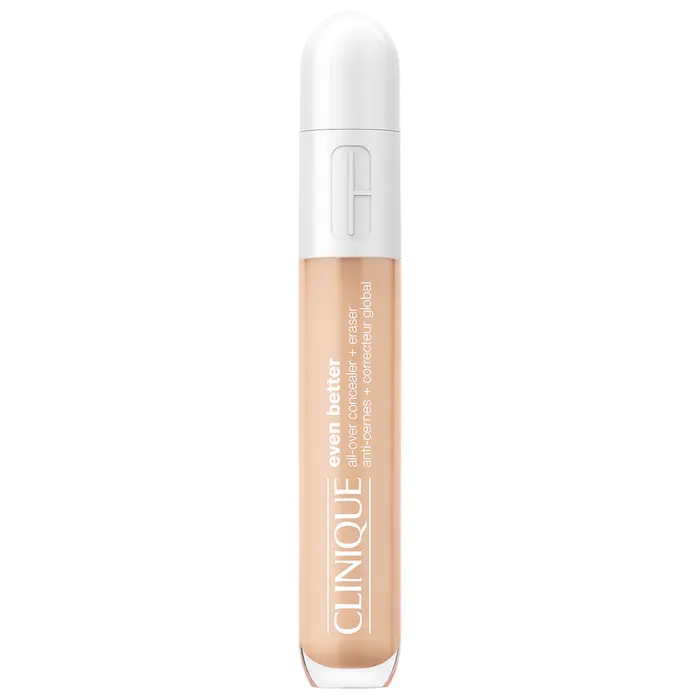 Clinique has another version of concealer with added salicylic acid, and the addition of brightening Vitamin C, and energizing caffeine.
The Even Better concealer is more full-coverage than it's Clearing cousin, and costs a whopping ten dollars less!
---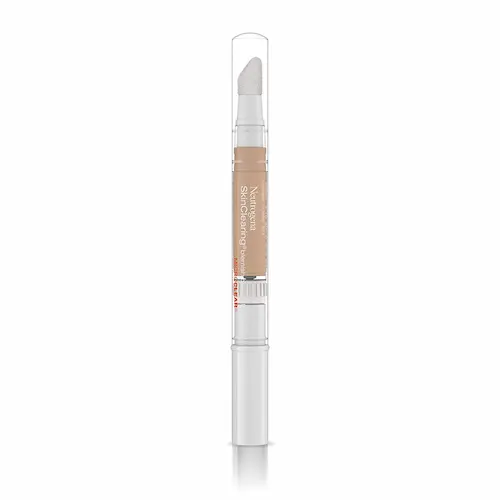 When it comes to the best concealer for oily skin, Neutrogena is another trusted skincare brand that has been helping teens get rid of their acne for decades.
This particular concealer is formulated with 2% salicylic acid, which is the same percentage as most acne spot treatments, making it a very effective complexion-clearer-upper. Best of all – it's only $10!
---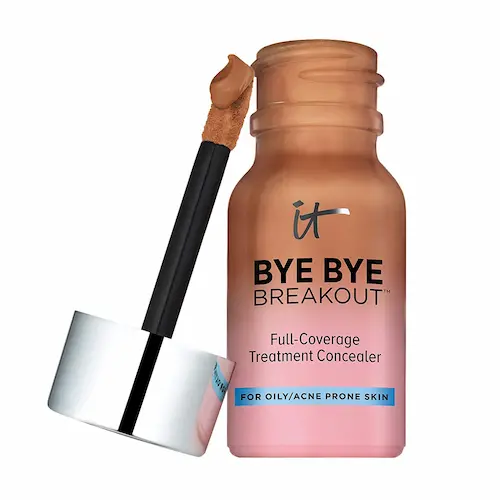 This concealer is slightly different from the previous ones, in that it does not actually include salicylic acid in its formulation. Instead, it has zinc oxide (which absorbs oil, yay!), kaolin clay (draws out impurities, also yay), witch hazel, tea tree oil, and sulfur (ingredients often used to dry out acne), and AHA/BHA (a gentle exfoliant that helps remove impurities from pores).
This is a great option for those that want to try an alternative to salicylic acid, but to do so, you're going to have to shell out the big bucks. This concealer will cost you $34 at Ulta.
---
Non-slide Concealers for Oily Skin
If you're struggling with excessive oiliness impacting the retention of your concealer, then might I suggest a nice matte concealer to offset your skin's natural dewiness?
Choosing a concealer that is long lasting and/or waterproof, in addition to matte, will up your chances of making it through the day without any makeup slippage. However, a word of caution: just because your skin produces a lot of oil, doesn't mean you should avoid moisturizers at all costs.
As long as you choose non-comedogenic formulations (aka ones that have been proved to not clog pores), you'll be fine, and your face will feel supple and smooth. With all of that in mind, here are a few products to check out:

This is a 16-hour lightweight hour concealer that can be used to conceal blemishes or highlight certain features. We love a double-duty product!
Caffeine is included in the formulation, giving your skin a brighter, glowing complexion. And best of all, you can find this for about $10 virtually anywhere that sells makeup!
---
This lightweight concealer is non-comedogenic, approved for sensitive skin, and has the hydrating ingredient of vegetable glycerin.
It's also a 24 hour waterproof formula, so this baby's not going anywhere! It's in the mid-price range of $28.
---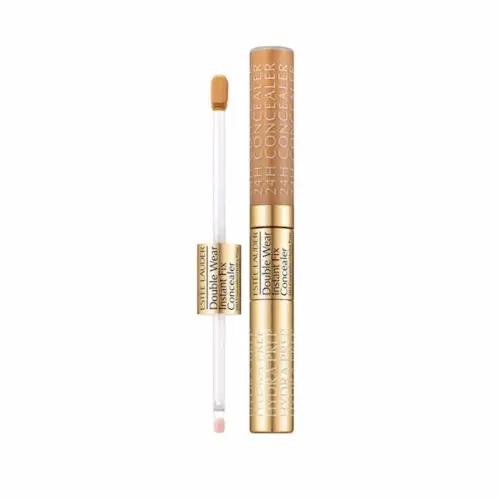 Another 24 hour concealer, with a twist! This little tube has two different products: Hydra Prep and the concealer.
The Hydra Prep is a non-acnegenic hydrating serum that you can apply underneath your concealer, which is on the other end of the tube. The concealer is medium-coverage with a satin matte finish, perfect for oily skin.
Lightweight Concealers for Oily Skin
For that effortless I-totally-woke-up-like-this-yes-my-skin-always-looks-flawless look, a lightweight concealer does the job admirably.
These concealers can make it feel almost as though you're not wearing makeup at all, but can still have a drastic effect on hiding any blemishes or brightening dull areas.
They are especially effective when applied after a skincare routine that focuses on clearing up your acne (the less you have to cover, the better these concealers can do their job). Here are a couple of lightweight champions: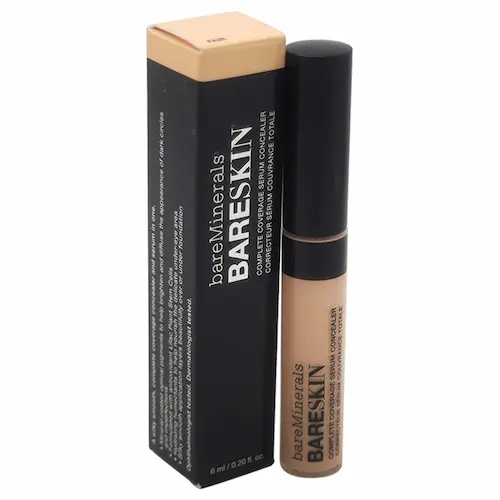 If you want a concealer that doesn't even feel like a concealer, then this is right up your alley. This is a mix between a concealer and serum, creating a ridiculously lightweight formula that applies effortlessly to both hide imperfections and hydrate your skin.
This sweet, sweet double-duty concealer will cost you a semi-sweet $24.
---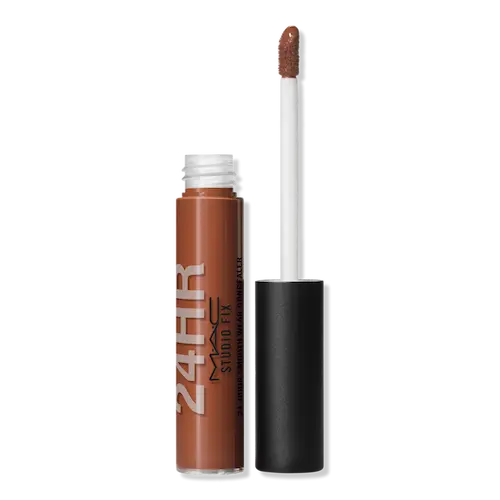 Who doesn't love a MAC product? And this concealer is no exception.
Not only is it a lightweight 24 hour concealer with a matte finish, but it can give you medium or even full coverage, depending on how much you build it up. And it's oil-free! This product will also cost you $24.
Bottom Line
The most important thing to keep in mind, is that even the all-time best concealer for oily skin is no substitute for properly taking care of your skin.
You still need to wash your makeup off every night. Every. Night. Even the nights that you come home from the club at 2am. Even when you're staying at your boyfriend's and all you have to work with is some janky body wash and a bar of dove soap you found under the sink. Wash it off.
Ideally, double-cleanse (although if you're working with body wash and dove soap, I'll give you a pass on that one). And create (or continue) a skincare routine that focuses on your skin concerns, so that you can focus on letting your true beauty shine through!