If you know who Ariana Grande is, you know she's a pop sensation, former The Voice coach, and overall pop culture icon. But did you know she also dabbles in beauty?
Not only does Ariana Grande have her own makeup line (R.E.M. Beauty), but she also has a line of top-rated perfumes.
There are a total of eight perfumes, and today we're going to be ranking them to see which ones reign supreme in terms of price, scent, packaging, and overall reviews.
Of course, everyone prefers certain scents over others and — generally speaking — all of Ariana Grande's perfumes are great. Just because a perfume is ranked lower on the list doesn't mean you shouldn't try it out or stop using it!
Keep reading to see which perfumes we think are the best Ariana Grande perfumes!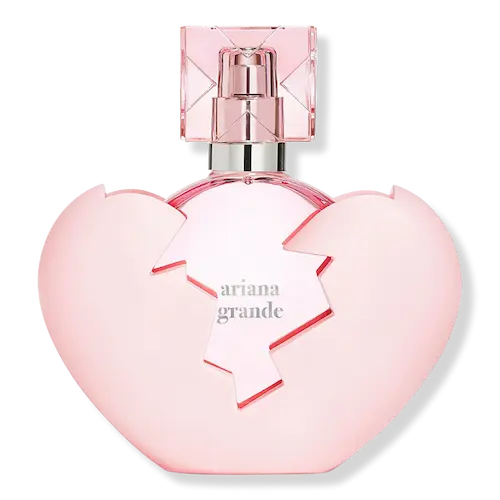 Top Notes: White pear, Wild Raspberry
Heart: Creme de Coconut, Pink Rose Petals
Base Notes: Macaroon Sugar, Velvet Musk
Ariana's latest perfume, Thank U Next, is on the bottom of the list solely because it doesn't seem to meet the standards the other perfumes have.
A 1oz bottle is $45, and even though the packaging — which features a broken heart — is a super cute pink color, an overwhelming amount of Thank U Next users say it smells like…pickles.
Yep, you read that right. This perfume is supposed to have a floral and gourmand scent, but it seems to have greatly missed the mark.
Though this perfume does have some fans, the possibility of smelling like pickles is just not appealing (no shade to pickles).
---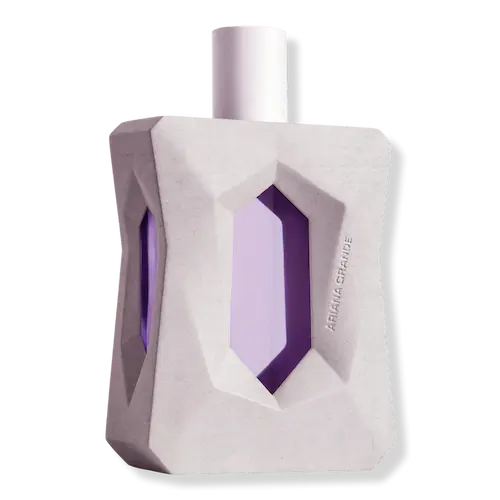 Top Notes: Ambrette, Juicy Pear
Heart: Orris, Turkish Rose Petals
Base Notes: Madagascar Vanilla, Creamy Cedarwood
Next up is Ariana's God Is A Woman perfume, which is $55 for 1.7oz. This is a fruity perfume that's not too overpowering or sweet-smelling, which is what customers love about it.
The bottle is a gray rigid-looking rectangular with a purple geometric shape in the center. Compared to its sister perfumes it's arguably the least cute, but the smell of the perfume makes up for it.
The only reason why God Is A Woman is ranked so low on the list is because of its lack of staying power. Customers wish this perfume lasted longer as it fades only after a short amount of time wearing it.
---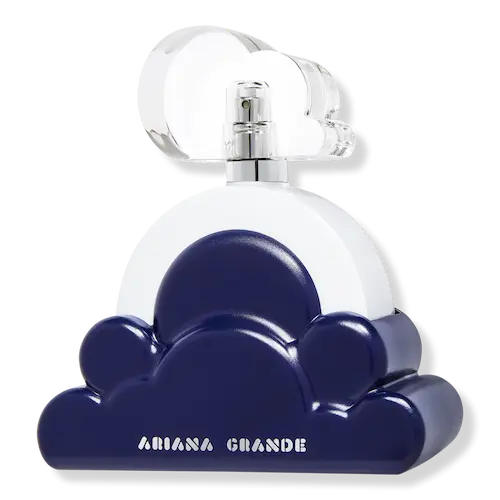 Top Notes: Lavender Blossom, Juicy Peach, Bergamot
Heart: Creme de Coconut, Indulgent Praline, Vanilla Orchid
Base Notes: Sensual Musk, Creamy Blonde Woods, Dry Cashmeran, Ambrox
The sequel to Ariana Grande's favored Cloud perfume, Cloud 2.0 is supposed to be a more enhanced, intense version. This perfume is in the gourmand fragrance family and is a sweet-smelling perfume, but it can't seem to get out of its big sister's shadow.
Cloud 2.0 comes in a beautiful dark blue, cloud-shaped bottle, but a lot of customers say the scent isn't strong at all and doesn't last very long either.
The smell is wonderful and the packaging is adorable, but to spend $68 on a 3.4oz bottle and not have it last is kind of a stretch.
---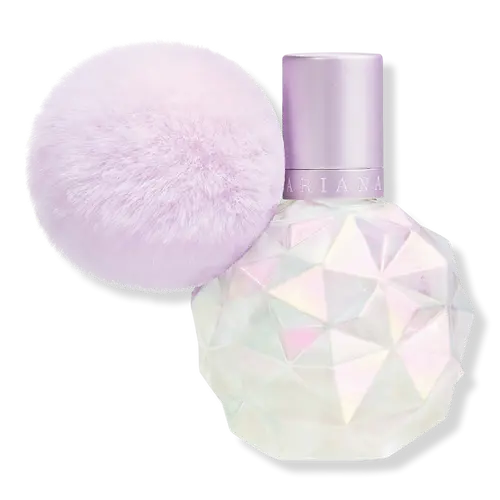 Top Notes: Rich Black Currant, Juicy Plum
Heart: Fluffy Marshmallow, Fresh Peony
Base Notes: Creamy Sandalwood, Black Amber, Sensual Vanilla
Moonlight is $55 for 1.7oz and is in the oriental family with a floral gourmand scent. The packaging is a cute, round, geometric, almost chrome-colored bottle with an adorable little puff attached to it.
The scent is light, fruity, and not too sweet, which is ideal and pleasant for a lot of customers! Moonlight smells super classy and gorgeous, and customers rave about the compliments they get while wearing it.
The only downside? It just doesn't last very long.
---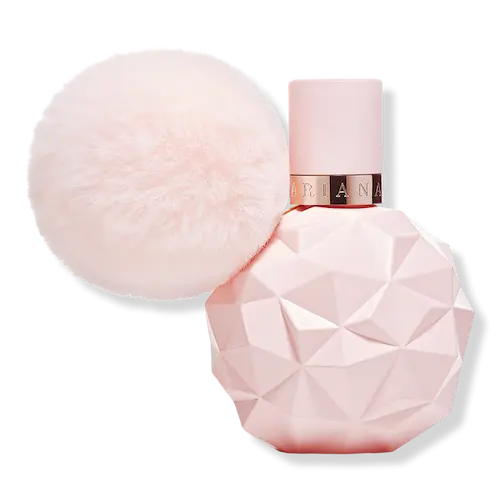 Top Notes: Sparkling Blackberry, Italian Bergamot, Pear
Heart: Jasmine Sambac, Frangipani, Dewy Honeysuckle
Base Notes: Creme de Casis, Marshmallow, Cashmere Woods, Sexy Vanilla
Like the name of the perfume suggests, Sweet Like Candy is a sweet perfume that definitely caters to those who love smelling like sugar, spice, and everything nice. With that being said, the scent may be a bit overpowering for some.
At first, the fruity notes really take center stage, but once everything settles it turns more into a warm, toasty smell thanks to the marshmallow, which totally gives off fall vibes.
A 1.7oz bottle is $55, and the packaging is quite literally the same as Moonlight, except the color is an appealing baby pink.
---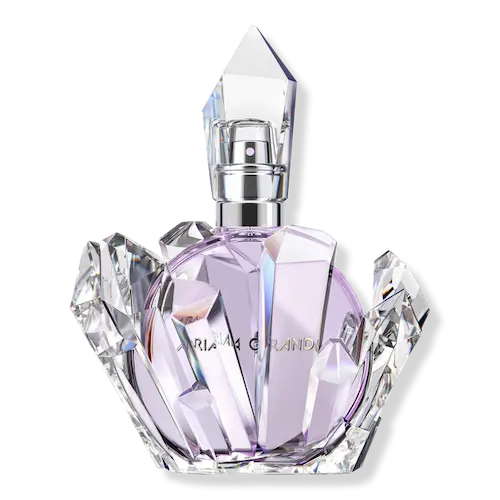 Top Notes: Quince, Fig, Salted Caramel, Marshmallow
Heart: Pear Blossom, Lavender Blossom
Base Notes: Tonka Bean, White Musk, Sandalwood
R.E.M. retails for $55 for a 1.7oz bottle and features a light purple geometric bottle with crystals shooting out of the sides. It's an eye-catching design that looks a bit more mature than the other perfumes Ari has, but for good reason.
R.E.M. is a more mature scent, which is why it's a little polarizing considering a lot of Ariana Grande's fanbase is made up of a younger demographic. This perfume is not for them, or for people who prefer the sweeter-smelling scents.
This perfume has a musky scent in the floral fragrance family can almost pass as a cologne if it wanted to. But don't let that turn you off!
A bunch of customers absolutely adore R.E.M. because it smells amazing and lasts a lifetime. Because of that, many consider the scent to be one of their favorites by Ariana Grande — hence the third place ranking.
---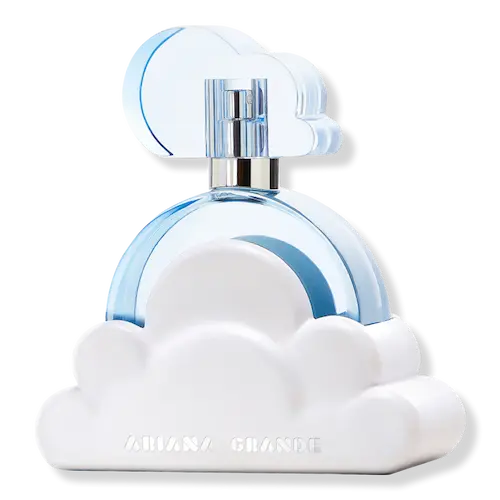 Top Notes: Lavender Blossom, Bergamot, Juicy Pear
Heart: Creme de Coconut, Indulgent Praline, Vanilla Orchid
Base Notes: Sensual Musks, Creamy Blonde Woods
The OG, Cloud has the same notes as Cloud 2.0 with the exception of not having two base notes Cloud 2.0 has.
Cloud is a crowd favorite because it's considered to be a dupe for high-end perfume Baccarat Rouge 540, but Cloud is only $45 for 1.7oz.
The Cloud bottle is the same as Cloud 2.0, but rather than being made with a dark blue, it's made with light blue!
Aside from being a dupe, Cloud is also many people's favorite Ariana Grande perfume because it just smells so delicious and dreamy. It's an everyday perfume that's not too strong but not too light — a perfect balance that lasts all day and will definitely garner some compliments.
---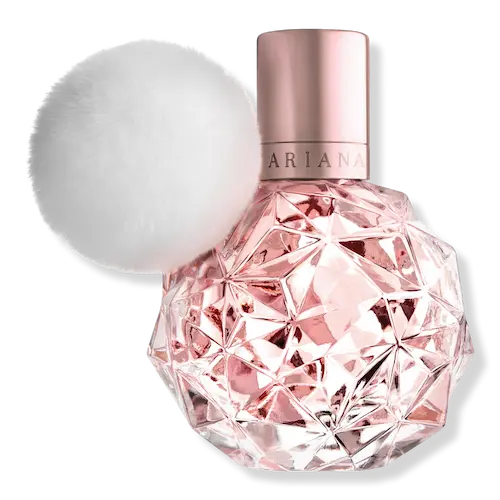 Top Notes: Crispy Pear, Pink Grapefruit
Heart: Juicy Raspberry, Soft Muguet, Rose Buds
Base Notes: Vanilla Orchid, Marshmallow, Creamy Musk, Blonde Woods
At number one, the queen of the Ariana Grande perfume line is none other than the self-titled, Ari. 
Fitting enough, this is a gourmand scent in the floral fragrance family and is a timeless, classy, fresh, and clean smell that lasts all day. Literally everything you could ever want in a perfume is in this expensive-looking round pink bottle with a cute puff (similar to Moonlight and Sweet Like Candy).
$45 will get you a 1oz bottle and a bunch of compliments. We think (and many others think) this is the best Ariana Grande perfume because it's not too heavy, not too sweet, and it's budget-friendly! 
In Conclusion
We hope you liked our ranking of Ariana Grande perfumes! Whether you love perfumes, Ariana Grande, or both, if you haven't tried any of these perfumes yet, we hope this helps narrow down your choices.
Again, everyone loves different scents and perfumes can smell slightly different on different bodies as well! Wear what makes you feel beautiful, always.